Abstract
Multi-wall carbon nanotube (MWNT) was chemically oxidized by utilizing sulfuric and nitric acids in a ratio (2:1 v/v). The oxidized-MWNT was decorated with gold (Au) and gold oxide (Au2O3) nanoparticles by using precipitation approach. The Fourier transform infrared (FTIR) and zeta potential techniques verified oxidization of MWNTs with oxygen functional groups. The X-ray diffraction (XRD), ultraviolet–visible (UV–Vis) spectroscopy, and electron microscope were confirmed the coating of Au and Au2O3 nanoparticles onto MWNTs surface. The dual florescent assay and colony forming assay were used to assess antibacterial activity against Escherichia coli (E. coli) after incubation in the dark and under visible light exposure. Comparing with the raw-MWNTs and the oxidized-MWNTs, which were investigated to have poor bactericidal ability against E. coli, MWNTs/Au and MWNTs/Au2O3 revealed stronger bactericidal efficiency, essentially after photo-activation for 3 h. Moreover, MTT assay showed that the nanohybrids have higher cell viability than raw-MWNTs and the oxidized-MWNTs. The obtained results propose that nanohybrids were prepared as potent antibacterial materials to inhibit and control the persistence and spreading of microorganism diseases.
This is a preview of subscription content, log in to check access.
Access options
Buy single article
Instant access to the full article PDF.
US$ 39.95
Price includes VAT for USA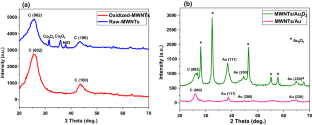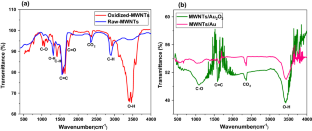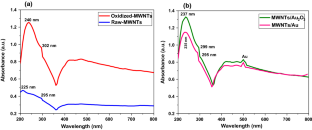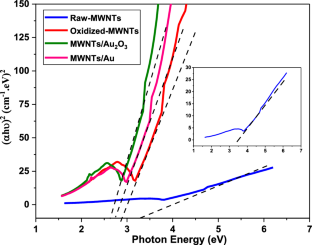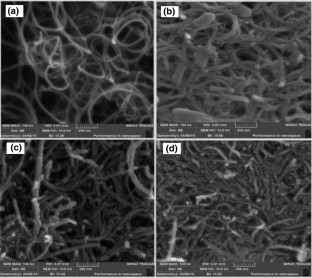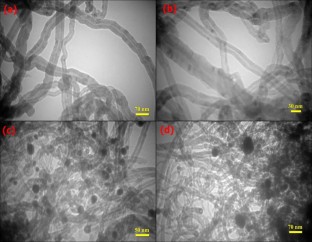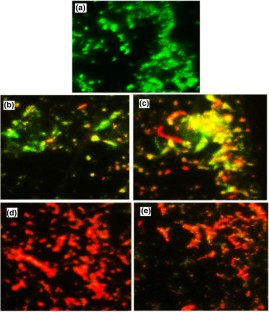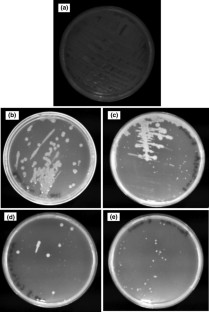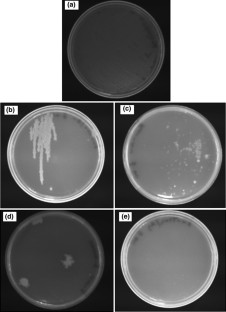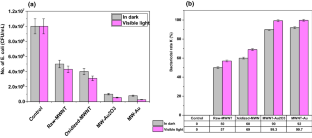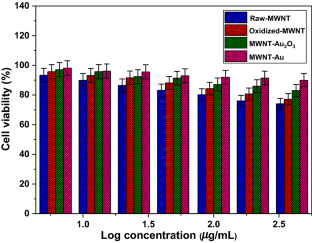 References
Abbas N, Shao GN, Haider MS, Imran SM, Park SS, Jeon SJ, Kim HT (2016) Inexpensive sol–gel synthesis of multiwalled carbon nanotube-TiO2 hybrids for high performance antibacterial materials. Mater Sci Eng 68:780. https://doi.org/10.1016/j.msec.2016.07.036

Ahmed DS, Abed AL (2018) Controlled surface modification of CNTs using mild acids through powerful sonication technique. Acta Physica Polonica 134:7–9. https://doi.org/10.12693/APhysPolA.134.7

Ahmed DS, Haider AJ, Mohammad MR (2013) Comparesion of functionalization of multi walled carbon nanotubes treated by oil olive and nitric acid and their characterization. Energy Procedia 36:1111. https://doi.org/10.1016/j.egypro.2013.07.126

Ahmed DS, Mohammed MKA, Mohammad MR (2020) Sol–gel synthesis of Ag-doped titania-coated carbon nanotubes and study their biomedical applications. Chem Pap 74:197. https://doi.org/10.1007/s11696-019-00869-9

Al-Jumaili A, Alancherry S, Bazaka K, Jacob MV (2017) Review on the antimicrobial properties of carbon nanostructures. Materials 10:1066. https://doi.org/10.3390/ma10091066

Alkilany AM, Murphy CJ (2010) Toxicity and cellular uptake of gold nanoparticles: What we have learned so far? J Nanopart Res 12:2313. https://doi.org/10.1007/s11051-010-9911-8

Allegri M, Perivoliotis DK, Bianchi MG, Chiu M, Pagliaro A, Koklioti MA, Trompet AA, Bergamaschi E, Bussolati O, Charitidis CA (2016) Toxicity determinants of multi-walled carbon nanotubes: the relationship between functionalization and agglomeration. Toxicol Rep 3:230. https://doi.org/10.1016/j.toxrep.2016.01.011

Al-Mousoi AK, Mohammed MKA, Khalaf HA (2016) Preparing and characterization of indium arsenide (InAs) thin films by chemical spray pyrolysis (CSP) technique. Optik 127:5834. https://doi.org/10.1016/j.ijleo.2016.04.065

Anne S, Sibylle XM, Henner H, Andreas S, Hanna MM (2014) Effects of multiwalled carbon nanotubes and triclocarban on several eukaryotic cell lines: elucidating cytotoxicity, endocrine disruption, and reactive oxygen species generation. Nanoscale Res Lett 9:1. https://doi.org/10.1186/1556-276X-9-396

Ashkarran AA, Fakhari M, Hamidinezhad H, Haddadi H, Nourani MR (2015) TiO2 nanoparticles immobilized on carbon nanotubes for enhanced visible-light photo-induced activity. J Mater Res Technol 4:126. https://doi.org/10.1016/j.jmrt.2014.10.005

Askari MB, Banizi ZT, Seifi M, Dehaghi SB, Veisi P (2017) Synthesis of TiO2 nanoparticles and decorated multi-wall carbon nanotube (MWCNT) with anatase TiO2 nanoparticles and study of optical properties and structural characterization of TiO2/MWCNT nanocomposite. Optik 149:447–454. https://doi.org/10.1016/j.ijleo.2017.09.078

Brahmachari S, Mandal SK, Das PK (2014) Fabrication of SWCNT-Ag nanoparticle hybrid included self-assemblies for antibacterial applications. PLoS ONE 9:9. https://doi.org/10.1371/journal.pone.0106775

Centomo P, Canton P, Burato C, Meneghini C, Zecca M (2019) Resonant-XRD characterization of nanoalloyed Au–Pd catalysts for the direct synthesis of H2O2: quantitative analysis of size dependent composition of the nanoparticles†. Appl Sci 9:2959. https://doi.org/10.3390/app9152959

Chen CS, Liu TG, Lin LW, Xie XD, Chen XH, Liu QC, Qiu CY (2013) Multi-walled carbon nanotube-supported metal-doped ZnO nanoparticles and their photocatalytic property. J Nanopart Res 15:1295. https://doi.org/10.1007/s11051-012-1295-5

Das R, Ali ME, Hamid SBA, Ramakrishna S, Chowdhury ZZ (2014) Carbon nanotube membranes for water purification: a bright future in water desalination. Desalination 336:97. https://doi.org/10.1016/j.desal.2013.12.026

Datsyuk V, Kalyva M, Papagelis K, Parthenios J, Tasis D, Siokou A, Galiotis C (2008) Chemical oxidation of multiwalled carbon nanotubes. Carbon 46:833. https://doi.org/10.1016/j.carbon.2008.02.012

Davarpanah E, Guilhermino L (2019) Are gold nanoparticles and microplastics mixtures more toxic to the marine microalgae Tetraselmis chuii than the substances individually? Ecotoxicol Environ Saf 181:60. https://doi.org/10.1016/j.ecoenv.2019.05.078

Dhall S, Sood K, Jaggi N (2016) Effect of highly dispersed sputtered silver nanoparticles on structural properties of multiwalled carbon nanotubes. Mater Sci Semicond Proc 41:109. https://doi.org/10.1016/j.mssp.2015.08.025

Dong X, Liang W, Meziani MJ, Sun YP, Yang L (2020) Carbon dots as potent antimicrobial agents. Theranostics 10:671. https://doi.org/10.7150/thno.39863

Duha SA, Mohammad RM, Mustafa KAM (2020) Synthesis of multi-walled carbon nanotubes decorated with ZnO/Ag nanoparticles by co-precipitation method. Nanosci Nanotechnol Asia 10:127–133

Evers K, Porwal H, Todd RI, Grobert N (2019) MWCNT-coated alumina micro-platelets for nacre-like biomimetic composites. Carbon 145:586. https://doi.org/10.1016/j.carbon.2019.01.060

Gunduz N, Ceylan H, Guler MO, Tekinay AB (2017) Intracellular accumulation of gold nanoparticles leads to inhibition of macropinocytosis to reduce the endoplasmic reticulum stress. Sci Rep 7:1–10. https://doi.org/10.1038/srep40493

Haider AJ, Mohammed MR, Al-Mulla EAJ, Ahmed DS (2014) Synthesis of silver nanoparticle decorated carbon nanotubes and its antimicrobial activity against growth of bacteria. Rendiconti Lincei 25:403. https://doi.org/10.1007/s12210-014-0300-6

Jabir MS, Taha AA, Sahib UI (2018) Linalool loaded on glutathione-modified gold nanoparticles: a drug delivery system for a successful antimicrobial therapy. Artif Cells Nanomed Biotechnol 46:345. https://doi.org/10.1080/21691401.2018.1457535

Jabir MS, Taha AA, Sahib UI, Taqi ZJ, Al-Shammari AM, Salman AS (2019) Novel of nano delivery system for Linalool loaded on gold nanoparticles conjugated with CALNN peptide for application in drug uptake and induction of cell death on breast cancer cell line. Mater Sci Eng, C 94:949. https://doi.org/10.1016/j.msec.2018.10.014

Jibrael RI, Mohammed MK (2016) Production of graphene powder by electrochemical exfoliation of graphite electrodes immersed in aqueous solution. Optik 127:6384. https://doi.org/10.1016/j.ijleo.2016.04.101

Koli VB, Dhodamani AG, Raut AV, Thorat ND, Pawar SH, Delekar SD (2016) Visible light photo-induced antibacterial activity of TiO2–MWCNTs nanocomposites with varying the contents of MWCNTs. J Photochem Photobiol, A 328:50. https://doi.org/10.1016/j.jphotochem.2016.05.016

Kumar A, Dalal J, Dahiya S, Punia R, Sharma KD, Ohlan A, Maan AS (2019) In situ decoration of silver nanoparticles on single-walled carbon nanotubes by microwave irradiation for enhanced and durable anti-bacterial finishing on cotton fabric. Ceram Int 45:1011. https://doi.org/10.1016/j.ceramint.2018.09.280

Largani SH, Pasha MA (2017) The effect of concentration ratio and type of functional group on synthesis of CNT–ZnO hybrid nanomaterial by an in situ sol–gel process. Int Nano Lett 7:25–33. https://doi.org/10.1007/s40089-016-0197-4

Lendzion-Bielun Z, Narkiewicz U, Arabczyk W (2013) Cobalt-based catalysts for ammonia decomposition. Materials 6:2400. https://doi.org/10.3390/ma6062400

Lu L, Luo Z, Xu T, Yu L (2013) Cooperative plasmonic effect of Ag and Au nanoparticles on enhancing performance of polymer solar cells. Nano Lett 13:59. https://doi.org/10.1021/nl3034398

Marques Neto JO, Bellato CR, de Souza CH, Silva RCD, Rocha PA (2017) Synthesis, characterization and enhanced photocatalytic activity of iron oxide/carbon nanotube/Ag-doped TiO2 nanocomposites. J Braz Chem Soc 28:2301. https://doi.org/10.21577/0103-5053.20170081

Mohajeri M, Behnam B, Sahebkar A (2019) Biomedical applications of carbon nanomaterials: drug and gene delivery potentials. J Cell Physiol 234:298. https://doi.org/10.1002/jcp.26899

Mohammad MR, Ahmed DS, Mohammed MKA (2019) Synthesis of Ag-doped TiO2 nanoparticles coated with carbon nanotubes by the sol–gel method and their antibacterial activities. J Sol Gel Sci Technol 90:498. https://doi.org/10.1007/s10971-019-04973-w

Mohammad RM, Duha SA, Mustafa KAM (2020) ZnO/Ag nanoparticles-decorated single-walled carbon nanotubes (SWCNTs) and their properties. Surf Rev Lett 27:1950123. https://doi.org/10.1142/S0218625X19501233

Mohammed MK, Al-Mousoi AK, Khalaf HA (2016) Deposition of multi-layer graphene (MLG) film on glass slide by flame synthesis technique. Optik 127:9848. https://doi.org/10.1016/j.ijleo.2016.07.043

Mu H, Tang J, Liu Q, Sun C, Wang T, Duan J (2016) Potent antibacterial nanoparticles against biofilm and intracellular bacteria. Sci Rep 6:18877. https://doi.org/10.1038/srep18877

Mustafa KAM (2020) Carbon nanotubes loaded ZnO/Ag ternary nanohybrid with improved visible light photocatalytic activity and stability. Optik 217:164867. https://doi.org/10.1016/j.ijleo.2020.164867

Mustafa KAM, Ahmed DS, Mohammad MR (2019) Studying antimicrobial activity of carbon nanotubes decorated with metal-doped ZnO hybrid materials. Mater Res Exp 6:055404. https://doi.org/10.1088/2053-1591/ab0687

Mustafa KAM, Mohammad RM, Jabir MS, Duha SA (2020) Functionalization, characterization, and antibacterial activity of single wall and multi wall carbon nanotubes. IOP Conf Ser Mater Sci Eng 757:012028. https://doi.org/10.1088/1757-899x/757/1/012028

Rauti R, Musto M, Bosi S, Prato M, Ballerini L (2019) Properties and behavior of carbon nanomaterials when interfacing neuronal cells: How far have we come? Carbon 143:430. https://doi.org/10.1016/j.carbon.2018.11.026

Samadi M, Shivaee HA, Zanetti M, Pourjavadi A, Moshfegh A (2012) Visible light photocatalytic activity of novel MWCNT-doped ZnO electrospun nanofibers. J Mol Catal A: Chem 359:42. https://doi.org/10.1016/j.molcata.2012.03.019

Sikora P, Augustyniak A, Cendrowski K, Nawrotek P, Mijowska E (2018) Antimicrobial activity of Al2O3, CuO, Fe3O4, and ZnO nanoparticles in scope of their further application in cement-based building materials. Nanomaterials 8:212. https://doi.org/10.3390/nano8040212

Singh VV, Jurado-Sanchez B, Sattayasamitsathit S, Orozco J, Li JX, Galarnyk M, Fedorak Y, Wang J (2015) Multifunctional silver-exchanged zeolite micromotors for catalytic detoxification of chemical and biological threats. Adv Funct Mater 25:214. https://doi.org/10.1002/adfm.201500033

Srivastava N, Srivastava PC (2010) Realizing NiO nanocrystals from a simple chemical method. Bull Mater Sci 33:653. https://doi.org/10.1007/s12034-011-0142-0

Sui M, Zhang L, Sheng L, Huang S, She L (2013) Synthesis of ZnO coated multi-walled carbon nanotubes and their antibacterial activities. Sci Total Environ 452–453:148–154. https://doi.org/10.1016/j.scitotenv.2013.02.056

Vasilev K (2019) Nanoengineered antibacterial coatings and materials: a perspective. Coatings 9:654. https://doi.org/10.3390/coatings9100654

Vimbela GV, Ngo SM, Fraze C, Yang L, Stout DA (2017) Antibacterial properties and toxicity from metallic nanomaterials. Int J Nanomed 12:3941. https://doi.org/10.2147/IJN.S134526

Yang H, Du L, Wu G, Wu Z, Keelan JA (2018) Murine exposure to gold nanoparticles during early pregnancy promotes abortion by inhibiting ectodermal differentiation. Mol Med 24:62. https://doi.org/10.1186/s10020-018-0061-2
Ethics declarations
Conflict of interest
The authors declare that they have no conflict of interest.
Additional information
Publisher's Note
Springer Nature remains neutral with regard to jurisdictional claims in published maps and institutional affiliations.
About this article
Cite this article
Ahmed, D.S., Mohammed, M.K.A. Studying the bactericidal ability and biocompatibility of gold and gold oxide nanoparticles decorating on multi-wall carbon nanotubes. Chem. Pap. (2020). https://doi.org/10.1007/s11696-020-01223-0
Received:

Accepted:

Published:
Keywords
MWCNT

Au nanoparticles

Biocompatibility

Bactericidal ability

MTT assay