This is a preview of subscription content, log in to check access.
Access options
Buy single article
Instant access to the full article PDF.
US$ 39.95
Price includes VAT for USA
Subscribe to journal
Immediate online access to all issues from 2019. Subscription will auto renew annually.
US$ 99
This is the net price. Taxes to be calculated in checkout.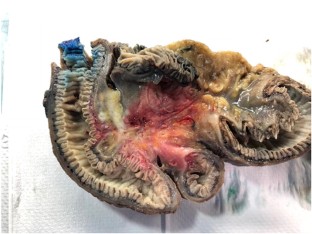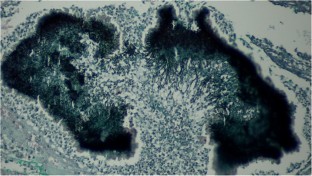 References
1.

Bittencourt JA, Andreis EL, Lima EL, et al. Actinomycosis simulating malignant large bowel obstruction. Braz J Infect Dis. 2004;8(2):186–9.

2.

Valour F, Sénéchal A, Dupieux C, et al. Actinomycosis: etiology, clinical features, diagnosis, treatment, and management. Infect Drug Resist. 2014;7:183–97.

3.

Paulo CO, Jordão S, Correia-Pinto J, et al. Actinomycosis, a lurking threat: a report of 11 cases and literature review. Rev Soc Bras Med Trop. 2018;51(1):7–13.

4.

Könönen E, Wade WG. Actinomyces and related organisms in human infections. Clin Microbiol Rev. 2015;28(2):419–42.

5.

Baierlein SA, Wistop A, Looser C, et al. Abdominal actinomycosis: a rare complication after laparoscopic gastric bypass. Obes Surg. 2007;17(8):1123–6.

6.

Koch KS, Zeilmann E, Khunen RB. Actinomicose intestinal: relato de caso. Rev Bras Coloproct. 2011;30(4):459–61.

7.

Bonnefond S, Catroux M, Melenotte C, et al. Clinical features of actinomycosis: a retrospective, multicenter study of 28 cases of miscellaneous presentations. Medicine (Baltimore). 2016;95(24):e3923.

8.

Acevedo F, Baudrand R, Letelier LM, et al. Actinomycosis: a great pretender. Case reports of unusual presentations and a review of the literature. Int J Infect Dis. 2008;12(4):358–62.

9.

Acquaro P, Tagliabue F, Confalonieri G, et al. Abdominal wall actinomycosis simulating a malignant neoplasm: case report and review of the literature. World J Gastrointest Surg. 2010;2(7):247–50.

10.

Liu K, Joseph D, Lai K, et al. Abdominal actinomycosis presenting as appendicitis: two case reports and review. J Surg Case Rep. 2016;2016(5):rjw068.
Ethics declarations
Conflict of Interest
The authors declare that they have no conflict of interest.
Statement of Informed Consent
Informed consent was obtained from all individual participants included in the study.
Statement of Human and Animal Rights
All procedures performed in studies involving human participants were in accordance with the ethical standards of the institutional and/or national research committee and with the 1964 Helsinki declaration and its later amendments or comparable ethical standards.
Additional information
Publisher's Note
Springer Nature remains neutral with regard to jurisdictional claims in published maps and institutional affiliations.
Work developed at: Centro Médico de Campinas (CMC), Campinas (SP), Brazil
About this article
Cite this article
Sia, G.B., Soares, P.F.C., Benedetti, L. et al. Abdominal Actinomycosis After Bariatric Surgery. OBES SURG (2020). https://doi.org/10.1007/s11695-020-04784-x
Received:

Revised:

Accepted:

Published:
Keywords
Actinomycosis

Bariatric surgery

Gastric bypass

Obesity

Intestinal obstruction