Abstract
Case report of a phytobezoar causing gastric outlet obstruction as a late complication after biliopancreatic diversion with duodenal switch, review of the literature and discussion of bezoars as a differential diagnosis in patients after bariatric surgery presenting with signs of intestinal obstruction.
This is a preview of subscription content, log in to check access.
Access options
Buy single article
Instant access to the full article PDF.
US$ 39.95
Price includes VAT for USA
Subscribe to journal
Immediate online access to all issues from 2019. Subscription will auto renew annually.
US$ 99
This is the net price. Taxes to be calculated in checkout.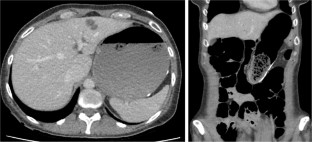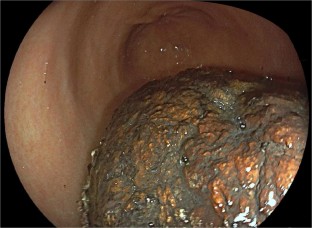 References
1.

Stenberg E, Szabo E, Ågren G, et al. Closure of mesenteric defects in laparoscopic gastric bypass: a multicentre, randomised, parallel, open-label trial. Lancet. 2016;387(10026):1397–404.

2.

Biertho L, Lebel S, Marceau S, et al. Perioperative complications in a consecutive series of 1000 duodenal switches. Surg Obes Relat Dis [Internet] Elsevier Inc. 2013;9(1):63–8.

3.

Ma IT, Madura JA. Gastrointestinal complications after bariatric surgery. Gastroenterol Hepatol. 2015. p. 526–35.

4.

Ben-Porat T, Dagan SS, Goldenshluger A, et al. Gastrointestinal phytobezoar following bariatric surgery: systematic review. Surg Obes Relat Dis Elsevier. 2016;12(9):1747–54.

5.

Goldenshluger A, Dagan SS, Grinbaum R, et al. Phytobezoar: a rare late complication following laparoscopic sleeve gastrectomy surgery. Int Surg J. 2017;4(5):1803.

6.

Dikicier E. Intestinal obstruction due to phytobezoars: an update. World J Clin Cases. 2015;3(8):721–6.

7.

Kement M, Ozlem N, Colak E, et al. Synergistic effect of multiple predisposing risk factors on the development of bezoars. World J Gastroenterol. 2012;18(9):960–4.

8.

Zissin R, Osadchy A, Gutman V, et al. CT findings in patients with small bowel obstruction due to phytobezoar. Emerg Radiol. 2004;10(4):197–200.

9.

Berg D, Chakinala RC, Veillette G, et al. Endoscopic versus surgical intervention for jejunal bezoar formation. ACG Case Reports J. 2019;5(1):e87.

10.

Ladas SD, Triantafyllou K, Tzathas C, et al. Gastric phytobezoars may be treated by nasogastric Coca-Cola lavage. Eur J Gastroenterol Hepatol. 2002;14(7):801–3.

11.

Iwamuro M, Okada H, Matsueda K, et al. Review of the diagnosis and management of gastrointestinal bezoars. World J Gastrointest Endosc. 2015;7(4):336–45.
Ethics declarations
For this type of study, formal consent is not required. Informed consent does not apply.
Conflict of Interest
The authors declare that they have no conflict of interest.
Additional information
Publisher's Note
Springer Nature remains neutral with regard to jurisdictional claims in published maps and institutional affiliations.
About this article
Cite this article
Zwicky, S., Inauen, W. & Pfefferkorn, U. Case Report: Phytobezoar Causing Gastric Outlet Obstruction as a Late Complication After Biliopancreatic Diversion with Duodenal Switch. OBES SURG 30, 3233–3235 (2020). https://doi.org/10.1007/s11695-020-04531-2
Keywords
Bezoar

Phytobezoar

Case report

Biliopancreatic diversion

Duodenal switch

Sleeve gastrectomy

Gastroscopy

Endoscopic fragmentation

Instestinal obstruction after bariatric surgery