Abstract
Introduction
One anastomosis gastric bypass (OAGB) has gained popularity over the recent years; it appears to be an effective bariatric procedure with acceptable weight loss, co-morbidity resolution, and complication rates in the short and medium term. However, it still continues to have concerns in the bariatric community due to a spectrum of potential complications. To our knowledge, there are few published cases of internal hernia, but no published reports of gastric remnant perforation following OAGB.
Case Presentation
We report a case of a 32-year-old female who developed a perforation of the remnant stomach along the gastric fundus secondary to bowel obstruction 5 years after OAGB. The perforation was managed by stapled resection of the perforated fundus and closure of Peterson's space for potential hernia as a causative factor, and the patient had a smooth postoperative recovery.
Discussion
Early diagnosis is crucial in post bariatric emergencies with a low threshold of early intervention. Gastric remnant perforation was previously described in some reports following Roux-en-Y gastric bypass (RYGB) but not after OAGB. Etiology of perforation can be rationalized to primary gastric remnant pathology or secondary to external factors such as back pressure of mechanical/functional bowel obstruction.
Conclusion
Peterson's hernia and gastric remnant perforation are rare, yet serious, complications that need to be kept in mind while dealing with post-OAGB patients presenting with abdominal pain. Early diagnosis and treatment are essential for a better outcome.
This is a preview of subscription content, log in to check access.
Access options
Buy single article
Instant access to the full article PDF.
US$ 39.95
Price includes VAT for USA
Subscribe to journal
Immediate online access to all issues from 2019. Subscription will auto renew annually.
US$ 99
This is the net price. Taxes to be calculated in checkout.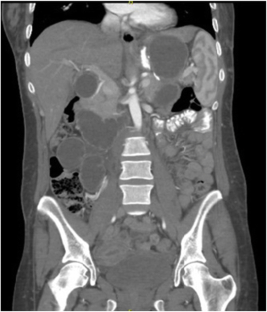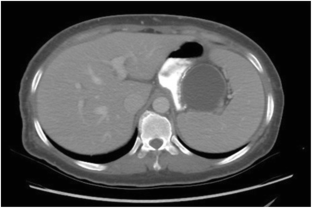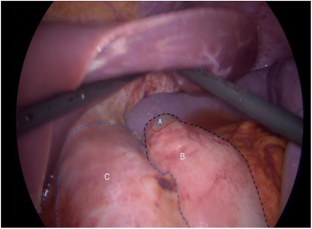 References
1.

Rutledge R. The mini-gastric bypass: experience with the first 1274 cases. Obes Surg. 2001;11(3):276–80.

2.

Solouki A, Kermansaravi M, Jazi AHD, et al. One-anastomosis gastric bypass as an alternative procedure of choice in morbidly obese patients. J Res Med Sci. 2018;23:84.

3.

Robert M, Espalieu P, Pelascini E, et al. Efficacy and safety of one anastomosis gastric bypass versus Roux-en-Y gastric bypass for obesity (YOMEGA): a multicentre, randomised, open-label, non-inferiority trial. Lancet. 2019;393(10178):1299–309.

4.

ElintonAdami CHAIM, Almino Cardoso RAMOS, CAZZO E. Mini-gastric bypass: description of the technique and preliminary results. Arq Bras Cir Dig. 2017;30(4):264–6.

5.

Magouliotis DE, Tasiopoulou VS, Tzovaras G. One anastomosis gastric bypass versus Roux-en-Y gastric bypass for morbid obesity: a meta-analysis. Clin Obes. 2018 Jun;8(3):159–69.

6.

Mahawar KK, Carr WRJ, Balupuri S, et al. Controversy surrounding 'mini' gastric bypass. Obes Surg. 2014;24(2):324–33.

7.

Genser L, Sergio C, Soprani A. Petersen's internal hernia complicating a laparoscopic omega loop gastric bypass. Surg Obes Relat Dis. 2015;11(5):e33-4.

8.

Mahawar KK, Himpens J, Shikora SA, et al. The first consensus statement on one anastomosis/mini gastric bypass (OAGB/ MGB) using a modified Delphi approach. ObesSurg. 2018;28:303–12.

9.

Mahawar KK. Petersen's hernia may be commoner after OAGB/MGB than previously reported. ObesSurg. 2018;28:257–8.

10.

Facchiano E, Iannelli A, Lucchese M. Internal hernia after mini-gastric bypass: myth or reality? J Visc Sur. 2016;153(3):231–2.

11.

Kular KS, Prasad A, Ramana B, et al. Petersen's hernia after mini (one anastomosis) gastric bypass. J Visc Surg. 2016;153(4):321.

12.

Kermansaravi M, Kazazi M, Pazouki A. Petersen's space internal hernia after laparoscopic one anastomosis (mini) gastric bypass. Case Rep Surg. 2018;2018:9576120. 3 pages

13.

Abbas A, Kermansaravi M, Eghbali F. Another Petersen's space hernia after one anastomosis gastric bypass: a video case report. Obes Surg. 2019;29(11):3776–7.

14.

Gündeş E, Küçükkartallar T, Tekin A, et al. Gastric necrosis and perforation caused by acute gastric dilatation. Ulusalcerrahidergisi. 2014;30(3):179–82.

15.

Ovaere S, Tse WHW, Schipper EE, et al. Perforation of the gastric remnant in a patient post-Roux-en-Y gastric bypass. BMJ Case Rep. 2016:02–29. bcr2015213862

16.

Dewangan M, Khare MK, Mishra S, et al. Binge eating leading to acute gastric dilatation, ischemic necrosis and rupture –a case report. J Clin Diagn Res. 2016;10(3):PD06.

17.

CONN H, POYNARD T. Corticosteroids and peptic ulcer: meta-analysis of adverse events during steroid therapy. J Intern Med. 1994;236:619–32.
Ethics declarations
Statement of Informed Consent
Informed consent was obtained from all individual participants included in the study.
Ethical Approval
All procedures performed in this study were in accordance with the ethical standards of the institutional and/or national research committee and with the 1964 Helsinki declaration and its later amendments or comparable ethical standards.
Conflict of Interest
The authors declare that they have no conflict of interest.
Additional information
Publisher's Note
Springer Nature remains neutral with regard to jurisdictional claims in published maps and institutional affiliations.
About this article
Cite this article
AlZarooni, N., Abou Hussein, B., Al Marzouqi, O. et al. Gastric Remnant Perforation Caused by Peterson's Hernia Following One Anastomosis Gastric Bypass: a Rare Complication. OBES SURG 30, 3229–3232 (2020). https://doi.org/10.1007/s11695-020-04524-1
Keywords
One anastamosis gastric bypass

Internal hernia

Peterson's space

Remnant

Perforation