Abstract
Background
Metabolic and bariatric surgery (MBS) is currently the only clinically proven method of weight loss that is effective in treating severe obesity and its related comorbidities. However, only about 36% of MBS-eligible patients complete MBS. This qualitative study used the psychosocial framework to identify barriers and facilitators to MBS utilization among patients who had been referred to, or were considering MBS, but had not completed it.
Methods
A combination of focus groups and in-depth interviews were utilized (Spring 2019) among ethnically diverse patients (N = 29, 82% female, 62% non-Hispanic Black, 10% Hispanic) who were considering MBS. All data was audio recorded, transcribed, and coded. Interview questions were grouped by the four psychosocial model domains (intrapersonal, interpersonal, organization/clinical interaction, societal/environmental) within the context of why patients would/would not follow through with MBS. The analysis included a combination of deductive and inductive approaches to generate the final codebook. Then, each code was input into Dedoose to identify overarching themes and sub-themes.
Results
A total of 9 themes and 17 subthemes were found. Two major intrapersonal themes and four subthemes were identified as facilitators to MBS utilization and included a desire for improvement in existing comorbidities, mobility, and anticipated changes in physical appearance. Primary barriers to MBS completion included concerns about potential change in dietary behaviors post-MBS and safety of procedure.
Conclusions
Providing educational materials to address MBS common fears and misconceptions may increase utilization rates. Providing community-based pre- and post-support groups for this patient population may also increase MBS completion rates.
Access options
Buy single article
Instant access to the full article PDF.
US$ 39.95
Tax calculation will be finalised during checkout.
Subscribe to journal
Immediate online access to all issues from 2019. Subscription will auto renew annually.
US$ 79
Tax calculation will be finalised during checkout.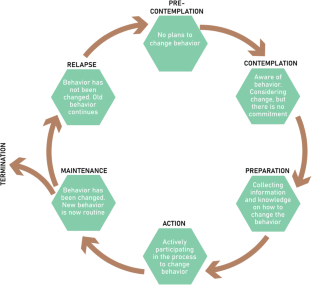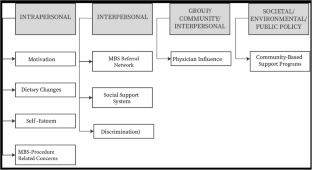 References
1.

Schauer PR, Kashyap SR, Wolski K, et al. Bariatric surgery versus intensive medical therapy in obese patients with diabetes. N Engl J Med. 2012;366:1567–76.

2.

Dixon JB, O'Brien PE, Playfair J, et al. Adjustable gastric banding and conventional therapy for type 2 diabetes: a randomized controlled trial. JAMA. 2008;299:316–23.

3.

Mingrone G, Panunzi S, De Gaetano A, et al. Bariatric surgery versus conventional medical therapy for type 2 diabetes. N Engl J Med. 2012;366:1577–85.

4.

De La Cruz-Munoz N, Messiah SE, Lopez-Mitnik G, et al. Laparoscopic gastric bypass surgery and adjustable gastric banding significantly decrease the prevalence of type 2 diabetes mellitus and pre-diabetes among morbidly obese multiethnic adults: long-term outcome results. J Amer Coll Surg. 2011;212(4):505–11.

5.

Buchwald H, Estok R, Fahrbach K, et al. Weight and type 2 diabetes after bariatric surgery: systematic review and meta-analysis. Am J Med. 2009;122:248–56.

6.

Sjöström L, Lindroos AK, Peltonen M, et al. Lifestyle, diabetes, and cardiovascular risk factors 10 years after bariatric surgery. N Engl J Med. 2004;351:2683–93.

7.

Pitzul KB, Jackson T, Crawford S, et al. Understanding disposition after referral for bariatric surgery: when and why patients referred do not undergo surgery. Obes Surg. 2014;24(1):134–40. https://doi.org/10.1007/s11695-013-1083-z.

8.

Bhogal SK, Reddigan JI, Rotstein OD, et al. Inequity to the utilization of bariatric surgery: a systematic review and meta-analysis. Obes Surg. 2015;25(5):888–99. https://doi.org/10.1007/s11695-015-1595-9. Review

9.

Sudan R, Winegar D, Thomas S, et al. Influence of ethnicity on the efficacy and utilization of bariatric surgery in the USA. J Gastrointest Surg. 2014;18(1):130–6. https://doi.org/10.1007/s11605-013-2368-1.

10.

Lewis KH, Edwards-Hampton SA, Ard JD. Disparities in treatment uptake and outcomes of patients with obesity in the USA. Curr Obes Rep. 2016;5(2):282–90.

11.

Miller-Matero LR, Tobin ET, Clark S, et al. Pursuing bariatric surgery in an urban area: gender and racial disparities and risk for psychiatric symptoms. Obes Res Clin Pract. 2016;10(1):56–62.

12.

Ortiz SE, Kawachi I, Boyce AM. The medicalization of obesity, bariatric surgery, and population health. Health (London). 2017;21(5):498–518.

13.

Sadhasivam S, Larson CJ, Lambert PJ, et al. Refusals, denials, and patient choice: reasons prospective patients do not undergo bariatric surgery. Surg Obes Relat Dis. 2007;3(5):531–5; discussion 535-6. https://doi.org/10.1016/j.soard.2007.07.004.

14.

Prochaska JO, Velicer WF. The transtheoretical model of health behavior change. Am J Health Promot. 1997;12(1):38–48.

15.

Munoz DJ, Lal M, Chen EY, et al. Why patients seek bariatric surgery: a qualitative and quantitative analysis of patient motivation. Obes Surg. 2007;17(11):1487–91.

16.

Brantley PJ, Waldo K, Matthews-Ewald MR, et al. Why patients seek bariatric surgery: does insurance coverage matter? Obes Surg. 2014;24(6):961–4. https://doi.org/10.1007/s11695-014-1237-7.

17.

Song Z, Reinhardt K, Buzdon M, et al. Association between support group attendance and weight loss after Roux-en-Y gastric bypass. Surg Obes Relat Dis. 2008;4(2):100–3. https://doi.org/10.1016/j.soard.2007.02.010.

18.

Swami V, Chan F, Wong V, et al. Weight-based discrimination in occupational hiring and helping behavior. J Appl Soc Psychol. 2008;38:968–81. https://doi.org/10.1111/j.1559-1816.2008.00334.x.

19.

Rudolph CW, Wells CL, Weller MD, et al. A meta-analysis of empirical studies of weight-based bias in the workplace. J Vocat Behav. 2009;74(1):1–10. https://doi.org/10.1016/j.jvb.2008.09.008.
Funding
This study was funded by the National Institutes of Health, National Institute on Minority Health and Health Disparities (grant #R01MD011686).
Ethics declarations
Conflict of Interest
The authors declare that they have no conflict of interest.
Informed Consent
Informed consent was obtained from all individual participants included in the study.
Statement of Human and Animal Rights/Ethical Approval
All procedures performed in studies involving human participants were in accordance with the ethical standards of the institutional and/or national research committee and with the 1964 Helsinki declaration and its later amendments or comparable ethical standards.
Additional information
Publisher's Note
Springer Nature remains neutral with regard to jurisdictional claims in published maps and institutional affiliations.
About this article
Cite this article
Keeton, J., Ofori, A., Booker, Q. et al. Psychosocial Factors that Inform the Decision to Have Metabolic and Bariatric Surgery Utilization in Ethnically Diverse Patients. OBES SURG 30, 2233–2242 (2020). https://doi.org/10.1007/s11695-020-04454-y
Keywords
Metabolic

Bariatric surgery

Ethnicity

Health disparities

Psychosocial model

Utilization