Abstract
Background
The role of preoperative screening and treatment of Helicobacter pylori (HP) in asymptomatic patients undergoing laparoscopic sleeve gastrectomy (LSG) remains unclear. This study aims to define the preoperative prevalence and management of HP and their effect on postoperative outcomes at our institution.
Materials and Methods
We reviewed the medical records and surgical specimens of all LSG performed at an academic centre in Toronto, ON between 2010 and 2017.
Results
Review of our institutional database identified 222 patients that underwent LSG, of which 200 had preoperative HP screening: 18% tested positive and 15% were treated. Seven surgical specimens were HP-positive (3.2%). No association was found between preoperative HP status, treatment or HP-positive specimen and postoperative complications at 1 year.
Conclusion
Although preoperative screening and treatment likely reduce the prevalence of HP in LSG specimens, our findings suggest that they may be of limited clinical value in LSG as they have little influence on surgical morbidity.
Access options
Buy single article
Instant access to the full article PDF.
US$ 39.95
Tax calculation will be finalised during checkout.
Subscribe to journal
Immediate online access to all issues from 2019. Subscription will auto renew annually.
US$ 79
Tax calculation will be finalised during checkout.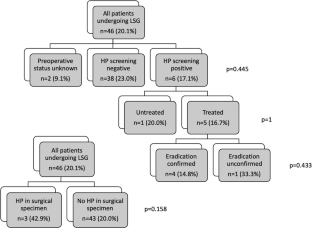 References
1.

Mechanick JI, Youdim A, Jones DB, et al. Clinical practice guidelines for the perioperative nutritional, metabolic, and nonsurgical support of the bariatric surgery patient--2013 update: cosponsored by American Association of Clinical Endocrinologists, the Obesity Society, and American Society for Metabolic & bariatric surgery. Surg Obes Relat Dis. 2013;9:159–91.

2.

Rasmussen JJ, Fuller W, Ali MR. Marginal ulceration after laparoscopic gastric bypass: an analysis of predisposing factors in 260 patients. Surg Endosc. 2007;21:1090–4.

3.

Hartin Jr CW, ReMine DS, Lucktong TA. Preoperative bariatric screening and treatment of helicobacter pylori. Surg Endosc. 2009;23:2531–4.

4.

Brownlee AR, Bromberg E, Roslin MS. Outcomes in patients with helicobacter pylori undergoing laparoscopic sleeve Gastrectomy. Obes Surg. 2015;25:2276–9.

5.

Almazeedi S, Al-Sabah S, Alshammari D, et al. The impact of helicobacter pylori on the complications of laparoscopic sleeve gastrectomy. Obes Surg. 2014;24:412–5.

6.

Asge Standards Of Practice C, Anderson MA, Gan SI, et al. Role of endoscopy in the bariatric surgery patient. Gastrointest Endosc. 2008;68:1–10.

7.

Mocanu V, Dang JT, Switzer N, et al. The effect of helicobacter pylori on postoperative outcomes in patients undergoing bariatric surgery: a systematic review and meta-analysis. Obes Surg. 2018;28:567–73.

8.

Hooi JKY, Lai WY, Ng WK, et al. Global prevalence of helicobacter pylori infection: systematic review and meta-analysis. Gastroenterology. 2017;153:420–9.

9.

Malfertheiner P, Megraud F, O'Morain CA, Gisbert JP, Kuipers EJ, Axon AT, Bazzoli F, Gasbarrini A, Atherton J, Graham DY, Hunt R, Moayyedi P, Rokkas T, Rugge M, Selgrad M, Suerbaum S, Sugano K, El-Omar EM, European H, Microbiota Study G, Consensus p. Management of Helicobacter pylori infection-the Maastricht V/Florence consensus report. Gut. 2017;66:6–30.

10.

Moayyedi PM, Lacy BE, Andrews CN, et al. ACG and CAG clinical guideline: Management of Dyspepsia. Am J Gastroenterol. 2017;112:988–1013.
Ethics declarations
All procedures performed in studies involving human participants were in accordance with the ethical standards of the institutional and/or national research committee and with the 1964 Helsinki declaration and its later amendments or comparable ethical standards. For this type of study formal consent is not required.
Disclosures
Author 1 reports grants from Medtronic outside the submitted work. Author 8 reports personal fees from Medtronic, personal fees from Ethicon, and personal fees from Merck, outside the submitted work. Authors 2 through 7 have no conflicts of interest or financial ties to disclose.
Additional information
Publisher's Note
Springer Nature remains neutral with regard to jurisdictional claims in published maps and institutional affiliations.
About this article
Cite this article
Di Palma, A., Alhabdan, S., Maeda, A. et al. Preoperative Helicobacter pylori Screening and Treatment in Patients Undergoing Laparoscopic Sleeve Gastrectomy. OBES SURG 30, 2816–2820 (2020). https://doi.org/10.1007/s11695-020-04436-0
Keywords
Bariatric surgery

Sleeve gastrectomy

Helicobacter pylori

Preoperative screening

Surgical outcomes