Abstract
Objective
To investigate the perception of hunger and satiety and its association with nutrient intake in women who regain weight in the postoperative period after bariatric surgery.
Methods
Cross-sectional study of adult women divided into three groups: weight regain (n = 20), stable weight (n = 20) (both at least 24 months after Roux-en-Y gastric bypass surgery), and non-operated obesity (n = 20). A visual analogue scale measured hunger/satiety perception while fasting, immediately after finishing a test meal, and 180 min after finishing the test meal. The incremental area above or under the curve was calculated. Food intake was analyzed by 3 days of food recall and adjusted for intraindividual variation. To make between-group comparisons, Mann-Whitney, ANOVA, Kruskal-Wallis, and independent-samples T tests and Pearson's correlation were used.
Results
There were no between-group differences in incremental areas of hunger/satiety, but protein intake was significantly lower among patients who regained weight compared with those who had stable body weight (0.99 ± 0.23 g/kg body weight vs. 1.17 ± 0.21 g/kg body weight, p = 0.047). In the group that regained weight, satiety was correlated positively with usual dietary protein density (r = 0.541; p = 0.017) and negatively with usual carbohydrate intake (r = − 0.663; p = 0.002).
Conclusion
Women who regained weight presented similar perceptions of hunger/satiety to those of patients without weight regain and with non-operated obesity. In patients who regained weight postoperatively, satiety perception was correlated positively with usual dietary protein density and inversely with usual carbohydrate intake.
Access options
Buy single article
Instant access to the full article PDF.
USD 39.95
Price includes VAT (USA)
Tax calculation will be finalised during checkout.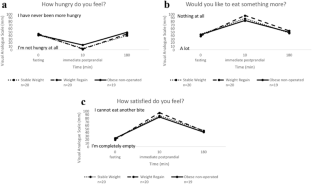 References
1.

Giusti V, Theytaz F, Di Vetta V, Clarisse M, Suter M, Tappy L. Energy and macronutrient intake after gastric bypass for morbid obesity: a 3-y observational study focused on protein consumption. Am J Clin Nutr 2016;103(1):18–24.

2.

Mundi MS, Lorentz PA, Swain J, et al. Moderate physical activity as predictor of weight loss after bariatric surgery. Obes Surg. 2013;23(10):1645–9.

3.

da Silva FBL, Gomes DL, de Carvalho KMB. Poor diet quality and postoperative time are independent risk factors for weight regain after Roux-en-Y gastric bypass. Nutrition. 2016;32(11–12):1250–3.

4.

Freire RH, Borges MC, Alvarez-Leite JI, et al. Food quality, physical activity, and nutritional follow-up as determinant of weight regain after Roux-en-Y gastric bypass. Nutrition. 2012;28:53–8.

5.

Espel-Huynh HM, Muratore AF, Lowe MR. A narrative review of the construct of hedonic hunger and its measurement by the Power of Food Scale. Obes Sci Pract. 2018;4(3):238–49.

6.

Leidy HJ, Armstrong CL, Tang M, et al. The influence of higher protein intake and greater eating frequency on appetite control in overweight and obese men. Obesity (Silver Spring). 2010;18(9):1725–32.

7.

Martens EA, Tan SY, Dunlop MV, et al. Protein leverage effects of beef protein on energy intake in humans. Am J Clin Nutr. 2014;99(6):1397–406.

8.

Flint A, Raben A, Blundell JE, et al. Reproducibility, power and validity of visual analogue scales in assessment of appetite sensations in single test meal studies. Int J Obes Relat Metab Disord. 2000;24(1):38–48.

9.

Parker BA, Sturm K, Macintosh CG, et al. Relation between food intake and visual analogue scale ratings of appetite and other sensations in healthy older and young subjects. Eur J Clin Nutr. 2004;58(2):212–8.

10.

Conway JM, Ingwersen LA, Vinyard BT, et al. Effectiveness of the US Department of Agriculture 5-step multiple-pass method in assessing food intake in obese and nonobese women. Am J Clin Nutr. 2003;77(5):1171–8.

11.

Pinheiro ABV. Tabela para Avaliação de Consumo Alimentar em Medidas Caseiras, 5th edn. Atheneu; 2004.

12.

Nutrition Coordinating Center. Nutrition data system for research software. Minneapolis (MN): University of Minnesota; 2016.

13.

Núcleo de Estudos e Pesquisas em Alimentação – UNICAMP. Tabela brasileira de composição de alimentos. 5th ed. Campinas: UNICAMP-NEPA; 2011. 161p

14.

Center for agricultural and rural development. PC-SIDE software. Iowa State University; 2003.

15.

Freedman LS, Guenther PM, Dodd KW, et al. The population distribution of ratios of usual intakes of dietary components that are consumed every day can be estimated from repeated 24-hour recalls. J Nutr. 2010;140(1):111–6.

16.

Furchner-Evanson A, Petrisko Y, Howarth L, et al. Type of snack influences satiety responses in adult women. Appetite. 2010;54(3):564–9. Epub 2010 Mar 3

17.

Shantavasinkul PC, Omotoshoc P, Corsinod L, et al. Predictors of weight regain in patients who underwent Roux-en-Y gastric bypass surgery. Surg Obes Relat Dis. 2016;12(9):1640–5.

18.

Ullrich J, Ernst B, Wilms B, et al. Roux-en Y gastric bypass surgery reduces hedonic hunger and improves dietary habits in severely obese subjects. Obes Surg. 2013;23(1):50–5.

19.

Martens EA, Westerterp-Plantenga MS. Protein diets, body weight loss and weight maintenance. Curr Opin Clin Nutr Metab Care. 2014;17(1):75–9.

20.

Colles SL, Dixon JB, O'Brien PE. Grazing and loss of control related to eating: two high-risk factors following bariatric surgery. Obesity. 2008;16:615–22.

21.

Luiz LB, Brito CLS, Debon LM, et al. Variation of binge eating one year after Roux-en-Y gastric bypass and its relationship with excess weight loss. PLoS One. 2016;11(12):e0167577.

22.

Alvarez V, Carrasco F, Cuevas A, et al. Mechanisms of long-term weight regain in patients undergoing sleeve gastrectomy. Nutrition. 2016;32(3):303–8.

23.

Yousseif A, Emmanuel J, Karra E, et al. Differential effects of laparoscopic sleeve gastrectomy and laparoscopic gastric bypass on appetite, circulating acyl-ghrelin, peptide YY3-36 and active GLP-1 levels in non-diabetic humans. Obes Surg. 2014;24(2):241–52.

24.

Dar MS, Chapman WH, Pender JR, et al. GLP-1 response to a mixed meal: what happens 10 years after Roux-en-Y gastric bypass (RYGB)? Obes Surg. 2012;22:1077–83.

25.

Stano S, Alam F, Wu L, et al. Effect of meal size and texture on gastric pouch emptying and glucagon-like peptide 1 after gastric bypass surgery. Surg Obes Relat Dis. 2017;13(12):1975–83.

26.

Cardeal MA, Faria SL, Faria OP, et al. Diet-induced thermogenesis in postoperatve Roux-en-Y gastric bypass patients with weight regain. Surg Obes Relat Dis. 2016;12(5):1098–107.

27.

Yeh C, Huang HH, Chen SC, et al. Comparison of consumption behavior and appetite sensations among patients with type 2 diabetes mellitus after bariatric surgery. PeerJ. 2017;5:e3090.

28.

Dirksen C, Jørgensen NB, Bojsen-Møller KN, et al. Gut hormones, early dumping and resting energy expenditure in patients with good and poor weight loss response after Roux-en-Y gastric bypass. Int J Obes. 2013;37(11):1452–9.

29.

Santo MA, Riccioppo D, Pajecki D, et al. Weight regain after gastric bypass: influence of gut hormones. Obes Surg. 2016;26(5):919–25.

30.

Fried M, Yumuk V, Oppert JM, et al. Interdisciplinary European guidelines on metabolic and bariatric surgery. Obes Surg. 2014;24(1):42–55.

31.

Institute of Medicine. Dietary reference intakes for energy, carbohydrate, fiber, fat, fatty acids, cholesterol, protein, and amino acids. Washington (DC): National Academy Press; 2005.

32.

Reid RE, Oparina E, Plourde H, et al. Energy intake and food habits between weight maintainers and Regainers, five years after Roux-en-Y gastric bypass. Can J Diet Pract Res. 2016;77(4):195–8.

33.

Ito MK, Gonçalves VSS, Faria SLCM, et al. Effect of protein intake on the protein status and lean mass of post-bariatric surgery patients: a systematic review. Obes Surg. 2017;27(2):502–12.

34.

Gomes DL, Oliveira DA, Dutra ES, et al. Resting energy expenditure and body composition of women with weight regain 24 months after bariatric surgery. Obes Surg. 2016;26(7):1443–7.

35.

Avelino GF, Previdelli AN, Castro MA, et al. Sub-relato da ingestão energética e fatores associados em estudo de base populacional. Cad Saúde Pública. 2014;30(3):663–8.

36.

Kanerva N, Larsson I, Peltonen M, et al. Sociodemographic and lifestyle factors as determinants of energy intake and macronutrient composition: a 10-year follow-up after bariatric surgery. Surg Obes Relat Dis. 2017;13(9):1572–83.

37.

Amundsen T, Strømmen M, Martins C. Suboptimal weight loss and weight regain after gastric bypass surgery—postoperative status of energy intake, eating behavior, physical activity, and psychometrics. Obes Surg. 2017;27(5):1316–23.

38.

Farias G, Thieme RD, Teixeira LM, et al. Good weight loss responders and poor weight loss responders after Roux-en-Y gastric bypass: clinical and nutritional profiles. Nutr Hosp. 2016;33(5):1108–15.

39.

Westerterp-Plantenga MS, Lemmens SG, Westerterp KR. Dietary protein - its role in satiety, energetics, weight loss and health. Br J Nutr. 2012;108(2):S105–12.

40.

Russell WR, Baka A, Bjorck I, et al. Impact of diet composition on blood glucose regulation. Crit Rev Food Sci Nutr. 2016;56:541–90.

41.

Gomes DL, Moehlecke M, da Silva FBL, et al. Whey protein supplementation enhances body fat and weight loss in women long after bariatric surgery: a randomized controlled trial. Obes Surg. 2017;27(2):424–43.
Funding
This study was funded by Foundation for Research Support of the Federal District – Brazil (FAPDF), no. 10569.56.30088.09042016.
Ethics declarations
Conflict of Interest
The authors declare that they have no conflicts of interest.
Statements Regarding Ethics and Consent
Informed consent was obtained from all individual participants included in the study. All procedures involving human participants were in accordance with the ethical standards of institutional and/or national research committees and with the 1964 Helsinki declaration and its later amendments or comparable ethical standards.
Additional information
Publisher's Note
Springer Nature remains neutral with regard to jurisdictional claims in published maps and institutional affiliations.
About this article
Cite this article
Vieira, F.T., Faria, S.L.C.M., Dutra, E.S. et al. Perception of Hunger/Satiety and Nutrient Intake in Women Who Regain Weight in the Postoperative Period After Bariatric Surgery. OBES SURG 29, 958–963 (2019). https://doi.org/10.1007/s11695-018-03628-z
Keywords
Satiety response

Hunger

Dietary assessment

Weight regain

Roux-en-Y gastric bypass