Abstract
Background
Acute (<24 h) staple line bleeding is not common but a known complication after bariatric surgery at a rate of 1–3 %. In most cases, acute postoperative bleeding is mild and can be managed conservatively. Nonetheless, there are times when massive hemorrhage is encountered. Endoscopic treatment of these patients within 24 h of Roux-en-Y (RYGB) is controversial, due to fear of staple line dehiscence and/or perforation. Therefore, most surgeons prefer to undergo diagnostic laparoscopy for exploration and treatment. However, it has been reported that laparoscopic management of acute bleeding can be technically challenging with a high rate of morbidity as well as conversion to laparotomy. We herein present a multimedia video (6 min) demonstrating the management of acute massive hemorrhage after RYGB.
Methods
A 46-year-old female with hemodynamic instability after massive hematemesis and melena underwent endoscopy. An overtube was utilized to allow removal of large blood clots which obstructed endoscopic visualization. Two bleeding points were noted, and these were successfully treated with adrenaline and endoscopic clips.
Results
The patient rapidly improved during her hospital stay and commenced oral intake on day 1. A surveillance endoscopy was performed on day 5, and no stigmata of recent bleeding was noted. She was discharged home and is progressing well.
Conclusions
We suggest endoscopy is an appropriate first step for the investigation and management of acute intraluminal bleeding post bariatric surgery.
Access options
Buy single article
Instant access to the full article PDF.
US$ 39.95
Tax calculation will be finalised during checkout.
Subscribe to journal
Immediate online access to all issues from 2019. Subscription will auto renew annually.
US$ 79
Tax calculation will be finalised during checkout.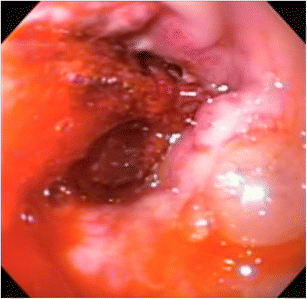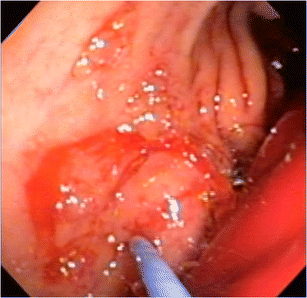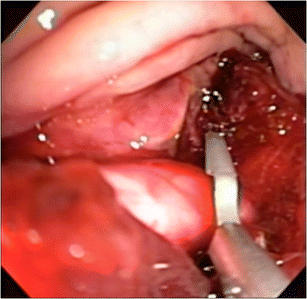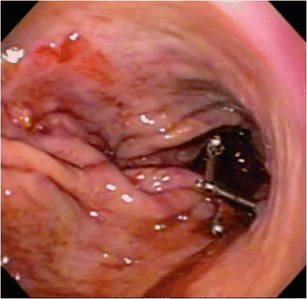 References
1.

Nguyen NT, Longoria M, Chalifoux S, et al. Gastrointestinal hemorrhage after laparoscopic gastric bypass. Obes Surg. 2004;14(10):1308–12. doi:10.1381/0960892042583879.

2.

Nguyen NT, Rivers R, Wolfe BM. Early gastrointestinal hemorrhage after laparoscopic gastric bypass. Obes Surg. 2003;13(1):62–5. doi:10.1381/096089203321136601.

3.

Papakonstantinou A, Terzis L, Stratopoulos C, et al. Bleeding from the upper gastrointestinal tract after Mason's vertical banded gastroplasty. Obes Surg. 2000;10(6):582–4.

4.

Heneghan HM, Meron-Eldar S, Yenumula P, et al. Incidence and management of bleeding complications after gastric bypass surgery in the morbidly obese. Surg Obes Relat Dis Off J Am Soc Bariatric Surg. 2012;8(6):729–35. doi:10.1016/j.soard.2011.05.011.

5.

Tang SJ, Rivas H, Tang L, et al. Endoscopic hemostasis using endoclip in early gastrointestinal hemorrhage after gastric bypass surgery. Obes Surg. 2007;17(9):1261–7.

6.

Moretto M, Mottin CC, Padoin AV, et al. Endoscopic management of bleeding after gastric bypass—a therapeutic alternative. Obes Surg. 2004;14(5):706. doi:10.1381/096089204323093552.

7.

Garcia-Garcia ML, Martin-Lorenzo JG, Torralba-Martinez JA, et al. Emergency endoscopy for gastrointestinal bleeding after bariatric surgery. Therapeutic algorithm. Cir Esp. 2015;93(2):97–104. doi:10.1016/j.ciresp.2014.05.002.
Conflicts of Interest
The authors declare that they have no competing interests.
Ethical Approval
All procedures performed in studies involving human participants were in accordance with the ethical standards of the institutional and/or national research committee and with the 1964 Helsinki declaration and its later amendments or comparable ethical standards.
Statement of Informed Consent
Informed consent was obtained from the individual participant included in the study.
Electronic Supplementary Material
Below is the link to the electronic supplementary material.
This video illustrates the endoscopic management of bleeding at the gastrojejunal anastomosis 12 h post Roux-en-Y gastric bypass. It also illustrates the utility of an overtube in removing large blood clots to allow adequate visualization. (MP4 161163 kb)
About this article
Cite this article
Campos, J.M., Moon, R., Teixeira, A. et al. Endoscopic Management of Massive Hemorrhage 12 h Post Laparoscopic Roux-en-Y Gastric Bypass. OBES SURG 25, 1981–1983 (2015). https://doi.org/10.1007/s11695-015-1812-6
Keywords
Hematemesis

Melena

Endoscopic clips

Roux-en-Y gastric bypass

Gastrointestinal bleeding

Anastomotic bleeding

Complication