Abstract
Background
Previous studies have reported better weight loss after bariatric surgery among non-Hispanic whites (NHW) versus non-Hispanic blacks (NHB) and Hispanics. The majority of these studies took place in areas where NHW are the majority. This study aimed to compare post-surgery weight outcomes by ethnicity in a geographic area where Hispanics are the majority.
Methods
A retrospective medical chart review of 3268 patients (1561 Hispanic, 660 NHB, and 1047 NHW) who underwent Roux-en-Y gastric bypass (RYGB) or Adjustable Gastric Band (AGB) placement from 2002 to 2012 were analyzed. Percentages of excess weight loss (EWL) and body mass index (BMI) changes at 6, 12, and 24 months post-surgery were compared by ethnic group.
Results
At 6 months, EWL was significantly different by ethnicity (52.7 ± 15.9 Hispanics, 49.7 ± 15.7 NHW, 43.0 ± 17.3 NHB, P < 0.001). These differences remained at 1 year (66.0 ± 20.3 Hispanics, 64.0 ± 20.3 NHW, 54.1 ± 21.3 NHB, P < 0.001) and 2 years (68.6 ± 24.1 Hispanics, 69.5 ± 21.2 NHW, 57.6 ± 25.4 NHB, P < 0.001). Ethnic group changes in BMI were similar to EWL changes. Analysis stratified by gender, type of surgery, and BMI category (<40, 40–49.99, ≥50 kg/m2) showed lower EWL in NHB than Hispanics and NHW. NHW had higher EWL than Hispanics only when they underwent AGB and had a BMI >40 kg/m2.
Conclusions
Up to 2 years after RYGB, mean EWL and BMI reduction patterns are similar among NHW and Hispanics and significantly better than NHB. These patterns were comparable but not as pronounced among patients with AGB surgery. Our findings suggest that social factors may contribute to successful weight loss after bariatric surgery.
Access options
Buy single article
Instant access to the full article PDF.
US$ 39.95
Tax calculation will be finalised during checkout.
Subscribe to journal
Immediate online access to all issues from 2019. Subscription will auto renew annually.
US$ 79
Tax calculation will be finalised during checkout.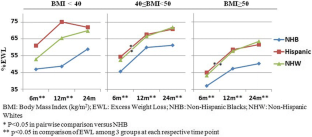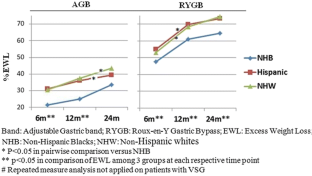 References
1.

Ogden CL, Carroll MD, Kit BK, et al. Prevalence of childhood and adult obesity in the United States, 2011–2012. JAMA. 2014;311(8):806–14.

2.

Karter AJ, Ferrara A, Liu JY, et al. Ethnic disparities in diabetic complications in an insured population. JAMA: J Am Med Assoc. 2002;287(19):2519–27.

3.

McWilliams JM, Meara E, Zaslavsky AM, et al. Differences in control of cardiovascular disease and diabetes by race, ethnicity, and education: US trends from 1999 to 2006 and effects of Medicare coverage. Ann Intern Med. 2009;150(8):505–15.

4.

Sudan R, Winegar D, Thomas S, et al. Influence of Ethnicity on the Efficacy and Utilization of Bariatric Surgery in the USA. J Gastrointest Surg. 2013:1–7.

5.

Zhang Q, Wang Y, Huang ES. Changes in racial/ethnic disparities in the prevalence of type 2 diabetes by obesity level among US adults. Ethn Health. 2009;14(5):439–57.

6.

Capella RF, Capella JF. Ethnicity, type of obesity surgery and weight loss. Obes Surg. 1993;3(4):375–80.

7.

Cheung LK, Lal LS, Chow DS, et al. Racial Disparity in Short-Term Outcomes after Gastric Bypass Surgery. Obes Surg. 2013:1–8.

8.

de la Cruz-Muñoz N, Messiah SE, Arheart KL, et al. Bariatric surgery significantly decreases the prevalence of type 2 diabetes mellitus and pre-diabetes among morbidly obese multiethnic adults: long-term results. J Am Coll Surg. 2011;212(4):505–11.

9.

Admiraal W, Bouter K, Celik F, et al. Ethnicity influences weight loss 1 year after bariatric surgery: a study in Turkish, Moroccan, South Asian, African and ethnic Dutch patients. Obes Surg. 2013;23(9):1497–500.

10.

Phoenix G, Penney N, Cocker D, et al. Comparison of weight loss achieved after laparoscopic adjustable gastric banding between Afro-Caribbean, Caucasian and South Asian adult female patients in a London bariatric centre. Ann R Coll Surg Engl. 2013;95(5):335–40.

11.

Admiraal WM, Celik F, Gerdes VE, et al. Ethnic differences in weight loss and diabetes remission after bariatric surgery a meta-analysis. Diabetes Care. 2012;35(9):1951–8.

12.

Anderson W, Greene G, Forse R, et al. Weight loss and health outcomes in African-Americans and whites after gastric bypass surgery. Obesity (Silver Spring). 2007;15(6):1455–63.

13.

Buffington C, Marema RT. Ethnic differences in obesity and surgical weight loss between African-American and Caucasian females. Obes Surg. 2006;16(2):159–65.

14.

Coleman KJ, Huang Y-C, Koebnick C, et al. Metabolic syndrome is less likely to resolve in Hispanics and non-Hispanic blacks after bariatric surgery. Ann Surg. 2014;259(2):279–85.

15.

Campos GM, Rabl C, Mulligan K, et al. Factors associated with weight loss after gastric bypass. Arch Surg. 2008;143(9):877–84.

16.

Livhits M, Mercado C, Yermilov I, et al. Preoperative predictors of weight loss following bariatric surgery: systematic review. Obes Surg. 2012;22(1):70–89.

17.

Buchwald H. Consensus Conference Statement: Bariatric surgery for morbid obesity: health implications for patients, health professionals, and third-party payers. Surg Obes Relat Dis. 2005;1(3):371–81.

18.

Liou T-H, Chen H-H, Wang W, et al. ESR1, FTO, and UCP2 genes interact with bariatric surgery affecting weight loss and glycemic control in severely obese patients. Obes Surg. 2011;21(11):1758–65.

19.

Fawcett KA, Barroso I. The genetics of obesity: FTO leads the way. Trends Genet. 2010;26(6):266–74.

20.

Li S, Zhao JH, Luan J, et al. Cumulative effects and predictive value of common obesity-susceptibility variants identified by genome-wide association studies. Am J Clin Nutr. 2010;91(1):184–90.

21.

Liu C, Mou S, Cai Y. FTO gene variant and risk of overweight and obesity among children and adolescents: a systematic review and meta-analysis. PLoS One. 2013;8(11):e82133.

22.

Chen H-H, Lee W-J, Wang W, et al. Ala55Val polymorphism on UCP2 gene predicts greater weight loss in morbidly obese patients undergoing gastric banding. Obes Surg. 2007;17(7):926–33.

23.

Still CD, Wood GC, Chu X, et al. High allelic burden of four obesity SNPs is associated with poorer weight loss outcomes following gastric bypass surgery. Obesity. 2011;19(8):1676–83.

24.

Mirshahi UL, Still CD, Masker KK, et al. The MC4R (I251L) allele is associated with better metabolic status and more weight loss after gastric bypass surgery. J Clin Endocrinol Metab. 2011;96(12):E2088–96.

25.

Sarzynski M, Jacobson P, Rankinen T, et al. Associations of markers in 11 obesity candidate genes with maximal weight loss and weight regain in the SOS bariatric surgery cases. Int J Obes. 2011;35(5):676–83.

26.

Giskes K, Van Lenthe F, Avendano‐Pabon M, et al. A systematic review of environmental factors and obesogenic dietary intakes among adults: are we getting closer to understanding obesogenic environments? Obes Rev. 2011;12(5):e95–e106.

27.

Micklesfield LK, Lambert EV, Hume DJ, et al. Socio-cultural, environmental and behavioural determinants of obesity in black South African women. Cardiovasc J Afr. 2013;24(9):369.

28.

Seeleman C, Selleger V, Essink-Bot M-L, et al. Teaching communication with ethnic minority patients: ten recommendations. Med Teach. 2011;33(10):814–9.

29.

South Florida Regional Planning Council. South Florida region race/ethnic composition of the population 2000 and 2010; Available from: http://www.sfrpc.com/census/PL2010/SFTCPL2010_SF.pdf. Accessed 24 Feb 2014.
Conflict of Interest
All contributing authors, Zhamak Khorgami, MD; Kristopher L Arheart, Ed. D; Chi Zhang, MD; Sarah E Messiah, Ph.D., MPH; and Nestor de la Cruz-Muñoz, MD, declare that they have no conflict of interest.
Statement of Human and Animal Rights
All procedures performed in studies involving human participants were in accordance with the ethical standards of the institutional and/or national research committee and with the 1964 Helsinki Declaration and its later amendments or comparable ethical standards.
Statement of Informed Consent
Because our study was a retrospective database review, our Institutional Review Board did not require individual informed consent.
Grant Information
We did not receive any fund or grant for this research.
About this article
Cite this article
Khorgami, Z., Arheart, K.L., Zhang, C. et al. Effect of Ethnicity on Weight Loss After Bariatric Surgery. OBES SURG 25, 769–776 (2015). https://doi.org/10.1007/s11695-014-1474-9
Keywords
Morbid obesity

Bariatric surgery

Ethnicity

Weight loss

Outcome