Abstract
Background
To evaluate whether preoperative measurement of fasting plasma C-peptide levels is useful to predict diabetes outcome after Roux-en-Y gastric bypass (RYGB) surgery.
Materials and Methods
Diabetes outcome after RYGB was evaluated in 126 obese patients: 41 non-diabetic controls (NDC), 29 with impaired glucose tolerance (IGT) and 56 had type 2 diabetes mellitus (T2DM). Body weight, fasting plasma glucose, fasting C-peptide levels, and HbA1c were measured at baseline and 3.6 ± 0.16 years after GBS. Complete resolution of diabetes was defined as: fasting glucose <7.0 mmol/l, HbA1c <6.5 %, achieved without anti-diabetic medication.
Results
Patients with complete resolution of diabetes had a more recent diagnosis of T2DM, lower preoperative HbA1c levels and lower daily doses of metformin and insulin use. These parameters were related to postoperative HbA1c levels but they failed to mark the specific patients who had not reached complete resolution of T2DM. Fasting preoperative C-peptide levels had better predictive power: 90 % of T2DM patients with preoperative fasting C-peptide levels >1.0 nmol/l achieved a postoperative HbA1c <6.5 %, and 74 % achieved complete resolution of their diabetes. In contrast, none of the T2DM patients with a preoperative fasting C-peptide <1.0 nmol/l attained these goals.
Conclusions
A preoperative fasting plasma C-peptide level <1.0 nmol/l in severely obese T2DM patients indicates partial β-cell failure, and is associated with a markedly reduced chance of complete resolution of T2DM after RYGB. We therefore advocate measuring C-peptide levels in all diabetic patients up for bariatric surgery to improve the prediction of outcome.
Access options
Buy single article
Instant access to the full article PDF.
USD 39.95
Price includes VAT (USA)
Tax calculation will be finalised during checkout.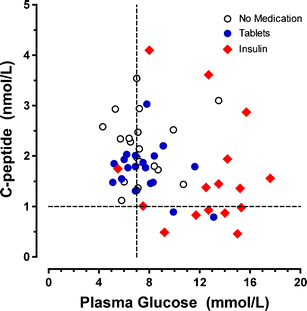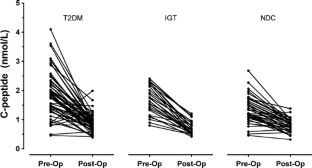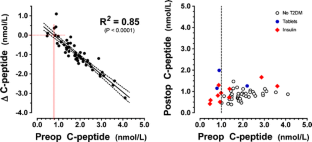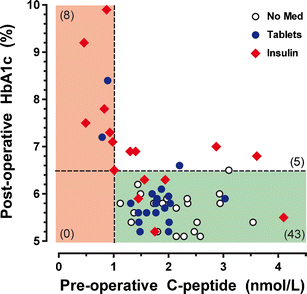 References
1.

Bult MJF et al. Surgical treatment of obesity. European Journal of Endocrinology. 2008;158:135–45.

2.

Levy P, Fried M, et al. The comparative effects of bariatric surgery on weight and type 2 diabetes. Obes Surg. 2007;17:1248–56.

3.

Buchwald H, Estok R, et al. Weight and type 2 diabetes after bariatric surgery: systematic review and meta-analysis. Am J Med. 2009;122:248–256 e5.

4.

Vetter ML, Cardillo S et al. Narrative review: effect of bariatric surgery on type 2 diabetes mellitus, Ann Intern Med 2009; 20;150(2):94–103.

5.

Wahren J, Ekberg K, Jornvall H. C-peptide is a bioactive peptide. Diabetologica. 2007;50:5003–9.

6.

Hills CE, Brunskill NJ. Cellular and physiological effects of C-peptide. Cli Sci. 2009;116:565–74.

7.

Luppi P, Cifarelli V, Wahren J. C-peptide and long term complications of diabetes. Pediatr Diabetes. 2011;12:276–92.

8.

Pories WJ et al. Who would have thought it? An operation proves to be the most effective therapy for adult-onset diabetes mellitus. Ann Surg. 1995;222:339–50.

9.

Colquitt JL, Picot J, et al. Surgery for obesity. Cochrane Database Syst Rev. 2009;2:CD003641.

10.

Schauer PR, Burguera B, Ikramuddin S, Cottam D, Gourash W, Hama G, et al. Effect of laparoscopic Roux-en Y gastric bypass on type 2 diabetes mellitus. Ann Surg. 2003;238:467–84. discussion 84–5.

11.

Sugerman HJ, Wolfe LG, Sica DA, Clore JN. Diabetes and hypertension in severe obesity and effects of gastric bypass-induced weight loss. Ann Surg. 2003;237:751–6. discussion 757–8.

12.

Brandenburg D. History and diagnostic significance of C-peptide. Exp Diabetes Res 2008: 576862.

13.

Thaler JP, Cummings DE. Minireview: hormonal and metabolic mechanisms of Diabetes remission after Gastrointestinal Surgery. Endocrinology. 2009;150:2518–25.

14.

Gastrointestinal Surgery for Severe Obesity National Institutes of Health: Consensus Development Conference Statement, March 25–27, 1991.

15.

Sturm R. Increases in clinically severe obesity in the United States. Arch intern med. 2003;163:2146–8.

16.

Bose M et al. Do incretins play a role in the remission of type 2 diabetes after gastric bypass surgery: what are the evidence. Obes Surg. 2009;19:217–29.

17.

Sjostrom L, Lindroos AK, Peltonen M, et al. Lifestyle, diabetes, and cardiovascular risk factors 10 years after bariatric surgery. N Eng J Med. 2004;351:2683–93.

18.

Buchwald H, Avidor Y, Braunwald E, et al. Bariatric surgery: a systematic review and meta-analysis. JAMA. 2004;292:1724–37.

19.

Keating CL, Dixon JB, Moodie ML, et al. Cost-efficacy of surgically induced weight loss for the management of type 2 diabetes: a randomized controlled trial. Diabetes Care. 2009;32:580–4.
Conflict of interest
E. O. Aarts, J. Janssen, D. Telting and H. de Boer MD have no conflicts of interest to declare. I. M. C. Janssen and F J. Berends are both consultants for Johnson & Johnson.
About this article
Cite this article
Aarts, E.O., Janssen, J., Janssen, I.M.C. et al. Preoperative Fasting Plasma C-Peptide Level May Help to Predict Diabetes Outcome After Gastric Bypass Surgery. OBES SURG 23, 867–873 (2013). https://doi.org/10.1007/s11695-013-0872-8
Keywords
Obesity

C-peptide

Roux-en-Y gastric bypass

Type 2 diabetes mellitus