Abstract
The oyster is well-known for its delicious taste and nutritional benefits. However, the taste of oysters in the market is relatively monotonous at present. In order to develop more tastes of oysters, this study explored the taste compounds (organic-acids, 5′-nucleotides and free amino acids) of Pacific oysters (Crassostrea gigas, triploid oyster) obtained from aquaculture at three different salinities (25‰, 28‰ and 32‰). The results showed that the contents of 5′-nucleotides (52.59 mg/100 g) in the test samples from the aquaculture salinity of 28‰ were higher than those in the salinity of 25‰ and 32‰. The contents of free amino acids (1760.47 mg/100 g) in the 32‰ sample were higher than those in the salinity of 25‰ and 28‰ ones. In addition, the taste activity value (TAV) and equivalent umami concentration (EUC) of three samples were calculated. The relationship between EUC and sensory evaluation was also investigated. The results showed that the highest TAV of the major free amino acids and 5′-nucleotides was observed in the 28‰ salinity oyster sample. A positive relationship was established between EUC and sensory score of overall taste as well as umami, respectively. Our results suggested that 28‰ was the optimal aquaculture salinity with regards to the oyster's taste, and it was the most commonly accepted. The study may be helpful to guide rational development of diversified flavors of oyster.
Access options
Buy single article
Instant access to the full article PDF.
US$ 39.95
Tax calculation will be finalised during checkout.
Subscribe to journal
Immediate online access to all issues from 2019. Subscription will auto renew annually.
US$ 79
Tax calculation will be finalised during checkout.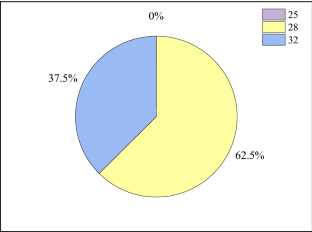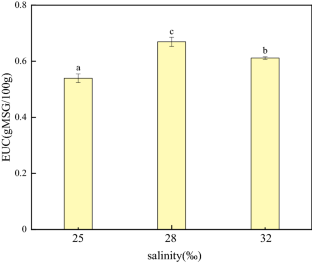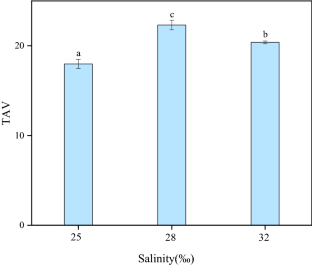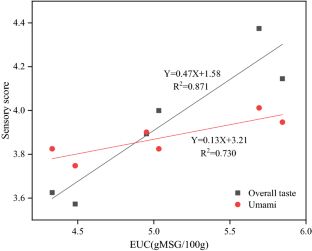 Acknowledgements
This study was supported by the National Key R&D Program of China (2018YFD0901004), Innovation Team Project of Hebei (Province) Modern Agricultural Industry Technology System (HBCT2018170207), Innovation Center Project of Hebei Agricultural Product Processing Technology (199676183H) and the modern agricultural industry technology system (CARS-49).
Ethics declarations
Conflict of interest
The authors declare they have no conflict of interest.
Additional information
Publisher's Note
Springer Nature remains neutral with regard to jurisdictional claims in published maps and institutional affiliations.
About this article
Cite this article
Bi, S., Chen, L., Sun, Z. et al. Investigating influence of aquaculture seawater with different salinities on non-volatile taste-active compounds in Pacific oyster (Crassostrea gigas). Food Measure (2021). https://doi.org/10.1007/s11694-020-00807-4
Received:

Accepted:

Published:
Keywords
Non-volatile compounds

Salinity

Oyster

Free amino acids

5′-Nucleotides