Abstract
The application of phosphorus (P) to soil can increase its availability to plants and alter P fractions in annual and perennial organs of Cordia trichotoma. If a portion of P accumulates in perennial organs in organic fractions it can be used in the next growth season, possibly decreasing plant dependence on P derived from soil fertilization. However, if P is preferentially accumulated in inorganic fractions in annual organs, plants will be more dependent on phosphate fertilization. This study aimed to evaluate the distribution of P fractions in organs of C. trichotoma grown on sandy soil treated with 120 and 360 kg P2O5 ha−1. The control was a zero application. After 24 months following fertilization, C. trichotoma seedlings were cut and separated into leaves, branches, stems and roots, dried, ground and subjected to chemical fractionation of P, which estimates fractions of total soluble P, soluble inorganic and organic P, lipid P, P associated ribonucleic acid and deoxyribonucleic acid, and residual P. P in annual organs, as leaves, accumulated preferentially in the soluble inorganic fraction in both treatments. In perennial organs such as stems and branches, P accumulated preferentially in the soluble organic fraction. The application of 300% of the recommended dosage (360 kg P2O5 ha−1) promoted the accumulation of P in soluble organic fractions which may contribute to annual growth the following season and be a strategy to reduce the dependence of 2-year-old stands on soil-derived P and on fertilizers.
Access options
Buy single article
Instant access to the full article PDF.
US$ 39.95
Tax calculation will be finalised during checkout.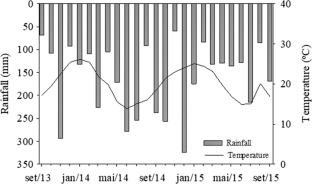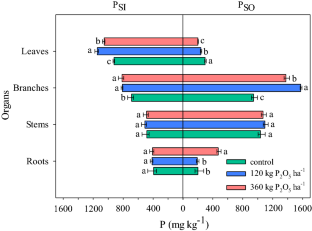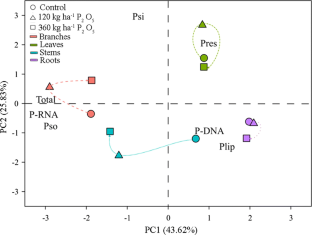 References
Berghetti ÁLP, Araujo MM, Bovolini MP, Tonetto TDS, Muniz MFB (2015) Seedling morphology and control of pathogens in seeds of Cordia trichotoma. Florest Amb 22:99–106

Berghetti ÁLP, Araujo MM, da Silva Tonetto TI, Aimi SC, Navroski MC, Turchetto F, Zavistanovicz TC (2016) Growth of Cordia trichotoma seedlings in different sizes of recipients and doses of fertilizer. Afr J Agric Res 11:2450–2455

Bieleski RL (1973) Phosphate pools, phosphate transport, and phosphate availability. Annu RevPlant Physiol 24:225–252

Borém RAT, Ramos DP (2002) Variação estacional e topográfica de nutrientes na serapilheira de um fragmento de Mata Atlântica. Cerne 8:42–59

Bortoluzzi EC, Pérez CA, Ardisson JD, Tiecher T, Caner L (2015) Occurrence of iron and aluminum sesquioxides and their implications for the P sorption in subtropical soils. Appl Clay Sci 104:196–204

Cadorin DA, Malavasi UC, Coutinho PWR, Dranski JAL, Malavasi MDM (2015) Methyl jasmonate and stem bending, hardening and initial growth of Cordia trichotoma seedlings. Cerne 21:657–664

Carnevali NHDS, Marchetti ME, Vieira MDC, Carnevali TDO, Ramos DD (2016) Eficiência nutricional de mudas de Stryphnodendron polyphyllum em função de nitrogênio e fósforo. Cienc Florest 26:449–461

Carvalho PER (2003) Espécies arbóreas brasileiras, 1st edn. Academic Press, Brasília

Casali CA, Kaminski J, Piccin R, Arbugeri FE, Doneda A (2011) A mineralização das formas de fósforo do tecido de plantas de cobertura. Inform Agron 135:21–24

Chapin FS, Bieleski RL (1982) Mild phosphorus stress in barley and a related low-phosphorus-adapted barley grass: phosphorus fractions and phosphate absorption in relation to growth. Physiol Plant 54:309–317

CQFS RS/SC (2004) Comissão, de química e fertilidade do solo. Manual de adubação e calagem para os Estados do Rio Grande do Sul e de Santa Catarina. 10 Ed. Porto Alegre, RS, Brazil: Sociedade Brasileira de Ciência do Solo, p 400

Da Ros CO, Rex FE, Ribeiro IR, Kafer PS, Rodrigues AC, da Silva RF, Somavilla L (2015) Uso de substrato compostado na produção de mudas de Eucalyptus dunnii e Cordia trichotoma. Florest Amb 22:549–558

Embrapa (2013) Sistema Brasileiro de Classificação de Solos, 3rd edn. Embrapa, Brasília, p 353

Fink JR, Inda AV, Bayer C, Torrent J, Barrón V (2014) Mineralogy and phosphorus adsorption in soils of south and central-west Brazil under conventional and no-tillage systems. Acta Sci-Agron 36:379–387

Fink JR, Inda AV, Bavaresco J, Barrón V, Torrent J, Bayer C (2016) Adsorption and desorption of phosphorus in subtropical soils as affected by management system and mineralogy. Soil Tillage Res 155:62–68

Freitas ECSD, Paiva HND, Leite HG, Oliveira Neto SND (2017) Effect of phosphate fertilization and base saturation of substrate on the seedlings growth and quality of Plathymenia foliolosa Benth. Rev Árvore 41:1–9

Hothorn T, Bretz F, Westfall P (2008) Simultaneous inference in general parametric models. Biom J 50:346–363

Lambers H, Finnegan PM, Laliberté E, Pearse SJ, Ryan MH, Shane MW, Veneklaas EJ (2011) Phosphorus nutrition of Proteaceae in severely phosphorus-impoverished soils: Are there lessons to be learned for future crops? Plant Physiol 156:1058–1066

Lima R, Severino LS, Cazetta JO, de Azevedo CA, Sofiatti V, Arriel NH (2011) Redistribuição de nutrientes em folhas de pinhão-manso entre estádios fenológicos. Rev Bras Eng Agr Amb 11:1175–1179

Machado GG, Pastorini LH, Souza LA, Barbeiro C, Santos LS (2016) Germinação de diásporos e crescimento inicial de Cordia trichotoma (Vell.) Arrab. Ex Steud. (Boraginaceae). Iheringia Ser Bot 70:279–286

Marschner H (2012) Mineral nutrition of higher plants, 3rd edn. Elsevier, London, p 889

Martinez HEP, Novais RF, Rodrigues LA, Sacramento LVSD (2005) Phosphate forms in plant and their internal buffering in five soybean cultivars. Rev Bras Cienc Solo 29:249–257

Miyachi S, Tamiya H (1961) Distribution and turnover of phosphate compounds in growing chlorella cells. Plant Cell Physiol 2:405–414

Murphy J, Riley JP (1962) A modified single solution methods for the determination of phosphate in natural waters. Anal Chim Acta 27:31–36

Niklas JK (2006) Plant allometry, leaf nitrogen and phosphorus stoichiometry, and interspecific trends in annual growth rates. Ann Bot 9:155–163

Niu F, Zhang D, Li Z, Van Iersel MW, Alem P (2015) Morphological response of Eucalyptus seedlings to phosphorus supply through hydroponic system. Sci Hortic 194:295–303

Noack SR, McLaughlin MJ, Smernik RJ, McBeath TM, Armstrong RD (2014) Phosphorus speciation in mature wheat and canola plants as affected by phosphorus supply. Plant Soil 378:125–137

Oliveira RAD, Comin JJ, Tiecher T, Piccin R, Somavilla LM, Loss A, Lourenzi CR, Kurtz C, Brunetto G (2017) Release of phosphorus forms from cover crop residues in agroecological no-till onion production. Rev Bras Cienc Solo 41:1–16

Pereira JM, Cambraia J, Júnior EMF, Ribeiro C (2008) Efeito do alumínio sobre a absorção, o acúmulo e o fracionamento do fósforo em sorgo. Bragantia 67:961–967

Piccin R, Couto RDR, Bellinaso RJS, Gatiboni LC, Conti LD, Rodrigues LAT, Michelon LS, Kulmann MSS, Brunetto G (2017a) Phosphorus forms in leaves and their relationships with must composition and yield in grapevines. Pesqui Agropecu Bras 52:319–327

Piccin R, Kaminski J, Ceretta CA, Tiecher T, Gatiboni LC, Bellinaso RJS, Marchezan C, Souza ROS, Brunetto G (2017b) Distribution and redistribution of phosphorus forms in grapevines. Sci Hortic 218:125–131

Pinheiro J, Bates D, DebRoy S, Sarka D, R Core Team (2014) Nlme: linear and nonlinear mixed effects models. R Found Stat Comput 3:1–118

R Core Team (2017) R: a language and environment for statistical computing. https://www.r-project.org/

Reef R, Ball MC, Feller IC, Lovelock CE (2010) Relationship between RNA: DNA ratio, growth and elemental stoichiometry in mangrove trees. Funct Ecol 24:1064–1072

Rossa ÜB, Angelo AC, Bognola IA, Westphalen DJ, Milani JE (2015) Fertilizante de liberação lenta no desenvolvimento de mudas de Eucalyptus grandis. Rev Floresta 45:85–96

Santos JZL, Resende ÁV, Neto AEF, Corte EF (2008) Crescimento, acúmulo de fósforo e frações fosfatadas em mudas de sete espécies arbóreas nativas. Rev Árvore 32:799–807

Sartoretto LM, Rossi E (2014) Caracterização de três espécies florestais de importância econômica. Unoesc Cienc-Acet 5:145–152

Silveira RLVA, Gava JL (2004). Nutrição e adubação fosfatada em eucalipto. In: Yamada T, Abdalla SRS. Fósforo na agricultura brasileira. 2. Ed. Piracicaba, SP, Brazil: Associação brasileira para pesquisa da potassa e do fosfato, pp 495–536

Staff, Soil Survey (2010) Keys to soil taxonomy, 12th edn. Department of Agriculture, Soil Conservation Service, Washington, DC, p 360

Stahl J, Ernani PR, Gatiboni LC, Chaves DM, Neves CU (2013) Produção de massa seca e eficiência nutricional de clones de Eucalyptus dunnii e Eucalyptus benthamii em função da adição de doses de fósforo ao solo. Cienc Florest 23:287–295

Suzuki Y, Makino A, Mae T (2001) An efficient method for extraction of RNA from rice leaves at different ages using benzyl chloride. J Exp Bot 52:1575–1579

Tagliavini M, Baldi E, Lucchi P, Antonelli M, Sorrenti G, Baruzzi G, Faedi W (2005) Dynamics of nutrients uptake by strawberry plants (Fragaria × ananassa Dutch.) grown in soil and soilless culture. Eur J Agron 23:15–25

Taiz L, Zeiger E (2013) Fisiologia Vegetal, 5th edn. Artmed, Porto Alegre, p 954

Taiz L, Zeiger E, Møller IM, Murphy A (2017) Fisiologia e desenvolvimento vegetal, 6th edn. Artmed, Porto Alegre, p 858

Tedesco MJ, Gianello C, Bissani CA, Bohnen H, Volkweiss SJ (1995) Análise de solo, plantas e outros materiais. Departamento de solos, Universidade Federal do Rio Grande do Sul, Porto Alegre

Ter Braak CJ, Smilauer P (2002). CANOCO Reference manual and CanoDraw for windows user's guide: software for Canonical Community Ordination (version 4.5). www.canoco.com

Thomas H, Sadras V (2001) The capture and gratuitous disposal of resources by plants. Funct Ecol 15:3–12

Valadares SV, da Silva LF, Valadares RV, Fernandes LA, Neves JCL, Sampaio RA (2015) Plasticidade fenotípica e frações fosfatadas em espécies florestais como resposta à aplicação de fósforo. Rev Árvore 39:225–232

Veneklaas EJ, Lambers H, Bragg J, Finnegan PM, Lovelock CE, Plaxton WC, Price CA, Scheible WR, Shane MW, White PJ, Raven JA (2012) Opportunities for improving phosphorus-use efficiency in crop plants. New Phytol 95:306–320

Williams LE (1987) Growth of 'Thompson seedless' grapevines: II. Nitrogen distribution. J Am Soc Hortic Sci 112:330–333
Additional information
Publisher's Note
Springer Nature remains neutral with regard to jurisdictional claims in published maps and institutional affiliations.
Project funding: This study was financed in part by the Conselho Nacional de Desenvolvimento Científico e Tecnológico (CNPq), and the Coordenação de Aperfeiçoamento de Pessoal de Nível Superior - Brasil (CAPES).
The online version is available at http://www.springerlink.com.
Corresponding editor: Yu Lei.
About this article
Cite this article
Kulmann, M.S.S., Stefanello, L.O.S., Schwalbert, R.A. et al. Effects of phosphorus fertilizer application on phosphorus fractions in different organs of Cordia trichotoma. J. For. Res. 32, 725–732 (2021). https://doi.org/10.1007/s11676-020-01136-4
Received:

Accepted:

Published:

Issue Date:
Keywords
Chemical fractionation

Phosphorus

Phosphate fertilization

Plant phosphorus