Abstract
The hazelnut weevil (Curculio dieckmanni Faust.) is a major pest of Asian hazel (Corylus heterophylla Fisch.) in China. Dead hazelnut weevil larvae were examined and the associated pathogenic bacterium was identified as Serratia marcescens Bizio. This significantly shortened the lifespan of hazelnut weevil. Larval weight was reduced as a function of S. marcescens concentration and exposure time. The structure of infected midgut cells was altered, with necrosis of the wall tissues and many cells becoming dislodged, creating cavities. The S. marcencens strain inhibited digestive enzyme activity and protective enzymes in the midgut of adult hazelnut weevil. Inhibition on S. marcencens strain increased with treatment time. S. marcescens directly destroyed the midgut cells and interfered with digestive and protective enzymes. This decreased the food intake and increased mortality of hazelnut weevil. S. marcescens appears to be an effective bacterium for the control of hazelnut weevil but requires further study, including biological formulation development and field application.
Access options
Buy single article
Instant access to the full article PDF.
US$ 39.95
Tax calculation will be finalised during checkout.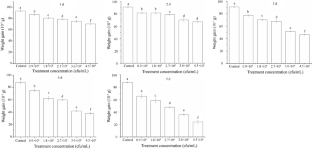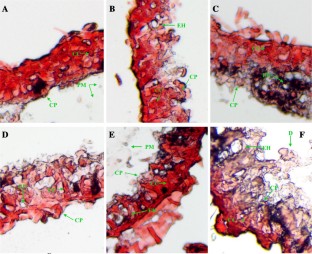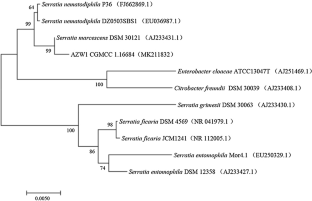 References
Aggarwal C, Paul S, Tripathi V, Paul B, Khan A (2015) Chitinolytic activity in Serratia marcescens (strain SEN) and potency against different larval instars of Spodoptera litura with effect of sublethal doses on insect development. Biocontrol 60(5):1–10

Akça I, Tuncer C (2005) Biological control and morphological studies on nut weevil (Curculio nucum L. Col., Curculionidae). Acta Hortic 686:413–420

Ali S, Zhang C, Wang Z, Wang XM, Wu JH, Cuthbertson AGS, Shao Z, Qiu BL (2017) Toxicological and biochemical basis of synergism between the entomopathogenic fungus Lecanicillium muscarium and the insecticide matrine against Bemisia tabaci (Gennadius). Sci Rep 7:46558

Aucken HM, Pitt TL (1998) Antibiotic resistance and putative virulence factors of Serratia marcescens with respect to O and K serotypes. J Med Microbiol 47(12):1105–1113

Batallacarrera L, Morton A, Garciadelpino F (2013a) Field efficacy against the hazelnut weevil, Curculio nucum and short-term persistence of entomopathogenic nematodes. Span J Agric Res 11(4):1112–1119

Batallacarrera L, Morton A, Santamaria S, Garcíadelpino F (2013b) Isolation and virulence of entomopathogenic fungi against larvae of hazelnut weevil Curculio nucum (Coleoptera, Curculionidae) and the effects of combining Metarhizium anisopliae with entomopathogenic nematodes in the laboratory. Biocontrol Sci Technol 23(1):101–125

Batallacarrera L, Morton A, Shapiro-Ilan D, Strand MR, Garcia-del-Pino F (2014) Infectivity of Steinernema carpocapsae and S-feltiae to larvae and adults of the Hazelnut Weevil, Curculio nucum: differential virulence and entry routes. J Nematol 46(3):281–286

Batallacarrera L, Morton A, Garciadelpino F (2016) Virulence of entomopathogenic nematodes and their symbiotic bacteria against the hazelnut weevil Curculio nucum. J Appl Entomol 140(1–2):115–123

Bosa OCF, Cotes PAM (2004) Efecto de las condiciones de cultivo sobre la actividad enzimática de Serratia marcescens contra Tecia solanivora (Lepidoptera: Gelechiidae). Rev Colomb Entomol 30(1):79–85

Burger J, Gochfeld M, Kosson DS, Brown KG, Bliss LS, Bunn A, Clarke JH, Mayer HJ, Salisbury JA (2019) The costs of delaying remediation on human, ecological, and eco-cultural resources: considerations for the department of energy: a methodological framework. Sci Total Environ 649:1054–1064

Cheng Y, Wang J, Liu J, Zhao Y, Geng W, Zhang H (2015a) Analysis of ovary DNA methylation during delayed fertilization in hazel using the methylation-sensitive amplification technique. Acta Physiol Plant 37(11):231

Cheng Y, Liu J, Zhang H, Wang J, Zhao Y, Geng W (2015b) Transcriptome analysis and gene expression profiling of abortive and developing ovules during fruit development in hazelnut. PLoS ONE 10(4):e122072

Cheng YQ, Liu T, Zhao YX, Geng WT, Chen LT, Liu JF (2016) Evaluation of pathogenicity of the fungi Metarhizium anisopliae and Beauveria bassiana in Hazelnut Weevil (Curculio nucum L., Coleoptera, Curculionidae) Larvae. Indian J Microbiol 56(4):405–410

Cheng Y, Mou Y, Zhang X, Liu C, Liu J (2019) iTRAQ protein profiling reveals candidate proteins regulating ovary and ovule differentiation in pistillate inflorescences after pollination in hazel. Tree Genetics Genomes 15:21

Christine TG (2015) Behaviour and population dynamics of entomopathogenic nematodes following application. In: Campos-Herrera R (eds) Nematode pathogenesis of insects and other pests. Springer, Berlin, pp 57−95

Dillon RJ, Vennard CT, Buckling A, Charnley AK (2005) Diversity of locust gut bacteria protects against pathogen invasion. Ecol Lett 8(12):1291–1298

Hejazi A, Keane CT, Falkiner FR (1997) The use of RAPD-PCR as a typing method for Serratia marcescens. J Med Microbiol 46(11):913–919

Jia M, Cao G, Li Y, Tu X, Wang G, Nong X, Whitman DW, Zhang Z (2016) Biochemical basis of synergism between pathogenic fungus Metarhizium anisopliae and insecticide chlorantraniliprole in Locusta migratoria (Meyen). Sci Rep 6:28424

Liu CL, Ren DY, Li JJ, Fang L, Wang J, Liu JS, Min WH (2018) Cytoprotective effect and purification of novel antioxidant peptides from hazelnut (C. heterophylla Fisch) protein hydrolysates. J Funct Foods 42:203–215

Lou Q, Lu M, Sun J (2014) Yeast diversity associated with invasive Dendroctonus valens killing Pinus tabuliformis in China using culturing and molecular methods. Microb Ecol 68(2):397–415

Luntz AJM, Blackwell A (1993) Azadirachtin: an update. J Insect Physiol 39(11):903–924

Mohan M, Selvakumar G, Sushil SN, Bhatt JC, Gupta HS (2011) Entomopathogenicity of endophytic Serratia marcescens strain SRM against larvae of Helicoverpa armigera (Noctuidae: Lepidoptera). World J Microb Biot 27(11):2545–2551

Moskalyk LA, Oo MM, Jacobs-Lorena M (2010) Peritrophic matrix proteins of Anopheles gambiae and Aedes aegypti. Insect Mol Biol 5(4):261–268

Nakamura A, Okazaki K, Furuta T, Sakurai M, Iino R (2018) Processive chitinase is Brownian monorail operated by fast catalysis after peeling rail from crystalline chitin. Nat Commun 9:3814

Nehme NT, Liégeois S, Kele B, Giammarinaro P, Pradel E, Hoffmann JA, Ewbank JJ, Ferrandon D (2007) A model of bacterial intestinal infections in Drosophila melanogaster. Plos Pathog 3(11):e173

Patil CD, Patil SV, Salunke BK, Salunkhe RB (2011) Prodigiosin produced by Serratia marcescens NMCC46 as a mosquito larvicidal agent against Aedes aegypti and Anopheles stephensi. Parasitol Res 109(4):1179–1187

Rharrabe K, Amri H, Bouayad N, Sayah F, Amri H, Sayah F (2008) Effects of azadirachtin on post-embryonic development, energy reserves and amylase activity of Plodia interpunctella Hübner (Lepidoptera: Pyralidae). J Stored Prod Res 44(3):290–294

Singh AK, Singh A, Joshi P (2016) Combined application of chitinolytic bacterium Paenibacillus sp. D1 with low doses of chemical pesticides for better control of Helicoverpa armigera. Int J Pest Manag 62(3):222–227

Stuart RJ, Barbercheck ME, Grewal PS (2015) Entomopathogenic nematodes in the soil environment: distributions, interactions and the influence of biotic and abiotic factors. In: R Campos-Herrera (eds) Nematode Pathogenesis of Insects and Other Pests. Springer, Berlin, pp 97–137

Tamura K, Stecher G, Peterson D, Filipski A, Kumar S (2013) MEGA6: Molecular evolutionary genetics analysis version 6.0. Mol Biol Evol 30(12):2725–2729

Tao K, Long ZF, Liu K, Tao Y, Liu SG (2006) Purification and properties of a novel insecticidal protein from the locust pathogen Serratia marcescens HR-3. Curr Microbiol 52(1):45–49

Tuncer C, Saruhan I, Akça I (2007) Comparative toxicity of neem and seven insecticides on hazelnut weevil (Curculio nucum Col.: Curculionidae) with laboratory bioassays. Asian J Chem 19(3):2285–2294

Wang B, Lu M, Cheng C, Salcedo C, Sun J (2013) Saccharide-mediated antagonistic effects of bark beetle fungal associates on larvae. Biol Lett 9(1):20120787–20120787

Wigglesworth VB (1972) The principles of insect physiology. Chapman and Hall, London, pp 357–400

Xu LT, Deng JD, Zhou FY, Cheng CH, Zhang LW, Zhang J, Lu M (2019a) Gut microbiota in an invasive bark beetle infected by a pathogenic fungus accelerates beetle mortality. J Pest Sci 92:343–351

Xu LT, Liu YP, Xu SJ, Lu M (2019b) Gut commensal bacteria in biological invasions. Integr Zool 14:613–618
Additional information
Publisher's Note
Springer Nature remains neutral with regard to jurisdictional claims in published maps and institutional affiliations.
Project funding: This study was supported and funded by the National Key Research and Development project of China (2016YFC0500308), and Special Project for Double First-Class—Cultivation of Innovative Talents (000/41113102), the Natural Science Foundation of Heilongjiang Scientific Committee (C2018055), and the Application Research Project of Heilongjiang Provincial Forest Industry Administration (sgzjY2014004).
The online version is available at http://www.springerlink.com
Corresponding editor: Yanbo Hu.
Electronic supplementary material
Below is the link to the electronic supplementary material.
About this article
Cite this article
Zhang, P., Zhao, Q., Ma, X. et al. Pathogenicity of Serratia marcescens to hazelnut weevil (Curculio dieckmanni). J. For. Res. 32, 409–417 (2021). https://doi.org/10.1007/s11676-020-01096-9
Received:

Accepted:

Published:

Issue Date:
Keywords
Biocontrol

Curculio dieckmanni
Corylus heterophylla

Pathogenic mechanism

Serratia marcescens