Abstract
The rapid rate of deforestation in Côte d'Ivoire has led to loss of plant species diversity and also threatens some commercial tree species with extinction. Some reforestation and afforestation has been completed. However, for some species, the numbers of surviving transplants has declined. Hence, it is necessary to develop properly adapted and resilient genotypes that can effectively support the programs of forest restoration. In this context we evaluated the effects of the provenances of seeds and of various treatments on the germination rates and on plant growth of four commercial trees species (Pycnanthus angolensis, Terminalia superba, Mansonia altissima and Pterygota macrocarpa). We analyzed these parameters for seeds of three provenances (Daloa, Akoupé and Daoukro) of four species and for thirty plants aged 6 months per provenance. Time to begin germination and time to reach maximum germination were similar among species, and were not influenced by either treatment or provenance. Untreated seeds and those soaked for 24 and 48 h in water at room temperature yielded the highest germination rates, irrespective of species or provenance. The one exception was P. angolensis, for which no germination was recorded. Within species, some provenances produced higher germination percentages than did others. No clear relationship was computed between the germination rate and the morphometric characteristics of the seeds which varied significantly between provenances. Plant growth and morphological variability also depended greatly on provenance. Genetic factors might be implicated, therefore provenance trials should be undertaken and evaluated. Furthermore, molecular analysis should be undertaken to confirm the implications of genetic factors and allow for genetic selection.
Access options
Buy single article
Instant access to the full article PDF.
US$ 39.95
Tax calculation will be finalised during checkout.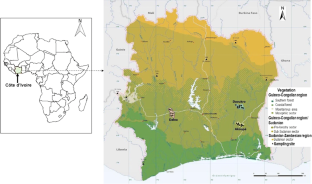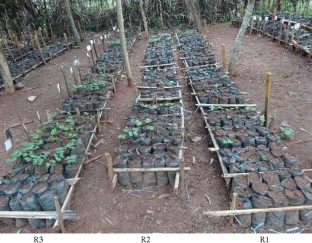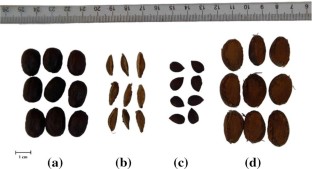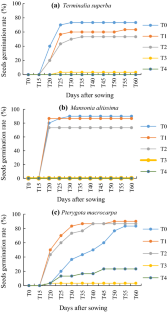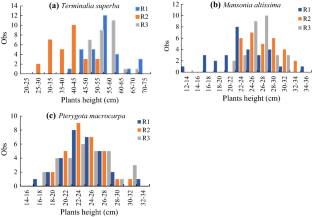 References
Agera SIN, Peter MK, Amonum JI (2019) Assessment of seed germination and organic manure application on the early growth of Eucalyptus camaldulensis L. seedlings. Res J For 13:1–8

Anonymous (2019) Le climat de Daloa. https://fr.climate-data.org/afrique/cote-d-ivoire/haut-sassandra/daloa-6264/. Accessed 22 Aug 2019

Asomaning JM, Sacande M, Olympio NS (2011) Germination responses of Terminalia superba Engl. and Diels seeds on the 2-way grant's Thermogradient plate. Res J Seed Sci 4:28–39

Bagchi SK, Joshi DN, Rawat DS (1990) Variation in seed size of Acacia spp. Silvae Genet 39:107–110

Bischoff A, Steinger T, Müller-Schärer H (2010) The importance of plant provenance and genotypic diversity of seed material used for ecological restoration. Restor Ecol. https://doi.org/10.1111/j.1526-100x.2008.004454.x

Bonn Challenge (2016) Forest landscape restoration. http://www.bonnchallenge.org/content/c%C3%B4te-d-ivoire

Bustos-Salazar A, Smith-Ramírez C, Zúñiga-Feest A, Alves F, Ivanovich R (2017) Which seed origin provides better tolerance to flooding and drought when restoring to face climate change? Austral Ecol 42(8):934–946

Carodenuto S (2019) Governance of zero deforestation cocoa in West Africa: new forms of public–private interaction. https://onlinelibrary.wiley.com/doi/10.1002/eet.1841. Accessed 26 Aug 2019

Chauhan SK, Srinidhi HV, Sharma R, Chander J, Saralch HS (2016) Trends in forest tree seed germination research. Book: forest seed science and management, Chap 9. New India Publishing Agency, New Delhi, pp 129–153

De la Cuadra C, Vidal AK, Lagomarsino F, Peñaloza P, Mansur LM, Huenchuleo C (2019) Effect of temperature and scarification on seed germination of Conanthera spp. (Tecophilaeaceae). Chil J Agric Res 79(2):323–329. https://doi.org/10.4067/s0718-58392019000200323

Elmagboul AH, Mahgoup S, Eldoma A (2014) Variation in seed morphometric characteristics and germination of Acacia tortilis subspecies raddiana and subspecies spirocarpa among three provenances in Sudan. GJBB 3(2):191–196

Esmaeilpour A, Van Damme P (2016) Evaluation of seed soaking times on germination percentage, germination rate and growth characteristics of pistachio seedlings. Acta Hortic 1109:107–112

FAO (2009) Situation des forêts du monde. FAO, Rome, p 152

FAO (2017) Données forestières de base pour la REDD + en Côte d'Ivoire: cartographie de la dynamique forestière de 1986 à 2015. http://www.fao.org/3/a-i8047f.pdf. Accessed 19 June 2019

Fenner M, Thompson K (2006) The ecology of seeds. Ann Bot 97:151–153

Fornah RY, Mattia SM, Otesile AA, Ernest G, Kamara EG (2017) Effects of provenance and seed size on germination, seedling growth and physiological traits of Gmelina arborea. Int J Agric For 7(1):28–34

Fredrick C, Muthuri C, Ngamau K, Sinclair F (2015) Provenance variation in seed morphological characteristics germination and early seedling growth of Faidherbia albida. J Hortic For 7(5):127–140

Fredrick C, Muthuri C, Ngamau K, Sinclair F (2016) Provenance and pretreatment effect on seed germination of six provenances of Faidherbia albida (Delile) A. Chev. Agrofor Syst. https://doi.org/10.1007/s10457-016-9974-3

Ginwal HS, Gera M (2000) Genetic variation in seed germination and growth performance of 12 Acacia nilotica provenances in India. J Trop For Sci 12(2):286–297

González-Rodríguez V, Villar R, Navarro-Cerrillo MR (2011) Maternal influences on seed mass effect and initial seedling growth in four Quercus species. Acta Oecol 37:1–9

Halle B, Bruzon V (2006) Profil Environnemental de la Côte d'Ivoire. https://webcache.googleusercontent.com/search?q=cache:xy3zScOFsdwJ:https://europa.eu/capacity4dev/file/32944/download%3Ftoken%3DXEvRA_dq+&cd=1&hl=fr&ct=clnk&gl=ci. p 145. Accessed 26 Aug 2019

Hawthorne W (1998) Pterygota macrocarpa. The IUCN Red List of Threatened Species 1998: e.T33060A9746711. http://dx.doi.org/10.2305/IUCN.UK.1998.RLTS.T33060A9746711

Humara JM, Lopez M, Csares A, Majada J (2000) Temperature and provenance as two factors affecting Eucalyptus nitens seed germination. Forestry 73:87–90

ITTO (2008) Lutte contre le dépérissement des essences de plantations : cas des Terminalia spp. et du teck (Tectona grandis). http://www.itto.int/files/itto_project_db_input/2813/Technical/RapportTechnique%20Lutte%20D%C3%A9p%C3%A9rissement.pdf. Accessed 5 Apr 2019

Kim DH, Han SH (2018) Direct effects on seed germination of 17 tree species under elevated temperature and CO2 conditions. Open Life Sci 13:137–148. https://doi.org/10.1515/biol-2018-0019

Kolodziejek J (2017) Effect of seed position and soil nutrients on seed mass, germination and seedling growth in Peucedanum oreoselinum (Apiaceae). Sci Rep 7:1959. https://doi.org/10.1038/s41598-017-02035-1

Lönnberg K (2012) Effects of seed size and habitat on recruitment patterns in grassland and forest plants. Thesis, Stockholm University, ISBN 978-91-7447-599-9, Printed in Sweden by US-AB Stockholm

McDermott JM, Robinson RA (1989) Provenance variation for disease resistance in Pseudotsugamenziesii to the Swiss needle-cast pathogen, Phaeocryptopus gaeumannii. Rev Can Rech For 19(2):244–246. https://doi.org/10.1139/x89-034

Mng'omba SA, Du toit ES, Akinnifesi FK (2007) Germination characteristics of tree seeds: spotlight on southern African tree species. Tree Sci Biotechnol 1(1):1–8. http://old.worldagroforestry.org/downloads/Publications/PDFS/ja07164.pdf

Nadeem MK, Qaswar M, Ahmed N, Rabnawaz Rasool SJ (2017) Effect of seed soaking time on germination of maize (Zea mays L.). PSM Biol Res 2(1):46–50

Nakar RN, Jadeja BA (2014) Seed pattern, germination and viability of some tree species seeds from Girnar Reserve Forest of Gujarat. Indian J Plant Physiol. https://doi.org/10.1007/s40502-014-0078-7

Olejniczak P, Czarnoleski M, Delimat A, Marek Majcher B, Szczepka K (2018) Seed size in mountain herbaceous plants changes with elevation in a species-specific manner. PLoS ONE 13(6):e0199224. https://doi.org/10.1371/journal.pone.0199224

Oliveira AKM, Ribeiro JWF, Pereira KCL, Silva CAA (2013) Effects of temperature on the germination of Diptychandra aurantiaca (Fabaceae) seeds. Acta Sci Agron 35(2):203–205. https://doi.org/10.4025/actasciagron.v35i2.15977

Ruf F, Varlet F (2017) The myth of zero deforestation cocoa in Côte d'Ivoire. ETFRN News 58

Şevik H, Ertürk N (2015) Effects of drought stress on germination in fourteen provenances of Pinus brutia Ten. Seeds in Turkey. Turkish JAF Sci Technol 3(5):294–299

Sharma S, Naithani R, Varghese B, Keshavkant S, Naithani SC (2008) Effect of hot water treatment on seed germination of some fast growing tropical tree species. J Trop For 24(3–4):49–53

Soriano D, Orozco-Segovia A, Ma´rquez-Guzma´n J, Kitajima K, Gamboa-de Buen A, Huante P (2011) Seed reserve composition in 19 tree species of a tropical deciduous forest in Mexico and its relationship to seed germination and seedling growth. Ann Bot 107:939–951

Tarrega R, Calvo L, Trabaud L (1992) Effect of high temperatures on seed germination of two woody Leguminosae. Plant Ecol 102(2):139–147. https://doi.org/10.1007/bf00044730

Toledo-Aceves T (2017) Germination rate of endangered cloud forest trees in Mexico: potential for ex situ propagation. J For Res 22(1):61–64. https://doi.org/10.1080/13416979.2016.1273083

Turnbull LA, Philipson CD, Purves DW, Atkinson RL, Cunniff J, Goodenough A, Hautier Y, Houghton J, Marthews TR, Osborne CP, Paul-Victor C, Rose KE, Saner P, Taylor SH (2012) Plant growth rates and seed size: a re-evaluation. Ecology 93(6):1283–1289

Usman A, Sotannde OA, Mbaya YP, Musa Y (2010) Effects of hot and cold water pre-treatments on emergence of Acacia senegal seeds in the nursery. J Res For Wildl Environ 2(2):207–213

Verdaux F, Alpha A (1999) L'économie très politique d'une mise en valeur des ressources forestières: Côte d'Ivoire, 1900–1990'. In: Autrepart. vol 9, pp 33–51, ISBN 2-87678-475-0. http://www.documentation.ird.fr/hor/fdi:010017987

Zhang CY, Wu JF, Fu DW, Wang LM, Chen JZ, Cai CH, Ou LX (2015) Soaking, temperature, and seed placement affect seed germination and seedling emergence of Litchi chinensis. HortScience 50(4):628–632
Additional information
Publisher's Note
Springer Nature remains neutral with regard to jurisdictional claims in published maps and institutional affiliations.
The online version is available at http://www.springerlink.com
Corresponding editor: Tao Xu.
About this article
Cite this article
Akaffou, S.D., Kouame, A.K., Gore, N.B.B. et al. Effect of the seeds provenance and treatment on the germination rate and plants growth of four forest trees species of Côte d'Ivoire. J. For. Res. 32, 161–169 (2021). https://doi.org/10.1007/s11676-019-01064-y
Received:

Accepted:

Published:

Issue Date:
Keywords
Forest trees

Seed germination

Plant growth

Provenance

Côte d'Ivoire