Abstract
Negative air ions (NAIs) benefit the mental and physical health of humans, but rapid urbanization can decrease the abundance of NAIs. Quantifying the spatial and seasonal distribution of NAIs and determining the factors that influence the concentration during urbanization is thus essential. In the present study of a typical developing urban district in southern China, negative air ion concentrations (NAICs) in 60 forests sites and 30 urban green spaces were quantified on seven consecutive days in each of the four seasons. Large seasonal variations in NAIC were revealed in forests and urban green spaces with trough values in summer. NAIC progressively decreased from forests to urban green spaces and was influenced by local land morphology, vegetation characteristics, and climatic factors. The vast, heavily vegetated northeastern region was the richest area for NAIs, whereas the narrow central region (urbanized area) was the poorest, implying dramatic impacts of urbanization on the spatial distribution of NAIs. The relationship between air temperature and NAIC was better fitted with a quadratic equation than a linear equation. Moreover, the NAIC was more sensitive to local morphology in urban green spaces than in urban forests, indicating the vulnerability of NAIs in urbanized areas. Therefore, the appropriate design of local urban morphology is critical.
This is a preview of subscription content, log in to check access.
Access options
Buy single article
Instant access to the full article PDF.
US$ 39.95
Price includes VAT for USA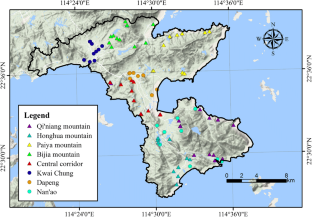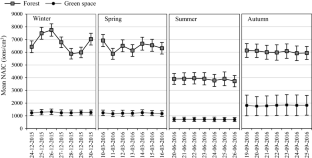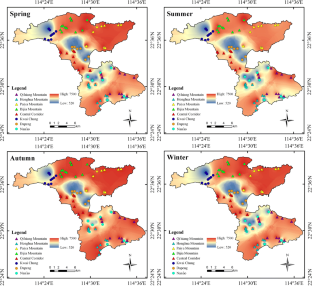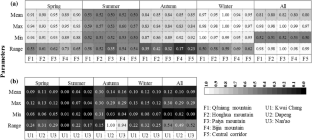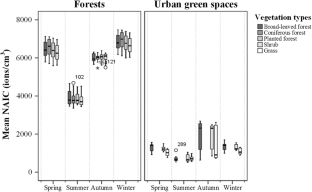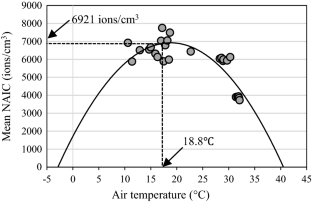 References
Alexander DD, Bailey WH, Perez V, Mitchell ME, Su S (2013) Air ions and respiratory function outcomes: a comprehensive review. J Negat Results Biomed 12(1):1–16

Bowers B, Flory R, Ametepe J, Staley L, Patrick A, Carrington H (2018) Controlled trial evaluation of exposure duration to negative air ions for the treatment of seasonal affective disorder. Psychiatry Res 259:7–14. https://doi.org/10.1016/j.psychres.2017.08.040

Daniell W, Camp J, Horstman S (1991) Trial of a negative ion generator device in remediating problems related to indoor air quality. J Occup Med 33(6):681

Fialkov AB (1997) Investigations on ions in flames. Prog Energy Combust 23(5–6):399–528

Fletcher LA, Gaunt LF, Beggs CB, Shepherd SJ, Sleigh PA, Noakes CJ, Kerr KG (2007) Bactericidal action of positive and negative ions in air. BMC Microbiol 7(1):1–9

Hõrrak U, Salm J, Tammet H (2003) Diurnal variation in the concentration of air ions of different mobility classes in a rural area. J Geophys Res Atmos 108(D20):4653

Huang YL, Chen DH, Dan LU, Shu-Yu LU (2004) Air Negative Ion and City Environment. Arid Environ Monit 18(4):208–211

Iwama H (2004) Negative air ions created by water shearing improve erythrocyte deformability and aerobic metabolism. Indoor Air 14(4):293–297

Kawamoto S, Oshita M, Fukuoka N, Shigeta S, Aki T, Hayashi T, Nishikawa K, Ono K (2006) Decrease in the allergenicity of Japanese cedar pollen allergen by treatment with positive and negative cluster ions. Int Arch Allergy Immunol 141(4):313–321

Köhler SJ, Löfgren S, Wilander A, Bishop K (2001) Validating a simple equation to predict and analyze organic anion charge in swedish low ionic strength surface waters. Water Air Soil Pollut 130(1–4):799–804

Kondrashove MN, Grigorenko EV, Tikhonov AV, Sirota TV, Temnov AV, Stavrovskaja IG, Kosyakova NI, Lange NV, Tikhonov VP (2000) The primary physico-chemical mechanism for the beneficial biological/medical effects of negative air ions. IEEE Trans Plasma Sci 28(1):230–237

Kosenko EA, Kaminsky YG, Stavrovskaya IG, Sirota TV, Kondrashova MN (1997) The stimulatory effect of negative air ions and hydrogen peroxide on the activity of superoxide dismutase. FEBS Lett 410(2–3):309–312

Krueger AP, Reed EJ (1976) Biological impact of small air ions. Science 193(4259):1209

Li S, Lu S, Chen B, Pan Q, Zhang Y, Yang X (2013) Distribution characteristics and law of negative air ions in typical garden flora areas of Beijing. J Food Agric Environ 11(2):1239–1246

Li Y, Guo X, Wang T, Zhao Y, Zhang H, Wang W (2015) Characteristics of atmospheric small ions and their application to assessment of air quality in a typical semi-arid city of Northwest China. Aerosol Air Quality Res 15(3):865–874

Liang H, Chen X, Yin J, Da L (2014) The spatial-temporal pattern and influencing factors of negative air ions in urban forests, Shanghai, China. J For Res 25(4):847–856

Ling X, Jayaratne R, Morawska L (2010) Air ion concentrations in various urban outdoor environments. Atmos Environ 44(18):2186–2193

Maricq MM (2006) On the electrical charge of motor vehicle exhaust particles. J Aerosol Sci 37(7):858–874

Meteorological Bureau of Shenzhen Municipality (2015) Climate general situation of Shenzhen. [http://www.szmb.gov.cn/article/QiHouYeWu/qihouxinxigongxiang/GaiKuangSiJiTeZheng/]. Accessed 30 Nov 2016

Miao S, Zhang XY, Han YJ, Sun W, Liu CJ, Yin S (2018) Random forest algorithm for the relationship between negative air ions and environmental factors in an urban park. Atmosphere 9(12):463

Pawar SD, Meena GS, Jadhav DB (2010) Diurnal and seasonal air ion variability at rural station ramanandnagar (17 2′N, 74 E), India. Aerosol Air Quality Res 10(2):154–166

Pawar SD, Meena GS, Jadhav DB (2012) Air ion variation at poultry-farm, coastal, mountain, rural and urban sites in India. Aerosol Air Quality Res 12(3):444–455

Perez V, Alexander DD, Bailey WH (2013) Air ions and mood outcomes: a review and meta-analysis. BMC Psychiatry 13(1):29

Pino O, Ragione FL (2013) There's Something in the Air: Empirical evidence for the effects of negative air ions (nai) on psychophysiological state and performance. Anaesthesia 31(9):1298–1299

Reiter R (1985) Part B frequency distribution of positive and negative small ion concentrations, based on many years' recordings at two mountain stations located at 740 and 1780 m ASL. Int J Biometeorol 29(3):223–231

Sawant VS, Meena GS, Jadhav DB (2012) Effect of negative air ions on fog and smoke. Aerosol Air Quality Res 12(5):1007–1015

Shahsiah A, Degeneff RC, Nelson JK (2008) Explanation of charged nanoparticle production from hot surfaces. J Aerosol Sci 39(3):244–252

Shal'nova GA (1994) Air ionization and its effects on the immune system of man and animals. Radiatsionnaia Biol Radioecol 34(3):391–397

Sharkey TD, Badger MR, Von Caemmerer S, Andrews TJ (1998) High temperature inhibition of photosynthesis requires Rubisco activase for reversibility. In: Garab G (ed) Photosynthesis: mechanisms, effects. Kluwer Academic Publishers, Dordrecht, pp 2465–2468

Statistics Bureau of Shenzhen City (2015) Shenzhen statistical yearbook. China Statistics Press, Shenzhen, p 414

Tikhonov VP, Tsvetkov VD, Litvinova EG, Sirota TV, Kondrashova MN (2004) Generation of negative air ions by plants upon pulsed electrical stimulation applied to soil. Russ J Plant Physiol 51(3):414–419

Wang HJ (2004) Research of air negative ions distribution on urban green space. Dissertation, Northeast Forestry University

Wang W, Zhuang YU (2012) Evaluation of air cleanness inside building based on negative air ion concentration. Urban Environ Urban Ecol 25(3):36–39

Xu M, Chen B, Su J, Shi X, Pan Y, Xiao Y (2008) Dynamic of negative air ions and its relationship to environmental factors in Maofeng Mountain, Guangzhou. Ecol Environ 17(5):1891–1897

Yan X, Wang H, Hou Z, Wang S, Zhang D, Xu Q, Tokola T (2015) Spatial analysis of the ecological effects of negative air ions in urban vegetated areas: a case study in Maiji, China. Urban For Urban Green 14(3):636–645

Yan Z, Tao FJ, Guoxia L, Xiaowei W, Wei G, Hongjun W (2016) The effects of fountain on negative air ions concentration. In: 2016 International conference on smart city and systems engineering (ICSCSE)

Yates A, Gray FB, Misiaszek JI, Wolman W (1986) Air ions: past problems and future directions. Environ Int 12(1):99–108

Zhang G, Chen L, Zhang S (2007) Effects of high temperature on physiological and biochemical characteristics in flag leaf of rice during heading and flowering period. Sci Agric Sin 40(7):1345–1352
Acknowledgements
The authors acknowledge the volunteers who helped with the field investigations.
Additional information
Publisher's Note
Springer Nature remains neutral with regard to jurisdictional claims in published maps and institutional affiliations.
Project funding: This research was financially supported by the National Key R&D Program of China (2016YFC0502803), the National Natural Science Foundation of China (41701598, 41703071), Natural Science Foundation of Guangdong Province, China (No. 2017A030310532), Research Funds for the Central Universities (No. 17lgpy92) and Urban Management & Water Bureau of Dapeng New District, Shenzhen (DPCG2016124934).
The online version is available at http://www.springerlink.com.
Corresponding editor: Yanbo Hu.
Electronic supplementary material
Below is the link to the electronic supplementary material.
About this article
Cite this article
Wang, Y., Ni, Z., Wu, D. et al. Factors influencing the concentration of negative air ions during the year in forests and urban green spaces of the Dapeng Peninsula in Shenzhen, China. J. For. Res. 31, 2537–2547 (2020). https://doi.org/10.1007/s11676-019-01047-z
Received:

Accepted:

Published:

Issue Date:
Keywords
Forests

Negative air ion concentration

Urban green spaces

Shenzhen