Abstract
This study evaluated boron diffusion from raw boron minerals ulexite and colemanite with low water solubility in comparison to disodium octaborate tetrahydrate (DOT). Tests were conducted using sugi (Cryptomeria japonica (L.) f. D. Don) sapwood and heartwood blocks conditioned to 30, 60, and 90% target moisture content. The blocks were filled with the boron compounds through treatment holes and diffusion was observed at three assay zones across the blocks after 7, 30, 60 or 90-day incubation period at room temperatures. For comparison, ethylene glycol was also introduced into the holes to elevate boron diffusion. As expected, diffusion increased with increased moisture content and levels were higher at the 60% and 90% moisture levels compared to the 30% level. With some exceptions, boron levels did not follow consistent gradients with distance away from the treatment hole. Incorporation of ethylene glycol helped increase boron levels, even in heartwood blocks. Boron levels were higher from the ulexite source than from colemanite; however, DOT treatments resulted in the highest boron diffusion rates as a result of greater water solubility compared to both raw boron minerals. The results suggest that ulexite together with ethylene glycol may be useful in both sapwood and heartwood materials when kept at high moisture levels for extended periods.
Access options
Buy single article
Instant access to the full article PDF.
US$ 39.95
Tax calculation will be finalised during checkout.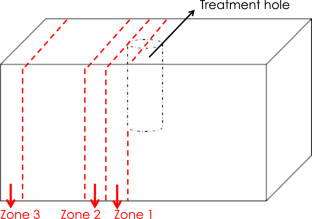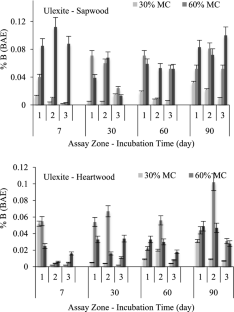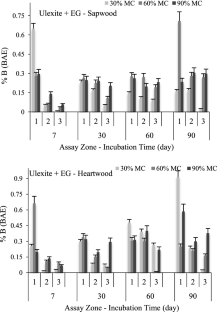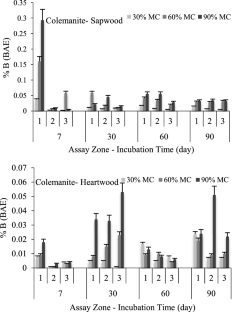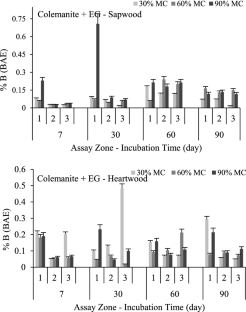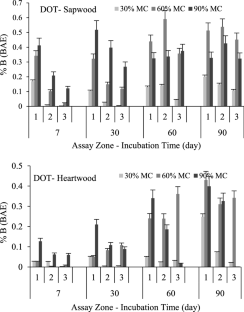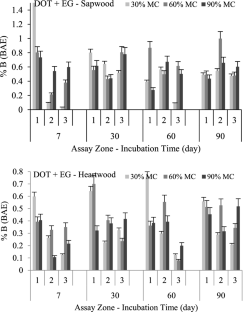 References
American Wood Protection Association (AWPA) (2012) Standard wet ashing procedures for preparing wood for chemical analyses. Standard A7–12. In: Book of standards. AWPA, Birmingham, Alabama, p 224

Bhatia TK (2002) Use of borate-treated wood as part of an IPM approach for durable and sustainable construction. In: Jones SC, Zhai J, Robinson WMH (eds) Proceedings of the 4th international conference on urban pests, Pocahontas Press, Charleston, SC, USA, pp 269–276

Cabrera Y, Morrell JJ (2009) Effect of wood moisture content and rod dosage on boron or fluoride movement through Douglas-fir heartwood. Forest Prod J 59(4):93–96

Dietz MG, Schmidt EL (1987) Borate rods as an on-site remedial treatment for control of decay in wood decks. J Minn Acad Sci 53(2):22–26

Fahlstrom GB (1964) Threshold values for wood preservatives. Forest Prod J 14:529–530

Freitag CM, Morrell JJ (2002) Effect of glycol on movement of borate from fused borate rods. Forest Prod J 52(6):68–74

Freitag CM, Morrell JJ (2005) Development of threshold values for boron and fluoride in non-soil contact applications. Forest Prod J 55(4):97–101

Freitag CM, Morrell JJ, Love CS (2011) Long-term performance of fused borate rods for limiting internal decay in Douglas-fir utility poles. Holzforschung 65:429–434

Kartal SN (2009) Boron-based wood preservatives and their use. In: Chung MP (ed) Handbook on borates: chemistry, production and applications. Nova Science Publishers Inc., Hauppauge. ISBN 978-1-60741-822-1

Kartal SN, Yoshimura T (2016) Borates: a natural way to protect wood against termites. Jpn Termite Control Assoc 1(165):7–10

Koumbi-Mounanga T, Morris PI, Lee MJ, Saadat NN, Leblon B, Cooper PA (2015) Prediction and evaluation of borate distribution in Eastern black spruce (Picea mariana var. mariana) wood products. Wood Sci Technol 49:457–473

Lebow ST, Anthony RW (2012) Guide for use of wood preservatives in historic structures. General technical report FPL-GTR-217. Department of Agriculture, Forest Service, Forest Products Laboratory, Madison, WI, USA, p 59

Lebow ST, Lebow PK, Halverson SA (2010) Penetration of boron from topically applied borate solutions. Forest Prod J 60(1):13–22

Lebow PK, Lebow ST, Halverson SA (2013) Boron diffusion in surface-treated framing lumber. Forest Prod J 63(7/8):275–282

Melo R, Cespedes J, Zaror C (1992) Diffusion of boron salts in heartwood specimens of Chilean-grown Eucalyptus globulus. Wood Prot 2(1):9–14

Morrell JJ, Freitag CM (1995) Effect of wood moisture content on diffusion of boron-based biocides through Douglas-fir and western hemlock lumber. Forest Prod J 45(3):51–55

Morrell JJ, Sexton CM, Preston AF (1990) Effect of moisture content of Douglas-fir heartwood on longitudinal diffusion of boron from fused borate rods. Forest Prod J 40(4):37–40

Ra JB, Barnes HM, Conners TE (2001) Determination of boron diffusion coefficients in wood. Wood Fiber Sci 33(1):90–103

Ra JB, Barnes HM, Conners TE (2002) Predicting boron diffusion in wood from surface sorption. Forest Prod J 52(1):67–70

Terzi E, Kartal SN, Gerardin P, Ibanez CM, Yoshimura T (2017) Biological performance of particleboard incorporated with boron minerals. J For Res 28(1):195–203

Terzi E, Kartal SN, Pişkin S, Stark N, Figen AK, White RH (2018) Colemanite: a fire retardant candidate for wood plastic composites. BioResources 13(1):1491–1509

Williams LH, Amburgey TL (1987) Integrated protection against lyctid beetle infestations. IV. Resistance of boron-treated wood (Virola spp.) to insect and fungal attack. Forest Prod J 37(2):10–17
Acknowledgements
The authors acknowledge Eti Maden Operations General Directorate, Ankara, Turkey for the boron minerals and DOT used in the study.
Additional information
Publisher's Note
Springer Nature remains neutral with regard to jurisdictional claims in published maps and institutional affiliations.
Project funding: The work was supported by the The Coordination Unit for Scientific Research Projects, Istanbul University (Project No: 20947).
The online version is available at http://www.springerlink.com
Corresponding editor: Tao Xu.
About this article
Cite this article
Kartal, S.N., Terzi, E., Figen, A.K. et al. Movement of boron from ulexite and colemanite minerals in sapwood and heartwood of Cryptomeria japonica. J. For. Res. 31, 2597–2603 (2020). https://doi.org/10.1007/s11676-019-01022-8
Received:

Accepted:

Published:

Issue Date:
Keywords
Boron

Remedial

Ulexite

Colemanite

DOT

Distribution

Sapwood

Heartwood