Abstract
Betula utilis D. Don. is an important species of alpine Himalaya and forms the major treeline component of western Himalaya. The different populations of B. utilis are declining and are under high risk. In the present study, novel expressed sequence tag–simple sequence repeat (EST–SSR) primers were developed from expressed sequence tag (EST) data of different Betula species. Of the 10,796 designed primers, the percentages of di-, tri-, tetra-, penta-, and hexa-repeats were 36%, 35%, 15%, 5.5% and 7.7%, respectively. For validation, 50 primers were synthesized randomly and were characterized in 20 different B. utilis accessions from north-western Himalaya. Of these, 45 primers amplified fragments in a range of 1–6. The 24 polymorphic primers produced 111 fragments in aggregate with 4.6 fragments on average. Polymorphism information content (PIC) ranged from 0.288 in marker BUMS-24 to 0.497 in BUMS-3 and BUMS-7, with an average of 0.447 among polymorphic markers. Dendrogram based on Jaccard's similarity coefficient and UPGMA method showed that newly developed SSR markers distinguished twenty accessions of B. utilis into two groups. As no SSR markers were available in this species, the newly developed markers will foster molecular genetics research and conservation efforts for this species.
This is a preview of subscription content, log in to check access.
Access options
Buy single article
Instant access to the full article PDF.
US$ 39.95
Price includes VAT for USA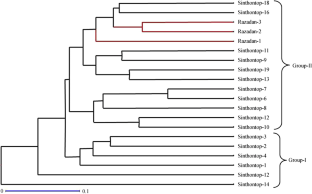 References
Allendorf F, Ryman N (2000) The role of genetics in population viability analysis. In: Beissinger SR, McCullough DR (eds) Population viability analysis. The University of Chicago Press, Chicago, pp 50–85

Carlton GC, Bazzaz FA (1998) Regeneration of three sympatric birch species on experimental hurricane blowdown microsites. Ecol Monogr 68:99–120

Chauhan NS (1999) Medicinal and aromatic plants of Himachal Pradesh, New Delhi, India 1999, p 125

DeJong PC (1993) An introduction to Betula: its morphology, evolution, classification and distribution, with a survey of recent work. In: Betula. Proceedings of the IDS Betula symposium 2–4 October 1992. International Dendrological Society, Sussex, England, pp. 7–18

Doyle JJ, Doyle JL (1990) A rapid total DNA preparation procedure for fresh plant tissue. Focus 12:13–15

Gaudeul M, Taberlet P, Till-Bottraud I (2000) Genetic diversity in an endangered alpine plant, Eryngium alpinum L. (Apiaceae), inferred from amplified fragment length polymorphism markers. Mol Ecol 9:1625–1637

Gupta M, Sharma V, Singh SK, Chahota RK, Sharma TR (2016) Analysis of genetic diversity and structure in a genebank collection of red clover (Trifolium pretense L.) using SSR markers. Plant Genet Resour. https://doi.org/10.1017/s1479262116000034)

Hagman M (1971) On self- and cross-incompatibility shown by Betula verrucosa Ehrh. and Betula pubescens Ehrh. Commun Inst For Fenn 73:1–125

Hjelmroos M (1991) Evidence of long-distance transport of Betula pollen. Grana 30:215–228

Holsinger KE, Gottlieb LD (1991) Conservation of rare and endangered plants: Principles and prospects'. In: Falk DA, Holsinger KE (eds) Genetics and Conservation of Rare Plants. Oxford University Press, New York, pp 195–208

Johnsson H (1974) Genetic characteristics of Betula verrucosa Ehrh. and Betula pubescens Ehrh. Annales Forestales. Analiza Sumarstv 6:91–133

Jonsell B (2000) Flora nordica. Lycopodiaceae to polygonaceae. The Bergius Foundation, the Royal Swedish Academy of Sciences, Stockholm, Sweden, vol 1, pp 1–344

Kaur K, Sharma V, Singh V, Wani MS, Gupta RC (2016) Development of novel SSR markers for evaluation of genetic diversity and population structure in Tribulus terrestris L. (Zygophyllaceae). 3 Biotech 6:156

Kostova A, Todorovska E, Christov N, Hristov K, Atanassov A (2006) Assessment of genetic variability induced by chemical mutagenesis in elite maize germplasm via SSR markers. J Crop Improv 16:37–48

Koul PM, Sharma V, Rana M, Chahota RK, Kumar S, Sharma TR (2017) Genetic structure and interrelationships in lentil species using morphological and SSR markers. 3 Biotech 7:83

Masoudi-Nejad A, Tomura K, Kawashima S, Moriya Y, Suzuki M, Itoh M, Kanehisa M, Endo T, Goto S (2006) EGassembler: online bioinformatics service for large-scale processing clustering and assembling ESTs and genomic DNA fragment. Nucleic Acids Res 34:W459–W462

Perrier X, Jacquemoud-Collet JP (2006) DARwin software http://darwin.cirad.fr/darwin

Powell W, Machray GC, Provan J (1996) Polymorphism revealed by simple sequence repeats. Trends Plant Sci 1:215–222

Rana JC, Chahota RK, Sharma V, Rana M, Verma N, Verma B, Sharma TR (2015) Genetic diversity and structure of Pyrus accessions of Indian Himalayan region based on morphological and SSR markers. Tree Genet Genom 11:821

Rana JC, Rana M, Sharma V, Nag A, Chahota RK, Sharma TR (2016) Genetic diversity and structure of pea (Pisum sativum L.) germplasm based on morphological and SSR markers. Plant Mol Biol Rep. https://doi.org/10.1007/s11105-016-1006-y

Roldan-Ruiz I, Dendauw J, Bockstaele V, Depicker A, Loose M (2000) AFLP markers reveal high polymorphic rates in rye grasses (Lolium spp.). Mol Breed 6:125–134

Rozen S, Skaletsky HJ (2000) Primer3 on the WWW for general users and for biologist programmers. In: Krawetz S, Misener S (eds) Bioinformatics methods and protocols: methods in molecular biology. Humana Press, Totowa, pp 365–386

Sakai A, Larcher W (1987) Frost survival of plants: response and adaptation to freezing stress. Ecological studies. Springer, Berlin, p 62

Samant SS, Pant S, Singh M, Lal M, Singh A, Aman Sharma A, Bhandari S (2007) Medicinal plants in Himachal Pradesh, North western Himalaya, India. Int J Biodivers Sci Manag 3:234–251

Schemske DW, Husband BC, Ruckelshaus MH, Goodwillie C, Parker IM, Bishop JG (1994) Evaluating approaches to the conservation of rare and endangered plants. Ecology 75:584–606

Selvam ABD (2008) Inventory of Vegetable Crude Drug samples housed in Botanical Survey of India. Howrah. Phcog Rev 2(3):61–94

Sharma RK, Gupta P, Sharma V, Sood A, Mohapatra T, Ahuja PS (2008) Evaluation of rice and sugarcane SSR markers for phylogenetic and genetic diversity analyses in bamboo. Genome 51:91–103

Sharma V, Bhardwaj P, Kumar R, Sharma RK, Ahuja PS (2009) Identification and cross-species amplification of EST derived SSR markers in different bamboo species. Conserv Genet 10:721–724

Sharma S, Sharma V, Chhabra M, Rathour R, Sharma KD, Kapila RK (2014) Characterization of novel polymorphic microsatellite markers in Dactylorhiza hatagirea: a critically endangered orchid species from western Himalayas. Conserv Genet Resour. https://doi.org/10.1007/s12686-014-0361-y

Sharma V, Rana M, Katoch M, Sharma PK, Ghani M, Rana JC, Sharma TR, Chahota RK (2015a) Development of SSR and ILP markers in horsegram (Macrotyloma uniflorum), their characterization, cross-transferability and relevance for mapping. Mol Breed 35:102

Sharma V, Sharma TR, Rana JC, Chahota RK (2015b) Analysis of genetic diversity and population structure in horsegram (Macrotyloma uniflorum) using RAPD and ISSR markers. Agric Res 4:221–230

Sharma V, Wani MS, Singh V, Kaur K, Gupta RC (2017) Development and characterization of novel microsatellite markers in Trillium govanianum: a threatened plant species from North-Western Himalaya. 3 Biotech 7:190

Soule M, Simberloff D (1986) What do genetics and ecology tell us about the design of nature reserves? Biol Conserv 35:19–40

Temnykh S, DeClerck G, Lukashova A, Lipovich L, Cartinhour S, McCouch S (2001) Computational and experimental analysis of microsatellites in rice (Oryza sativa L.): frequency, length variation, transposon associations, and genetic marker potential. Genome Res 11:1441–1452

Tu M, Lu BY, Zhu YY, Wang YY (2007) Abundant within-varietal genetic diversity in rice germplasm from Yunnan province of China revealed by SSR fingerprints. Biochem Genet 45:789–801

Zaki M, Sofi MS, Kaloo ZA (2011) A reproducible protocol for raisingclonal plants from leaf segments excised from mature trees of Betula utilis a threatened tree species of Kashmir Himalayas. Int Multidiscip Res J 1(5):7–13

Zobel DB, Singh SP (1997) Himalayan forests and ecological generalizations. Bioscience 47:735–745
Acknowledgements
We are grateful to the Department of Biotechnology (DBT), Government of India for providing facilities and financial support under DBT-IPLS programme at Punjabi University, Patiala. The first author is thankful to UGC for providing a Fellowship under the UGC-BSR scheme. The corresponding author is thankful UGC for providing support under DSK PDF scheme and SERB for N-PDF scheme.
Additional information
Publisher's Note
Springer Nature remains neutral with regard to jurisdictional claims in published maps and institutional affiliations.
Project funding: This work was financially supported by DBT-IPLS scheme [Reference No. BT/PR4548/INF/22/146/2012].
The online version is available at http://www.springerlink.com
Corresponding editor: Yu Lei.
About this article
Cite this article
Wani, M.S., Sharma, V., Gupta, R.C. et al. Development and characterization of SSR markers in Himalayan species Betula utilis. J. For. Res. 31, 1453–1460 (2020). https://doi.org/10.1007/s11676-019-00932-x
Received:

Accepted:

Published:

Issue Date:
Keywords
Betula utilis

Simple sequence repeat (SSR)

Western Himalaya

Polymorphism information content (PIC)

Genetic diversity