Abstract
In the present work, wire electrical discharge machining (WEDM) has been investigated for surface characteristics and corrosion behavior of Mg-4Zn alloy. Using Taguchi's design of experiment technique, the influence of WEDM parameters, namely spark-on time, spark-off time, and servo voltage, has been studied on surface roughness (SR) and corrosion rate (CR). SEM observations showed that WEDM processing has a significant influence on the surface modification of Mg-4Zn alloy. Increasing discharge energy in the WEDM process has resulted in large surface craters, a higher density of micro-cracks, and micropores resulting in higher SR and accelerated CR in Mg-4Zn alloy. Corresponding to minimum SR and CR, the optimal set of WEDM parameters has been selected to prepare the WEDMed Mg-4Zn samples that were further analyzed for electrochemical polarization, apatite formation, and weight loss in simulated body fluid (SBF) and were additionally compared to polished samples of Mg-4Zn over a period of 21 days. Electrochemical polarization tests demonstrate that the CR increases rapidly upon the exposure time of 7 days; beyond that, the CR decreases with further exposure time up to 21 days. Initially, up to 24 hours, WEDMed samples showed better electrochemical corrosion resistance, whereas, later on, polished samples demonstrated an increased corrosion resistance for up to 21 days. Higher mineralization (or apatite formation) has been observed on WEDMed samples, which directly affects the amount of Mg ions released into the SBF solution; thus, weight loss was higher in the WEDMed sample than the polished sample. The weight loss for polished and WEDMed Mg-alloy samples after 21 days of immersion test was 9.3% and 13.5%, respectively. SEM analysis revealed the distinct corrosion morphology among the corroded surface of polished and WEDMed samples.
Access options
Buy single article
Instant access to the full article PDF.
US$ 39.95
Tax calculation will be finalised during checkout.
Subscribe to journal
Immediate online access to all issues from 2019. Subscription will auto renew annually.
US$ 259
Tax calculation will be finalised during checkout.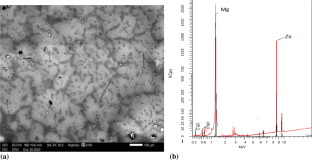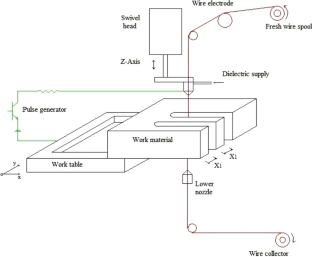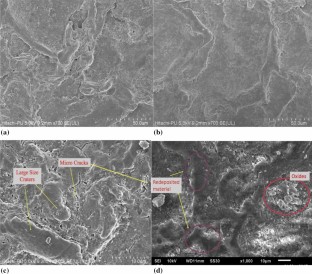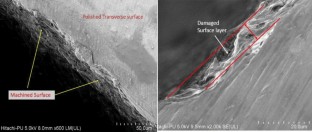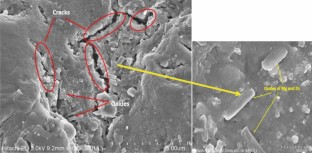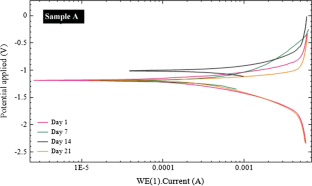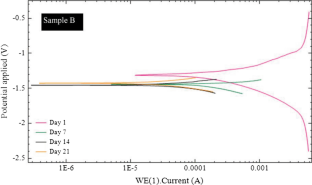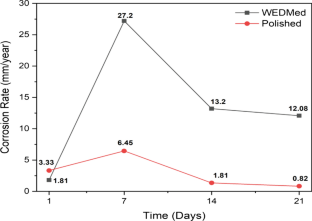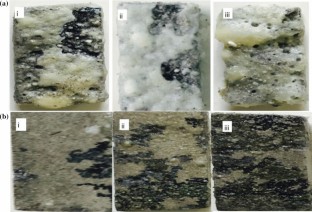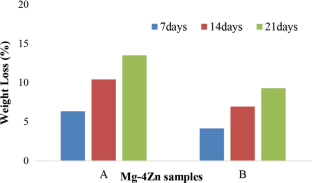 References
1.

Q. Chen and G.A. Thouas, Metallic Implant Biomaterials, Mater. Sci. Eng. R Rep., 2015, 87, p 1–57.

2.

G.E.J. Poinern, S. Brundavanam and D. Fawcett, Biomedical Magnesium Alloys: A Review of Material Properties, Surface Modifications and Potential As a Biodegradable Orthopaedic Implant, Am. J. Biomed. Eng., 2013, 2, p 218–240.

3.

Y.F. Zheng, X.N. Gu and F. Witte, Biodegradable Metals, Mater. Sci. Eng. R Rep., 2014, 77, p 1–34.

4.

K. Kumar, R.S. Gill and U. Batra, Challenges and Opportunities for Biodegradable Magnesium Alloy Implants, Mater. Technol., 2018, 33(2), p 153–172.

5.

R. Zeng, W. Dietzel, F. Witte N. Hort, and C. Blawert, Progress and Challenge for Magnesium Alloys as Biomaterials, Adv. Eng. Mater., 2008, 10, 3–14.

6.

M.S. Uddin, C. Hall and P. Murphy, Surface Treatments for Controlling Corrosion Rate of Biodegradable Mg and Mg-Based Alloy Implants, Sci. Technol. Adv. Mater., 2015, 16(5), p 1–24.

7.

L. Choudhary and R.K.S. Raman, Mechanical Integrity of Magnesium Alloys in a Physiological Environment: Slow Strain Rate Testing Based Study, Eng. Fract. Mech., 2013, 103, p 94–102.

8.

D.H. Cho, B.W. Lee, J.Y. Park, K.M. Cho and I.M. Park, Microstructure, Mechanical Properties and Corrosion Behavior of Extruded Mg–Zn–Ag Alloys with Single-Phase Structure, J. Alloys Compd., 2017, 695, p 1166–1174.

9.

J. Kubásek, D. Vojtěch, J. Lipov and T. Rum, Structure, Mechanical Properties, Corrosion Behavior and Cytotoxicity of Biodegradable Mg–X (X = Sn, Ga, In) Alloys, Mater. Sci. Eng. C, 2013, 33, p 2421–2432.

10.

Z. Gui, Z. Kang, and Y. Li, Corrosion Mechanism of the As-Cast and As-Extruded Biodegradable Mg-3.0Gd-2.7Zn-0.4Zr-0.1Mn Alloys, Mater. Sci. Eng. C, 2019, 96: 831– 840.

11.

L. Elkaiam, O. Hakimi, J. Goldman and E. Aghion, The Effect of Nd on Mechanical Properties and Corrosion Performance of Biodegradable Mg-5%Zn Alloy, Metals, 2018, 8, p 438.

12.

F. Bär, L. Berger, L. Jauer, G. Kurtuldu and R. Schäublin, Laser Additive Manufacturing of Biodegradable Magnesium Alloy WE43: A Detailed Microstructure Analysis, Acta Biomater., 2019, 98, p 36–49.

13.

C. Zhang, J. Lin and H. Liu, Magnesium-Based Biodegradable Materials for Biomedical Applications, Mater. Res. Soc., 2018 https://doi.org/10.1557/adv.2018.488

14.

L. Chen, J. Li, S. Wang, S. Zhu, C. Zhu, B. Zheng, G. Yang and S. Guan, Surface Modification of the Biodegradable Cardiovascular Stent Material Mg–Zn–Y–Nd Alloy Via Conjugating REDV Peptide for Better Endothelialization, J. Mater. Res., 2018 https://doi.org/10.1557/jmr.2018.410

15.

H. Jia, X. Feng, Y. Yang, Microstructure and Mechanical Properties of Directionally Solidified Mg–Zn Alloy as a Biomaterial, Mater. Sci. Technol., 2019.

16.

D. Lu, Y. Huang, Q. Jiang, M. Zheng and J. Duan, A Zinc-Rich Coating Fabricated on a Magnesium Alloy by Oxide Reduction, Surf. Coat. Technol., 2019, 367, p 336–340.

17.

N. Singh, U. Batra, K. Kumar and A. Mahapatro, Investigating TiO2–HA–PCL Hybrid Coating as an Efficient Corrosion Resistant Barrier of ZM21 Mg Alloy, J. Magn. Alloys, 2020 https://doi.org/10.1016/j.jma.2020.08.003

18.

G. Peng, Q. Qiao, L. Jin, B. Zhang, Y. Wang, K. Huang, Q. Yao, D. Zhang, Z. Zhang, T. Fang, J. Wu and Y. He, A Novel CeO2/MgAl2O4 Composite Coating for the Protection of AZ31 Magnesium Alloys, J. Mater. Sci., 2020, 55(4), p 1727–1737. https://doi.org/10.1007/s10853-019-03992-w

19.

M.B. Kannan and R.K.S. Raman, In Vitro Degradation and Mechanical Integrity of Calcium Containing Magnesium Alloys in Modified-Simulated Body Fluid, Biomaterials, 2008, 29, p 2306–2314.

20.

N. Ahuja, U. Batra and K. Kumar, Experimental Investigation and Optimization of Wire Electrical Discharge Machining for Surface Characteristics and Corrosion Rate of Biodegradable Mg Alloy, J. Mater. Eng. Perf., 2020, 29(6), p 4117–4129.

21.

V. Kavimani, K.S. Prakash and T. Thankachan, Influence of Machining Parameters on Wire Electrical Discharge Machining Performance of Reduced Graphene Oxide/Magnesium Composite and its Surface Integrity Characteristics, Compos. B, 2019, 167, p 621–630.

22.

S. Sun, S. Di, P. Lu, D. Wei, J. Yu and Y. Guo, Microstructure and Properties of Metamorphic Layer Formed on Mg-RE Alloy in Micro EDM Process, Jinshu Xuebao/Acta Metall. Sin., 2013, 49(2), p 251–256.

23.

A.M. Escobar, D.F. de Lange and H.I.M. Castillo, Simplified Plasma Channel Formation Model for the Electrical Discharge Machining Process, Int. J Adv Manuf Technol., 2020, 106, p 143–153.

24.

A. Razeghiyadaki, C. Molardi, D. Talamona and A. Perveen, Modeling of Material Removal Rate and Surface Roughness Generated During Electro-Discharge Machining, Machines, 2019, 7, p 1–17.

25.

V. Kumar, N. Sharma and K. Kumar, Surface Modification of WC-Co Alloy Using Al and Si Powder Through WEDM: A Thermal Erosion Process, Partic. Sci. Technol., 2018, 36, p 878–886.

26.

K.K. Jangra, An Experimental Study for Multi-Pass Cutting Operation in Wire Electrical Discharge Machining of WC-5.3% Co Composite, Int. J. Adv. Manuf. Technol., 2015,76, 971–982.

27.

V. Kumar, K.K. Jangra and V. Kumar, An Experimental Study on Trim Cutting Operation Using Metal Powder Mixed Dielectric in WEDM of Nimonic-90, Int. J. Ind. Eng. Comput., 2016, 7, p 135–146.

28.

M.A. Daud, M.Z. Omar, J. Syarif and Z. Sajuri, Effect of Wire-EDM Cutting on Fatigue Strength of AZ61 Magnesium Alloy, Mekanikal J., 2010, 30, p 68–76.

29.

B. Denkena, A. Lucas, F. Thorey, H. Waizy, N. Angrisani and A. Meyer-Lindenberg, Biocompatible Magnesium Alloys as Degradable Implant Materials—Machining Induced Surface and Subsurface Properties and Implant Performance, Spec. Issues Mag. Alloys, 2011 https://doi.org/10.5772/22793

30.

A. Vadiraj, M. Kamaraj,U. Kamachi Mudali, and A.K. Nath, Effect of Surface Modified Layers on Fretting Fatigue Damage of Biomedical Titanium Alloys, Mater Sci Technol., 2006, 22, 1119–1125.

31.

F. Klocke, M. Schwade, A. Klink, D. Veselovac and A. Kopp, Influence of Electro Discharge Machining of Biodegradable Magnesium on the Biocompatibility, Proced. CIRP., 2013, 5, p 88–93.

32.

T.M. Yue, L.J. Yan and H.C.M. Yue, The Effect of Machined Surface Condition on the Corrosion Behavior of Magnesium ZM51/SiC Composite, Mater. Manuf. Process., 2004, 19, p 123–138.

33.

M. Sheth, N. Sheth, N. Radadia and S. Parsana, Optimization of WEDM Parameters for Mg-Zn-RE-Zr Alloy Using Passing Vehicle Search Algorithm, Mater. Res. Express., 2020 https://doi.org/10.1088/2053-1591/ab66f9

34.

S. Vijayabhaskar and T. Rajmohan, Experimental Investigation and Optimization of Machining Parameters in WEDM of Nano-SiC Particles Reinforced Magnesium Matrix Composites, Silicon, 2019, 11, p 1701–1716.

35.

V. Kavimani, K.S. Prakash and T. Thankachan, Multi-Objective Optimization in WEDM Process of Graphene–SiC-Magnesium Composite Through Hybrid Techniques, Measurement, 2019, 145, p 335–349.

36.

M.A. Razak, A.M. Abdul-Rani, T. Rao and S.R. Pedapati, Electrical Discharge Machining on Biodegradable AZ31 Magnesium Alloy Using Taguchi Method, Proced. Eng., 2016, 148, p 916–922.

37.

R.S. Gill, K. Kumar and U. Batra, Apatite Formation and Weight Loss Study in Perforated AZ31 Mg-Alloy, J. Magn. Alloys, 2017, 3(5), p 362–367.

38.

J. Xu, K. Xia, Z. Lian, L. Zhang, H. Yu, Z. Yu, Z. Weng and Z. Wang, Surface Properties on Magnesium Alloy and Corrosion Behaviour Based High-Speed Wire Electrical Discharge Machine Power Tubes, Micro Nano Lett., 2016, 11(1), p 15–19.

39.

R. Prathipati, R. Ch and S.P. Dora, Corrosion Behavior of Surface Induced by Wire EDM on 316L Stainless Steel: An Experimental Investigation, Appl. Sci., 2019, 1, p 952.

40.

S.R. Arunachalam, S.E.G. Dorman and R.T. Buckley, Effect of Electrical Discharge Machining on Corrosion and Corrosion Fatigue Behavior of Aluminum Alloys, Int. J. Fatigue, 2018, 111, p 44–53.

41.

S. Gupta, A. Kumar, Y.K. Sharma and A. Sharma, Multiple Performance Characteristics Optimization of WEDM by Grey Grade for EN-8, Opt. Eng. Res, 2020, 1, p 27–35. https://doi.org/10.47406/OER.2020.1105

42.

K.Y. Kung and K.T. Chiang, Modeling and Analysis of Machinability Evaluation in the Wire Electrical Discharge Machining (WEDM) Process of Aluminum Oxide-Based Ceramic, Mater. Manuf. Process., 2008, 23, p 241–250.

43.

K. Jangra, S. Grover, and A. Aggarwal, Optimization of Multi Machining Characteristics in WEDM of WC-5.3% Co Composite Using Integrated Approach of Taguchi, GRA and Entropy Method, Front. Mech. Eng., 2012, 7(3), 288-299.

44.

N. Sharma, T. Raj and K.K. Jangra, Parameter Optimization and Experimental Study on Wire Electrical Discharge Machining of Porous Ni40Ti60 Alloy, Proceed. Inst. Mech. Eng., 2017, 231(6), p 956–970.

45.

V. Kumar, K.K. Jangra, V. Kumar and N. Sharma, GA-Based Optimisation Using RSM in WEDM of Nimonic-90: A Nickel-Based Super Alloy, Int. J. Ind. Syst. Eng., 2018, 28(1), p 53–69.

46.

S. Das, S. Paul and B. Doloi, Application of CFD and Vapor Bubble Dynamics for An Efficient Electro-Thermal Simulation of EDM: An Integrated Approach, Int. J. Adv. Manuf. Technol., 2019, 102, p 1787–1800.

47.

T. Kokubo and H. Takadama, How Useful is SBF in Predicting In-Vivo Bone Bioactivity?, Biomaterials, 2006, 27(15), p 2907–2915.

48.

A. Giridharan and G.L. Samuel, Modeling and Analysis of Crater Formation During Wire Electrical Discharge Turning (WEDT) Process, Int. J. Adv. Manuf. Technol., 2015, 77, p 1229–1247.
Acknowledgment
This work is funded under the research grant (File no. EMR/2016/001581) sponsored by the SERB, DST, India.
Additional information
Publisher's Note
Springer Nature remains neutral with regard to jurisdictional claims in published maps and institutional affiliations.
Appendix-A
Appendix-A
| TON in (machine unit) | TON in µ-Sec | TOFF in (machine unit) | TOFF in µ-Sec | TOFF in (machine unit) | TOFF in µ-Sec |
| --- | --- | --- | --- | --- | --- |
| 100 | 0 | 0 | 2 | 32 | 10 |
| 101 | 0.1 | 1 | 2.25 | 33 | 10.5 |
| 102 | 0.15 | 2 | 2.5 | 34 | 11 |
| 103 | 0.2 | 3 | 2.75 | 35 | 11.5 |
| 104 | 0.25 | 4 | 3 | 36 | 12 |
| 105 | 0.3 | 5 | 3.25 | 37 | 12.5 |
| 106 | 0.35 | 6 | 3.5 | 38 | 13 |
| 107 | 0.4 | 7 | 3.75 | 39 | 13.5 |
| 108 | 0.45 | 8 | 4 | 40 | 14 |
| 109 | 0.5 | 9 | 4.25 | 41 | 14.5 |
| 110 | 0.55 | 10 | 4.5 | 42 | 15 |
| 111 | 0.6 | 11 | 4.75 | 43 | 16 |
| 112 | 0.65 | 12 | 5 | 44 | 17 |
| 113 | 0.7 | 13 | 5.25 | 45 | 18 |
| 114 | 0.75 | 14 | 5.5 | 46 | 19 |
| 115 | 0.8 | 15 | 5.75 | 47 | 20 |
| 116 | 0.85 | 16 | 6 | 48 | 22 |
| 117 | 0.9 | 17 | 6.25 | 49 | 24 |
| 118 | 0.95 | 18 | 6.5 | 50 | 26 |
| 119 | 1 | 19 | 6.75 | 51 | 28 |
| 120 | 1.05 | 20 | 7 | 52 | 30 |
| 121 | 1.1 | 21 | 7.25 | 53 | 32 |
| 122 | 1.15 | 22 | 7.5 | 54 | 34 |
| 123 | 1.2 | 23 | 7.75 | 55 | 36 |
| 124 | 1.25 | 24 | 8 | 56 | 38 |
| 125 | 1.3 | 25 | 8.25 | 57 | 40 |
| 126 | 1.35 | 26 | 8.5 | 58 | 42 |
| 127 | 1.4 | 27 | 8.75 | 59 | 44 |
| 128 | 1.45 | 28 | 9 | 60 | 46 |
| 129 | 1.5 | 29 | 9.25 | 61 | 48 |
| 130 | 1.55 | 30 | 9.5 | 62 | 50 |
| 131 | 1.65 | 31 | 9.75 | 63 | 52 |
About this article
Cite this article
Gill, R.S., Kumar, K. & Batra, U. Surface Characteristics and Corrosion Behavior of Wire Electrical Discharge Machining Processed Mg-4Zn Alloy. J. of Materi Eng and Perform (2021). https://doi.org/10.1007/s11665-021-05525-6
Received:

Revised:

Accepted:

Published:
Keywords
apatite formation

corrosion rate

Mg-4Zn

Mg alloy

surface roughness

wire electrical discharge machining (WEDM)

weight loss