Abstract
Fluid flow inside a beam blank mold fed through a three-port SEN (two lateral ports and one bottom port), positioned at the center of the mold, has been investigated. Literature survey shows that this kind of configuration is not frequently used. It had been shown that it is possible to get a symmetrical flow with this configuration. The downward inclination of the ports should influence the transient fluid flow. The greater the downward inclination, the greater is the instability of the jet and of the interface between the immiscible fluids that simulate the slag/metal behavior. The flow characterization was made by dye dispersion, PIV technique, measurement of the meniscus oscillation using ultrasonic sensors, and CFD simulations. The slag/metal behavior was simulated using water and oils with different physical properties. The results from PIV as well as from observations of the water–oil interface have been used to validate the CFD simulations. Oils with density close to water resulted in more instability at the interface with entrainment starting from fluid flow rate of 125 L/min (equivalent to casting speed of 1 m/min). Decreasing the viscosity of slag (oils) and increasing the casting velocity (water flow rate) result in reduction of the interfacial stability.
This is a preview of subscription content, log in to check access.
Access options
Buy single article
Instant access to the full article PDF.
US$ 39.95
Tax calculation will be finalised during checkout.
Subscribe to journal
Immediate online access to all issues from 2019. Subscription will auto renew annually.
US$ 294
Tax calculation will be finalised during checkout.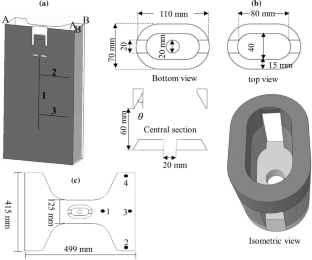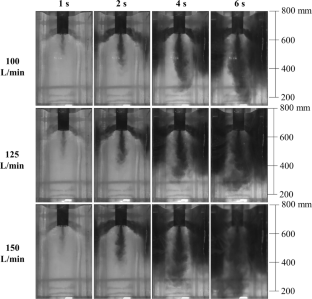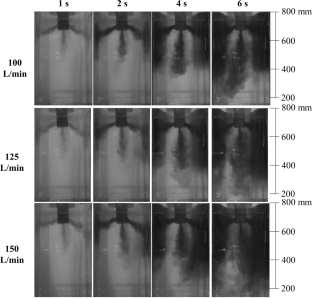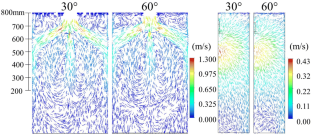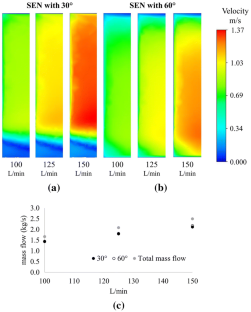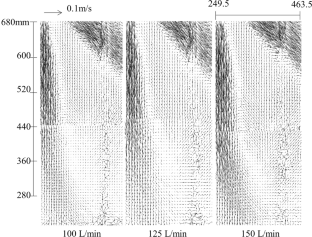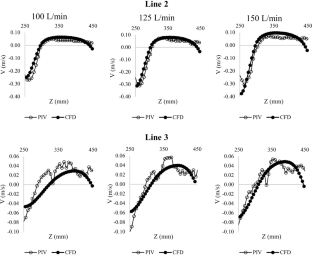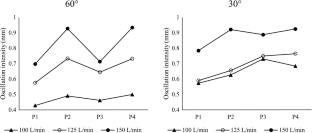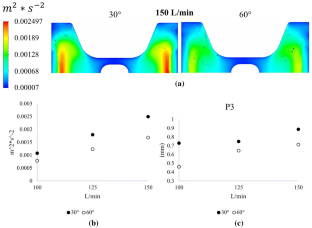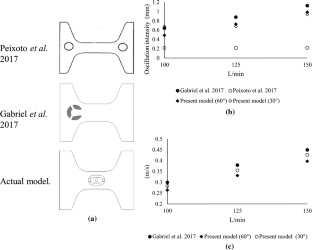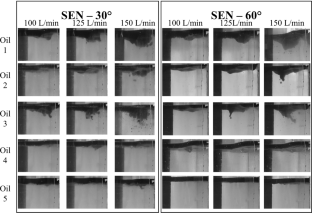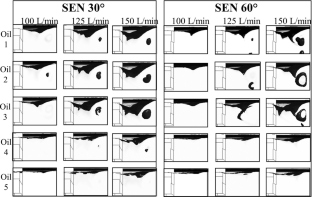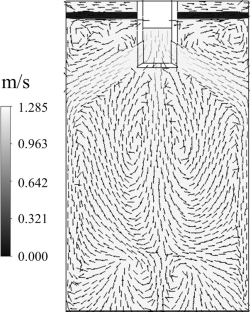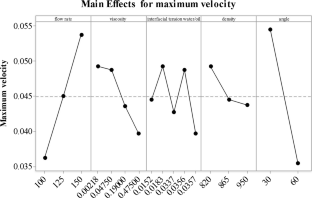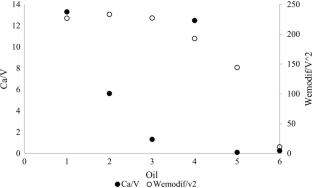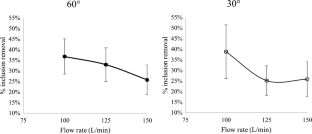 References
1.

B. Shen, H. Shen, B. Liu: ISIJ Int, 2007, vol. 4(3), pp. 427 – 432.

2.

L.L. Zhang, X. Xie: Ironmak. Steelmak. 44(3), pp. 192–201 (2017).

3.

A. Theodorakakos and G. Bergeles: Metallurgical and Materials Transactions B, 2001, vol. 29B, pp. 1321-1327.

4.

M. Zhu, M. Xu, S. Luo: Nastac L. et al. (editors) Advances in the Science and Engineering of Casting Solidification. Springer, Cham, 2015, pp. 129–36.

5.

P. Mishra, P.S.K. Ajmani, A. Kumar, K.K. Shrivastava: Int. J. Eng. Sci. Technol. vol. 4, pp. 2234–43 (2012).

6.

J.W. Beaton, A. Sgro, A. Burini, P. Razza, A. Azizolai: METEC Second Estad (and European Technology and Application Days), 2015, June 15–19, Dusseldorf.

7.

M. De-Santis, A. Cristallini, M. Rinaldi, A. Sgro: ISIJ International, 2014, vol.54 (3), pp. 496–503.

8.

J-E. Lee, J-K. Yoon, H-N. Han: ISIJ International, 1998, vol. 38(2), pp. 132–141.

9.

W.V. Gabriel, J.J.M. Peixoto, C.A. Silva, C.A. Silva, I.A. Silva, V. Seshadri: J. Mater. Process. Technol. 245, pp. 232–240 (2016).

10.

W.V. Gabriel, J.J.M. Peixoto, G.L. Alves, C.A. Silva, I.A. Silva, V. Seshadri: In: AISTech 2018, 2018, Pennsylvania. AIST 2018 Proceedings, 2018, pp. 1645–54.

11.

J.M. Harman, and A.W. Cramb: Steelmaking Conference Proceedings. Pittsburgh, 1996, vol. 79, pp. 773–84.

12.

L. Liuyi, Z. Rong, C. Guoguang, H. Bin, W.Q. Chengshun, Guoyu: AISTech 2017 Proceedings, pp. 1849–59.

13.

W. Chen, Y-Z. Zhang, J-H. Mal, B-X. Wang, Y. Chen, C. Wang: Rev. Adv. Mater. Sci, 2013, vol. 33, pp. 337-341.

14.

L.C. Hibeller, S. Koric, K. Xu, B.G. Thomas, C. Spangler: Aistech 2008, Pittsburg, PA, pp. 1–14.

15.

Ansys Inc.: ANSYS CFX- Solver Theory Guide, Release 18.2, Canonsburg, PA, 2017, p. 157.

16.

M. Xu, M. Zhu: ISIJ International, 2015, vol. 55 (4), pp. 791-798.

17.

L. Zhang, D. Cheng, M. Long, X. Xie, X. Zhang, Y. Ma: EPD Congress 2014, pp. 375–384.

18.

R.D. Morales, Y. Tang, G. Nitzl, C. Eglsaeer, G. Hackl: ISIJ Int. vol. 52(9), pp. 1607-161 (2012).

19.

F.M. Najjar, B.G. Thomas, D.E. Hershey: Metallurgical Transactions B, 1995, vol. 26B (4),pp. 749-765.

20.

M. Xu, M. Zhu: ISIJ Int. 55(4), 791-798 (2015).

21.

K. Zhacarias: PhD thesis, University of Greenwich, 2011. 138 pages.

22.

J.J.M. Peixoto, W.V. Gabriel, C.A. Silva, L.Q. Ribeiro, C.A. Silva, I.A. Silva, V. Seshadri: 8th International Symposium on High-Temperature Metallurgical Processing, The Minerals, Metals & Materials Series, The Minerals, Metals & Materials Society 2017, pp. 89–99.

23.

S. Koric, S.L.C. Hibbeler, R. Liu, B.G. Thomas: Numerical Heat Transfer B, 58, 6, 371–392 (2010).

24.

R. Hagemann, H.-P. Heller, S. Lachmann, S. Seetharaman, P.R. Scheller: Ironmak. Steelmak. 2013, 39(7), 508-513.

25.

J. Jowsa, A. Bielnicki, Cwudzinski: Arch. Metall. Mater, 2016, vol. 61,pp. 2043 – 2050.

26.

M. Bielnicki, J. Jowsa: Steel Research International,2018, vol 89, pp. 1-9.

27.

P. Sulasalmi, A. Kärnä, T. Fabritius, J. Savolainen: ISIJ Int. 2009, vol. 49 (11), pp. 1661-1667.

28.

J. Savolainen, T. Fabritius, O. Mattila: ISIJ Int. 2009, vol. 49, pp. 29-36.
Acknowledgements
The authors wish to acknowledge the help provided by the research institutions in Brazil namely CNPq, CAPES, Fundação Gorceix, and FAPEMIG.
Additional information
Publisher's Note
Springer Nature remains neutral with regard to jurisdictional claims in published maps and institutional affiliations.
Manuscript submitted February 1, 2019.
About this article
Cite this article
Gabriel, W.V., Peixoto, J.J.M., Queiroz, G.S. et al. Numerical and Physical Simulation of the Fluid Flow in a Beam Blank Mold Fed Through the Center of the Web. Metall Mater Trans B 50, 2596–2611 (2019). https://doi.org/10.1007/s11663-019-01712-y
Received:

Published:

Issue Date: