Abstract
Because of interfacial and surface tension, micron-sized liquid oxide droplets are expected to change from spherical (when fully immersed in liquid steel) to lens shape on top of steel. Inclusion sizes were measured by automated analysis of polished sections of calcium-treated aluminum-killed steel. A sample of the same steel was remelted and observed using confocal scanning laser microscopy. Droplets on the steel surface appear to have approximately twice the diameter of fully immersed spherical inclusions.
This is a preview of subscription content, log in to check access.
Access options
Buy single article
Instant access to the full article PDF.
US$ 39.95
Price includes VAT for USA
Subscribe to journal
Immediate online access to all issues from 2019. Subscription will auto renew annually.
US$ 294
This is the net price. Taxes to be calculated in checkout.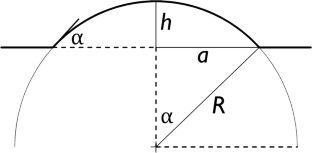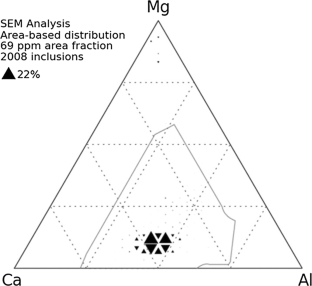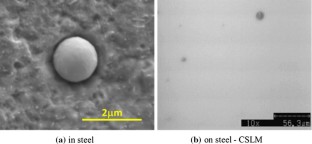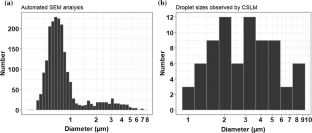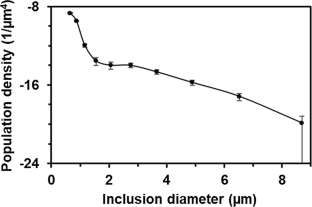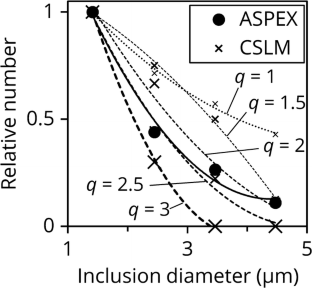 References
1.

J. Ma, B. Zhang, D. Xu, E.H. Han, and W. Ke: Int. J. Fatigue, 2010, vol. 32, pp. 1116–25.

2.

J.M. Zhang, S.X. Li, Z.G. Yang, G.Y. Li, W.J. Hui, and Y.Q. Weng: Int. J. Fatigue, 2007, vol. 29, pp. 765–71.

3.

Ø. Grong, L. Kolbeinsen, C. van der Eijk, and G. Tranell: ISIJ Int., 2006, vol. 46, pp. 824–31.

4.

H. Yin, H. Shibata, T. Emi, and M. Suzuki: ISIJ Int., 1997, vol. 37, pp. 936–45.

5.

H. Yin, H. Shibata, T. Emi, and M. Suzuki: ISIJ Int., 1997, vol. 37, pp. 946–55.

6.

M. Olette: Steel Res. Int., 1988, vol. 59, pp. 246–56.

7.

E.W. Weisstein: Spherical Cap. From MathWorld—A Wolfram Web Resource. http://mathworld.wolfram.com/SphericalCap.html. Last visit March 2019.

8.

I. Egry, E. Ricci, R. Novakovic, S. Ozawa: Adv. Colloid Interface Sci., 2010, vol. 159, pp. 198-212.

9.

M. Wegener, L. Muhmood, S. Sun, and A. V. Deev: Ind. Eng. Chem. Res., 2013, vol. 52, pp. 16444–56.

10.

S.-C. Park, H. Gaye, and H.-G. Lee: Ironmak. Steelmak., 2009, vol. 36, pp. 3–11.

11.

I. Jimbo, Y. Chung, and A.W. Cramb: ISIJ Int., 1996, vol. 36, pp. S42-S45.

12.

D. Tang, M.E. Ferreira, and P.C. Pistorius: Microsc. Microanal., 2017, vol. 23, pp. 1082–90.

13.

N. Verma, P.C. Pistorius, R.J. Fruehan, M.S. Potter, H.G. Oltmann, and E.B. Pretorius: Metall. Mater. Trans. B, 2012, vol. 43, pp. 830–840.

14.

J. Tan and P.C. Pistorius: Metall. Mater. Trans. B, 2013, vol. 44, pp. 483-486.

15.

M.D. Higgins: Am. Mineral., 2000, vol. 85, pp. 1105-1116.
The authors thank the industrial company members of the Center for Iron and Steelmaking Research at Carnegie Mellon University for both financial and technical support of this work. The authors acknowledge the use of the Materials Characterization Facility at CMU supported by Grant MCF-677785.
Additional information
Publisher's Note
Springer Nature remains neutral with regard to jurisdictional claims in published maps and institutional affiliations.
Manuscript submitted May 21, 2019.
About this article
Cite this article
Ferreira, M.E., Pistorius, P.C. & Fruehan, R.J. Liquid Inclusion Distortion by Lens Shape Effect: In Situ Observation and Quantification on LCAK Steels Using HT-CSLM. Metall Mater Trans B 50, 2498–2501 (2019). https://doi.org/10.1007/s11663-019-01673-2
Received:

Published:

Issue Date: