Abstract
Summary
Osteoporosis remains under-recognized and sub-optimally managed in Pakistan, with a lack of awareness that minimal impact hip fracture is a manifestation of low bone mineral density (BMD).
Purpose
Hip fracture is often the first clinical presentation of osteoporosis and an opportunity to intervene and reduce future fracture risk. Our aim was to understand the current practices in Pakistan related to bone health in patients presenting with a hip fracture.
Methods
This is a retrospective study at a tertiary care center in Pakistan of patients admitted with a hip fracture. Data collected includes previous fracture history, known preceding diagnosis of low BMD medication details, comorbidities, and DXA results.
Results
Two hundred ten patients were studied. The mean age of patients was 73.1 years, with 112 (53.3%) women. Most (195 (92.9%)) had presented with a low-impact hip fracture, with 17 (8.1%) reporting previous history of fracture. None had been treated with osteoporosis medications prior to fracture. Nineteen (9%) were on calcium and vitamin D supplements prior to fracture; of the minority who were screened, all were vitamin D deficient and subsequently discharged on vitamin D supplements. No one was prescribed medications to reduce fracture risk at discharge.
Conclusion
This study reveals that patients admitted with minimal impact hip fractures in Pakistan are rarely evaluated for low BMD and not started on osteoporosis medications even after presenting with a typical osteoporosis-related fracture. This underscores the need for health provider education about osteoporosis as a major cause for hip fractures and the need to intervene for future fracture risk reduction.
Access options
Buy single article
Instant access to the full article PDF.
US$ 39.95
Tax calculation will be finalised during checkout.
Subscribe to journal
Immediate online access to all issues from 2019. Subscription will auto renew annually.
US$ 79
Tax calculation will be finalised during checkout.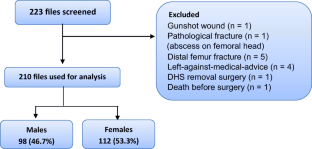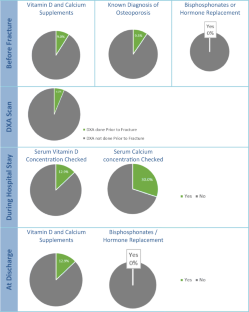 References
1.

Kanis JA (2019) Diagnosis and clinical aspects of osteoporosis. In: Pocket Reference to Osteoporosis. Springer, Berlin, pp 11–20

2.

Cummings SR, Melton LJ (2002) Epidemiology and outcomes of osteoporotic fractures. Lancet 359(9319):1761–1767

3.

Cosman F, de Beur SJ, LeBoff M, Lewiecki E, Tanner B, Randall S, Lindsay R (2014) Clinician's guide to prevention and treatment of osteoporosis. Osteoporos Int 25(10):2359–2381

4.

on Osteoporosis NCDP, Prevention D (2001) Osteoporosis prevention, diagnosis, and therapy. JAMA 285(6):785–795

5.

Cadarette SM, Katz JN, Brookhart MA, Levin R, Stedman MR, Choudhry NK, Solomon DH (2008) Trends in drug prescribing for osteoporosis after hip fracture, 1995-2004. J Rheumatol 35(2):319–326

6.

Elliot-Gibson V, Bogoch E, Jamal S, Beaton D (2004) Practice patterns in the diagnosis and treatment of osteoporosis after a fragility fracture: a systematic review. Osteoporos Int 15(10):767–778

7.

Giangregorio L, Papaioannou A, Cranney A, Zytaruk N, Adachi J (2006) Fragility fractures and the osteoporosis care gap: an international phenomenon. In: Seminars in arthritis and rheumatism. Elsevier, Amsterdam, pp 293–305

8.

Rabenda V, Vanoverloop J, Fabri V, Mertens R, Sumkay F, Vannecke C, Deswaef A, Verpooten GA, Reginster J-Y (2008) Low incidence of anti-osteoporosis treatment after hip fracture. JBJS 90(10):2142–2148

9.

Nguyen E, Posas-Mendoza T, Siu A, Ahn H, Choi S, Lim S (2018) Low rates of osteoporosis treatment after hospitalization for hip fracture in Hawaii. Osteoporos Int 29(8):1827–1832

10.

Mak JC, Cameron ID, March LM (2010) Evidence-based guidelines for the management of hip fractures in older persons: an update. Med J Aust 192(1):37–41

11.

White S, Griffiths R, Holloway J, Shannon A (2010) Anaesthesia for proximal femoral fracture in the UK: first report from the NHS Hip Fracture Anaesthesia Network. Anaesthesia 65(3):243–248

12.

Khan AH (2020) Osteoporosis in developing countries in Asia Pacific – challenges and opportunities. vol 2020. Asia Pacific Consortium on Osteoporosis (APCO),

13.

Ballane G, Cauley JA, Arabi A, Fuleihan GE-H (2013) Geographic variability in hip and vertebral fractures. In: Osteoporosis. Elsevier, pp 623–644

14.

Mithal A, Dhingra V, Lau E (2009) The asian audit: epidemiology, costs and burden of osteoporosis in Asia. Beizing, China: An International Osteoporosis Foundation (IOF) publication

15.

Habib S, Iqbal R, Shahid M, Habib A (2015) Growing prevalence of osteoporosis in Pakistan: call for action. J Pak Med Assoc 65(2):230–231

16.

Organization WH (2000) The Asia-Pacific perspective: redefining obesity and its treatment.

17.

Khan AH, Jafri L, Ahmed S, Noordin S (2018) Osteoporosis and its perspective in Pakistan: a review of evidence and issues for addressing fragility fractures. Annal Med Surg 29:19–25

18.

Danish SH, Ahmad F, Hassan F, Khan SA, Hashmi AA, Muhammad S, Ali S, Liaquat SH (2014) Osteoporosis and its associated factors revisited: case control study. Pakist J Med Dent 3(02):13

19.

Adler RA (2010) Preventing the next "bone event". J Am Geriatr Soc 58(4):762–764. https://doi.org/10.1111/j.1532-5415.2010.02778.x

20.

Saad R, Beydoun M, Fuleihan GE-H (2019) Management of hip fractures at an academic center: challenges and opportunities. J Clin Densitom 23(4):524–533

21.

Camacho PM, Petak SM, Binkley N, Diab DL, Eldeiry LS, Farooki A, Harris ST, Hurley DL, Kelly J, Lewiecki EM (2020) American Association of Clinical Endocrinologists/American College of Endocrinology Clinical Practice Guidelines for the Diagnosis and Treatment of Postmenopausal Osteoporosis—2020 Update. Endocr Pract 26(s1):1–46

22.

Weaver C, Alexander D, Boushey C, Dawson-Hughes B, Lappe JM, LeBoff M, Liu S, Looker A, Wallace T, Wang D (2016) Calcium plus vitamin D supplementation and risk of fractures: an updated meta-analysis from the National Osteoporosis Foundation. Osteoporos Int 27(1):367–376

23.

Jennings LA, Auerbach AD, Maselli J, Pekow PS, Lindenauer PK, Lee SJ (2010) Missed opportunities for osteoporosis treatment in patients hospitalized for hip fracture: [See editorial comments by Dr. Robert A. Adler, pp 762–764]. J Am Geriatr Soc 58(4):650–657

24.

Meyer AC, Hedström M, Modig K (2020) The Swedish Hip Fracture and National Patient Register were valuable for research on hip fractures: comparison of two registers. J Clin Epidemiol 125:91–99

25.

The-World-Bank (2018) Life expectancy at birth, total (years).

26.

Papaioannou A, Kennedy CC, Ioannidis G, Gao Y, Sawka A, Goltzman D, Tenenhouse A, Pickard L, Olszynski W, Davison K (2008) The osteoporosis care gap in men with fragility fractures: the Canadian Multicentre Osteoporosis Study. Osteoporos Int 19(4):581–587

27.

Compston JE, Watts NB, Chapurlat R, Cooper C, Boonen S, Greenspan S, Pfeilschifter J, Silverman S, Díez-Pérez A, Lindsay R (2011) Obesity is not protective against fracture in postmenopausal women: GLOW. Am J Med 124(11):1043–1050

28.

De Laet C, Kanis J, Odén A, Johanson H, Johnell O, Delmas P, Eisman J, Kroger H, Fujiwara S, Garnero P (2005) Body mass index as a predictor of fracture risk: a meta-analysis. Osteoporos Int 16(11):1330–1338

29.

Nielson CM, Marshall LM, Adams AL, ES LB, Cawthon PM, Ensrud K, Stefanick ML, Barrett-Connor E, Orwoll ES, Group OFiMSR (2011) BMI and fracture risk in older men: the osteoporotic fractures in men study (MrOS). J Bone Miner Res 26(3):496–502

30.

Dar FJ, Iqbal R, Ghani F, Siddiqui I, Khan AH (2012) Bone health status of premenopausal healthy adult females in Pakistani females. Arch Osteoporos 7(1-2):93–99

31.

Khan AH, Naureen G, Iqbal R, Dar FJ (2013) Assessing the effect of dietary calcium intake and 25 OHD status on bone turnover in women in Pakistan. Arch Osteoporos 8(1-2):151

32.

Toth E, Banefelt J, Åkesson K, Spångeus A, Ortsäter G, Libanati C (2020) History of previous fracture and imminent fracture risk in Swedish women aged 55 to 90 years presenting with a fragility fracture. J Bone Miner Res 35(5):861–868

33.

Svenøy S, Watne LO, Hestnes I, Westberg M, Madsen JE, Frihagen F (2020) Results after introduction of a hip fracture care pathway: comparison with usual care. Acta Orthop 91(2):139–145

34.

Ryan DJ, Yoshihara H, Yoneoka D, Egol KA, Zuckerman JD (2015) Delay in hip fracture surgery: an analysis of patient-specific and hospital-specific risk factors. J Orthop Trauma 29(8):343–348

35.

Saul D, Riekenberg J, Ammon JC, Hoffmann DB, Sehmisch S (2019) Hip fractures: therapy, timing, and complication spectrum. Orthop Surg 11(6):994–1002

36.

Nyholm AM, Gromov K, Palm H, Brix M, Kallemose T, Troelsen A, Paulsen AW, Petersen JK, Bloch T, Stentzer K (2015) Time to surgery is associated with thirty-day and ninety-day mortality after proximal femoral fracture: a retrospective observational study on prospectively collected data from the Danish Fracture Database Collaborators. JBJS 97(16):1333–1339

37.

Rosso F, Dettoni F, Bonasia DE, Olivero F, Mattei L, Bruzzone M, Marmotti A, Rossi R (2016) Prognostic factors for mortality after hip fracture: operation within 48 hours is mandatory. Injury 47:S91–S97

38.

Romero CC, Cordero ÁF, Santos JCS, Berenguer IP (2017) Relationship between vitamin D, osteoporotic fracture and falls. Med Clín (Engl Ed) 149(10):436–438

39.

Sheikh A, Saeed Z, Jafri SAD, Yazdani I, Hussain SA (2012) Vitamin D levels in asymptomatic adults-a population survey in Karachi, Pakistan. PLoS One 7(3):e33452

40.

Riaz H, Finlayson A, Bashir S, Hussain S, Mahmood S, Malik F, Godman B (2016) Prevalence of vitamin D deficiency in Pakistan and implications for the future. Expert Rev Clin Pharmacol 9(2):329–338
Data and materials availability
Not applicable
Code availability
Not applicable
Ethics declarations
Ethics approval and consent to participate
This study was given an exemption by the Ethics Review Committee, the Aga Khan University Hospital, Karachi. For this type of study, formal consent is not required.
Consent for publication
For this type of study, formal consent is not required.
Conflicts of interest
Author SN has received research grants from the WHO and speaker honorarium from Abbott and Lilly. No other author has any conflict of interest.
Additional information
Publisher's note
Springer Nature remains neutral with regard to jurisdictional claims in published maps and institutional affiliations.
About this article
Cite this article
Arshad, A., Ibrahim, M.T., Arshad, H. et al. Clinical characteristics and outcomes of patients presenting with hip fractures at a tertiary care hospital in Pakistan. Arch Osteoporos 16, 25 (2021). https://doi.org/10.1007/s11657-021-00895-9
Received:

Accepted:

Published:
Keywords
Osteoporosis

Hip fracture

DXA

Bone mineral density (BMD)

Pakistan

Developing country