Abstract
Summary
The concordance between osteoporosis self-assessment tool for Asians (OSTA) and dual-energy X-ray absorptiometry (DXA) was fair in the study. Modification of OSTA cutoff values improved its sensitivity to identify subjects at risk for suboptimal bone health (osteopenia/osteoporosis) and osteoporosis.
Purpose
Osteoporosis self-assessment tool for Asians (OSTA) is a convenient screening algorithm used widely to identify patients at risk of osteoporosis. Currently, the number of studies validating OSTA in Malaysian population is limited. This study aimed to validate the performance of OSTA in identifying subjects with osteoporosis determined with DXA.
Methods
This cross-sectional study recruited 786 Malaysians in Klang Valley, Malaysia. Their bone health status was assessed by DXA and OSTA. The association and agreement between OSTA and bone mineral density assessment by DXA were determined by Pearson's correlation and Cohen's kappa, respectively. Receiver operating characteristics (ROC) curves were used to determine the sensitivity, specificity, and area under the curve (AUC) for OSTA.
Results
OSTA and DXA showed a fair association in the study (r = 0.382, κ = 0.159, p < 0.001). OSTA (cutoff < − 1) revealed a sensitivity of 32.3%, specificity of 92.3%, and AUC of 0.618 in identifying subjects with suboptimal bone health. The sensitivity of OSTA (cutoff < − 4) in determining subjects at risk of osteoporosis was better among women (sensitivity = 20%) than men (sensitivity = 0%). Modified OSTA cutoff values improved the sensitivity of OSTA in identifying subjects with suboptimal bone health (men = 81.0% at cutoff 3.4, women = 82.8% at cutoff 2.0) and osteoporosis (men = 81.8% at cutoff 1.8, women = 81.3% at cutoff 0.8).
Conclusion
OSTA with its original cutoff values is ineffective in identifying individuals at risk for osteoporosis. Adjusting the cutoff values significantly increases the sensitivity of OSTA, thus highlighting the need to validate this instrument among the local population before using it for osteoporosis screening clinically.
This is a preview of subscription content, log in to check access.
Access options
Buy single article
Instant access to the full article PDF.
US$ 39.95
Price includes VAT for USA
Subscribe to journal
Immediate online access to all issues from 2019. Subscription will auto renew annually.
US$ 99
This is the net price. Taxes to be calculated in checkout.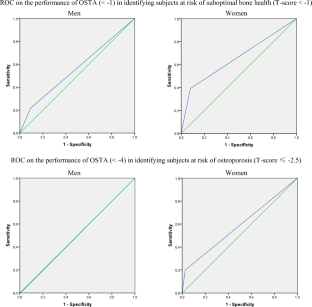 References
1.

Johnell O, Kanis J (2006) An estimate of the worldwide prevalence and disability associated with osteoporotic fractures. Osteoporos Int 17(12):1726–1733

2.

International Osteoporosis Foundation (2018) Impact of Osteoporosis. https://www.iofbonehealth.org/impact-osteoporosis.

3.

Lau EM (2009) The epidemiology of osteoporosis in Asia. IBMS BoneKEy 6(5):190–193

4.

Cheung C-L, Ang SB, Chadha M, Chow ES-L, Chung Y-S, Hew FL, Jaisamrarn U, Ng H, Takeuchi Y, Wu C-H (2018) An updated hip fracture projection in Asia: the Asian Federation of Osteoporosis Societies study. Osteoporos Sarcopenia 4(1):16–21

5.

Chen CW, Tsai HL, Yeh YS, Lin HL, Huang CW, Chen CF, Chang YT, Lou YT, Wang JY (2013) Osteoporosis self-assessment tool for Asians as a simple risk index of identifying a poor prognosis in women surgically treated for colorectal cancer. J Surg Res 181(2):242–249

6.

Zhang HM, Liu HL, Wang X, Chen W, Chen D, Zhang ZZ, Wang HM (2016) Clinical value of self-assessment risk of osteoporosis in Chinese. Open Med (Wars) 11(1):190–195

7.

World Health Organization (1994) Assessment of fracture risk and its application to screening for postmenopausal osteoporosis: report of a WHO study group. World Health Organization, Geneva

8.

Mithal A, Ebeling P, Kyer C (2013) The Asia-Pacific regional audit: epidemiology, costs & burden of osteoporosis in 2013. International osteoporosis foundation, Nyon

9.

Lydick E, Cook K, Turpin J, Melton M, Stine R, Byrnes C (1998) Development and validation of a simple questionnaire to facilitate identification of women likely to have low bone density. Am J Manag Care 4(1):37–48

10.

Sedrine WB, Chevallier T, Zegels B, Kvasz A, Micheletti MC, Gelas B, Reginster JY (2002) Development and assessment of the Osteoporosis Index of Risk (OSIRIS) to facilitate selection of women for bone densitometry. Gynecol Endocrinol 16(3):245–250

11.

Cadarette SM, Jaglal SB, Kreiger N, McIsaac WJ, Darlington GA, Tu JV (2000) Development and validation of the Osteoporosis Risk Assessment Instrument to facilitate selection of women for bone densitometry. Can Med Assoc J 162(9):1289–1294

12.

Black D (1998) SOFSURF: a simple, useful risk factor system can identify the large majority of women with osteoporosis. Bone 23:S605

13.

Koh L, Sedrine WB, Torralba T, Kung A, Fujiwara S, Chan S, Huang Q, Rajatanavin R, Tsai K, Park H (2001) A simple tool to identify Asian women at increased risk of osteoporosis. Osteoporos Int 12(8):699–705

14.

Park HM, Sedrine WB, Reginster JY, Ross PD (2003) Korean experience with the OSTA risk index for osteoporosis: a validation study. J Clin Densitom 6(3):247–250

15.

Oh SM, Nam BH, Rhee Y, Moon SH, Kim DY, Kang DR, Kim HC (2013) Development and validation of osteoporosis risk-assessment model for Korean postmenopausal women. J Bone Miner Metab 31(4):423–432

16.

Panichyawat N, Tanmahasamut P (2012) Comparison of OSTA index and KKOS scoring system for prediction of osteoporosis in postmenopausal women who attended Siriraj menopause clinic. J Med Assoc Thail 95(11):1365–1371

17.

Geater S, Leelawattana R, Geater A (2004) Validation of the OSTA index for discriminating between high and low probability of femoral neck and lumbar spine osteoporosis among Thai postmenopausal women. J Med Assoc Thail 87(11):1286–1292

18.

Huang JY, Song WZ, Zeng HR, Huang M, Wen QF (2015) Performance of the osteoporosis self-assessment tool for Asians (OSTA) in screening osteoporosis among middle-aged and old women in the Chengdu region of China. J Clin Densitom 18(4):539–545

19.

Yang Y, Li D, Fei Q, Wang BQ, Tang H, Li JJ, Meng Q, Zhao F (2015) Self-assessment tool to identify primary osteoporosis in Chinese elderly males. Int J Gerontol 9(2):71–76

20.

Huang J-Y, Song W-Z, Huang M (2017) Effectiveness of osteoporosis self-assessment tool for Asians in screening for osteoporosis in healthy males over 40 years old in China. J Clin Densitom 20(2):153–159

21.

Chen SJ, Chen YJ, Cheng CH, Hwang HF, Chen CY, Lin MR (2016) Comparisons of different screening tools for identifying fracture/osteoporosis risk among community-dwelling older people. Medicine (Baltimore) 95(20):e3415

22.

Chen J-H, Chen Y-C, Tsai M-K, Chiou J-M, Lee W-C, Tsao C-K, Tsai K-S, Chie W-C (2017) Predicting the risk of osteopenia for women aged 40–55 years. J Formos Med Assoc 116(11):888–896

23.

Satyaraddi A, Shetty S, Kapoor N, Cherian KE, Naik D, Thomas N, Paul TV (2017) Performance of risk assessment tools for predicting osteoporosis in south Indian rural elderly men. Arch Osteoporos 12(1):35

24.

Bhat KA, Kakaji M, Awasthi A, Kumar K, Mishra K, Shukla M, Gupta SK (2017) Utility of osteoporosis self-assessment tool as a screening tool for predicting osteoporosis in Indian men. J Clin Densitom 20(2):160–163

25.

Muslim D, Mohd E, Sallehudin A, Tengku Muzaffar T, Ezane A (2012) Performance of osteoporosis self-assessment tool for Asian (OSTA) for primary osteoporosis in post-menopausal Malay women. Malays Orthop J 6(1):35–39

26.

Chin KY, Low NY, Kamaruddin AAA, Dewiputri WI, Soelaiman IN (2017) Agreement between calcaneal quantitative ultrasound and osteoporosis self-assessment tool for Asians in identifying individuals at risk of osteoporosis. Ther Clin Risk Manag 13:1333–1341

27.

Department of Statistics Malaysia (2011) Population distribution and basic demographic characteristic report 2010. https://www.dosm.gov.my/v1/index.php?r=column/cthemeByCat&cat=117&bul_id=MDMxdHZjWTk1SjFzTzNkRXYzcVZjdz09&menu_id=L0pheU43NWJwRWVSZklWdzQ4TlhUUT09.

28.

World Health Organization (2000) Obesity: preventing and managing the global epidemic

29.

Winter JE, MacInnis RJ, Wattanapenpaiboon N, Nowson CA (2014) BMI and all-cause mortality in older adults: a meta-analysis. Am J Clin Nutr 99(4):875–890

30.

Tomlinson DJ, Erskine RM, Morse CI, Onambélé GL (2019) Body fat percentage, body mass index, fat mass index and the ageing bone: their singular and combined roles linked to physical activity and diet. Nutrients 11(1):195

31.

Iwaniec UT, Turner RT (2016) Influence of body weight on bone mass, architecture, and turnover. J Endocrinol:JOE-16-0089

32.

Lloyd JT, Alley DE, Hawkes WG, Hochberg MC, Waldstein SR, Orwig DL (2014) Body mass index is positively associated with bone mineral density in US older adults. Arch Osteoporos 9(1):175

33.

Liu M, Zhang Y, Cheng X, Lu Y, Li N, Gong Y, Pei Y, Li C (2014) The effect of age on the changes in bone mineral density and osteoporosis detection rates in Han Chinese men over the age of 50. Aging Male 17(3):166–173

34.

Pongchaiyakul C, Nguyen ND, Eisman JA, Nguyen TV (2005) Clinical risk indices, prediction of osteoporosis, and prevention of fractures: diagnostic consequences and costs. Osteoporos Int 16(11):1444–1450

35.

Zha X-Y, Hu Y, Pang X-N, Chang G-L, Li L (2015) Diagnostic value of osteoporosis self-assessment tool for Asians (OSTA) and quantitative bone ultrasound (QUS) in detecting high-risk populations for osteoporosis among elderly Chinese men. J Bone Miner Metab 33(2):230–238

36.

Chan SP, Teo CC, Ng SA, Goh N, Tan C, Deurenberg-Yap M (2006) Validation of various osteoporosis risk indices in elderly Chinese females in Singapore. Osteoporos Int 17(8):1182–1188

37.

Fawzy T, Muttappallymyalil J, Sreedharan J, Ahmed A, Alshamsi SOS, Al Ali MSSHBB, Al Balsooshi KA (2011) Association between body mass index and bone mineral density in patients referred for dual-energy X-ray absorptiometry scan in Ajman, UAE. J Osteoporos

38.

Xiang B-Y, Huang W, Zhou G-Q, Hu N, Chen H, Chen C (2017) Body mass index and the risk of low bone mass–related fractures in women compared with men: a PRISMA-compliant meta-analysis of prospective cohort studies. Medicine 96(12)

39.

Kung AW, Ho AY, Ross PD, Reginster JY (2005) Development of a clinical assessment tool in identifying Asian men with low bone mineral density and comparison of its usefulness to quantitative bone ultrasound. Osteoporos Int 16(7):849–855

40.

Li Y-M (2008) Concordance of a self assessment tool and measurement of bone mineral density in identifying the risk of osteoporosis in elderly Taiwanese women. Tzu Chi Med J 20(3):206–212

41.

Chaovisitsaree S, Namwongprom SN, Morakote N, Suntornlimsiri N, Piyamongkol W (2007) Comparison of osteoporosis self assessment tool for Asian (OSTA) and standard assessment in Menopause Clinic, Chiang Mai. J Med Assoc Thail 90(3):420–425

42.

Lin J, Yang Y, Zhang X, Ma Z, Wu H, Li Y, Yang X, Fei Q, Guo A (2017) BFH-OSTM, a new predictive screening tool for identifying osteoporosis in elderly Han Chinese males. Clin Interv Aging 12:1167–1174

43.

Steuart Richards J, Lazzari AA, Teves Qualler DA, Desale S, Howard R, Kerr GS (2014) Validation of the osteoporosis self-assessment tool in US male veterans. J Clin Densitom 17(1):32–37

44.

Chang SF, Yang RS (2016) Optimal analysis to discriminate males' osteoporosis with simple physiological indicators: a cutoff point study. Am J Mens Health 10(6):487–494

45.

Yang Y, Wang B, Fei Q, Meng Q, Li D, Tang H, Li J, Su N (2013) Validation of an osteoporosis self-assessment tool to identify primary osteoporosis and new osteoporotic vertebral fractures in postmenopausal Chinese women in Beijing. BMC Musculoskelet Disord 14:271
Acknowledgements
We would like to extend our gratitude to Mr. Azlan Mohd Arslamsyah, Mr. Mustazil Mohd Noor, and Mrs. Farhana Mohd Fozi from the Department of Pharmacology for their kind assistance.
Funding
We would like to thank Universiti Kebangsaan Malaysia for providing financial support through postgraduate research grant GUP-2017-060 and Arus Perdana Grant (AP-2017-009/1).
Ethics declarations
Ethical approval
All procedures performed in studies involving human participants were in accordance with the Research Ethics Committee of Universiti Kebangsaan Malaysia (Code: UKM PPI/111/8/JEP-2017-761) and with the 1964 Helsinki declaration and its later amendments or comparable ethical standards.
Informed consent
Informed consent was obtained from all individual participants included in the study.
Conflicts of interest
None.
Additional information
Publisher's note
Springer Nature remains neutral with regard to jurisdictional claims in published maps and institutional affiliations.
About this article
Cite this article
Subramaniam, S., Chan, C., Soelaiman, I. et al. The performance of osteoporosis self-assessment tool for Asians (OSTA) in identifying the risk of osteoporosis among Malaysian population aged 40 years and above. Arch Osteoporos 14, 117 (2019). https://doi.org/10.1007/s11657-019-0666-2
Received:

Accepted:

Published:
Keywords
Bone

Osteopenia

Screening

Sensitivity

Specificity