Abstract
Summary
Previous diagnoses of patients with hip fracture influence the hospitalization cost of these patients, either directly or by increasing the risk of in-hospital adverse events associated with increased costs.
Purpose
To investigate how previous diagnoses influence the occurrence of in-hospital adverse events and how both factors impact on hospital costs.
Methods
This is a retrospective analysis of the hospital Minimum Basic Data Set. Patients aged 70 years or older admitted for hip fracture (HF) at a single University Hospital between January 2012 and December 2016. Both, previous diagnoses and adverse events, were defined according to the International Classification of Diseases (ICD-9/ICD-10). The anticipated cost of each admission was calculated based on diagnosis-related groups and using the "all patients refined" method (APR-DRG). The occurrence of adverse events during hospital stay was assessed by excluding all diagnoses present on admission.
Results
The record included 1571 patients with a mean (SD) age of 84 years. The most frequent previous diagnoses were diabetes (n = 432, 27.5%) and dementia (n = 251, 16.0%), and the most frequent adverse events were delirium (n = 238, 15.1%) and anemia (n = 188, 12.0%). The mean (SD) total acute care costs per patient were €8752.1 (1864.4). The presence of heart failure, COPD, and kidney disease at admission significantly increased the hospitalization cost. In-hospital adverse events of delirium, cardiac events, anemia, urinary tract infection, and digestive events significantly increased costs. The multivariate analyses identified kidney disease as a previous diagnosis significantly contributing to explain an increase in hospitalization costs, and delirium, cardiac disease, anemia, urinary infection, respiratory event, and respiratory infection as in-hospital adverse events significantly contributing to an increase of hospitalization costs.
Conclusions
Although few baseline comorbidities have a direct impact on hospitalization costs, most previous diagnoses increase the risk of in-hospital adverse events, which ultimately influence the hospitalization cost.
This is a preview of subscription content, log in to check access.
Access options
Buy single article
Instant access to the full article PDF.
US$ 39.95
Price includes VAT for USA
Subscribe to journal
Immediate online access to all issues from 2019. Subscription will auto renew annually.
US$ 99
This is the net price. Taxes to be calculated in checkout.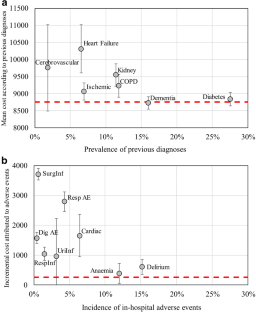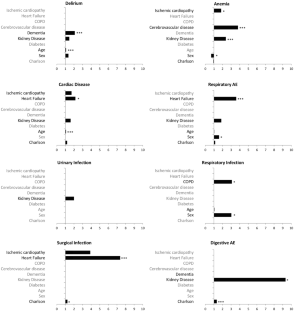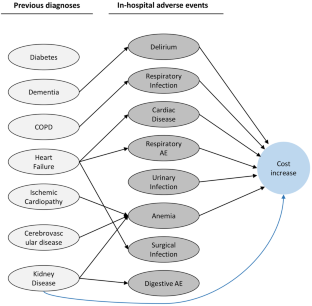 References
1.

Michel J-P, Hoffmeyer P, Klopfenstein C, Bruchez M, Grab B, Lalive C (2000) Prognosis of functional recovery 1 year after hip fracture: typical patient profiles through cluster analysis. J Gerontol A Biol Sci Med Sci 55(9):508–515

2.

Cummings SR, Melton LJ (2002) Osteoporosis I: epidemiology and outcomes of osteoporotic fractures. Lancet. 359(9319):1761–1767

3.

Kanis JA, Odén A, McCloskey EV, Johansson H, Wahl DA, Cooper C (2012) A systematic review of hip fracture incidence and probability of fracture worldwide. Osteoporos Int 23(9):2239–2256

4.

Polinder S, Haagsma J, Panneman M, Scholten A, Brugmans M, Van Beeck E (2016) The economic burden of injury: health care and productivity costs of injuries in the Netherlands. Accid Anal Prev 93:92–100

5.

Meerding WJ, Mulder S, Van Beeck EF (2006) Incidence and costs of injuries in the Netherlands. Eur J Pub Health 16(3):271–277

6.

Williamson S, Landeiro F, McConnell T, Fulford-Smith L, Javaid MK, Judge A, Leal J (2017) Costs of fragility hip fractures globally: a systematic review and meta-regression analysis. Osteoporos Int 28(10):2791–2800

7.

Brauer C, Coca-Perraillon M, Cutler D, Rosen A (2009) Incidence and mortality of hip fractures in the United States. Jama. 302(14):1573–1579

8.

Roche JJW (2005) Effect of comorbidities and postoperative complications on mortality after hip fracture in elderly people: prospective observational cohort study. BMJ. 331(7529):1374

9.

Lau T, Fang C, Leung F (2015) Assessment of postoperative short-term and long-term mortality risk in Chinese geriatric patients for hip fracture using the Charlson comorbidity score. Hong Kong Med J 22(1)

10.

Uriz-Otano F, Pla-Vidal J, Tiberio-López G, Malafarina V (2016) Factors associated to institutionalization and mortality over three years, in elderly people with a hip fracture - an observational study. Maturitas 89:9–15

11.

Toson B, Harvey LA, Close JCT (2015) The ICD-10 Charlson Comorbidity Index predicted mortality but not resource utilization following hip fracture. J Clin Epidemiol 68(1):44–51

12.

Seitz DP, Adunuri N, Gill SS, Rochon PA (2011) Prevalence of dementia and cognitive impairment among older adults with hip fractures. J Am Med Dir Assoc 12(8):556–564

13.

Morley JE (2000) Diabetes mellitus: a major disease of older persons. J Gerontol A Biol Sci Med Sci 55(5):255–256

14.

Huang S-W, Wang W-T, Chou L-C, Chen H-C, Liou T-H, Lin H-W (2016) Chronic obstructive pulmonary disease increases the risk of hip fracture: a nationwide population-based cohort study. Sci Rep 6(1):23360

15.

Carpintero P (2014) Complications of hip fractures: a review. World J Orthop 5(4):402

16.

Ministerio de Sanidad, Consumo y Bienestar Social - Portal Estadístico del SNS - Estadisticas y Estudios - Informes y Recopilaciones [Internet]. Available from: https://www.mscbs.gob.es/estadEstudios/estadisticas/inforRecopilaciones/anaDesarrolloGDR.htm. Accessed 20 Jun 2018

17.

Cuesta-peredo D, Tarazona-santabalbina FJ, Borras-mañez C, Belenguer-varea A, Avellana-zaragoza JA, Arteaga-moreno F (2018) Estimate of the costs caused by adverse effects in hospitalised patients due to hip fracture: design of the study and preliminary results. Geriatrics (Basel) 3(1)

18.

3M Health Information Systems. 3MTM APR DRG Classification System and 3MTM APR DRG Software [Internet]. (2017). Available from: https://multimedia.3m.com/mws/media/478415O/3m-apr-drg-fact-sheet.pdf. Accessed 20 Jun 2018

19.

Council for International Organizations of Medical Sciences (CIOMS) (2016) International ethical guidelines for health-related research involving humans. 4th edn. Geneva

20.

Charlson ME, Pompei P, Ales KL, MacKenzie CR (1987) A new method of classifying prognostic comorbidity in longitudinal studies: development and validation. J Chronic Dis 40(5):373–383

21.

Hughes JS, Averill RF, Goldfield NI, Gay JC, Muldoon J, McCullough E, Xiang J (2006) Identifying potentially preventable complications using a present on admission indicator. Health Care Financ Rev 27(3):63–82

22.

Tan SS, Geissler A, Serdén L, Heurgren M, Martin Van Ineveld B, Ken Redekop W et al (2014) DRG systems in Europe: variations in cost accounting systems among 12 countries. Eur J Pub Health 24(6):1023–1028

23.

Hernández J.C.M, Ortega-Díaz M (2016) Rendimiento hospitalario y benchmarking. vol 70, Revista de Economia Aplicada. 2016–2043 p

24.

Calikoglu S, Murray R, Feeney D (2012) Hospital pay-for-performance programs in Maryland produced strong results, including reduced hospital-acquired conditions. Health Aff 31(12):2649–2658

25.

Jiménez-Puente A, García-Alegría J, Lara-Blanquer A (2010) Sistemas de información para clínicos II. Cómo analizar la eficiencia y calidad de la asistencia intrahospitalaria. Rev Clin Esp 210(7):350–354

26.

Aigner R, Meier Fedeler T, Eschbach D, Hack J, Bliemel C, Ruchholtz S, Bücking B (2016) Patient factors associated with increased acute care costs of hip fractures: a detailed analysis of 402 patients. Arch Osteoporos 11(1):1–8

27.

Hernlund E, Svedbom A, Ivergård M, Compston J, Cooper C, Stenmark J, McCloskey EV, Jönsson B, Kanis JA (2013) Osteoporosis in the European Union: medical management, epidemiology and economic burden: a report prepared in collaboration with the international Osteoporosis Foundation (IOF) and the European Federation of Pharmaceutical Industry Associations (EFPIA). Arch Osteoporos 8(1–2):136

28.

Becker DJ, Kilgore ML, Morrisey MA (2010) The societal burden of osteoporosis. Curr Rheumatol Rep 12(3):186–191

29.

Mohd-Tahir NA, Li SC (2017) Economic burden of osteoporosis-related hip fracture in Asia: a systematic review. Osteoporos Int 28:2035–2044

30.

Culler SD, Jevsevar DS, McGuire KJ, Shea KG, Little KM, Schlosser MJ (2017) Predicting the incremental hospital cost of adverse events among medicare beneficiaries in the comprehensive joint replacement program during fiscal year 2014. J Arthroplasty 32(6):1732–1738.e1

31.

Magdelijns FJH, Stassen PM, Stehouwer CDA, Pijpers E (2014) Direct health care costs of hospital admissions due to adverse events in the Netherlands. Eur J Pub Health 24(6):1028–1033

32.

Kim SP, Shah ND, Karnes RJ, Weight CJ, Frank I, Moriarty JP, Han LC, Borah B, Tollefson MK, Boorjian SA (2012) The implications of hospital acquired adverse events on mortality, length of stay and costs for patients undergoing radical cystectomy for bladder cancer. J Urol 187(6):2011–2017

33.

Meyer A, Bunzemeier H, Hausberg M, Walter M, Roeder N, Breithardt G, Reinecke H (2008) Impact of different stages of chronic kidney disease on in-hospital costs in patients with coronary heart disease. Nephrol Dial Transplant 23(6):1955–1960

34.

Parker SG, Mccue P, Phelps K, Mccleod A, Arora S, Nockels K et al (2018) What is comprehensive geriatric assessment (CGA)? An umbrella review. Age Ageing 47(1):149–155

35.

Tarazona-Santabalbina FJ, Belenguer-Varea Á, Rovira-Daudi E, Salcedo-Mahiques E, Cuesta-Peredó D, Doménech-Pascual JR et al (2012) Early interdisciplinary hospital intervention for elderly patients with hip fractures-functional outcome and mortality. Clinics (Sao Paulo) 67(6):547–556

36.

Golinvaux NS, Bohl DD, Basques BA, Baumgaertner MR, Grauer JN (2014) Diabetes confers little to no increased risk of postoperative complications after hip fracture surgery in geriatric patients. Clin Orthop Relat Res 473(3):1043–1051

37.

Kelly-Pettersson P, Samuelsson B, Muren O, Unbeck M, Gordon M, Stark A, Sköldenberg O (2017) Waiting time to surgery is correlated with an increased risk of serious adverse events during hospital stay in patients with hip-fracture: a cohort study. Int J Nurs Stud 69:91–97

38.

Li G, Taljaard M, Van den Heuvel ER, Levine MA, Cook DJ, Wells GA et al (2016) An introduction to multiplicity issues in clinical trials: the what, why, when and how. Int J Epidemiol 46(2):dyw320

39.

Filetti S, Ladenson PW, Biffoni M, D'Ambrosio MG, Giacomelli L, Lopatriello S (2017) The true cost of thyroid surgery determined by a micro-costing approach. Endocrine. 55(2):519–529

40.

Heerey A, McGowan B, Ryan M, Barry M (2002) Microcosting versus DRGs in the provision of cost estimates for use in pharmacoeconomic evaluation. Expert Rev Pharmacoecon Outcomes Res 2:29–33

41.

Xu X, Grossetta Nardini HK, Prah RJ (2014) Micro-costing studies in the health and medical literature: protocol for a systematic review. Syst Rev 3:47
Acknowledgments
The authors would like to thank i2e3 Research Institute for providing medical writing assistance during the preparation of the manuscript.
Ethics declarations
Conflict of interest
None.
Additional information
Publisher's note
Springer Nature remains neutral with regard to jurisdictional claims in published maps and institutional affiliations.
Electronic supplementary material
About this article
Cite this article
Cuesta-Peredo, D., Arteaga-Moreno, F., Belenguer-Varea, Á. et al. Influence of hospital adverse events and previous diagnoses on hospital care cost of patients with hip fracture. Arch Osteoporos 14, 88 (2019). https://doi.org/10.1007/s11657-019-0638-6
Received:

Accepted:

Published:
Keywords
Hip fracture

Hospitalization cost

Previous diagnoses

Hospital adverse events

Older patients