Abstract
Summary
For the first time ever, the details of osteoporotic treatment were unveiled through the big data published by the government of Japan. The number of patients being treated is low and treatment start is late, especially in men. Our data are useful for education to not only patients but also doctors.
Purpose
To analyze the current status and trend of osteoporosis treatment in Japan by analyzing the data on main drugs for osteoporosis disclosed in the National Database open data.
Methods
We used the National Database open data released by the Ministry of Health, Labour and Welfare in September 2018. Data on bisphosphonates, denosumab, and teriparatide were extracted to calculate the number of patients treated with these drugs based on the number of prescriptions filed. Using these prescription numbers, the proportion of patients treated with bisphosphonates, denosumab, or teriparatide among osteoporosis patients was calculated. Further, the data on the incidence of hip fractures were employed to validate the appropriateness of the timing of treatment initiation to osteoporosis patients in Japan.
Results
The number of patients in men administered bisphosphonates, denosumab, or teriparatide was about one tenth of that in women. The proportion of osteoporosis patients in men treated with bisphosphonates, denosumab, or teriparatide was highest in age group over 80 years at 19.4%. The proportion of osteoporosis patients in women treated with bisphosphonates, denosumab, or teriparatide was highest in age group 70–79 years at 23.7%. The incidence of hip fractures increases sharply over 80 years of age in both genders.
Conclusion
Our findings suggested that osteoporosis treatment should be initiated in younger age, especially in men, in order to avoid osteoporotic fractures in Japan.
This is a preview of subscription content, log in to check access.
Access options
Buy single article
Instant access to the full article PDF.
US$ 39.95
Price includes VAT for USA
Subscribe to journal
Immediate online access to all issues from 2019. Subscription will auto renew annually.
US$ 99
This is the net price. Taxes to be calculated in checkout.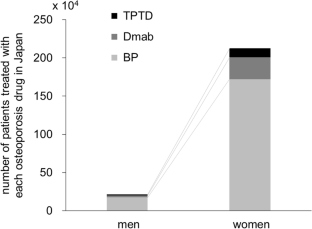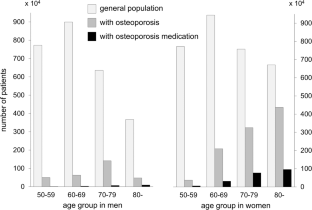 References
1.

National Database of Health Insurance Claims and Specific Health Checkups of Japan.2019 Available at: "https://www.mhlw.go.jp/stf/seisakunitsuite/bunya/0000177221_00002.html". Accessed 11 May

2.

Kamata Y, Minota S (2018) Wide difference in biologics usage and expenditure for the treatment of patients with rheumatoid arthritis in each prefecture in Japan analyzed using "National Database of Health Insurance Claims and Specific Health Checkups of Japan". Rheumatol Int 38:663–668

3.

Qaseem A, Forciea MA, McLean RM, Denberg TD (2017) Treatment of low bone density or osteoporosis to prevent fractures in men and women: a clinical practice guideline update from the American College of Physicians. Ann Intern Med 166:818–839

4.

Yoshimura N, Muraki S, Oka H, Mabuchi A, En-Yo Y, Yoshida M, Saika A, Yoshida H, Suzuki T, Yamamoto S, Ishibashi H, Kawaguchi H, Nakamura K, Akune T (2009) Prevalence of knee osteoarthritis, lumbar spondylosis, and osteoporosis in Japanese men and women: the research on osteoarthritis/osteoporosis against disability study. J Bone Miner Metab 27:620–628

5.

Population data that the Bureau of Statistics, the Ministry of Internal Affairs and Communications. Available at: http://www.stat.go.jp/data/jinsui/2016np/index.html. Accessed 11 May 2019

6.

Orimo H, Yaegashi Y, Onoda T, Fukushima Y, Hosoi T, Sakata K (2009) Hip fracture incidence in Japan: estimates of new patients in 2007 and 20-year trends. Arch Osteoporos 4:71–77

7.

Tamaki J, Fujimori K, Ikehara S, et al. (2019) Estimates of hip fracture incidence in Japan using the National Health Insurance Claim Database in 2012–2015. Osteoporos Int 30:975–983

8.

Liberman UA, Weiss SR, Bröll J, Minne HW, Quan H, Bell NH, Rodriguez-Portales J, Downs RW Jr, Dequeker J, Favus M, Seeman E, Recker RR, Capizzi T, Santora AC, Lombardi A, Shah RV, Hirsch LJ, Karpf DB (1995) Effect of oral alendronate on bone mineral density and the incidence of fractures in postmenopausal osteoporosis. The Alendronate Phase III Osteoporosis Treatment Study Group. N Engl J Med 333:1437–1443

9.

Hochberg MC, Thompson DE, Black DM, Quandt SA, Cauley J, Geusens P, Ross PD, Baran D (2005) Effect of alendronate on the age-specific incidence of symptomatic osteoporotic fractures. J Bone Miner Res 20:971–976

10.

Black DM, Schwartz AV, Ensrud KE, Cauley JA, Levis S, Quandt SA, Satterfield S, Wallace RB, Bauer DC, Palermo L, Wehren LE, Lombardi A, Santora AC, Cummings SR, FLEX Research Group (2006) Effects of continuing or stopping alendronate after 5 years of treatment: the Fracture Intervention Trial Long-term Extension (FLEX): a randomized trial. JAMA 296:2927–2938
Ethics declarations
Conflicts of interest
None.
Additional information
Publisher's note
Springer Nature remains neutral with regard to jurisdictional claims in published maps and institutional affiliations.
About this article
Cite this article
Kamata, Y., Minota, S. Status quo of osteoporosis treatment in Japan disclosed by the National Database of Health Insurance Claims and Specific Health Checkups: too late in treatment initiation and too few in treated patients?. Arch Osteoporos 14, 84 (2019). https://doi.org/10.1007/s11657-019-0637-7
Received:

Accepted:

Published:
Keywords
Bisphosphonate

Denosumab

Teriparatide

National Database open data

Osteoporosis

Universal healthcare system