Abstract
Summary
In a representative sample of 3058 Korean postmenopausal women, we studied which types of obesity were more or less desirable for developing concomitant osteoporosis and metabolic syndrome (MS), with the goal of helping clinicians identify steps to reduce patients' risk. Different definitions of obesity showed different relationships with osteoporosis and MS in this population.
Purpose
To examine sample characteristics, prevalence, and the risk of osteoporosis and metabolic syndrome among four groups of postmenopausal women classified by obesity.
Methods
Data from the Korea National Health and Nutrition Examination Survey were analyzed using the Rao-Scott chi-square test, analysis of variance, and multinomial logistic regression analysis. The four groups included body mass index (BMI)-based obese, waist circumference (WC)-based obese, BMI-, and WC-based obese, and non-obese women, using BMI and WC cutoffs for obesity of ≥ 25 kg/m2 and ≥ 80 cm, respectively.
Results
The prevalence of osteoporosis and MS was 40.8% and 48.5%, respectively. Age, socioeconomic status, smoking status, and hormone therapy use differed among the obese groups. The odds ratios of simultaneously having both osteoporosis and MS in the BMI- and WC-based obese, BMI-based obese, WC-based obese, and non-obese groups were 7.39 (95% confidence interval [CI] = 4.83–11.31), 0.74 (95% CI = 0.27–1.98), 7.07 (95% CI = 4.72–10.58), and 1, respectively.
Conclusions
The findings demonstrate the most and the least desirable types of obesity in terms of risk for both osteoporosis and MS. Public health practitioners may consider the type of obesity to reduce or prevent both conditions in postmenopausal women.
This is a preview of subscription content, log in to check access.
Access options
Buy single article
Instant access to the full article PDF.
US$ 39.95
Price includes VAT for USA
Subscribe to journal
Immediate online access to all issues from 2019. Subscription will auto renew annually.
US$ 99
This is the net price. Taxes to be calculated in checkout.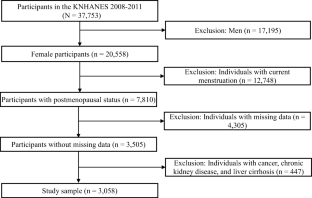 References
1.

Kim Y, Kim HY, Kim JH (2017) Associations between reported dietary sodium intake and osteoporosis in Korean postmenopausal women: the 2008-2011 Korea National Health and Nutrition Examination Survey. Asia Pac J Public Health 29:430–439. https://doi.org/10.1177/1010539517712759

2.

Jeon YK, Lee JG, Kim SS, Kim BH, Kim SJ, Kim YK, Kim IJ (2011) Association between bone mineral density and metabolic syndrome in pre- and postmenopausal women. Endocr J 58:87–93. https://doi.org/10.1507/endocrj.K10E-297

3.

Boschitsch EP, Durchschlag E, Dimai HP (2017) Age-related prevalence of osteoporosis and fragility fractures: real-world data from an Austrian Menopause and Osteoporosis Clinic. Climacteric 20:157–163. https://doi.org/10.1080/13697137.2017.1282452

4.

Stefanska A, Bergmann K, Sypniewska G (2015) Metabolic syndrome and menopause: pathophysiology, clinical and diagnostic significance. Adv Clin Chem 72:1–75. https://doi.org/10.1016/bs.acc.2015.07.001

5.

National Institutes of Health Consensus Development Panel (2000) Osteoporosis prevention, diagnosis, and therapy. Paper presented at the National Institutes of Health Consensus Development Conference

6.

Grundy SM, Cleeman JI, Daniels SR et al (2005) Diagnosis and management of the metabolic syndrome: an American Heart Association/National Heart, Lung, and Blood Institute Scientific Statement. Circulation 112:2735–2752

7.

Hallajzadeh J, Khoramdad M, Izadi N, Karamzad N, Almasi-Hashiani A, Ayubi E, Qorbani M, Pakzad R, Hasanzadeh A, Sullman MJM, Safiri S (2018) Metabolic syndrome and its components in premenopausal and postmenopausal women: a comprehensive systematic review and meta-analysis on observational studies. Menopause 25:1155–1164. https://doi.org/10.1097/GME.0000000000001136

8.

de Oliveira Ferreira N, Arthuso M, da Silva R, Pedro AO, Neto AMP, Costa-Paiva L (2009) Quality of life in women with postmenopausal osteoporosis: correlation between QUALEFFO 41 and SF-36. Maturitas 62:85–90. https://doi.org/10.1016/j.maturitas.2008.10.012

9.

Lambrinoudaki I, Kazani A, Armeni E, Rizos D, Augoulea A, Kaparos G, Alexandrou A, Georgiopoulos G, Kanakakis I, Stamatelopoulos K (2018) The metabolic syndrome is associated with carotid atherosclerosis and arterial stiffness in asymptomatic, nondiabetic postmenopausal women. Gynecol Endocrinol 34:78–82. https://doi.org/10.1080/09513590.2017.1344208

10.

Wang M, Cheng N, Zheng S, Wang D, Hu X, Ren X, Pei H, Ma H, Mu H, Bai Y (2015) Metabolic syndrome and the risk of breast cancer among postmenopausal women in North-West China. Climacteric 18:852–858. https://doi.org/10.3109/13697137.2015.1071346

11.

Lin JW, Caffrey JL, Chang MH, Lin YS (2010) Sex, menopause, metabolic syndrome, and all-cause and cause-specific mortality--cohort analysis from the Third National Health and Nutrition Examination Survey. J Clin Endocrinol Metab 95:4258–4267. https://doi.org/10.1210/jc.2010-0332

12.

Wang J, Yan D, Hou X, Chen P, Sun Q, Bao Y, Hu C, Zhang Z, Jia W (2017) Association of adiposity indices with bone density and bone turnover in the Chinese population. Osteoporos Int 28:2645–2652. https://doi.org/10.1007/s00198-017-4081-5

13.

Bilic-Curcic I, Makarovic S, Mihaljevic I et al (2017) Bone mineral density in relation to metabolic syndrome components in postmenopausal women with diabetes mellitus type 2. Acta Clin Croat 56:58–63. https://doi.org/10.1007/s00198-017-4081-5

14.

Salamat MR, Salamat AH, Janghorbani M (2016) Association between obesity and bone mineral density by gender and menopausal status. Endocrinol Metab (Seoul) 31:547–558. https://doi.org/10.3803/EnM.2016.31.4.547

15.

Saarelainen J, Kiviniemi V, Kroger H et al (2012) Body mass index and bone loss among postmenopausal women: the 10-year follow-up of the OSTPRE cohort. J Bone Miner Metab 30:208–216. https://doi.org/10.1007/s00774-011-0305-5

16.

Abbasi M, Farzam SA, Mamaghani Z, Yazdi Z (2017) Relationship between metabolic syndrome and its components with bone densitometry in postmenopausal women. Diabetes Metab Syndr 11(Suppl 1):S73–S76. https://doi.org/10.1016/j.dsx.2016.12.008

17.

Jouyandeh Z, Nayebzadeh F, Qorbani M, Asadi M (2013) Metabolic syndrome and menopause. J Diabetes Metab Disord 12(1):1. https://doi.org/10.1186/2251-6581-12-1

18.

Simoncig-Netjasov A, Vujovic S, Ivovic M, Tancic-Gajic M, Drezgic M (2008) Gaining weight and components of metabolic syndrome in the period of menopause. Srp Arh Celok Lek 136:505–513

19.

Cho GJ, Lee JH, Park HT et al (2008) Postmenopausal status according to years since menopause as an independent risk factor for the metabolic syndrome. Menopause 15:524–529. https://doi.org/10.1097/gme.0b013e3181559860

20.

Kim KC, Shin DH, Lee SY, Im JA, Lee DC (2010) Relation between obesity and bone mineral density and vertebral fractures in Korean postmenopausal women. Yonsei Med J 51:857–863. https://doi.org/10.3349/ymj.2010.51.6.857

21.

Kanis JA (1994) Assessment of fracture risk and its application to screening for postmenopausal osteoporosis: synopsis of a WHO report. Osteoporos Int 4:368–381

22.

Expert Panel on Detection, Evaluation, Treatment of High Blood Cholesterol in Adults (2001) Executive summary of the third report of the National Cholesterol Education Program (NCEP) expert panel on detection, evaluation, and treatment of high blood cholesterol in adults (adult treatment panel III). JAMA 285:2486–2497

23.

Kim Y, Kim JH, Cho DS (2015) Gender difference in osteoporosis prevalence, awareness and treatment: based on the Korea national health and nutrition examination survey 2008~2011. J Korean Acad Nurs 45:293–305. https://doi.org/10.4040/jkan.2015.45.2.293

24.

McLernon DJ, Powell JJ, Jugdaohsingh R et al (2012) Do lifestyle choices explain the effect of alcohol on bone mineral density in women around menopause? Am J Clin Nutr 95:1261–1269. https://doi.org/10.3945/ajcn.111.021600

25.

Heidari B, Hosseini R, Javadian Y, Bijani A, Sateri MH, Nouroddini HG (2015) Factors affecting bone mineral density in postmenopausal women. Arch Osteoporos 10:15. https://doi.org/10.1007/s11657-015-0217-4

26.

Song HR, Park CH (2013) Low serum vitamin D level is associated with high risk of metabolic syndrome in post-menopausal women. J Endocrinol Investig 36:791–796. https://doi.org/10.1007/BF03346758

27.

Kim MH, Lee JS, Johnson MA (2015) Poor socioeconomic and nutritional status are associated with osteoporosis in Korean postmenopausal women: data from the fourth Korea National Health and Nutrition Examination Survey (KNHANES) 2009. J Am Coll Nutr 34:400–407. https://doi.org/10.1080/07315724.2014.945197

28.

Kim K, Park SM (2018) Association of muscle mass and fat mass with insulin resistance and the prevalence of metabolic syndrome in Korean adults: a cross-sectional study. Sci Rep 8:2703. https://doi.org/10.1038/s41598-018-21168-5

29.

Ho-Pham LT, Nguyen UD, Nguyen TV (2014) Association between lean mass, fat mass, and bone mineral density: a meta-analysis. J Clin Endocrinol Metab 99:30–38. https://doi.org/10.1210/jc.2013-3190
Acknowledgments
The authors thank the participants in the 2014 and 2016 KNHANES and the Korea Centers for Disease Control and Prevention. Approval for using the original data was obtained through the KNHANES homepage.
Ethics declarations
Ethical approval
Approval of this study was obtained from the Institutional Review Board of E University (EUIRB2018–25) before this study commenced. The KCDC has opened the data of the KNHANES to the public. The research team downloaded the relevant non-identified data from the webpage after obtaining approval from the KCDC. This study was conducted in accordance with the statement of ethical principles for human research in the Helsinki Declaration. Written informed consent for the survey was obtained from all study participants by the trained staff of the KNHANES.
Conflict of interest
None.
Additional information
Publisher's note
Springer Nature remains neutral with regard to jurisdictional claims in published maps and institutional affiliations.
About this article
Cite this article
Kim, H., Kim, Y. Associations of obesity with osteoporosis and metabolic syndrome in Korean postmenopausal women: a cross-sectional study using national survey data. Arch Osteoporos 14, 64 (2019). https://doi.org/10.1007/s11657-019-0615-0
Received:

Accepted:

Published:
Keywords
Metabolic syndrome

Obesity

Osteoporosis

Postmenopausal