Abstract
Summary
Pelvic fractures are one of the most common orthopedic problems that can reduce the quality of life in the elderly. In this prospective study, we found that osteoporosis, depression, and socioeconomic status were the most important factors associated with patients' recovery during the first 6 months after pelvic fracture.
Purpose
Hip fractures are one of the most common orthopedic problems that can reduce the quality of life in the elderly. Considering that, we aimed to provide a comprehensive assessment of the factors affecting recovery during the first 6 months after hip fracture.
Methods
All patients with hip fracture admitted to any of the orthopedic hospitals during July 10, 2011 to July 9, 2012 in Shiraz, Iran were included in this prospective cohort study. Patients' demographic data and also information regarding their performance and mobility after hip fracture was collected in two interviews at intervals of 6 months. All analyses were done in R software and mostly by party packages and PCAmixdata package. Tree and forest models of conditional inference were used to evaluate the factors affecting the recovery after hip fracture.
Results
Two hundred sixty-six out of 514 patients (51.75%) with hip fracture recovered completely after a 6-month follow-up period. Osteoporosis, new-onset depression after hip fracture, and socioeconomic status (SES) were the most important predictors of patients' mobility status 6 months after hip fracture. In identifying predictor variables, the conditional inference forest method provided a more appropriate fit for the data than the conditional inference tree.
Conclusions
Awareness of the factors that affect patients' recovery can be helpful in improving the patients' health, as well as improving care services, thereby increasing the success of treatment. Osteoporosis, new-onset depression after hip fracture, and SES were the most important factors associated with patients' recovery. Therefore, focusing on these variables is essential.
This is a preview of subscription content, log in to check access.
Access options
Buy single article
Instant access to the full article PDF.
US$ 39.95
Price includes VAT for USA
Subscribe to journal
Immediate online access to all issues from 2019. Subscription will auto renew annually.
US$ 99
This is the net price. Taxes to be calculated in checkout.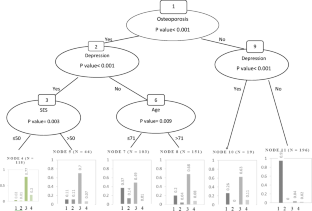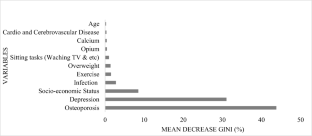 References
1.

Gialanella B, Prometti P, Monguzzi V, Ferlucci C, Baiardi P, Comini L (2018) Determinants of functional outcome in hip fracture: the role of comorbidity. Aging Clin Exp Res 30(6):643–650

2.

Castelli A, Daidone S, Jacobs R, Kasteridis P, Street AD (2015) The determinants of costs and length of stay for hip fracture patients. PLoS One 10(7):e0133545

3.

Rostagno C, Buzzi R, Campanacci D, Boccacini A, Cartei A, Virgili G, Belardinelli A, Matarrese D, Ungar A, Rafanelli M (2016) In hospital and 3-month mortality and functional recovery rate in patients treated for hip fracture by a multidisciplinary team. PLoS One 11(7):e0158607

4.

Sheikh HQ, Hossain FS, Aqil A, Akinbamijo B, Mushtaq V, Kapoor H (2017) A comprehensive analysis of the causes and predictors of 30-day mortality following hip fracture surgery. Clin Orthop Surg 9(1):10–18

5.

Ekegren C, Edwards E, Page R, Hau R, de Steiger R, Bucknill A, Liew S, Oppy A, Gabbe B (2016) Twelve-month mortality and functional outcomes in hip fracture patients under 65 years of age. Injury 47(10):2182–2188

6.

Ioannidis G, Jantzi M, Bucek J, Adachi JD, Giangregorio L, Hirdes J, Pickard L, Papaioannou A (2017) Development and validation of the Fracture Risk Scale (FRS) that predicts fracture over a 1-year time period in institutionalised frail older people living in Canada: an electronic record-linked longitudinal cohort study. BMJ Open 7(9):e016477

7.

Maharlouei N, Khodayari M, Forouzan F, Rezaianzadeh A, Lankarani KB (2014) The incidence rate of hip fracture in Shiraz, Iran during 2008–2010. Arch Osteoporos 9(1):165

8.

Lizaur-Utrilla A, Martinez-Mendez D, Collados-Maestre I, Miralles-Muñoz FA, Marco-Gomez L, Lopez-Prats FA (2016) Early surgery within 2 days for hip fracture is not reliable as healthcare quality indicator. Injury 47(7):1530–1535

9.

Bentler SE, Liu L, Obrizan M, Cook EA, Wright KB, Geweke JF, Chrischilles EA, Pavlik CE, Wallace RB, Ohsfeldt RL (2009) The aftermath of hip fracture: discharge placement, functional status change, and mortality. Am J Epidemiol 170(10):1290–1299

10.

Folbert E, Hegeman J, Gierveld R, van Netten J, Van Der Velde D, Ten Duis H, Slaets J (2017) Complications during hospitalization and risk factors in elderly patients with hip fracture following integrated orthogeriatric treatment. Arch Orthop Trauma Surg 137(4):507–515

11.

Mariconda M, Costa GG, Cerbasi S, Recano P, Orabona G, Gambacorta M, Misasi M (2016) Factors predicting mobility and the change in activities of daily living after hip fracture: a 1-year prospective cohort study. J Orthop Trauma 30(2):71–77

12.

Maharlouei N, Atefi S, Namazi H, Kazemifar S, Soveid M, Shahraki H, Farahmand Z, Khodayari M, Arab P, Forouzan F (2017) The incidence of hip fracture in Shiraz, Iran: a promising rate comparing to previous studies. Osteoporos Int 28(6):1989–1993

13.

Moayyeri A, Soltani A, Larijani B, Naghavi M, Alaeddini F, Abolhassani F (2006) Epidemiology of hip fracture in Iran: results from the Iranian Multicenter Study on Accidental Injuries. Osteoporos Int 17(8):1252–1257

14.

Hothorn T, Hornik K, Zeileis A (2006) Unbiased recursive partitioning: a conditional inference framework. J Comput Graph Stat 15(3):651–674

15.

Strobl C, Boulesteix A-L, Zeileis A, Hothorn T (2007) Bias in random forest variable importance measures: illustrations, sources and a solution. BMC Bioinf 8(1):25

16.

Garge NR, Bobashev GV, Eggleston B (2013) Random forest methodology for model-based recursive partitioning: the mobForest package for R. BMC Bioinf 14(1):125

17.

John Lu Z (2010) The elements of statistical learning: data mining, inference, and prediction. J R Stat Soc A Stat Soc 173(3):693–694

18.

Chavent M, Kuentz-Simonet V, Labenne A, Saracco J (2014) Multivariate analysis of mixed data: the PCAmixdata R package. arXiv preprint arXiv:14114911

19.

Kettunen JA, Impivaara O, Kujala UM, Linna M, Mäki J, Räty H, Alanen E, Kaprio J, Videman T, Sarna S (2010) Hip fractures and femoral bone mineral density in male former elite athletes. Bone 46(2):330–335

20.

Lenze EJ, Munin MC, Dew MA, Rogers JC, Seligman K, Mulsant BH, Reynolds CF (2004) Adverse effects of depression and cognitive impairment on rehabilitation participation and recovery from hip fracture. Int J Geriatr Psychiatry 19(5):472–478

21.

Mussolino ME (2005) Depression and hip fracture risk: the NHANES I epidemiologic follow-up study. Public Health Rep 120(1):71–75

22.

Zingmond D, Soohoo N, Silverman S (2006) The role of socioeconomic status on hip fracture. Osteoporos Int 17(10):1562–1568

23.

Farahmand BY, Persson P-G, Michaëlsson K, Baron JA, Parker M, Ljunghall S, Group SHFS (2000) Socioeconomic status, marital status and hip fracture risk: a population-based case–control study. Osteoporos Int 11(9):803–808

24.

Shahnazari B, Keshtkar A, Soltani A, Aghamaleki A, Mansour A, Matin B, Saghafi S, Dini M, Khashayar P, Larijani B (2013) Estimating the avoidable burden of certain modifiable risk factors in osteoporotic hip fracture using Generalized Impact Fraction (GIF) model in Iran. J Diabetes Metab Disord 12(1):10
Acknowledgments
We would like to express our special gratitude to Vice-chancellor for Research of Shiraz University of Medical Sciences who financially supported this study. Also, it should be noted that this article has been extracted from the thesis of Fatemeh Jafarzadeh (No: 87/1026).
Ethics declarations
Conflict of interest
None.
Additional information
Publisher's note
Springer Nature remains neutral with regard to jurisdictional claims in published maps and institutional affiliations.
Electronic supplementary material
About this article
Cite this article
Maharlouei, N., Jafarzadeh, F. & Lankarani, K.B. Factors affecting recovery during the first 6 months after hip fracture, using the decision tree model. Arch Osteoporos 14, 61 (2019). https://doi.org/10.1007/s11657-019-0611-4
Received:

Accepted:

Published:
Keywords
Hip fractures

Follow-up studies

Decision tree model

Iran