Abstract
Summary
Hip fracture becomes a major public health issue with the growing aging population. This study evaluated a multidisciplinary co-management program for older hip fracture patients and found it significantly improved the best practice indicators. It provided preliminary evidence to support the use of such intervention in hip fracture management.
Purpose/introduction
Hip fracture leads to high morbidity and mortality in older people. A previous study found a significant disparity in hip fracture management in Beijing Jishuitan Hospital (JSTH) compared to best practice care in the United Kingdom (UK). Following this audit, JSTH launched a multidisciplinary co-management care plan for older hip fracture patients. This study aims to evaluate the effect of this program on the six standards recommended in the UK hip fracture best practice guidelines.
Methods
In this retrospective study, electronic medical record data were collected before and after the intervention. Eligible patients were aged ≥ 65 years, had X-ray confirmed hip fracture, and were admitted to JSTH within 30 days of injury. Patient demographic information, time from emergency department presentation to admission, time from admission to surgery, pressure ulcers, osteoporosis assessment, and falls prevention were collected. Multivariable logistic and median regression models were used for binary and continuous outcomes respectively. Segment regression was also performed for time-related outcomes.
Results
A total of 3540 eligible patients were identified. After the intervention, half of the patients who received co-management received surgery within 48 h of ward admission compared to 6.4% previously, 0.3% (vs 1.4%) developed pressure ulcers, and 76% (vs 19%) received osteoporosis assessment. No significant differences were observed in fall assessment rates. However, there was a higher rate of ward admission within 4 h of arrival in emergency for patients admitted pre-intervention (61% vs 34%).
Conclusions
The introduction of the co-management model significantly reduced the time from admission to surgery and improved other practice outcomes. A multicenter randomized controlled trial is needed to evaluate the impact of this model on patient health outcomes.
This is a preview of subscription content, log in to check access.
Access options
Buy single article
Instant access to the full article PDF.
US$ 39.95
Price includes VAT for USA
Subscribe to journal
Immediate online access to all issues from 2019. Subscription will auto renew annually.
US$ 99
This is the net price. Taxes to be calculated in checkout.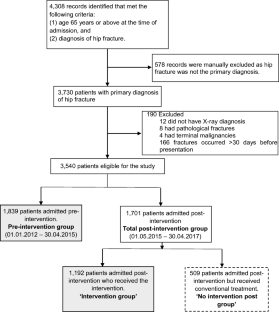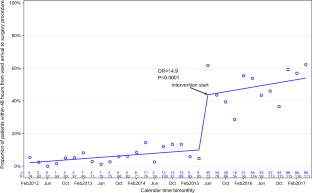 References
1.

Johnell O, Kanis JA (2004) An estimate of the worldwide prevalence, mortality and disability associated with hip fracture. Osteoporos Int 15(11):897–902. https://doi.org/10.1007/s00198-004-1627-0 published Online First: 2004/10/19

2.

Li S, Sun T, Liu Z (2016) Excess mortality of 1 year in elderly hip fracture patients compared with the general population in Beijing, China. Arch Osteoporos 11(1):35. https://doi.org/10.1007/s11657-016-0289-9 [published Online First: 2016/10/28]

3.

Bottle A, Aylin P (2006) Mortality associated with delay in operation after hip fracture: observational study. BMJ 332(7547):947–951. https://doi.org/10.1136/bmj.38790.468519.55 published Online First: 2006/03/24

4.

Moja L, Piatti A, Pecoraro V, Ricci C, Virgili G, Salanti G, Germagnoli L, Liberati A, Banfi G (2012) Timing matters in hip fracture surgery: patients operated within 48 hours have better outcomes. A meta-analysis and meta-regression of over 190,000 patients. PLoS One 7(10):e46175. https://doi.org/10.1371/journal.pone.0046175 published Online First: 2012/10/12

5.

British Orthopaedic Association (2007) The care of patients with fragility fracture. Blue Book, Irvine

6.

Tian M, Gong X, Rath S, Wei J, Yan LL, Lamb SE, Lindley RI, Sherrington C, Willett K, Norton R (2016) Management of hip fractures in older people in Beijing: a retrospective audit and comparison with evidence-based guidelines and practice in the UK. Osteoporos Int 27(2):677–681. https://doi.org/10.1007/s00198-015-3261-4 published Online First: 2015/08/13

7.

National Institute for Health and Care Excellence (2011) Hip fracture: management

8.

Royal College of Physicians (2017) National Hip Fracture Database (NHFD) annual report. RCP, London

9.

Riemen AH, Hutchison JD (2016) The multidisciplinary management of hip fractures in older patients. Orthop Trauma 30(2):117–122. https://doi.org/10.1016/j.mporth.2016.03.006 published Online First: 2016/07/16

10.

Shenouda M, Silk Z, Radha S, Bouanem E, Radford W (2017) The introduction of a multidisciplinary hip fracture pathway to optimise patient care and reduce mortality: a prospective audit of 161 patients. Open Orthop J 11:309–315. https://doi.org/10.2174/1874325001711010309 published Online First: 2017/06/02

11.

Kalmet PH, Koc BB, Hemmes B et al (2016) Effectiveness of a multidisciplinary clinical pathway for elderly patients with hip fracture: a multicenter comparative cohort study. Geriatr Orthop Surg Rehabil 7(2):81–85. https://doi.org/10.1177/2151458516645633 published Online First: 2016/05/31

12.

Friedman SM, Mendelson DA, Bingham KW, Kates SL (2009) Impact of a comanaged geriatric fracture center on short-term hip fracture outcomes. Arch Intern Med 169(18):1712–1717. https://doi.org/10.1001/archinternmed.2009.321 [published Online First: 2009/10/14]

13.

Simunovic N, Devereaux PJ, Sprague S, Guyatt GH, Schemitsch E, DeBeer J, Bhandari M (2010) Effect of early surgery after hip fracture on mortality and complications: systematic review and meta-analysis. CMAJ 182(15):1609–1616. https://doi.org/10.1503/cmaj.092220 published Online First: 2010/09/15

14.

Bohm E, Loucks L, Wittmeier K, Lix L, Oppenheimer L (2015) Reduced time to surgery improves mortality and length of stay following hip fracture: results from an intervention study in a Canadian health authority. Can J Surg 58(4):257–263 published Online First: 2015/07/24

15.

Khan SK, Kalra S, Khanna A, Thiruvengada MM, Parker MJ (2009) Timing of surgery for hip fractures: a systematic review of 52 published studies involving 291,413 patients. Injury 40(7):692–697. https://doi.org/10.1016/j.injury.2009.01.010 published Online First: 2009/05/20

16.

Pincus D, Wasserstein D, Ravi B, Byrne JP, Huang A, Paterson JM, Nathens AB, Kreder HJ, Jenkinson RJ, Wodchis WP (2018) Reporting and evaluating wait times for urgent hip fracture surgery in Ontario, Canada. CMAJ 190(23):E702–EE09. https://doi.org/10.1503/cmaj.170830 [published Online First: 2018/06/13]

17.

Australia & New Zealand Hip Fracture Registry (ANZHFR) Steering Group (2014) Australian and New Zealand Guideline for Hip Fracture Care - Improving outcomes in hip fracture management of adults

18.

Scottish Intercollegiate Guidelines Network (2009) Management of hip fracture in older people

19.

Royal College of Physicians (2016) National Hip Fracture Database (NHFD) annual report. RCP, London, p 2016

20.

Adunsky A, Arad M, Levi R, Blankstein A, Zeilig G, Mizrachi E (2005) Five-year experience with the 'Sheba' model of comprehensive orthogeriatric care for elderly hip fracture patients. Disabil Rehabil 27(18–19):1123–1127. https://doi.org/10.1080/09638280500056030 [published Online First: 2005/11/10]

21.

Adunsky A, Levy R, Heim M, Mizrahi E, Arad M (2003) The unfavorable nature of preoperative delirium in elderly hip fractured patients. Arch Gerontol Geriatr 36(1):67–74 published Online First: 2003/07/10
Funding
The study was funded by the Key Medical Professional Development Plans of Beijing Municipal Administration of Hospitals (ZYLX201506). Professor Rebecca Ivers is funded by a Research Fellowship from the National Health and Medical Research Council of Australia.
Ethics declarations
Conflicts of interest
None.
Additional information
Publisher's note
Springer Nature remains neutral with regard to jurisdictional claims in published maps and institutional affiliations.
Xinbao Wu, Maoyi Tian, Jing Zhang, and Minghui Yang are equal first authors
About this article
Cite this article
Wu, X., Tian, M., Zhang, J. et al. The effect of a multidisciplinary co-management program for the older hip fracture patients in Beijing: a "pre- and post-" retrospective study. Arch Osteoporos 14, 43 (2019). https://doi.org/10.1007/s11657-019-0594-1
Received:

Accepted:

Published:
Keywords
Hip fracture

Older people

Multidisciplinary co-management

China