Abstract
Reworked detrital sediments were discovered in the syn-rift to post-rift Cretaceous to Quaternary (Pleistocene) detrital deposits of the Douala coastal sub-basin in the eastern margin of the South Atlantic Ocean at West Cameroon. This contribution presents the geochemical, mineralogical, and sedimentological data to constrain the origin of these reworked sediments. The investigated samples are characterized by the high values of Plagioclase Index of Alteration (PIA, 97.83–99.90), Chemical Index of Alteration (CIA, 71.9–99.08), and Chemical Index of Weathering (CIW, 98.67–99.90). Data gleaned from these indices suggest that the reworked sediments and their potential source rocks experienced severe weathering. The A-CN-K plot along with the mineralogical indicates a probably post-depositional K-enrichment. The high light rare earth elements (LREE)/heavy rare earth elements (HREE) ratios (15.82–79.13) suggest that the reworked were mainly derived from felsic igneous rocks. This interpretation is further confirmed by the Zr versus TiO2, TiO2/Al2O3, Th/Co versus La/Sc, and La/Th versus Th/Yb plots, which indicate felsic igneous and silicic source rocks. Meanwhile, the high variability of LREE/HREE ratios (15.82–79.13) and the positive Eu anomalies (1.10–1.32) of studied samples could indicate a little contribution of mafic source rocks. Analysis of the distribution of the heavy minerals (e.g. tourmaline, aluminum silicate, and rutile) revealed that these felsic and silicic source rocks are mainly granite and gneiss, probably belonging to the Nyong Group and the Western part of the Neoproterozoic Yaounde Group. The morphoscopic analyses of the host rocks (very angular to angular shapes) have revealed that the reworked sediments have proximal to subproximal onshore origins, probably from former sedimentary deposits, as is indicated by variation of their color. The tectonic discriminant diagram indicates the Oceanic Island Arc and Active Continental Margin which are inconsistent with the geological history of the Douala coastal sub-basin and could be explained by the recycling effect experienced by studied sediments which have been deposited in the coastal plain to the fluvial environment in the Low System Track context.
Access options
Buy single article
Instant access to the full article PDF.
US$ 39.95
Tax calculation will be finalised during checkout.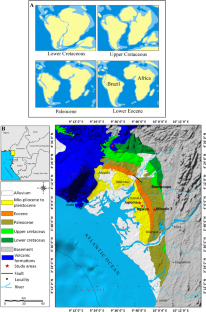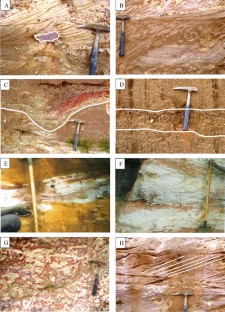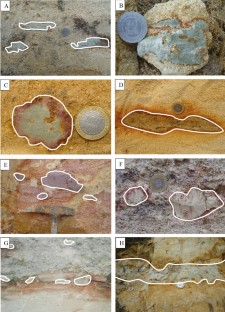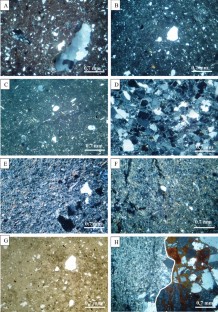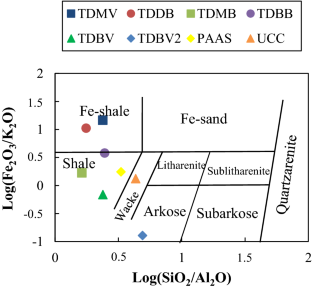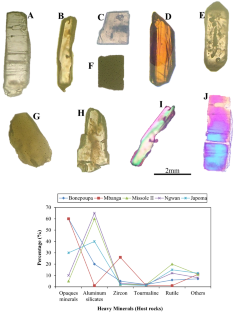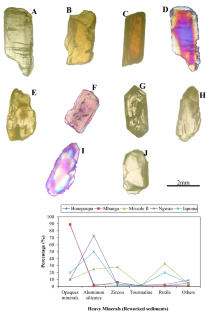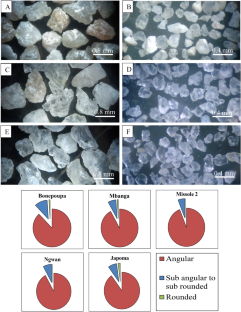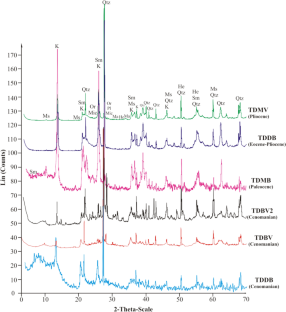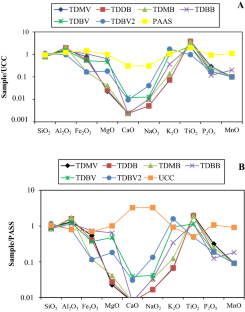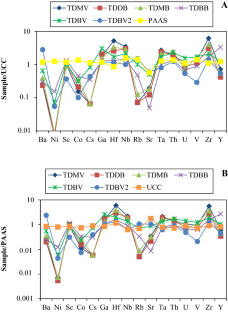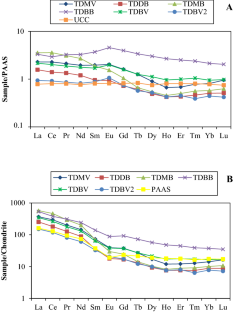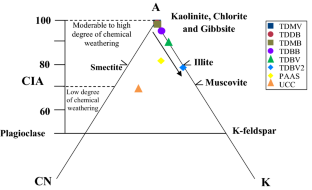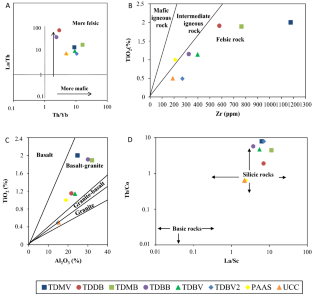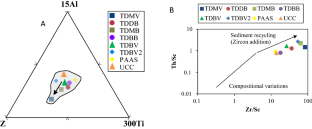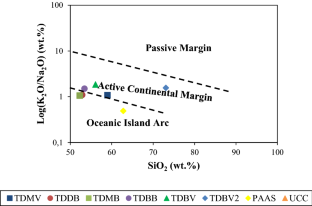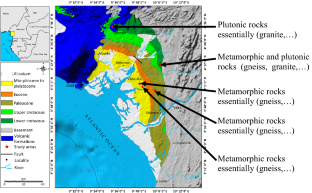 References
Ahmad F, Baioumy H, Farouk S, Al-Kahtany K, El-Sorogy A, Kirk J (2019) Geochemistry and stable isotopes of the Upper Campanian-Lower Maastrichtian phosphorite-bearing sequence, Central Jordan: implication for their age, origin, and diagenesis. Geol J 55(6):4453–4468

Amendola U, Perri F, Critelli S, Monaco P, Cirilli S, Trecci T, Rettori R (2016) Composition and provenance of the macigno formation (Late Oligocene-Early Miocene) in the trasimeno lake area (northern Apennines). Mar Petrol Geol 69:146–167

Armstrong-Altrin JS, Nagarajan R, Balaram V, Natalhy-Pineda O (2015) Petrography and geochemistry of sand from the Chachalacas and Veracruz beach areas, western Gulf of Mexico, Mexico: constraints on provenance and tectonic setting. J S Am Earth Sci 64:199–216

Bazeen YS, Farouk S, El-Balkiemy AF, Ahmad F (2020) Late Maastrichtian-Early Danian sea-level changes at Gebel Tawil Shihaq in Central Jordan: implications of chemostratigraphy and foraminiferal biostratigraphy. Palaeogeogr Palaeoclima Palaeoecol 556:109875

Benkhelil J, Giresse P, Poumot C, Ngueutchoua G (2002) Lithostratigraphic, geophysical, and morpho-tectonic studies of the South Cameroon shelf. Mar Petrol Geol 19:499–517

Berthois L (1975) Étude sédimentologique des roches meubles. DOIN édition, Paris

Bouyo Houketchang M, Penaye J, Mouri H, Toteu SF (2019) Eclogite facies metabasites from the Paleoproterozoic Nyong Group, SW Cameroon: mineralogical evidence and implications for a highpressure metamorphism related to a subduction zone at the NW margin of the Archean Congo craton. J Afr Earth Sci 149:215–234

Cailleux A (1945) Distinctions des galets marins et fluviatiles. Bull Soc Géol 15:375–404

Cailleux A (1947) L'indice d'émoussé – définition et première application. Compt Rendus som Soc Géol 13–14:251–252

Cailleux A, Tricart J (1959) Initiation à l'étude des Sables et Galets. C.D.U, Paris

Carvalho MA, Filho MGJ, Menezes RT (2006) Paleoenvironmental reconstruction based on palynofacies analysis of the Aptien-Aalbian succession of the Sergipe Basin, Northeasthern Brazil. Mar Micropal 59:56–81

Chen M, Sun M, Cai K, Buslov MM, Zhao G, Rubanova ES (2014) Geochemical study of the Cambrian-Ordovician metasedimentary rocks from the northern Altai-Mongolian terrane, northwestern central Asian orogenic belt: implications on the provenance and tectonic setting. J Asi Earth Sci 96:69–83

Cox R, Low DR, Culler RL (1995) The influence of sediment recycling and basement composition on evolution of mudrock chemistry in the Southwestern United States. Geochem Cosmochim Acta 59:2919–2940

Cullers RL (1994) The controls on the major and trace element variation of shales, siltstones, and sandstones of Pennsylvanian-Permian age from uplifted continental blocks in Colorado to platform sediment in Kansas, USA. Geochim Cosmochim Acta 58:4955–4972

Cullers RL (2000) The geochemistry of shales, siltstones and sandstones of Pennsylvanian-Permian age, Colorado, USA: implications for provenance and meta-morphic studies. Lithos 51:181–203

Cullers RL (2002) Implications of elemental concentrations for provenance, re-dox conditions, and metamorphic studies of shales and limestones near Pueblo, CO, USA. Chem Geol 191:305–327

Cullers RL, Podkovyrov VN (2000) Geochemistry of the mesoproterozoic lakhanda shales in Southeastern Yakutia, Russia: implications for mineralogical and provenance control, and recycling. Precambrian Res 104:77–93

Deruelle B, Moreau C, Nkoumbou C, Kambou R, Lissom J, Njongfang E, Ghogomu RT, Nono A (1991) The Cameroon Line: a review. In: Kampunzu AB, Lubala RT (eds) Magmatism in Extentional Structural Settings. The Phanerozoic Africa Plate. Springer, Berlin, pp 274–327

Deruelle B, Bardintzeff JM, Cheminee JL, Ngounouno I, Lissom J, Nkoumbou C, Etame J, Hell JV, Tanyileke G, Nni J, Ateba B, Ntepe N, Nono A, Wandji P, Fosso J, Nkouathio DG (2000) Eruptions simultanees de basalte alcalin et de hawaïte au Mont Cameroun (28 mars - 17 avril 1999). Compt Rendus Acad Sci Paris 8:525–531 (in French)

Dumort JC (1968) Carte géologique de reconnaissance du Cameroun à l'échelle 1/500 000, feuille Douala-Ouest, avec notice explicative Imprimerie Natationale, Yaoundé (in French)

Duplaix S (1958) Détermination microscopique des minéraux des sables. Libraire Polytechnique, Paris (in French)

El-Bialy M (2013) Geochemistry of the neoproterozoic metasediments of malhaq and um zarig formations, kid metamorphic complex, Sinai, Egypt: implications for source-area weathering, provenance, recycling, and depositional tectonic setting. Lithos 175:68–85

Farouk S (2016) Paleocene stratigraphy in Egypt. J Afr Earth Sci 113:126–152

Farouk S, Aaskalany M, El-Sorogy A, Youssef M, Taha S (2019) Maastrichtian-Early Paleocene foraminiferal palaeobathymetry and depositional sequences at Gabel El Sharawna, south Luxor, Egypt. Lethaia 53:316–331

Fedo CM, Nesbitt HW, Young GM (1995) Unravelling the effects of potassium metasomatism in sedimentary rocks and paleosols, with implications for paleoweathering conditions and provenance. Geology 23:921–924

Fowe Kweche PG, Ntamak-Nida MJ, Djomeni NAL, Etame J, Mvondo OF, Mbesse CO, Iboum KJB, Ngon NGF, Bourquin S, Bilong P (2018) Facies analysis and sequence stratigraphy of missole outcrops: n'kapa formation of the south-eastern edge of douala sub-basin (Cameroon). Earth Sci Res 7:35–54

Ganno S, Tsozue D, Kouankap Nono GD, Tchouatcha MS, Ngnotue T, Takam GR, Nzenti JP (2018) Geochemical constraints on the origin of banded iron formation-hosted iron ore from the archaean ntem complex (congo craton) in the meyomessi area, southern cameroon. Resour Geol 68:287–302

Garcia D, Coehlo J, Perrin M (1991) Fractionation between TiO2 and Zr as a measure of sorting within shale and sandstone series (Northern Portugal). Eur J Mineral 3:401–414

Giresse P (1990) Esquisse géologique de l'Afrique centrale occidentale. In: Paysages quaternaires de l'Afrique centrale occidentale ORSTOM, Yaounde, pp 15–19 (in French)

Girty GH, Ridge DI, Knaack C, Johnson D, Al-Riyami RK (1996) Provenance and depositional setting of paleozoic chert and argillite, sierra nevada, California. J Sediment Res 66:107–118

Gu XX, Liu JM, Zheng MH, Tang JX, Qi L (2002) Provenance and tec-tonic setting of the proterozoic turbidites in Hunan, South China: geochemical evidence. J Sediment Res 72:393–407

Harnois L (1988) The CIW index: a new chemical index of weathering. Sediment Geol 55:319–322

Hassan S, Ishiga H, Roser BP, Dozen K, Naka T (1999) Geochemistry of permian triassic shales in the salt range, pakistan: implications for provenance and tectonism at the gondwana margin. Chem Geol 168:293–314

Hayashi KI, Fujisawa H, Holland HD, Ohmoto H (1997) Geochemistry of 1.9 Ga Sedimentary Rocks from Northeastern Labrador, Canada. Geochim Cosmochim Acta 61:4115–4137

Herron MM (1988) Geochemical classification of terrigenous sands and shales from core or log data. J Sediment Petrol 58:820–829

Hossain I, Roy KK, Biswas PK, Alam M, Moniruzzaman Md, Deeba F (2014) Geochemical characteristics of holocene sediments from Chuadanga Dis-trict, Bangladesh: implications for weathering, climate, redox conditions, provenance and tectonic setting. Chin J Geochem 33:336–350

Kenfack PL, Njike Ngaha PR, Ekodeck GE, Ngueutchoua G (2012a) Fossils dinoflagellates from the northern border of the Douala sedimentary sub-basin (South-West Cameroon): age assessment and paleoecological interpretations. Geosci 2:117–124

Kenfack PL, Njike Ngaha PR, Ekodeck GE, Ngueutchoua G (2012b) Mineralogic characterization and petroleum potential of clays (shales) of the N'Kapa formation (Paleocene-Eocene) in the Douala sedimentary sub-basin (South-west Cameroon). Int J Geosci 3:696–709

Koutsoukos EAM, Mello MR, Azambuja Filho NC, Hart MB, Maxwell JR (1991) The Upper Aptian-Albian succession of the Sergipe Basin, Brazil – an integrated palaeoenvironmental assessment. Am Ass Petrol Geol Bull 75:479–498

Lawrence SR, Munday S, Bray R (2002) Regional geology and geophysics of the eastern Gulf of Guinea (Niger Delta to Rio Muni) Special section: West Africa. Lead Edge 21:1112–1117

Lerouge C, Cocherie A, Toteu SF, Penaye J, Milesi JP, Tchameni R, Nsifa EN, Fanning CM, Deloule E (2006) Shrimp U/Pb zircon age evidence for Paleoproterozoic sedimentation and 2.05 Ga syntectonic plutonism in the Nyong Group, South-western Cameroon: consequences for the eburnean–transamazonian belt of NE Brazil and central Africa. J Afr Earth Sci 44:413–427

Loose D, Schenk V (2018) 2.09 Ga old eclogites in the Eburnian- Transamazonian orogen of southern Cameroon: significance for Palaeoproterozoic plate tectonics. Precambrian Res 304:1–11

Lorentzen S, Augustsson C, Jahren J, Nystuen JP, Schovsbo NH (2019) Tectonic, sedimentary and diagenetic controls on sediment maturity of lower Cambrian quartz arenite from southwestern Baltica Basin. Res 31:1098–1120

Madhavaraju J (2015) Geochemistry of late cretaceous sedimentary rocks of the cauvery basin, South India: constraints on paleoweathering, provenance, and end cretaceous environment. Chemostrat 61:185–214

Madhavaraju J, Lee YI (2010) Influence of deccan volcanism in the sedi- mentary rocks of maastrichtian-danian age of cauvery basin Southeastern India: constraints from geochemistry. Curr Sci India 98:528–537

Malick BML, Ishiga H (2016) Geochemical classification and determination of maturity source weathering in beach sands of Eastern San'in Coast, Tango Peninsula, and Wakasa Bay, Japan. Earth Sci Res 5:44–56

Manga CC (2008) Stratigraphy, structure and prospectivity of the southern onshore Douala basin Cameroon Central Africa. Afr Geosci Rev 1:13–37

Maurin JC, Guiraud R (1993) Basement control in the development of the Early Cretaceous West and Central African Rift System. Tectonophys 228:81–95

Maurizot P, Abessolo A, Feybesse JL, Johan LP (1986) Etude de prospection minière du Sud-Ouest Cameroun. Synthèse des travaux de 1978 à 1985. Rapport BRGM, Cameroun (in French)

Mbesse CO, Roche E, Ngos S (2012) La limite Paleocene-Eocene dans le bassin de Douala (Cameroun). Biostratigraphie et essai de reconstitution des paléo-environnements par l'étude des Dinoflagellés. Geol Ecol Trop 36:83–119 (in French)

McDonough WF, Sun SS (1995) The composition of the earth. Chem Geol 120:223–253

McLennan SM (2001) Relationships between the trace element compositions of sedimentary rocks and upper continental crust. Geochem Geophysi Geo-syst 2:86–98

McLennan SM, Hemming S, McDaniel DK, Hanson GN (1993) Geochemical approaches to sedimentation, provenance and tectonics. Geol Soc Amer 284:21–40

Meyers JB, Rosendahl BR, Groschel-Becker H, Austin JJA, Rona PA (1996) Deep penetrating MCS imaging of the Rift-to-Drift transition, offshore douala and north gabon basins, West Africa. Mar Petrol Geol 13:791–835

Mfayakouo CB (2016) Etude lithostratigraphique et palynologique des formations sédimentaires tertiaires de la partie centrale du bassin de Douala: Essai de reconstitution paléogéographique. PhD-thesis, University of Yaoundé 1 (in French)

Mfayakouo CB, Njike Ngaha PR, Bitom DL (2014) Sedimentary facies and depositional environments of Cenozoic sedimentary formations cropping out at the central part of the Douala basin. Am J Geosci 4:8–23

Mongelli G (2004) Rare-earth elements in oligo-miocenic pelitic sediments from lagonegro basin, southern apennines, Italy: implications for provenance and source-area weathering. Int J Earth Sci 93:612–620

Mongelli G, Cullers R, Dinelli E, Rottura A (1998) Elemental mobility dur-ing the weathering of exposed lower crust: the kinzigitic paragneisses from the serre Calabria Southern Italy. Terra Nova 10:190–195

Mongelli G, Critelli S, Perri F, Sonnino M, Perrone V (2006) Sedimentary recycling, provenance and paleoweathering from chemistry and mineralogy of mesozoic continental redbeb mudrocks, peloritani mountains, Southern Italy. Geochem J 40:197–209

Nagarajan R, Armstrong-Altrin JS, Kessler FL, Hidalgo-Moral EL, Dodge Wan D, Taib NI (2015) Provenance and tectonic setting of miocene silicic-lastic sediments, Sibuti Formation, Northwestern Borneo. Arab J Geosci 8:8549–8565

Ndema Mbongue J, Ngo Nlend CD, Nzenti JP, Cheo Suh E (2014) Origin and evolution of the formation of the Cameroon Nyong Series in the Western Border of the Congo. J Geosci Geomat 2:62–75

Ndjeng E (1978) Etude sédimentologique des niveaux à galets et a sables au Sud de l'Adamaoua (Cameroun). Thèse de 3ème cycle, Université de Dijon

Nesbitt HW, Young GM (1982) Early proterozoic climates and plate motions inferred from major element chemistry of Lutites. Nat 299:715–717

Nesbitt HW, Young GM (1984) Prediction of some weathering trend of plutonic and volcanic rocks based on thermodynamic and kinetic consideration. Geochim Cosmochim Acta 48:1523–1534

Nga Essomba TP, Ganno S, Tanko JEL, Ndema Mbongue JL, Kamguia WB, Takodjou WJD, Nzenti JP (2020) Geochemical constraints on the origin and tectonic setting of the serpentinized peridotites from the Paleoproterozoic Nyong series, Eseka area, SW Cameroon. Acta Geochim 39:404–422

Ngnotué T, Ganno S, Nzenti JP, Schulz B, Tchaptchet Tchato D, Suh Cheo E (2012) Geochemistry and geochronology of peraluminous high-K granitic leucosomes of yaoundé series) cameroon. Evidence for a Unique Pan-African magmatism and melting Event in North equatorial fold belt. Int J Geosci 3:525–548

Ngon Ngon GF, Etame J, Ntamak-Nida MJ, Mbesse CO, Mbai JS, Bayiga EC, Gerard M (2016) Geochemical and paleoenvironmental characteristics of Missole I iron duricrusts of the Douala sub-basin (Western Cameroon). C R Geosci 348:127–137

Ngon Ngon GF, Bitchong Mbabi A, Mbai JS, Ngos S III, Fouateu Yongue R, Bilong P (2019) Geochemistry of pyriteous mudrocks of the Cenozoic N'Kapa formation in Douala Sub-basin, western Cameroon (Central Africa): Source rock weathering, provenance, paleo-redox conditions and tectonic settings. J Afr Earth Sci 156:44–57

Ngounouno I, Deruelle B, Montigny R, Demaiffe D (2006) Les camptonites du Mont Cameroun, Afrique. Compt Rendus Geosci 338:537–544

Nguéné FR, Tamfu SF, Loule JP, Ngassa C (1992) Paleoenvironment of the Douala and Kribi/Campo sub-basins, in Cameroon, West Africa. Explor Prod Elf Aquitaine 13:129–139

Ngueutchoua G, Ngantchu LD, Youbi M, NgosKamgang Kabeyene Beyala SV, Petsouonko Yifonju K, Tchamgoué JC (2017) Geochemistry of Cretaceous mudrocks and sandstones from Douala sub-basin, Kumba area, South west Cameroon: constraints on provenance, source rock weathering, paleo-oxidation conditions and tectonic environment. Int J Geosci 8:393–424

Ngueutchoua G, Ekoa Bessa AZ, Eyong Taken J, Demanou Zandjiob D, Djaoroa Baba H, Tchami Nfada L (2019) Geochemistry of cretaceous fine-grained siliciclastic rocks from Upper Mundeck and Logbadjeck Formations, Douala sub-basin, SW Cameroon: Implications for weathering intensity, provenance, paleoclimate, redox-condition, and tectonic setting. J Afr Earth Sci 152:215–236

Njiké Ngaha PR (1984) Contribution à l'étude géologique, stratigraphique et structurale de la bordure du bassin atlantique au Cameroun. Thèse de 3ème cycle, Université de Yaoundé

Njiké Ngaha PR (2005) Palynostratigraphie et reconstitution des paléoenvironnements du Crétacé de l'Est du bassin sédimentaire de Douala (Cameroun). Thèse d'Etat, Université de Yaoundé I

Njiké Ngaha PR, Eno Belinga SM (1987) Le diachronisme du «grès de base», le paléoenvironnement et le rôle de l'ouverture de l'Atlantique sud. Ann Fac Sci Terre 4:113–119

Njike Ngaha PR, Mfayakouo CB, Bitom D (2014) Paleogeographic evolution of the eastern edge of the douala basin from Early Cenomanian to Turonian. The Open Geol J 8:124–141

Ntamak-Nida MJ, Bourquin S, Makong JC, Baudin F, Mpesse JE, Itjoko Ngouem C, Komguem PB, Abolo GM (2010) Sedimentology and sequence stratigraphy from outcrops of the Kribi-Campo sub-basin: Lower Mundeck Formation (Lower Cretaceous, southern Cameroon). J Afr Earth Sci 58:1–18

Nzenti JP, Njanko T, Njiosseu ELT, Tchoua FM (1998) Les domaines granulitiques de la chaine panafricaine Nord Equatoriale au Cameroun. In: Vicat JP, Bilong P (eds) Géologie et environnement au Cameroun. Université de Yaoundé 1, Cameroun, pp 255–264

Owona S, Tichomirowa M, Ratschbacher L, Mvondo Ondoa J, Youmen D, Pfänder J, Tchoua FM, Affaton P, Ekodeck GE (2012) New igneous zircon Pb/Pb and metamorphic Rb/Sr ages in the Yaoundé Group (Cameroon, Central Africa): implications for the Central African fold belt evolution close to the Congo Craton. Int J Earth Sci 101:1689–1703

Parfenoff A, Pomérol Ch, Tourenq J (1970) Les minéraux en grains: méthodes d'études et détermination. MASSON et Cie (eds) Paris, p 550

Pauken RJ (1992) Sanaga sud field, offshore Cameroon, West Africa. In: Hal-bouty MT (ed) Giant oil and gas fields of the decade 1978–1988, vol 54. American Association of Petroleum Geologists, pp 217–230

Penaye J, Toteu SF, Tchameni R, Van Schmus WR, Tchakounte J, Ganwa AA, Minyem D, Nsifa EN (2004) The 2.1 Ga west central african belt in Cameroon extension and evolution. J Afr Earth Sci 39:159–164

Perri F (2014) Composition, provenance and source weathering of mesozoic sandstones from western-central mediterranean alpine chains. J Afr Earth Sci 91:32–43

Perri F, Critelli S, Mongelli G, Cullers RL (2011) sedimentary evolution of the mesozoic continental redbeds using geochemical and mineralogical tools: the case of Upper Triasic to Lowermost Jurassic monte di gioiosa mudrocks (Sicily, Southern Italy). Int J Earth Sci 100:1569–1587

Pletsch T, Erbacher J, Holbourn AEL, Kuhnt W, Moullade M, Oboh-Ikuenobede FE, Soding E, Wagner T (2001) Cretaceous separation of Africa and South America: the view from the West African margin (ODP Leg 159). J S Am Earth Sci 14:147–174

Potter PE (1978) Petrology and chemistry of modern big river sands. J Geol 86:423–449

Rainbird RH, Nesbitt HW, Donaldson JA (1990) Formation and diagenesis of a sub-huronian saprolith: comparison with a modern weathering profile. J Geol 98:801–822

Rashid SA, Ganai JA, Masoodi A, Khan FA (2015) Major and trace element geochemistry of lake sediments, India: implications for weathering and climate control. Arab J Geosci 8:10481–10496

Reyment RA, Tait EA (1972) Faunal Evidence for the Origin of the South Atlantic. In: Proceedings of 24th International Geological Congress, Montreal, 21–30 August 1972. 7:316–323

Roser BP, Korsch RJ (1986) Determination of tectonic setting of sandstone-mudstone suites using SiO2 content and K2O/Na2O ratio. J Geol 94(5):635–650

Samir A (2002) Biostratigraphy and paleoenvironment changes in the Upper Cretaceous-Early Paleogene deposits of Gabal Samra section, southwestern Sinai, Egypt. Egypt J Paleontol 2:1–40

Scotese CR (2001) Atlas of earth history. Paleogeography, PALEOMAP Project, Texas, 1:1–52

Seiglie GA, Baker MB, Park NY, Frost SH, Bourne M (1981) West Africa regional stratigraphy, biostratigraphy and paleoenvironments of Douala Basin, Cameroon. Gulf Oil Exploration and Production Company. Houston. H.T.S.C. pp 442–2935

SNH (2005) Synthèse sur le Bassin du Rio Del Rey et sur le bassin de Douala/Kribi-Campo, Internal Report

Soh TL, Nzepang TM, Chongtao W, Ganno S, Ngnotue T, Kouankap Nono GD, Shaamu JS, Zhang J, Nzenti JP (2018) Geology and geochemical constrains on the origin and depositional setting of the Kpwa-Atog Boga banded iron formations (BIFs), northwestern Congo craton, southern Cameroon. Ore Geol Rev 95:620–638

Somayajulu BLK, Yadav DN, Sarin MM (1994) Recent sedimentary records from the Arabian Sea. Proceed Ind Acad Sci 103:315–327

Su N, Yang S, Guo Y, Yue W, Wang X, Yin P, Huang X (2017) Revisit of rare earth element fractionation during chemical weathering and river sediment transport. Geochem Geophys Geosyst 18:935–955

Suh CE, Spark RSJ, Fitton JG, Ayongue SN, Annen C, Nana R, Luckman A (2003) The 1999 and 2000 eruption of Mount Cameroon: eruption behavior and petrochemistry of lava. Bull Volcanol 65:267–281

Tawfik HA, Salah MK, Maejima W, Armstrong-Altrin JS, Abdel-Hameed AMT, El Ghandour MM (2017) Petrography and geochemistry of the Lower Miocene Moghra sandstones, Qattara Depression, north Western Desert, Egypt. Geol J 53(5):1938–1953

Taylor SR, McLennan SM (1985) The continental crust: its composition and evolution. Blackwell, Oxford

Tchouatcha MS (2005) Etude sédimentologique de quelques facies sableux crétacés du secteur oriental du bassin de Douala : Genèse et signification paleoenvironnmentale. MSc-thesis, University of Yaoundé 1

Tchouatcha MS, Njiké Ngaha PR, Mahmoud MS, Deaf AS, Ekodeck GE (2010) Existence of «Late continental» deposits in the Mbere and Djerem sedimentary basins (North Cameroon): palynologic and stratigraphic evidence. J Geol Min Res 2(6):159–169

Tchouatcha MS, Njoya A, Ganno S, Toyama R, Ngouem PA, Njike Ngaha PR (2016) Origin and paleoenvironment of Pleistocene-Holocene Travertine deposit from the Mbere sedimentary sub-basin along the Central Cameroon shear zone: Insights from petrology and palynology and evidence for neotectonics. J Afr Earth Sci 118:24–34

Tiwalu SK (2012) Petrographic and sedimentological studies of the Miang Formation, Douala sub-basin. Unpublished MSc-thesis, University of Yaoundé 1

Touomo Sime TK (2010) Etude sédimentologique et paleoenvironnementale des formations détritiques de Mbanga-nord dans le bassin de Douala. MSc-thesis, University of Yaoundé 1

Tsafack JPF, Wandji P, Bardintzeff JM, Bellon H, Guillou H (2009) The Mount Cameroon stratovolcano (Cameroon Volcanic Line, Central Africa): petrology, geochemistry, isotope and age. Miner Petrol 47:65–78

Vail PR, Hardenbol J, Todd RG (1984) Jurassic uncon-formities, chronostratigraphy, and sea-level changes from seismic stratigraphy and biostratigraphy. In: Schlee JS (ed) Interregional unconformities and hydrocarbon accumulation, vol 36. American Association of Petroleum Geologists, New York, pp 129–144

Vail PR, Audemard F, Bowman SA, Eisner PN, Perez-Cruz C (1991) The stratigraphy signatures of tectonic, eustasy and sedimentology an - overview. In: Einsele G, Ricken W, Seilacher A (eds) Cycles and events in stratigraphy. Springer, NewYork, pp 617–659

Vosoughi MA, Sari A, Akkaya P (2016) Geochemistry of the miocene oil shale (Hançilli Formation) in the çankiri-çorum basin, central turkey: implications for paleoclimate conditions, source-area weathering, provenance and tectonic setting. Sediment Geol 78:136–150

Wandji P, Tsafack JPF, Bardintzeff JM, Nkouathio DG, Kagou Dongmo A, Bellon H, Guillou H (2009) Xenoliths of dunites, wehrlites and clinopyroxenites in the basanites from Batoke volcanic cone (Mount Cameroon, Central Africa): petrogenetic implication. Miner Petrol 96:81–98

Yonta-Ngouné C, Nkoumbou C, Barbey P, Le Breton N, Montel JM, Villieras F (2010) Geological context of the Boumnyebel talcschists (Cameroon): inferences on the Pan-African Belt of Central Africa. Compt Rendus Geosci 342:108–115

Zeng S, Wang J, Chen W, Fu X, Feng X, Song C, Wang D, Sun W (2019) Geochemical characteristics of Early Cretaceous marine oil shale from Changshe Mountain area in the northern Qiangtang Basin, Tibet: Implication for palaeoweatherinring, provenance, tectonic setting, and organic matter accumulation. Geol J 55(4):3229–3246

Zou S, Wu C, Xu D, Shan Q, Zhang X, Hollings P (2016) Provenance and depositional setting of Lower Silurian siliciclastic rocks on Hainan Island, South China: implications for a passive margin environment of South China in gondwana. J Asian Earth Sci 123:243–262
Acknowledgements
We gratefully acknowledge Professor Sylvestre Ganno, University of Yaoundé 1, Cameroon, for constructive comments of the earlier version of the manuscript.
Ethics declarations
Conflict of interest
The authors declare no conflict of interest.
About this article
Cite this article
Tchouatcha, M.S., Kouske, A.P., Deaf, A.S. et al. Geochemical, mineralogical and sedimentological analyses of reworked sediments (new) in the syn- to post-rift Middle Cretaceous-Quaternary detrital deposits from western Atlantic margin of Cameroon: evidence from sedimentation-erosion alternation in the context of passive margin evolution. Acta Geochim (2021). https://doi.org/10.1007/s11631-021-00455-5
Received:

Revised:

Accepted:

Published:
Keywords
Reworked sediments

Geochemistry

Mineralogy

Sedimentology

Nyong and yaoundé groups

Douala coastal sub-basin

Cameroon