Abstract
Bird of paradise (Strelitzia reginae Aiton.) is an ornamental plant of great economic value; however, the floricultural market is shaped by trends that vary throughout seasons and years. Thus, conservation techniques, such as cryopreservation, may be used for species and cultivar maintenance. It is important to understand the effect of low temperature used for cooling on the genetic stability and anatomical aspects of conserved species. The objective of this study was to evaluate the occurrence of anatomical changes and the maintenance of the cytogenetic stability of plants recovered from cryopreserved bird of paradise zygotic embryos. Zygotic embryos were cryopreserved in liquid nitrogen (+LN) after being dehydrated for 0, 30, and 60 min using silica gel (moisture content 16.79, 11.38, and 11.49%, respectively). Considering the dehydration duration, seedling development was higher (66.13%) in embryos that were cryopreserved after 30-min dehydration period, with no differences in the survival percentage during acclimatization, no anatomical changes in photosynthetic tissues, and no changes in the cytogenetic stability of the plants verified by flow cytometry. Thus, it is concluded that it is possible to cryopreserve bird of paradise zygotic embryos without changing the anatomy or genetic stability of the plants.
Access options
Buy single article
Instant access to the full article PDF.
US$ 39.95
Tax calculation will be finalised during checkout.
Subscribe to journal
Immediate online access to all issues from 2019. Subscription will auto renew annually.
US$ 79
Tax calculation will be finalised during checkout.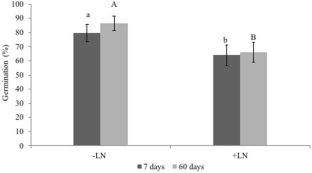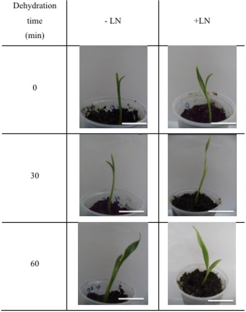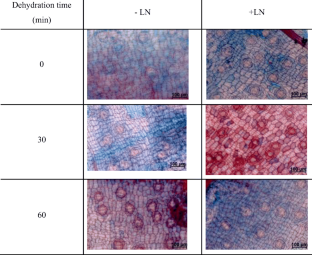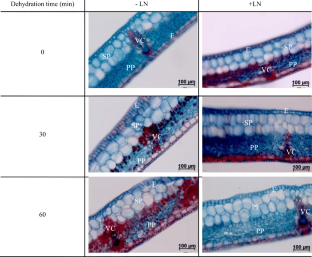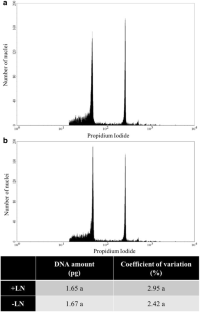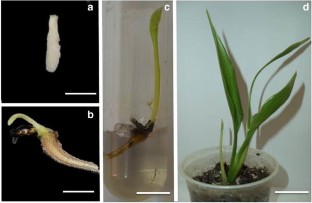 References
Bezerra GA, Gabriel AVMD, Mariano ED, Cardoso JC (2019) In vitro culture and greenhouse acclimatization of Oncidium varicosum (Orchidaceae) with microorganisms isolated from its roots. Ornam Hortic 25(4):407–416. https://doi.org/10.1590/2447-536X.v25i4.2046

Castro EM, Pereira FJ, Paiva R (2009) Histologia vegetal: estrutura e função dos órgãos vegetativos. UFLA, Lavras

Chen G, Ren L, Zhang J, Reed BM, Zhang D, Shen X (2015) Cryopreservation affects ROS-induced oxidative stress and antioxidant response in Arabidopsis seedlings. Cryobiology 70:38–47. https://doi.org/10.1016/j.cryobiol.2014.11.004

Dias MC, Correia C, Moutinho-Pereira J, Oliveira H, Santos C (2014) Study of the effects of foliar application of ABA during acclimatization. Plant Cell Tiss Org 117:213–224. https://doi.org/10.1007/s11240-014-0434-3

Dickinson B (1998) Cell quest software: reference manual. Becton Dickinson Immunocytometry Systems, San Jose

Doležel J, Binarová P, Lucretti S (1989) Analysis of nuclear DNA content in plant cells by flow cytometry. Biol Plant 31(2):113–120. https://doi.org/10.1007/BF02907241

Ferreira DF (2014) Sisvar: a Guide for its Bootstrap procedures in multiple comparisons. Cienc Agrotec 38(2):109–112. https://doi.org/10.1590/S1413-70542014000200001

Galdiano RF, Macedo Lemos EG, Faria RT, Vendrame WA (2014) Seedling development and evaluation of genetic stability of cryopreserved Dendrobium hybrid mature seeds. Appl Biochem Biotechnol 172(5):2521–2529. https://doi.org/10.1007/s12010-013-0699-8

Ganeva T, Stefanova M, Čellárová E, Uzunova K, Koleva D (2009) Structural responses of the photosynthetic apparatus of Orthosiphon stamineus Benth. to temperature stress after cryopreservation. Bot Serb 33(2):163–167

Halmagyi A, Coste A, Tripon S, Craciun C (2017) Low temperature induced ultrastructural alterations in tomato (Lycopersicon esculentum Mill.) shoot apex cells. Sci Hortic 222(19):22–31. https://doi.org/10.1016/j.scienta.2017.04.019

Kaviani B (2010) Cryopreservation by encapsulation-dehydration for long-term storage of some important germplasm: seed of lily [Lilium ledebourii (Baker) Bioss.], embryonic axe of Persian lilac (Melia azedarach L.), and tea (Camellia sinensis L.). Plant Omics 3(6):177–182

Kraus JE, Arduim M (1997) Manual básico de métodos em morfologia vegetal. Editora Universidade Federal Rural do Rio Janeiro, Seropédica

Kulus D (2020) Shoot tip cryopreservation of Lamprocapnos spectabilis (L.) Fukuhara using different approaches and evaluation of stability on the molecular, biochemical, and plant architecture levels. Int J Mol Sci 21(11):3901. https://doi.org/10.3390/ijms21113901

Kulus D, Abratowska A (2017) (Cryo)conservation of Ajania pacifica (Nakai) Bremer et Humphries shoot tips via encapsulation-dehydration technique. Cryo-Lett 38(5):387–398. https://doi.org/10.3390/ijms21113901

Kulus D, Abratowska A, Mikula A (2018) Morphogenetic response of shoot tips to cryopreservation by encapsulation-dehydration in a solid mutant and periclinal chimeras of Chrysanthemum × grandiforum /Ramat./Kitam. Acta Physiol Plant 40(18):1–13. https://doi.org/10.1007/s11738-017-2593-4

Kulus D, Zalewska M (2014) Cryopreservation as a tool used in long-term storage of ornamental species–a review. Sci Hortic 68:88–107. https://doi.org/10.1016/j.scienta.2014.01.014

Mikovski AI, Silva NT, Souza CS, Machado MD, Otoni WC, Carvalho IF, Diego Ismael Rocha DI, Silva ML (2019) Tissue culture and biotechnological techniques applied to passion fruit with ornamental potential: an overview. Ornam Hortic 25(2):189–199. https://doi.org/10.14295/oh.v25i2.2036

Murashige T, Skoog F (1962) A revised medium for rapid growth and bioassays with tobacco tissue cultures. Physiol Plant 15:473–497. https://doi.org/10.1111/j.1399-3054.1962.tb08052.x

Paiva PDO, Paiva R, Pasqual M (2007) Controle de oxidação no cultivo in vitro de embriões de estrelícia (Strelitzia reginae). Ornam Hortic 13(2):107–112. https://doi.org/10.14295/rbho.v13i2.213

Paiva PDO, Paiva R, Pasqual M, Paiva LV (2004) Estabelecimento in vitro de estrelícia (Strelitzia reginae Banks.). Cienc Agrotec 28(5):1031–1037. https://doi.org/10.1590/S1413-70542004000500009

Panis B, Lambardi M (2006) Status of cryopreservation technologies in plants (crops and forest trees). In: Ruane J, Sonnino A (eds) The role of biotechnology in exploring and protecting agricultural genetic resources. FAO, Rome, pp 61–78

Pinto MS, Paiva R, Silva DPC, Santos PAA, Freitas RT, Silva LC (2016) Cryopreservation of coffee zygotic embryos: dehydration and osmotic rehydration. Cienc Agrotec 40(4):380–389. https://doi.org/10.1590/1413-70542016404007616

Pritchard HW, Beeby LA, Davies RI (1998) The role of embryo culture in the seed conservation of palms and other species. In: Razdan MK, Cocking EC (eds) Conservation of genetic resources in vitro. Royal Botanic Gardens Kew, Ardingley, pp 89–138

Prudente DO, Nery FC, Paiva R, Reis MV, Paiva PDO, Nery MC (2016) Cultivo in vitro de Miconia ligustroides (DC.) Naudim. Plant Cell Cult Microprop 12(1):13–19

Reed BM (2017) Plant cryopreservation: a continuing requirement for food and ecosystem security. In Vitro Cell Dev Biol Plant 53:418–424. https://doi.org/10.1007/s11627-017-9851-4

Santos IRI, Salomão AN (2017) In vitro germination of zygotic embryos excised from cryopreserved endocarps of queen palm (Syagrus romanzoffiana (Cham.) Glassman). In Vitro Cell Dev Biol Plant 53:285–288. https://doi.org/10.1007/s11627-017-9840-7

Sekizawa K, Yamamoto S, Rafique T, Fukui K, Niino T (2011) Cryopreservation of in vitro-grown shoot tips of carnation (Dianthus caryophyllus L.) by vitrification method using aluminium cryo-plates. Plant Biotechnol J 28(4):401–405. https://doi.org/10.5511/plantbiotechnology.11.0531a

Silva LC, Paiva R, Swennen R, Andrè E, Panis B (2014) Cryopreservation of Byrsonima intermedia embryos followed by room temperature thawing. Acta Sci Agron 36(3):309–315. https://doi.org/10.4025/actasciagron.v36i3.19688

Smith P (2018) The book of seeds: a life-size guide to six hundred species from around the world. University of Chicago Press, Edição First. 656 pp

Streczynski R, Clark H, Whelehan LM, Ang ST, Hardstaff LK, Funnekotter B, Bunn E, Offord CA, Sommerville KD, Mancera RL (2019) Current issues in plant cryopreservation and importance for ex situ conservation of threatened Australian native species. Aust J Bot 67(1):1–15. https://doi.org/10.1071/BT18147

Uchendu EE, Leonard SW, Traber MG, Reed BM (2010) Vitamins C and E improve regrowth and reduce lipid peroxidation of blackberry shoot tips following cryopreservation. Plant Cell Rep 29:25–35. https://doi.org/10.1007/s00299-009-0795-y

Ulisses C, Camara TR, Willadino L, Albuquerque CC, Brito JZ (2010) Early somatic embryogenesis in Heliconia chartacea Lane ex Barreiros cv. Sexy Pink ovary section explants. Braz Arch Biol Technol 53(1):11–18. https://doi.org/10.1590/S1516-89132010000100002

Wang R-R, Gao X-X, Chen L, Huo L-Q, Li M-F, Wang Q-C (2014) Shoot recovery and genetic integrity of Chrysanthemum morifolium shoot tips following cryopreservation by droplet-vitrification. Sci Hortic 176(11):330–339. https://doi.org/10.1016/j.scienta.2014.07.031

Wen B, Wang R (2010) Pretreatment incubation for culture and cryopreservation of Sabal embryos. Plant Cell Tissue Organ Cult 102:237–243. https://doi.org/10.1007/s11240-010-9727-3

Wilkinson T, Wetten A, Prychid C, Fay MF (2003) Suitability of cryopreservation for the long-term storage of rare and endangered plant species: a case history for Cosmos atrosanguineus. Ann Bot 91(1):65–74. https://doi.org/10.1093/aob/mcg009
Funding
The authors kindly acknowledge the National Council for Scientific and Technological Development (CNPq), the Coordination for the Improvement of Higher Education Personnel (CAPES), and the Research Support Foundation of the State of Minas Gerais (FAPEMIG) for the financial support of this study.
Ethics declarations
Conflict of interest
The authors declare that they have no conflict of interest
About this article
Cite this article
Figueiredo, J.R.M., Paiva, P.D.d., da Silva, D.P.C. et al. Anatomical changes and cytogenetic stability in bird of paradise plants after zygotic embryo cryopreservation by desiccation method. In Vitro Cell.Dev.Biol.-Plant (2021). https://doi.org/10.1007/s11627-020-10149-x
Received:

Accepted:

Published:
Keywords
Acclimatization

Dehydration

Germplasm

Long-term conservation

Silica gel

Strelitzia reginae Aiton