Abstract
Lecythis pisonis Cambess, popularly known as sapucaia, has great economic and socio-environmental potential. The objective of this study was to evaluate the establishment and in vitro morphogenesis of L. pisonis under the effect of disinfecting agents, plant growth regulators, and thermal stress. The study was divided into three experiments: (i) development of the disinfection protocol by testing different concentrations and times of exposure to sodium hypochlorite (NaOCl) and different concentrations and methods of amoxicillin application, (ii) in vitro budding induction by testing different concentrations of 6-benzylaminopurine (BAP) or kinetin (KIN) supplemented to Woody Plant Medium (WPM) and Murashige and Skoog (MS) culture media, and (iii) in vitro formation from plantlets by analyzing different concentrations of indole-3-butyric acid (IBA) with different exposure times to a thermal stress of 40°C. The disinfection of stem segments was effective using 3% NaOCl and 3.0 g L−1 amoxicillin solution. MS culture medium supplemented with 0.25 mg L−1 BAP induced more shoots in vitro. One milligram per liter IBA promoted greater rooting in vitro, and it is not necessary for thermal stress tolerance.
This is a preview of subscription content, log in to check access.
Access options
Buy single article
Instant access to the full article PDF.
US$ 39.95
Price includes VAT for USA
Subscribe to journal
Immediate online access to all issues from 2019. Subscription will auto renew annually.
US$ 99
This is the net price. Taxes to be calculated in checkout.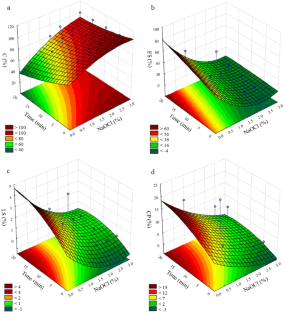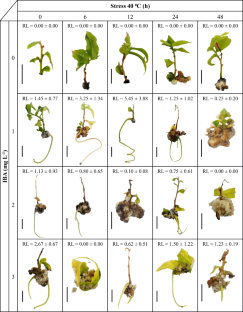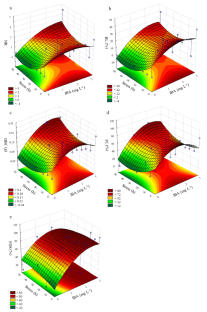 References
Abbasi NA, Pervaiz T, Hafiz IA, Yaseen M, Hussain A (2013) Assessing the response of indigenous loquat cultivar Mardan to phytohormones for in vitro shoot proliferation and rooting. J Zhejiang Univ Sci B 14:774–784

Andrade WF (2010) Indução de rejuvenescimento de teca (Tectona grandis L. a através de enxertia seriada e micropropagação. Tese, Universidade de São Paulo, São Paulo, 76 f.

ANVISA (2018) Agência Nacional de Vigilância Sanitária. Available in: http://www.anvisa.gov.br/datavisa/fila_bula/frmVisualizarBula.asp?pNuTransacao=2579622015&pIdAnexo=2530601. Accessed 20 Feb 2018

Aremu AO, Bairu MW, Novák O, Plačková L, Zatloukal M, Doležal K, Finnie JF, Strnad M, Van Staden J (2012) Physiological responses and endogenous cytokinin profiles of tissue-cultured 'Williams' bananas in relation to roscovitine and an inhibitor of cytokinin oxidase/dehydrogenase (INCYDE) treatments. Planta 236:1775–1790

Barbosa Filho J, Carvalho MAD, Oliveira LS, Konzen ER, Brondani GE (2018) Mini-cutting technique for Khaya anthotheca: selection of suitable IBA concentration and nutrient solution for its vegetative propagation. J For Res 29:73–84

Barone JO (2019) Use of multiple regression analysis and artificial neural networks to model the effect of nitrogen in the organogenesis of Pinus taeda L. Plant Cell Tiss Org Cult 137:455–464

Brondani GE, Ondas HWW, Baccarin FJB, Gonçalves NA, Almeida M (2012) Micropropagation of Eucalyptus benthamii to form a clonal micro-garden. In Vitro Cell Dev Biol - Plant 48:478–487

Carpio-Perochena A, Bramante CM, De Andrade FB, Maliza AG, Cavenago BC, Marciano MA, Amoroso-Silva P, Duarte MH (2015) Antibacterial and dissolution ability of sodium hypochlorite in different pHs on multi-species biofilms. Clin Oral Investig 19:2067–2073

Carvalho PER (2006) Espécies arbóreas brasileiras, vol 2. EMBRAPA, Colombo 627 p

Corrêa LDR, Fett-Neto AG (2004) Effects of temperature on adventitious root development in microcuttings of Eucalyptus saligna smith and Eucalyptus globulus Labill. J Therm Biol 29:315–324

Cruz CD (2016) Genes software - extended and integrated with the R, Matlab and Selegen. Acta Sci Agron 38:547–552

Cunha ACMCM, Paiva HN, Barros NF, Leite HG, Leite FP (2009) Relação do estado nutricional de minicepas com o enraizamento de miniestacas de eucalipto. Rev Bras Ciênc Solo 33:591–599

Cunha ACMCM, Wendling I, Souza Júnior L (2005) Produtividade e sobrevivência de minicepas de Eucalyptus benthamii Maiden et Cambage em sistema de hidroponia e em tubete. Ciênc Florestal 15:307–310

Cunha ACMCM, Wendling I, Souza Júnior L (2008) Miniestaquia em sistema de hidroponia e em tubetes de corticeira-do-mato. Ciênc Florestal 18:85–92

Dias MI, Barros L, Sousa MJ, Oliveira BMPP, Santos-Buelga C, Ferreira ICFR (2017) Enhancement of nutritional and bioactive compounds by in vitro culture of wild Fragaria vesca L. vegetative parts. Food Chem 15:212–219

Donato VMTS, Andrade AG, Takaki GMC, Mariano RLR, Maciel GA (2005) Plantas de cana-de-açúcar cultivadas in vitro com antibióticos. Ciênc Agrotec 29:134–141

Erig AC, Schuch MW (2005) Micropropagação fotoautotrófica e uso da luz natural. Ciênc Rural 35:961–965

Fernandes SJO, Santana RC, Silva EB, Souza CMP, Silva CT (2018) Minicuttings rooting time of eucalyptus from minigardens managed with different water irrigation levels. Ciênc Florestal 28:591–600

George EF, Hall MA, De Klerk G-J (2008) Plant propagation by tissue culture. Springer, Dordrecht p 502

Gonçalves JLM, Benedetti V (2005) Nutrição e fertilização florestal. Instituto de Pesquisas e Estudos Florestais, Piracicaba p 427

Gutiérrez IEM, Nepomuceno CF, Ledo CAS, Santana JRF (2011) Regeneração in vitro via organogênese direta de Bauhinia cheilantha. Ciênc Rural 41:260–265

Haissig BE, Nelson ND, Kidd GH (1987) Trends in the use of tissue culture in forest improvement. Nat Biotechnol 5:52–59

Jaworek P, Kopečný D, Zalabák D, Šebela M, Kouřil Š, Hluska T, Končitíková R, Podlešáková K, Tarkowski P (2019) Occurrence and biosynthesis of cytokinins in poplar. Planta 250:1–16

Lloyd G, McCown B (1980) Use of microculture for production and improvement of Rhododendron spp. HortScience 15:416–420

Mantovani N, Roveda M, Tres L, Fortes FO, Grando MF (2017) Cultivation of canafistula (Peltophorum dubium) in mini-clonal hedge and propagation by mini-cuttings. Ciênc Florestal 27:225–236

Mukherji S, Wareing PF (1983) The effect of penicillin on the levels of endogenous gibberellins and cytokinins in mungbean (Vigna radiata L.) seedlings. Biol Plant 25:161–165

Murashige T, Skoog F (1962) A revised medium for rapid growth and bio assays with tobacco tissue cultures. Physiol Plant 15:473–497

Naozuka J, Vieira EC, Nascimento AN, Oliveira PV (2011) Elemental analysis of nuts and seeds by axially viewed ICP OES. Food Chem 124:1667–1672

Neubert VF, Xavier A, Paiva HN, Dias PC, Gallo R (2017) Production of mini-cuttings and the influence of leaf reduction on rooting of vinhático (Plathymenia foliolosa Benth.). Rev Árvore 41:e410402

Oliveira VB, Yamada LT, Fagg CW, Brandão MGL (2012) Native foods from Brazilian biodiversity as a source of bioactive compounds. Food Res Int 48:170–179

Palú EG, Correa LS, Suzuki AN, Boliani AC (2011) Uso de antibióticos para o controle de bactérias endógenas visando à micropropagação da figueira. Rev Bras Frutic 33:587–592

Paulucio MC (2016) Germinação ex vitro e potencial organogênico e embriogênico in vitro de Lecythis pisonis Cambess. Dissertação de Mestrado, Universidade Federal do Espírito Santo, Jerônimo Monteiro, Espírito Santo, 74 f

Pereira GA, Correa LS, Boliani AC (2011) Desinfestação e estabelecimento in vitro de explantes de bananeira 'Grande naine' em diferentes concentrações de hipoclorito de sódio. Rev Bras Frutic 33:222–226

Purohit S (1985) Hormonal regulation of plant growth and development. Dungar College, Bikaner 412 p

Rios MNS, Pastore Júnior F (2011) Plantas da Amazônia: 450 espécies de uso geral. Universidade de Brasília, Brasília, DF 1650 p

Rocha JHT, Backes C, Borelli K, Prieto MR, Santos AJM, Godinho TO (2015) Produtividade do minijardim e qualidade de miniestacas de um clone híbrido de Eucalyptus grandis x Eucalyptus urophylla (I-224) em função de doses de nitrogênio. Ciênc Florestal 25:273–279

Rocha SC, Quoirin M, Ribas LLF, Koehler HS (2007) Micropropagation of Cabralea canjerana. Rev Árvore 31:43–50

Samuelson ME, Campbell WH, Larsson CM (1995) The influence of cytokinins in nitrate regulation of nitrate reductase activity and expression in barley. Physiol Plant 93:533–539

Silva MPS, Barroso DG, Souza JS, Ferreira DA, Carneiro JGA (2012) Enraizamento de miniestacas e produtividade de minicepas de cedro australiano manejadas em canaletões e tubetes. Ciênc Florestal 22:703–713

Souza JS, Barroso DG, Silva MPS, Ferreira DA (2015) Produtividade de minicepas de cedro-australiano em função do teor inicial de nutrientes. Rev Floresta 45:617–624

Souza JS, Barroso DG, Silva MPS, Ferreira DA, Gravina GA, Carneiro JGA (2014) Produtividade de minicepas de cedro australiano e remoção de nutrientes pela coleta sucessiva de miniestacas. Ciênc Florestal 24:71–77

Souza RA, Dantas PVP, Cavalcante PF, Tenório RR, Houllou LM (2017) Basic procedure for the in vitro propagation of Brazilian trees for reforestation purposes. J Environ Anal Prog 2:107–114

Steffens B, Rasmussen A (2016) The physiology of adventitious roots. Plant Physiol 170:603–617

Stuepp CA, Zuffellato-Ribas KC, Koehler HS, Wendling I (2015) Rooting mini-cuttings of Paulownia fortunei var. mikado derived from clonal mini-garden. Rev Árvore 39:497–504

Sun J, Qi L, Li Y, Chu J, Li C (2012) PIF4-mediated activation of YUCCA8 expression integrates temperature into the auxin pathway in regulating Arabidopsis hypocotyl growth. PLoS Genet 8:e1002594

Taiz L, Zeiger E (1991) Plant physiology. The Benjamin/Cummings publishing company, Inc, California 559 p

Teixeira GL, Ávila S, Silveira JLM, Ribani M, Ribani RH (2018) Chemical, thermal and rheological properties and stability of Sapucaia (Lecythis pisonis) nut oils. J Therm Anal Calorim 131:2105–2121

Titon M, Xavier A, Otoni WC (2006) Clonal propagation of Eucalyptus grandis using the mini-cutting and micro-cuttings techniques. Sci For 71:109–117

Verstraeten I, Geelen D (2015) Adventitious rooting and browning are differentially controlled by auxin in rooting-recalcitrant Elegia capensis (Burm. F.) Schelpe. J Plant Growth Regul 34:475–484

Wang B, Pang M, Xie X, Zhao M, Xie K, Zhang Y, Zhao X, Wang Y, Wang R, Wu H, Zhang G, Dai G, Wang J (2017) Quantitative analysis of amoxicillin, amoxicillin major metabolites, and ampicillin in chicken tissues via ultra-performance liquid chromatography-electrospray ionization tandem mass spectrometry. Food Anal Methods 10:3292–3305

Wendling I, Trueman SJ, Xavier A (2014) Maturation and related aspects in clonal forestry - part I: concepts, regulation and consequences of phase change. New For 45:449–471
Acknowledgments
We thank the Coordenação de Aperfeiçoamento de Pessoal de Nível Superior (CAPES), Conselho Nacional de Desenvolvimento Científico e Tecnológico (CNPq), and the Programa de Pós-Graduação em Ciências Florestais of the Universidade Federal do Espírito Santo for providing the necessary resources for implementation and execution of this work.
Ethics declarations
Conflict of interest
The authors declare that they have no conflict of interest.
Human and animal rights
This research did not involve experiments with human or animal participants.
Informed consent
Informed consent was obtained from all individual participants included in the study. Additional informed consent was obtained from all individual participants for whom identifying information is included in this article.
Additional information
Editor: Marco Buenrostro-Nava
About this article
Cite this article
de Mello, T., de Oliveira Gonçalves, E., Alexandre, R.S. et al. Establishment and in vitro morphogenesis of sapucaia explants (Lecythidaceae). In Vitro Cell.Dev.Biol.-Plant (2020). https://doi.org/10.1007/s11627-020-10091-y
Received:

Accepted:

Published:
Keywords
Lecythis pisonis
in vitro propagation

Disinfectant agents

Growth regulators

Thermal stress