Abstract
This study aimed to explore the regulatory mechanism of metabolism of xenobiotics by cytochrome P450 during the differentiation process of chicken embryonic stem cells (ESCs) into spermatogonial stem cells (SSCs) and consummate the induction differentiation system of chicken embryonic stem cells (cESCs) into SSCs in vitro. We performed RNA-Seq in highly purified male ESCs, male primordial germ cells (PGCs), and SSCs that are associated with the male germ cell differentiation. Thereinto, the metabolism of xenobiotics by cytochrome P450 was selected and analyzed with Venny among male ESC vs male PGC, male PGC vs SSC, and male ESC vs SSC groups and several candidates differentially expressed genes (DEGs) were excavated. Finally, quantitative real-time PCR (qRT-PCR) detected related DEGs under the condition of retinoic acid (RA) induction in vitro, and the expressions were compared with RNA-Seq. By knocking down CYP1A1, we detected the effect of CYP1A1-mediated metabolism of xenobiotics by cytochrome P450 on male germ cell differentiation by qRT-PCR and immunocytochemistry. Results showed that 17,742 DEGs were found during differentiation of ESCs into SSCs and enriched in 72 differently significant pathways. Thereinto, the metabolism of xenobiotics by cytochrome P450 was involved in the whole differentiation process of ESCs into SSCs and several candidate DEGs: CYP1A1, CYP3A4, CYP2D6, ALDH3B1, and ALDH1A3 were expressed with the same trend with RNA-Seq. Knockdown of CYP1A1 caused male germ cell differentiation under restrictions. Our findings showed that the metabolism of xenobiotics by cytochrome P450 was significantly different during the process of male germ cell differentiation and was persistently activated when we induced cESCs to differentiate into SSCs with RA in vitro, which illustrated that the metabolism of xenobiotics by cytochrome P450 played a crucial role in the differentiation process of ESCs into SSCs.
Access options
Buy single article
Instant access to the full article PDF.
USD 39.95
Price includes VAT (USA)
Tax calculation will be finalised during checkout.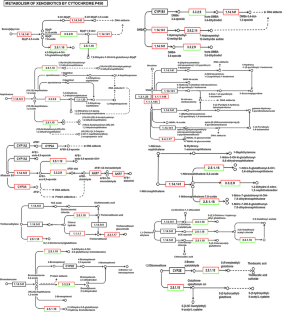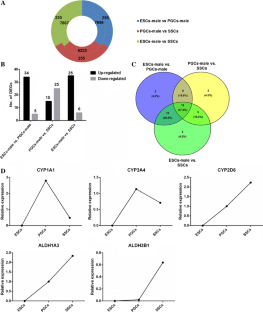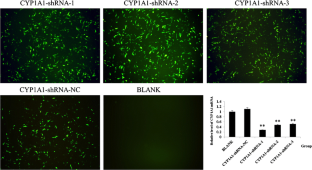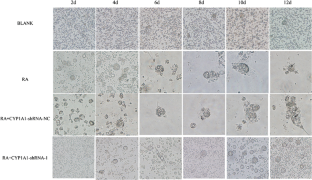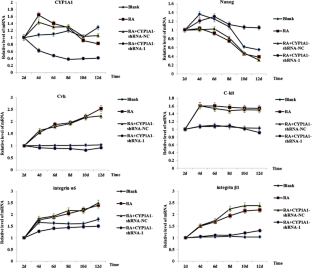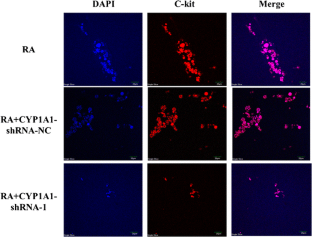 References
Adedoyin A, Stiff DD, Smith DC et al (1997) All-trans-retinoic acid modulation of drug-metabolizing enzyme activities: investigation with selective metabolic drug probes [J]. Cancer Chemother Pharmacol 41(2):133–139

Andreola F, Fernandez-Salguero PM, Chiantore MV et al (1997) Aryl hydrocarbon receptor knockout mice (AHR−/−) exhibit liver retinoid accumulation and reduced retinoic acid metabolism[J]. Cancer Res 57(14):2835–2838

Bowles J, Knight D, Smith C et al (2006) Retinoid signaling determines germ cell fate in mice. Science 312(5773):596–600

Drusenheimer N, Wulf G, Nolte J et al (2007) Putative human male germ cells from bone marrow stem cells[J]. Society of Reproduction and Fertility supplement 63:69–76

Fares-Taie L, Gerber S, Chassaing N et al (2013) ALDH1A3 mutations cause recessive anophthalmia and microphthalmia[J]. Am J Hum Genet 92(2):265–270

Galeotti T, Masotti L, Borrello S et al (1991) Oxyradical metabolism and control of tumor growth. Xenobiotica 21(8):1041–1051

Hamburger V, Hamilton HL (1951) A series of normal stages in the development of the chicken[J]. Morphol 88(1):49–92

Huang Z, Rivas B, Agoulnik AI (2013) NOTCH1 gain of function in germ cells causes failure of spermatogenesis in male mice. PLoS One 8(7):e71213

Koubova J, Menke DB, Zhou Q et al (2006) Retinoic acid regulates sex-specific timing of meiotic initiation in mice. Proc Natl Acad Sci U S A 103(8):2474–2479

Leroy P, Nakshatri H, Chambon P (1991) Mouse retinoic acid receptor α2 isoform is transcribed from a promoter that contains a retinoic response element. Proc Natl Acad Sci U S A 88(22):10138–10142

Li BC, Chen GH, Zhao DW et al (2002) Relationship between PGCs migration and gonad development in the early chicken embryo. J Yangzhou Univ 23(1):18–26

Li CX, Wu ZX, Wang LS (2013) Research progress of aldehyde dehydrogenase superfamily [J]. Journal of Shanghai Jiaotong University (Medical Science) 33(6):886

Li D, Zuo QS, Lian C et al (2015) Regulatory mechanism of protein metabolic pathway during the differentiation process of chicken male germ cell[J]. Vitro Cellular & Developmental Biology-Animal 51(7):655–661

Lian C, Zuo QS, Li D et al (2015) Basing RNA-seq explored the regulatory mechanism of the carbohydrate metabolism pathways during chicken male germ cell differentiation[J]. Vitro Cellular & Developmental Biology-Animal 51(7):1–7

McSorley LC, Daly AK (2000) Identification of human cytochrome P450 isoforms that contribute to all-trans-retinoic acid 4-hydroxylation[J]. Biochem Pharmacol 60(4):517–526

Miles DC, Wakeling SI, Stringer JM et al (2013) Signaling through the TGF beta-activin receptors ALK4/5/7 regulates testis formation and male germ cell development. PLoS One 8(1):e54606

Nadin L, Murray M (1999) Participation of CYP2C8 in retinoic acid 4-hydroxylation in human hepatic microsomes[J]. Biochem Pharmacol 58(7):1201–1208

Niwa T, Murayama N, Yamazaki H (2011) Comparison of cytochrome P450 2D6 and variants in terms of drug oxidation rates and substrate inhibition[J]. Curr Drug Metab 12(5):412–435

Oatley JM, Kaucher AV, Avarbock MR et al (2010) Regulation of mouse spermatogonial stem cell differentiation by STAT3 signaling[J]. Biol Reprod 83(3):427–433

Pappa A, Brown D, Koutalos Y et al (2005) Human aldehyde dehydrogenase 3A1 inhibits proliferation and promotes survival of human corneal epithelial cells[J]. J Biol Chem 80(30):27998–28006

Pujolar JM, Milan M, Marino IA et al (2013) Detecting genome-wide gene transcription profiles associated with high pollution burden in the critically endangered European eel [J]. Aquat Toxicol 132:157–164

Ross SA, McCaffery PJ, Drager UC et al (2000) Retinoids in embryonal development. Physiol Rev 80(3):1021–1054

Saadeddin A, Torres-Molina F, Cárcel-Trullols J et al (2004) Effect of cytochrome P450 inhibitors (diethyl dithiocarbamate, ketoconazole and grapefruit juice) on the pharmacokinetics of all-trans-retinoic acid[J]. Il Farmaco 59(9):697–702

Schmidt CK, Hoegberg P, Fletcher N et al (2003) 2,3,7,8-Tetrachlorodibenzo-p-dioxin (TCDD) alters the endogenous metabolism of all-trans-retinoic acid in the rat[J]. Arch Toxicol 77(7):371–383

Smith W, Nakshatri H, Leroy P et al (1991) A retinoic acid response element is present in the mouse cellular retinol binding protein I (mCRBPI) promoter. EMBO J 10(8):2223–2230

Sun M (2012) Study on male germ cell derived from chicken embryonic stem cell and the generation of transgenic chicken [J]. Ph. D. Dissertation

Sun M, Shi QQ, Fu DZ et al (2011) Study of the expression of gene cell differentiation associated genes on chicken ESC and SSCs[J]. J Biotechnol 21(3):16–19

Sun M, Shi QQ, Li BC (2012) Research progress on differentiation of embryonic stem cells into male germ cells [J]. Chin Bull Life Sci 24(1):37–42

Trasino SE, Harrison EH, Wang TT (2007) Androgen regulation of aldehyde dehydrogenase 1A3 (ALDH1A3) in the androgen-responsive human prostate cancer cell line LNCaP[J]. Exp Biol Med 232(6):762–771

Wang P, Liu XD (2011) Cytochrome P450s and the metabolism of vitamin A. Chin J Clin Pharmacol Ther[J] 16(4):474–480

Yang CS, Lu YH (1987) The diversity of substrates for cytochrome P450. In: FP Guengerich. Mammalian cytochrome P450. CRC public, 1–17

Zhang XJ, Wen XX, Zhao L et al (2012) Immunolocalization of Smad4 protein in the testis of domestic fowl (Gallus domesticus) during postnatal development[J]. Acta Histochem 114(5):429–433

Zhang ZT, Elsayed AK, Shi QQ et al (2015) Crucial genes and pathways in chicken germ stem cell differentiation. J Biol Chem 290(21):13605–13621

Zuo QS, Li D, Zhang L et al (2015) Study on the regulatory mechanism of the lipid metabolism pathways during chicken male germ cell differentiation based on RNA-seq[J]. PLoS One 10(2):e0109469
Acknowledgments
The authors would like to thank Maozhi Hu, Testing Center, Yangzhou University, Yangzhou, Jiangsu, China, for his interpretation and data analysis. We would like to thank Poultry Institute, Chinese Academy of Agricultural Sciences Experimental Poultry Farm for providing the experimental materials. This work was supported by the National Natural Science Foundation of China (31301959, 31472087). All procedures involving the care and use of animals conformed to US National Institute of Health guidelines (NIH Pub. No. 85-23, revised 1996) and were approved by the laboratory animal management and experimental animal ethics committee of Yangzhou University.
Ethics declarations
Conflict of interest
The authors declare that they have no conflict of interest.
About this article
Cite this article
Li, D., Wang, M., Cheng, S. et al. CYP1A1 based on metabolism of xenobiotics by cytochrome P450 regulates chicken male germ cell differentiation. In Vitro Cell.Dev.Biol.-Animal 53, 293–303 (2017). https://doi.org/10.1007/s11626-016-0108-z
Received:

Accepted:

Published:

Issue Date:
Keywords
RNA-Seq

Embryonic stem cells

Primordial germ cells

Spermatogonial stem cells

Metabolism of xenobiotics by cytochrome P450

Differentiation