Abstract
In September 2015, the United Nations General Assembly agreed on an agenda for sustainable development in member countries. Nations committed themselves to meeting 17 Sustainable Development Goals (SDGs), involving 169 socio-economic targets, by year 2030. To measure progress in meeting those targets, it was proposed to track more than 240 socio-economic indicators over the coming years. What is, however, missing from the list is an indicator that can be used to judge whether the policies that countries follow to meet the targets protect and promote sustainable development. We offer an account of the concept of inclusive wealth report findings that has tracked the inclusive wealth of 140 countries for the period 1992–2014.
Access options
Buy single article
Instant access to the full article PDF.
US$ 39.95
Tax calculation will be finalised during checkout.
Subscribe to journal
Immediate online access to all issues from 2019. Subscription will auto renew annually.
US$ 79
Tax calculation will be finalised during checkout.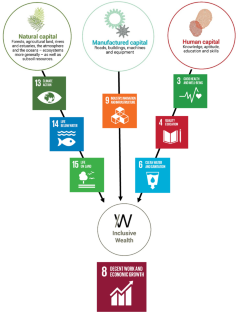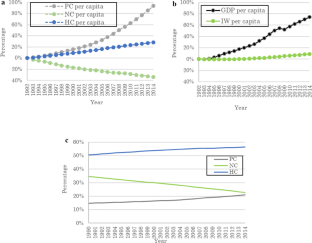 References
Arrow KJ, Dasgupta P, Goulder LH, Mumford KJ, Oleson K (2013) Sustainability and the measurement of wealth: further reflections. Environ Dev Econ 18(4):504–516

Costanza R, Kubiszewski I, Giovannini E et al (2014) Time to leave GDP. Nature 505:283–285

Dasgupta P (2004) Human well-being and the natural environment, 2nd edn. Oxford University Press, Oxford

Dasgupta P (2021) The economics of biodiversity: the Dasgupta review. HM Treasury, London (forthcoming)

Dasgupta P, Duraiappah A, Managi S, Barbier E, Collins R, Fraumeni B, Gundimeda H, Liu G, Mumford KJP (2015) How to measure sustainable progress. Science 13(35):748

Halkos G, Managi S, Tsilika K (2018) Measuring air polluters' responsibility in transboundary pollution networks. Environ Econ Policy Stud 20:619–639

Managi S (2020) Interview with Sir Partha Dasgupta. Environ Econ Policy Stud 22:339–356

Managi S, Kumar P (2018) Inclusive Wealth Report 2018: measuring progress toward sustainability. Routledge, New York

Sato M, Kenta K, Managi S (2018) Inclusive wealth, total factor productivity, and sustainability: an empirical analysis. Environ Econ Policy Stud 20:741–757

Tol RSJ (2011) The social cost of carbon. Annu Rev Resour Econ 3:419–443

United Nations (2015) Sustainable Development Goals, United Nations. https://www.un.org/sustainabledevelopment/sustainable-development-goals. Accessed 23 Sept 2016

van den Bergh JCJM (2009) The GDP paradox. J Econ Psychol 30:117–135

World Commission on Environment and Development (1987) our common future. Oxford University Press, New York
Additional information
Publisher's Note
Springer Nature remains neutral with regard to jurisdictional claims in published maps and institutional affiliations.
Handled by Moinul Islam, Kyushu University, Japan.
About this article
Cite this article
Dasgupta, P., Managi, S. & Kumar, P. The inclusive wealth index and sustainable development goals. Sustain Sci (2021). https://doi.org/10.1007/s11625-021-00915-0
Received:

Accepted:

Published:
Keywords
Inclusive wealth

sustainable development

Natural capital

Produced capital

Human capital

Global