Access options
Buy single article
Instant access to the full article PDF.
US$ 39.95
Tax calculation will be finalised during checkout.
Subscribe to journal
Immediate online access to all issues from 2019. Subscription will auto renew annually.
US$ 79
Tax calculation will be finalised during checkout.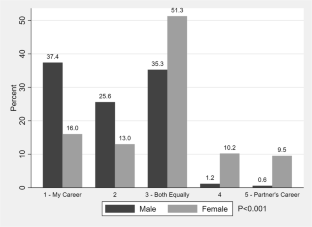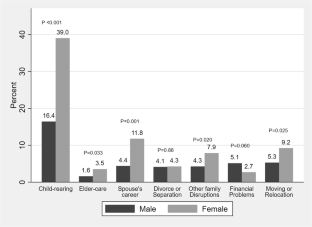 References
1.

Jolly S, Griffith KA, DeCastro R, Stewart A, Ubel P, Jagsi R. Gender differences in time spent on parenting and domestic responsibilities by high-achieving young physician-researchers. Ann Intern Med. 2014;160(5):344-53. https://doi.org/10.7326/M13-0974

2.

Strong EA, De Castro R, Sambuco D, et al. Work-life balance in academic medicine: narratives of physician-researchers and their mentors. J Gen Intern Med. 2013;28(12):1596-603. https://doi.org/10.1007/s11606-013-2521-2

3.

Ferrante L, Mody L. Dual-physician households: Strategies for the 21st century. JAMA. 2019;321(22):2161-2.

4.

Greenblatt E. Work/life balance: wisdom or whining? Organizational Dynamics. 2002;31(2):177–93.

5.

Jagsi R, Griffith KA, Jones RD, Stewart A, Ubel PA. Factors Associated With Success of Clinician-Researchers Receiving Career Development Awards From the National Institutes of Health: A Longitudinal Cohort Study. Acad Med. 2017;92(10):1429-39. https://doi.org/10.1097/ACM.0000000000001728

6.

Gutek BA, Searle S, Klepa L. Rational versus gender role explanations for work-family conflict. J Appl Psychol. 1991;76(4):560-8.
Funding
This work was supported by Grant 5 RO1 HL 101997 from the National Institutes of Health (NIH) to Dr. Jagsi. The funding agency had no role in the design and conduct of the study; collection, management, analysis, and interpretation of the data; preparation, review, or approval of the manuscript; and decision to submit the manuscript for publication.
REDCap electronic data capture tools hosted at the University of Michigan and funded by CTSA UL1TR000433 were used to manage the study data.
Ethics declarations
Conflict of Interest
Dr. Jagsi has stock options as compensation for her advisory board role in Equity Quotient, a company that evaluates culture in health care companies; she has received personal fees from Amgen and Vizient and grants for unrelated work from the National Institutes of Health, the Doris Duke Foundation, the Greenwall Foundation, the Komen Foundation, and Blue Cross Blue Shield of Michigan for the Michigan Radiation Oncology Quality Consortium. She has a contract to conduct an investigator-initiated study with Genentech. She has served as an expert witness for Sherinian and Hasso and Dressman Benzinger LaVelle. She is an uncompensated founding member of TIME'S UP Healthcare and a member of the Board of Directors of ASCO. Dr. Ubel was supported by grants from the NIH and from the Robert Wood Johnson Foundation (Investigator Award in Health Policy Research). Dr. Mody was supported by grants from the NIH, VA, AHRQ and from the Dan and Betty Kahn Foundation.
Additional information
Publisher's Note
Springer Nature remains neutral with regard to jurisdictional claims in published maps and institutional affiliations.
About this article
Cite this article
Mody, L., Griffith, K.A., Jones, R.D. et al. Gender Differences in Work-Family Conflict Experiences of Faculty in Academic Medicine. J GEN INTERN MED (2021). https://doi.org/10.1007/s11606-020-06559-7
Received:

Accepted:

Published: