Abstract
Background
Most adult patients are willing to discuss advance care planning before the onset of any illness. There might be differences in preferences for timing when it comes to initiating advance care planning discussions by healthcare providers with patients.
Objective
To identify healthcare providers' willingness to initiate advance care planning discussions in Japan.
Design
A mixed-methods questionnaire comprising three case scenarios based on three different illness trajectories.
Participants
The study participants were physicians and nurses employed in four community hospitals in Japan.
Main Measures
Percentages of physicians' and nurses' willingness to initiate advance care planning discussions at four stages of patients' illness trajectory were quantitatively determined, and perceptions on preferred timing were qualitatively identified.
Key Results
From 108 physician and 123 nurse respondents (response rate: 99%), 291 physician and 362 nurse responses about three case scenarios were obtained. Overall, 51.2% of physicians and 65.5% of nurses (p < 0.001) accepted discussion before illness. Less than one-third of physicians considered advance care planning a "wise precaution," while about two-thirds of nurses did. Additionally, more than half of both physicians and nurses preferred to postpone advance care planning until the patient's imminent death.
Conclusions
Physicians are less willing than nurses to begin advance care planning discussions before patients' health has deteriorated though most prefer to wait until the patients are close to death. Healthcare providers' attitudes toward advance care planning will need to be addressed to improve rates of completion in Japan.
Access options
Buy single article
Instant access to the full article PDF.
US$ 39.95
Tax calculation will be finalised during checkout.
Subscribe to journal
Immediate online access to all issues from 2019. Subscription will auto renew annually.
US$ 79
Tax calculation will be finalised during checkout.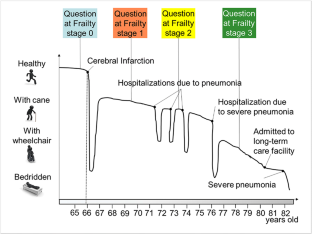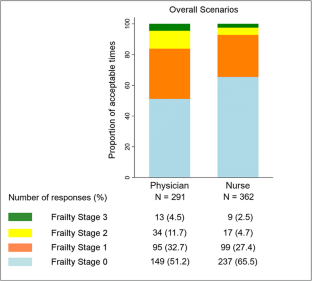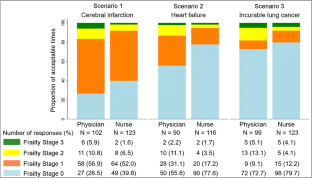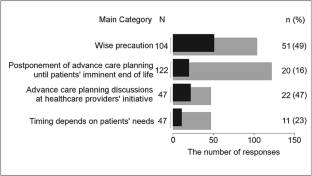 References
1.

Rietjens JAC, Sudore RL, Connolly M, et al. Definition and recommendations for advance care planning: an international consensus supported by the European Association for Palliative Care. Lancet Oncol. 2017;18(9):e543-e51.

2.

Mullick A, Martin J, Sallnow L. An introduction to advance care planning in practice. BMJ (Clinical research ed). 2013;347:f6064.

3.

Gott M, Gardiner C, Small N, et al. Barriers to advance care planning in chronic obstructive pulmonary disease. Palliat Med. 2009;23(7):642-8.

4.

Munday D, Petrova M, Dale J. Exploring preferences for place of death with terminally ill patients: qualitative study of experiences of general practitioners and community nurses in England. BMJ (Clinical research ed). 2009;339:b2391.

5.

Boyd K, Mason B, Kendall M, et al. Advance care planning for cancer patients in primary care: a feasibility study. Br J Gen Pract. 2010;60(581):e449-58.

6.

Nakazawa K, Kizawa Y, Maeno T, et al. Palliative care physicians' practices and attitudes regarding advance care planning in palliative care units in Japan: a nationwide survey. The American journal of hospice & palliative care. 2014;31(7):699-709.

7.

Ministry of Health Labour and Welfare. The attitude survey for end-of-life care, Summary of the report. 2017. Available at: https://www.mhlw.go.jp/toukei/list/dl/saisyuiryo_a_h29.pdf. Accessed 23 Nov 2018.

8.

Miyashita J, Kohno A, Cheng SY, et al. Patients' preferences and factors influencing initial advance care planning discussions' timing: a cross-cultural mixed-methods study. Palliat Med. 2020;34(7):906-16.

9.

You JJ, Downar J, Fowler RA, et al. Barriers to goals of care discussions with seriously ill hospitalized patients and their families: a multicenter survey of clinicians. JAMA Intern Med. 2015;175(4):549-56.

10.

Creswell JW. A concise introduction to mixed methods research. Thousand Oaks: Sage Publication; 2015.

11.

Murray SA, Kendall M, Boyd K, Sheikh A. Illness trajectories and palliative care. BMJ (Clinical research ed). 2005;330(7498):1007-11.

12.

Lynn J. Living long in fragile health: the new demographics shape end of life care. The Hastings Center Report. 2005;35(6):S14-S8.

13.

Boerner K, Carr D, Moorman S. Family relationships and advance care planning: do supportive and critical relations encourage or hinder planning? J Gerontol B Psychol Sci Soc Sci. 2013;68(2):246-56.

14.

Carr D, Moorman SM, Boerner K. End-of-life planning in a family context: does relationship quality affect whether (and with whom) older adults plan? J Gerontol B Psychol Sci Soc Sci. 2013;68(4):586-92.

15.

Teixeira AA, Hanvey L, Tayler C, et al. What do Canadians think of advanced care planning? Findings from an online opinion poll. BMJ Support Palliat Care. 2015;5(1):40-7.

16.

Fried LP, Tangen CM, Walston J, et al. Frailty in older adults: evidence for a phenotype. J Gerontol A Biol Sci Med Sci. 2001;56(3):M146-56.

17.

Morgan DL. Qualitative content analysis: a guide to paths not taken. Qual Health Res. 1993;3(1):112-21.

18.

Hsieh HF, Shannon SE. Three approaches to qualitative content analysis. Qual Health Res. 2005;15(9):1277-88.

19.

De Vleminck A, Pardon K, Beernaert K, et al. Barriers to advance care planning in cancer, heart failure and dementia patients: a focus group study on general practitioners' views and experiences. PLoS One. 2014;9(1):e84905.

20.

Meeussen K, Van den Block L, Echteld M, et al. Older people dying with dementia: a nationwide study. Int Psychogeriatr. 2012;24(10):1581-91.

21.

Pfeifer MP, Sidorov JE, Smith AC, Boero JF, Evans AT, Settle MB. The discussion of end-of-life medical care by primary care patients and physicians: a multicenter study using structured qualitative interviews. The EOL Study Group. Journal of general internal medicine. 1994;9(2):82-8.

22.

Miyashita M, Morita T, Sato K, Hirai K, Shima Y, Uchitomi Y. Good death inventory: a measure for evaluating good death from the bereaved family member's perspective. Journal of pain and symptom management. 2008;35(5):486-98.

23.

Sanjo M, Miyashita M, Morita T, et al. Preferences regarding end-of-life cancer care and associations with good-death concepts: a population-based survey in Japan. Ann Oncol. 2007;18(9):1539-47.

24.

Miyashita J, Kohno A, Yamamoto Y, et al. How psychosocial factors contribute to japanese older adults' initiation of advance care planning discussions: a qualitative study. J Appl Gerontol. 2020:733464820911537.

25.

Aoki T, Miyashita J, Yamamoto Y, et al. Patient experience of primary care and advance care planning: a multicentre cross-sectional study in Japan. Family practice. 2017;34(2):206-12.

26.

Miyashita J, Yamamoto Y, Shimizu S, et al. Association between social networks and discussions regarding advance care planning among Japanese older adults. PLoS One. 2019;14(3):e0213894.

27.

Shimada C, Nkazato K, Arai K, et al. Communication with important others regarding their preferences for end-of-life care. Nihon Ronen Igakkai Zasshi. 2015;52(1):79-85.

28.

Bito S, Matsumura S, Singer MK, Meredith LS, Fukuhara S, Wenger NS. Acculturation and end-of-life decision making: comparison of Japanese and Japanese-American focus groups. Bioethics. 2007;21(5):251-62.

29.

Lebra TS. Japanese patterns of behavior. Honolulu, Hawaii 96822: University of Hawaii Press; 1976.

30.

Elwyn TS, Fetters MD, Gorenflo W, Tsuda T. Cancer disclosure in Japan: historical comparisons, current practices. Soc Sci Med. 1998;46(9):1151-63.

31.

Voltz R, Akabayashi A, Reese C, Ohi G, Sass HM. End-of-life decisions and advance directives in palliative care: a cross-cultural survey of patients and health-care professionals. Journal of pain and symptom management. 1998;16(3):153-62.

32.

Asai MO, Kameoka VA. The influence of sekentei on family caregiving and underutilization of social services among Japanese caregivers. Social Work. 2005;50(2):111-8.

33.

Yamaguchi S, Cohen SR, Uza M. Family caregiving in Japan: the influence of cultural constructs in the care of adults with cancer. Journal of Family Nursing. 2016;22(3):392-418.

34.

Izumi S. Bridging Western ethics and Japanese local ethics by listening to nurses' concerns. Nurs Ethics. 2006;13(3):275-83.
Funding
This work was supported by an international joint research grant from the Pfizer Health Research Foundation 2016–2017 (principal investigator: Miyashita).
Ethics declarations
Conflict of Interest
The authors declare that they do not have a conflict of interest.
Additional information
Publisher's Note
Springer Nature remains neutral with regard to jurisdictional claims in published maps and institutional affiliations.
Prior Presentations
The 3rd Annual Meeting of the Society for Clinical Epidemiology; September 29th 2019; Fukuoka, Japan.
Supplementary Information
About this article
Cite this article
Miyashita, J., Kohno, A., Shimizu, S. et al. Healthcare Providers' Perceptions on the Timing of Initial Advance Care Planning Discussions in Japan: a Mixed-Methods Study. J GEN INTERN MED (2021). https://doi.org/10.1007/s11606-020-06524-4
Received:

Accepted:

Published:
KEY WORDS
advance care planning

Japan

healthcare provider

mixed-methods study