Access options
Buy single article
Instant access to the full article PDF.
US$ 39.95
Tax calculation will be finalised during checkout.
Subscribe to journal
Immediate online access to all issues from 2019. Subscription will auto renew annually.
US$ 79
Tax calculation will be finalised during checkout.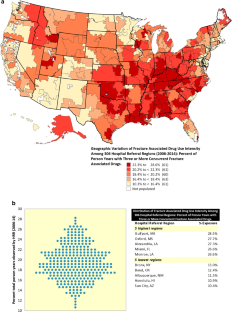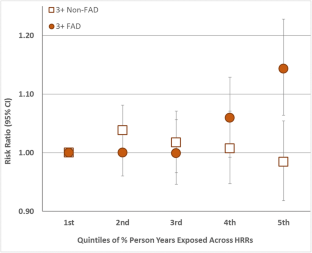 References
1.

Emeny RT, Chang CH, Skinner J, et al. Association of Receiving Multiple, Concurrent Fracture-Associated Drugs With Hip Fracture Risk. JAMA Netw Open. 2019;2(11):e1915348.

2.

Emeny RT, Batsis JA, Morden NE. Intense Use of Fracture-Associated Drugs Among Medicare Beneficiaries in Long-term Care. J General Intern Med. 2020.

3.

Harris-Kojetin L, Sengupta M, Park-Lee E, et al. Long-term care providers and services users in the United States:Data from the National Study of Long-Term Care Providers, 2013–2014. Natl Center Health Stat Vital Health Stat. 2016;3(38).

4.

By the American Geriatrics Society Beers Criteria Update Expert P. American Geriatrics Society 2019 Updated AGS Beers Criteria(R) for Potentially Inappropriate Medication Use in Older Adults. J Am Geriatr Soc. 2019;67(4):674-694.
Acknowledgments
The authors wish to thank Atlas Editor, Kristen Bronner, MA, for graphical expertise and Professor Jonathan Skinner, PhD, for review of early manuscript drafts.
Funding
RTE and NEM were supported by the National Institute on Aging: P01 AG019783, Skinner (PI): Causes and Consequences of Healthcare Efficiency. JB was funded in part by the National Institute on Aging of the National Institutes of Health under Award Number K23AG051681.
Ethics declarations
The Dartmouth Protection of Human Subjects Committee approved this study.
Conflict of Interest
The authors declare that they do not have a conflict of interest.
Disclaimer
The views expressed in this article are those of the authors and no endorsement by the NIA or the NIH is intended or should be inferred.
Additional information
Publisher's Note
Springer Nature remains neutral with regard to jurisdictional claims in published maps and institutional affiliations.
Question: How much regional variation exists in the intensity of fracture-associated drug use in the long-term care (LTC) setting, and how is this variation associated with fracture risk?
Findings: In this cohort study, 1.8 million person-years of Medicare data revealed substantial variation in receipt of three or more concurrent fracture-associated drugs, among LTC residents; areas with greater use of fracture-associated drugs experienced higher risk-adjusted fracture rates.
Meaning: Guidelines to reduce fracture-associated drug use in LTC settings could decrease fractures in this vulnerable population.
About this article
Cite this article
Emeny, R.T., Batsis, J.A. & Morden, N.E. Regional Variation in Fracture-Associated Prescription Drug Use and Hip Fractures in Long-Term Care: an Observational Study. J GEN INTERN MED (2021). https://doi.org/10.1007/s11606-020-06477-8
Received:

Accepted:

Published: