Abstract
Background
Patient knowledge about the purpose of medications is crucial to ensure safe and correct use, so it is an important index of adherence in patients with chronic illness.
Objective
We examined how health literacy and its components (processing capacity and knowledge about illness) influence memory for medication purposes.
Design
We conducted a cross-sectional study to examine memory for medication purposes in relation to health literacy, processing capacity, and illness knowledge among patients with diabetes in outpatient clinics.
Participants
Six hundred seventy-four adults who were diagnosed with type II diabetes mellitus, age 40 years or older, taking 5 or more current medications, native speakers of English, and with glycosylated hemoglobin (HbA1c) of 6.0 or more, were recruited to the study.
Main Measures
We included measures of processing capacity, illness knowledge, health literacy, and actionable memory for medication taking (memory for medication purpose).
Key Results
Results suggested an association between health literacy and both processing capacity and health knowledge, with some evidence that knowledge can compensate for limited processing capacity in order to maintain health literacy. Furthermore, health literacy was associated with memory for medication purposes, with processing capacity and health knowledge partly mediating this association. This pattern of results supports the process-knowledge model of health literacy.
Conclusions
Our findings establish the role of health literacy in medication taking, in relation to broader cognitive abilities and knowledge. Implications for improving the learning of medication purpose among diverse older adults with chronic illness are discussed.
Trial Registration
NIH trial registry number: NCT01296633
Access options
Buy single article
Instant access to the full article PDF.
US$ 39.95
Tax calculation will be finalised during checkout.
Subscribe to journal
Immediate online access to all issues from 2019. Subscription will auto renew annually.
US$ 79
Tax calculation will be finalised during checkout.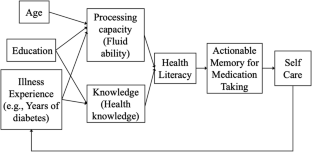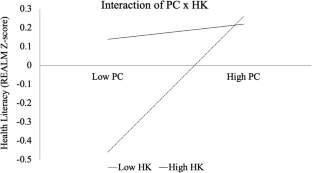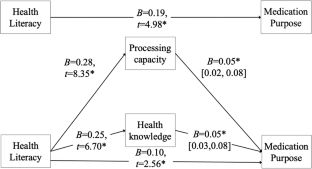 References
1.

McPherson ML, Smith SW, Powers A, Zuckerman IH. Association between diabetes patients' knowledge about medications and their blood glucose control. Res Soc Adm Pharm RSAP. 2008;4(1):37-45. https://doi.org/10.1016/j.sapharm.2007.01.002

2.

Okuyan B, Sancar M, Izzettin FV. Assessment of medication knowledge and adherence among patients under oral chronic medication treatment in community pharmacy settings. Pharmacoepidemiol Drug Saf. 2013;22(2):209-214. https://doi.org/10.1002/pds.3275

3.

Sweileh WM, Zyoud SH, Abu Nab'a RJ, et al. Influence of patients' disease knowledge and beliefs about medicines on medication adherence: findings from a cross-sectional survey among patients with type 2 diabetes mellitus in Palestine. BMC Public Health. 2014;14:94. https://doi.org/10.1186/1471-2458-14-94

4.

Toren O, Kerzman H, Koren N, Baron-Epel O. Patients' Knowledge Regarding Medication Therapy and the Association with Health Services Utilization. Eur J Cardiovasc Nurs. 2006;5(4):311-316. https://doi.org/10.1016/j.ejcnurse.2005.12.001

5.

Broadbent E, Donkin L, Stroh JC. Illness and Treatment Perceptions Are Associated With Adherence to Medications, Diet, and Exercise in Diabetic Patients. Diabetes Care. 2011;34(2):338-340. https://doi.org/10.2337/dc10-1779

6.

Krauskopf K, Federman AD, Kale MS, et al. Chronic Obstructive Pulmonary Disease Illness and Medication Beliefs are Associated with Medication Adherence. COPD. 2015;12(2):151-164. https://doi.org/10.3109/15412555.2014.922067

7.

Morrow DG, Carver LM, Leirer VO, Tanke ED. Medication Schemas and Memory for Automated Telephone Messages. Hum Factors. 2000;42(4):523-540. https://doi.org/10.1518/001872000779698042

8.

Morrow DG, Leirer VO, Andrassy JM, Tanke ED, Stine-Morrow EAL. Medication Instruction Design: Younger and Older Adult Schemas for Taking Medication. Hum Factors. 1996;38(4):556-573. https://doi.org/10.1518/001872096778827305

9.

Kuntz JL, Safford MM, Singh JA, et al. Patient-centered interventions to improve medication management and adherence: a qualitative review of research findings. Patient Educ Couns. 2014;97(3):310-326. https://doi.org/10.1016/j.pec.2014.08.021

10.

Morrow DG, Leirer VO, Carver LM, Tanke ED. Older and younger adult memory for health appointment information: Implications for automated telephone messaging design. J Exp Psychol Appl. 1998;4(4):352-374. https://doi.org/10.1037/1076-898X.4.4.352

11.

Persell SD, Heiman HL, Weingart SN, et al. Understanding of drug indications by ambulatory care patients. Am J Health-Syst Pharm AJHP Off J Am Soc Health-Syst Pharm. 2004;61(23):2523-2527. https://doi.org/10.1093/ajhp/61.23.2523

12.

Scheibehenne B, Wilke A, Todd PM. Expectations of clumpy resources influence predictions of sequential events. Evol Hum Behav. 2011;32(5):326-333. https://doi.org/10.1016/j.evolhumbehav.2010.11.003

13.

U.S. Department of Health and Human services. Healthy People 2010: Understanding and Improving Health. 2nd ed. U.S. Government Printing Office; 2000. http://www.health.gov/healthypeople/. Accessed 13 Sept 2020

14.

Mosher HJ, Lund BC, Kripalani S, Kaboli PJ. Association of health literacy with medication knowledge, adherence, and adverse drug events among elderly veterans. J Health Commun. 2012;17 Suppl 3:241-251. https://doi.org/10.1080/10810730.2012.712611

15.

Al Sayah F, Majumdar SR, Williams B, Robertson S, Johnson JA. Health Literacy and Health Outcomes in Diabetes: A Systematic Review. J Gen Intern Med. 2013;28(3):444-452. https://doi.org/10.1007/s11606-012-2241-z

16.

Berkman ND, Sheridan SL, Donahue KE, Halpern DJ, Crotty K. Low health literacy and health outcomes: an updated systematic review. Ann Intern Med. 2011;155(2):97-107. https://doi.org/10.7326/0003-4819-155-2-201107190-00005

17.

Du S, Zhou Y, Fu C, Wang Y, Du X, Xie R. Health literacy and health outcomes in hypertension: An integrative review. Int J Nurs Sci . Published online June 9, 2018. https://doi.org/10.1016/j.ijnss.2018.06.001

18.

van der Heide I, Uiters E, Rademakers J, Struijs JN, Schuit AJ, Baan CA. Associations Among Health Literacy, Diabetes Knowledge, and Self-Management Behavior in Adults with Diabetes: Results of a Dutch Cross-Sectional Study. J Health Commun. 2014;19(sup2):115-131. https://doi.org/10.1080/10810730.2014.936989

19.

Chin J, Morrow DG, Stine-Morrow EAL, Conner-Garcia T, Graumlich JF, Murray MD. The Process-Knowledge Model of Health Literacy: Evidence from a Componential Analysis of Two Commonly Used Measures. J Health Commun. 2011;16(Suppl 3):222-241. https://doi.org/10.1080/10810730.2011.604702

20.

Chin J, Payne B, Gao X, et al. Memory and comprehension for health information among older adults: Distinguishing the effects of domain-general and domain-specific knowledge. Memory. 2015;23(4):577-589. https://doi.org/10.1080/09658211.2014.912331

21.

Levinthal BR, Morrow DG, Tu W, Wu J, Murray MD. Cognition and health literacy in patients with hypertension. J Gen Intern Med. 2008;23(8):1172-1176. https://doi.org/10.1007/s11606-008-0612-2

22.

Graumlich JF, Wang H, Madison A, et al. Effects of a Patient-Provider, Collaborative, Medication-Planning Tool: A Randomized, Controlled Trial. J Diabetes Res https://doi.org/10.1155/2016/2129838

23.

Callahan CM, Unverzagt FW, Hui SL, Perkins AJ, Hendrie HC. Six-Item Screener to Identify Cognitive Impairment Among Potential Subjects for Clinical Research Med Care. 2002;40(9):771-781. https://doi.org/10.1097/00005650-200209000-00007

24.

Fillenbaum GG. Multidimensional Functional Assessment of Older Adults: The Duke Older Americans Resources and Services Procedures. Psychology Press. 1988.

25.

Davis TC, Long SW, Jackson RH, et al. Rapid estimate of adult literacy in medicine: a shortened screening instrument. Fam Med. 1993;25(6):391-395.

26.

Salthouse TA. Mediation of Adult Age Differences in Cognition by Reductions in Working Memory and Speed of Processing. Psychol Sci. 1991;2(3):179-183. https://doi.org/10.1111/j.1467-9280.1991.tb00127.x

27.

Garcia AA, Villagomez ET, Brown SA, Kouzekanani K, Hanis CL. The Starr County Diabetes Education Study: Development of the Spanish-language diabetes knowledge questionnaire. Diabetes Care. 2001;24(1):16-21. https://doi.org/10.2337/diacare.24.1.16

28.

Cohen J. Statistical Power Analysis for the Behavioral Sciences. Routledge. 2013.

29.

Fritz MS, MacKinnon DP. Required Sample Size to Detect the Mediated Effect. Psychol Sci. 2007;18(3):233-239. https://doi.org/10.1111/j.1467-9280.2007.01882.x

30.

Baltes PB. On the incomplete architecture of human ontogeny: Selection, optimization, and compensation as foundation of developmental theory. Am Psychol. 1997;52(4):366-380. https://doi.org/10.1037/0003-066X.52.4.366

31.

Beier ME, Ackerman PL. Age, ability, and the role of prior knowledge on the acquisition of new domain knowledge: promising results in a real-world learning environment. Psychol Aging. 2005;20(2):341-355. https://doi.org/10.1037/0882-7974.20.2.341

32.

Preacher KJ, Curran PJ, Bauer DJ. Computational Tools for Probing Interactions in Multiple Linear Regression, Multilevel Modeling, and Latent Curve Analysis. J Educ Behav Stat. 2006;31(4):437-448. https://doi.org/10.3102/10769986031004437

33.

Chin J, Madison A, Gao X, et al. Cognition and Health Literacy in Older Adults' Recall of Self-Care Information. The Gerontologist. 2017;57(2):261-268. https://doi.org/10.1093/geront/gnv091

34.

Duwe EA, Holloway BM, Chin J, Morrow DG. Illness experience and illness representation among older adults with hypertension. Health Educ J. 2018;77(4):412-429. https://doi.org/10.1177/0017896917751553

35.

Leventhal H, Safer MA, Panagis DM. The Impact of Communications on the Self-Regulation of Health Beliefs, Decisions, and Behavior. Health Educ Q. 1983;10(1):3-29. https://doi.org/10.1177/109019818301000101

36.

Kintsch W. Comprehension: A Paradigm for Cognition. Cambridge University Press. 1998.
Acknowledgments
We thank Thembi Conner-Garcia, Kathryn Davis, Anna Madison, Stacey McKeever, and Darcie Moeller for their help in conducting the study. The data used in this paper were collected as part of the baseline of a randomized controlled trial (RCT) study (ClinicalTrials.gov NCT01296633). The results from the RCT study are described in Graumlich et al. (2016).
Funding
This research was supported by a grant from the National Institutes of Health, 1R01NR011300.
Ethics declarations
Conflict of Interest
None declared.
Disclaimer
Any opinions, findings, and conclusions or recommendations expressed in this publication are those of the authors and do not necessarily reflect the views of the NIH.
Additional information
Publisher's Note
Springer Nature remains neutral with regard to jurisdictional claims in published maps and institutional affiliations.
About this article
Cite this article
Chin, J., Wang, H., Awwad, A.W. et al. Health Literacy, Processing Capacity, Illness Knowledge, and Actionable Memory for Medication Taking in Type 2 Diabetes: Cross-Sectional Analysis. J GEN INTERN MED (2021). https://doi.org/10.1007/s11606-020-06472-z
Received:

Accepted:

Published:
KEY WORDS
health literacy

memory for medication purpose

medication schemas

illness knowledge

diabetes