Abstract
Background
There is growing interest in financing housing and supportive services for homeless individuals through Medicaid. Permanent Supportive Housing (PSH), which integrates non-time-limited housing with supportive services for people who are disabled and chronically homeless, has seen rapid growth in the last decade, but clear evidence on the long-term impacts of PSH, needed to guide state efforts to finance some PSH services through Medicaid, is lacking.
Objective
Assess changes in Medicaid expenditures and utilization associated with receiving PSH.
Design
Cohort study using a difference-in-differences approach.
Participants
A total of 1226 PA Medicaid enrollees who entered PSH 2011–2016 and remained in PSH for 180 days or more, and a matched comparison cohort of 970 enrollees experiencing housing instability who did not receive PSH.
Main Measures
Medicaid spending in aggregate, and on behavioral and physical health services; emergency department (ED) visits and inpatient hospital stays.
Key Results
Three years after PSH entry, spending decreased by an average of $145/month in the PSH cohort relative to changes in the comparison cohort (p = 0.046), with the greatest relative spending reductions occurring for residential behavioral health ($64, p < 0.001) and inpatient non-behavioral health services ($89, p = 0.001). We also found relative reductions in ED use (4.7 visits/100 person-months, p = 0.010) and inpatient hospital stays (1.6 visits/100 person-months, p < 0.001).
Conclusions
These results can inform emerging state efforts to finance PSH services through Medicaid. Additional state expenditures to expand financing for PSH services could be partially offset by reductions in Medicaid spending, in part by facilitating a shift in treatment to outpatient from acute care settings.
Access options
Buy single article
Instant access to the full article PDF.
US$ 39.95
Tax calculation will be finalised during checkout.
Subscribe to journal
Immediate online access to all issues from 2019. Subscription will auto renew annually.
US$ 79
Tax calculation will be finalised during checkout.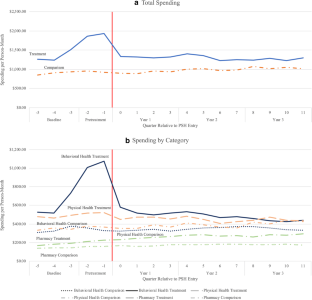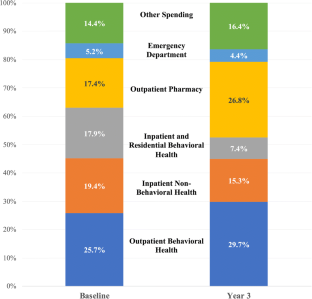 References
1.

Azar AM. The Root of the Problem: America's Social Determinants of Health. Speech given at Hatch Foundation for Civility and Solutions: Documented by U.S. Department of Health and Human Services. Accessed at https://www.hhs.gov/about/leadership/secretary/speeches/2018-speeches/theroot-of-the-problem-americas-social-determinants-of-health.html

2.

Wilkins C, Burt M, Locke G. A Primer on Using Medicaid for People Experiencing Chronic Homelessness and Tenants in Permanent Supportive Housing. In: Associates A, ed. U.S. Department of Health and Human Services Assistant Secretary for Planning and Evaluation, Office of Disability, Aging and Long-Term Care Policy; 2014.

3.

Khanzhina YP, DeWalt B, Teisher K, Baker WL, Kreiger M. Homelessness in Pennsylvania: Causes, Impacts, and Solutions. Harrisburg, PA: Task Force and Advisory Committee, General Assembly of the Commonwealth of Pennsylvania; 2016.

4.

National Academies of Sciences Engineering and Medicine. Permanent Supportive Housing: Evaluating the Evidence for Improving Health Outcomes Among People Experiencing Chronic Homelessness. Washington, DC: The National Academies Press; 2018.

5.

Waivers. Accessed at https://www.macpac.gov/medicaid-101/waivers/ on 5 June 2019

6.

Lipton FR, Nutt S, Sabatini A. Housing the homeless mentally ill: a longitudinal study of a treatment approach. Hosp Community Psychiatry. 1988;39(1):40-5.

7.

Gulcur L, Stefancic A, Shinn M, Tsemberis S, Fischer SN. Housing, hospitalization, and cost outcomes for homeless individuals with psychiatric disabilities participating in continuum of care and housing first programmes. J Community Appl Soc Psychol. 2003;131(2):171-86.

8.

Sadowski LS, Kee RA, VanderWeele TJ, Buchanan D. Effect of a housing and case management program on emergency department visits and hospitalizations among chronically ill homeless adults: a randomized trial. JAMA. 2009;301(17):1771-8.

9.

Culhane DP, Metraux S, Hadley T. Public Service Reductions Associated with Placement of Homeless Persons with Severe Mental Illness in Supportive Housing. Hous Policy Debate. 2002;13(1):107-63.

10.

Martinez TE, Burt MR. Impact of permanent supportive housing on the use of acute care health services by homeless adults. Psychiatr Serv. 2006;57(7):992-9.

11.

Gilmer TP, Manning WG, Ettner SL. A cost analysis of San Diego County's REACH program for homeless persons. Psychiatr Serv. 2009;60(4):445-50.

12.

Srebnik D, Connor T, Sylla L. A pilot study of the impact of housing first-supported housing for intensive users of medical hospitalization and sobering services. Am J Public Health. 2013;103(2):316-21.

13.

McGinnis S, Polvere L, Smith D, Dewar D. Medicaid Redesign Team Supportive Housing Evaluation: Utilization Report 1. Albany, NY: Center for Human Services Research, University at Albany, State University of New York; 2017.

14.

Gilmer TP, Stefancic A, Ettner SL, Manning WG, Tsemberis S. Effect of full-service partnerships on homelessness, use and costs of mental health services, and quality of life among adults with serious mental illness. Arch Gen Psychiatry. 2010;67(6):645-52.

15.

Lim S, Gao Q, Stazesky E, Singh TP, Harris TG, Levanon Seligson A. Impact of a New York City supportive housing program on Medicaid expenditure patterns among people with serious mental illness and chronic homelessness. BMC Health Serv Res. 2018;18(1):15.

16.

Rosenheck R, Kasprow W, Frisman L, Liu-Mares W. Cost-effectiveness of supported housing for homeless persons with mental illness. Arch Gen Psychiatry. 2003;60(9):940-51.

17.

Aubry T, Tsemberis S, Adair CE, Veldhuizen S, Streiner D, Latimer E, et al. One-year outcomes of a randomized controlled trial of housing first with ACT in five Canadian cities. Psychiatr Serv. 2015;66(5):463-9.

18.

Somers JM, Moniruzzaman A, Palepu A. Changes in daily substance use among people experiencing homelessness and mental illness: 24-month outcomes following randomization to Housing First or usual care. Addiction. 2015;110(10):1605-14.

19.

Siegel CE, Samuels J, Tang DI, Berg I, Jones K, Hopper K. Tenant outcomes in supported housing and community residences in New York City. Psychiatr Serv. 2006;57(7):982-91.

20.

Tsai J, Mares AS, Rosenheck RA. A multi-site comparison of supported housing for chronically homeless adults: "housing first" versus "residential treatment first". Psychol Serv. 2010;7(4):219-32.

21.

Wolitski RJ, Kidder DP, Pals SL, Royal S, Aidala A, Stall R, et al. Randomized trial of the effects of housing assistance on the health and risk behaviors of homeless and unstably housed people living with HIV. AIDS Behav. 2010;14(3):493-503.

22.

Dickey B, Gonzalez O, Latimer E, Powers K, Schutt R, Goldfinger S. Use of mental health services by formerly homeless adults residing in group and independent housing. Psychiatr Serv. 1996;47(2):152-8.

23.

PA Homeless Management Information System. Accessed at https://dced.pa.gov/housing-and-development/individuals-households/homelessmanagement-information-system-hmis/

24.

Czajka J, Verghese S. Social Security Numbers in Medicaid Records: Reporting and Validity, 2009 Final Report;2013. Accessed at https://www.cms.gov/research-statistics-data-and-systems/computer-data-and-systems/medicaiddatasourcesgeninfo/downloads/finalssnreport.pdf

25.

Sommers BD, Rosenbaum S. Issues in health reform: how changes in eligibility may move millions back and forth between Medicaid and insurance exchanges. Health Aff (Millwood). 2011;30(2):228-36.

26.

Kronick R, Gilmer T, Dreyfus T, Lee L. Improving health-based payment for Medicaid beneficiaries: CDPS. Health Care Financ Rev. 2000;21(3):29-64.

27.

Basu A, Kee R, Buchanan D, Sadowski LS. Comparative cost analysis of housing and case management program for chronically ill homeless adults compared to usual care. Health Serv Res. 2012;47(1 Pt 2):523-43.

28.

Martin EJ. Affordable housing, homelessness, and mental health: what heath care policy needs to address. J Health Hum Serv Adm. 2015;38(1):67-89.

29.

Bowen EA. A multilevel ecological model of HIV risk for people who are homeless or unstably housed and who use drugs in the Urban United States. Soc Work Public Health. 2016;31(4):264-75.

30.

Mackelprang JL, Collins SE, Clifasefi SL. Housing First is associated with reduced use of emergency medical services. Prehosp Emerg Care. 2014;18(4):476-82.

31.

Mullahy J. Much ado about two: reconsidering retransformation and the two-part model in health econometrics. J Health Econ. 1998;17(3):247-81.

32.

The U.S. Department of Housing and Urban Development, Office of Community Planning and Development. The 2016 Annual Homeless Assessment Report (AHAR) to Congress Part 2: Estimates of Homelessness in the United States; 2017. Accessed at https://files.hudexchange.info/resources/documents/2016-AHAR-Part-2.pdf

33.

Rhoades H, Wenzel SL, Henwood BF. Changes in self-rated physical health after moving into permanent supportive housing. Am J Health Promot. 2019;33(7):1073-6.

34.

Treglia D, Johns EL, Schretzman M, Berman J, Culhane DP, Lee DC, et al. When crises converge: hospital visits before and after shelter use among homeless New Yorkers. Health Aff (Millwood). 2019;38(9):1458-67.

35.

DiPietro B, Artiga S, Gates A. Early Impacts of the Medicaid Expansion for the Homeless Population. Kaiser Family Foundation; 2014. Accessed at http://files.kff.org/attachment/early-impacts-of-the-medicaid-expansion-for-the-homeless-population-issue-brief

36.

Buchanan D, Kee R, Sadowski LS, Garcia D. The health impact of supportive housing for HIV-positive homeless patients: a randomized controlled trial. Am J Public Health. 2009;99 Suppl 3:S675-80.
Acknowledgments
This study was supported by an intergovernmental agreement between the Pennsylvania Department of Human Services (PA DHS) and the University of Pittsburgh. Dr. Hollander was supported by a National Institute of Mental Health training grant (T32 MH 109436). The authors thank Lingshu Xue for her data analysis support.
Ethics declarations
Conflict of Interest
The authors report no conflicts of interest.
Additional information
Publisher's Note
Springer Nature remains neutral with regard to jurisdictional claims in published maps and institutional affiliations.
About this article
Cite this article
Hollander, M.A.G., Cole, E.S., Donohue, J.M. et al. Changes in Medicaid Utilization and Spending Associated with Homeless Adults' Entry into Permanent Supportive Housing. J GEN INTERN MED (2021). https://doi.org/10.1007/s11606-020-06465-y
Received:

Accepted:

Published:
KEY WORDS
Permanent Supportive Housing

homelessness

Medicaid

health care utilization

health care expenditures