Abstract
Background
Emergency departments increasingly use nonopioid analgesics to manage acute pain and minimize opioid-related harms. Urgent care centers are expanding to lower costs and provide efficient access to healthcare. General internists increasingly work in these acute care settings. Much is known about opioid prescribing in the primary care, inpatient, and emergency department setting. Little is known about opioid prescribing in the urgent care setting and associated outcomes.
Objectives
To assess the association between in-clinic opioid administration and opioid receipt at clinic discharge and on progression to chronic opioid use among urgent care patients.
Design
Retrospective cohort study.
Participants
Patients, 20 years or older and not on opioid medications, who presented for care to an urgent care clinic within a safety-net healthcare system from June 1, 2016, to April 30, 2019.
Main Measures
We examined the association between the in-clinic administration of oral or intravenous opioids and opioid receipt at clinic discharge. We also examined the association between in-clinic opioid administration and progression to chronic opioid use after six months.
Key Results
The study sample included 34,978 patients, of which 13.8% (n = 4842) received in-clinic opioids and 86.2% (n = 30,136) did not receive in-clinic opioids. After adjusting for age, gender, race/ethnicity, insurance, and pain diagnosis, patients who received in-clinic opioids were more likely to receive opioids at discharge compared to patients who did not receive in-clinic opioids (aOR = 12.30, 95% CI 11.44–13.23). Among a selected cohort of patients, in-clinic opioid administration was associated with progression to chronic opioid use (aOR = 2.12, 95% CI 1.66–2.71).
Conclusions
In-clinic opioid administration was strongly associated with opioid receipt at discharge and progression to chronic opioid use. Increased use of nonopioid analgesics in urgent care could likely reduce this association and limit opioids available for diversion, overdose, and death.
Access options
Buy single article
Instant access to the full article PDF.
US$ 39.95
Tax calculation will be finalised during checkout.
Subscribe to journal
Immediate online access to all issues from 2019. Subscription will auto renew annually.
US$ 79
Tax calculation will be finalised during checkout.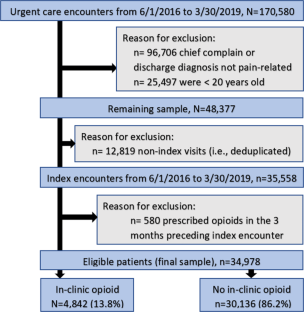 References
1.

Deyo RA, Hallvik SE, Hildebran C, et al. Association Between Initial Opioid Prescribing Patterns and Subsequent Long-Term Use Among Opioid-Naïve Patients: A Statewide Retrospective Cohort Study. J Gen Intern Med 2017;32(1):21-27.

2.

Butler MM, Ancona RM, Beauchamp GA, et al. Emergency Department Prescription Opioids as an Initial Exposure Preceding Addiction. Ann Emerg Med 2016;68(2):202-208.

3.

Seth P, Rudd RA, Noonan RK, Haegerich TM. Quantifying the Epidemic of Prescription Opioid Overdose Deaths. Am J Public Health 2018;108(4):500-502.

4.

LaPietra AM. Alternatives to Opioids for Acute Pain Management in the Emergency Department: Part II. Emerg Med Rep. 2016;37(20).

5.

Duncan RW, Smith KL, Maguire M, Stader DE. Alternatives to opioids for pain management in the emergency department decreases opioid usage and maintains patient satisfaction. Am J Emerg Med 2019;37(1):38-44.

6.

Healthcare A Convenient care: growth and staffing trends in urgent care and retail medicine. In:2016.

7.

Wang H, Robinson RD, Cowden CD, et al. Use of the SONET score to evaluate Urgent Care Center overcrowding: a prospective pilot study. BMJ Open 2015;5(4):e006860.

8.

Weinick RM, Bristol SJ, DesRoches CM. Urgent care centers in the U.S.: findings from a national survey. BMC Health Serv Res. 2009;9:79.

9.

Dowell D, Haegerich TM, Chou R. CDC guideline for prescribing opioids for chronic pain—United States, 2016. Jama 2016;315(15):1624-1645.

10.

Herzig SJ, Mosher HJ, Calcaterra SL, Jena AB, Nuckols TK. Improving the safety of opioid use for acute non-cancer pain in hospitalized adults: a consensus statement from the Society of Hospital Medicine. J Hosp Med 2018;13(4):263.

11.

Yeh BT. The controlled substances act: regulatory requirements. Congressional Research Service; 2012.

12.

Administration USFaD. National Drug Code Directory. https://www.fda.gov/drugs/drug-approvals-and-databases/national-drug-code-directory. Updated 11/18/2019. Accessed 3 Dec 2019.

13.

Vanderlip ER, Sullivan MD, Edlund MJ, et al. National study of discontinuation of long-term opioid therapy among veterans. Pain 2014;155(12):2673-2679.

14.

Charlson ME, Pompei P, Ales KL, MacKenzie CR. A new method of classifying prognostic comorbidity in longitudinal studies: development and validation. J Chronic Dis 1987;40(5):373-383.

15.

Calcaterra SL, Yamashita TE, Min SJ, Keniston A, Frank JW, Binswanger IA. Opioid Prescribing at Hospital Discharge Contributes to Chronic Opioid Use. J Gen Intern Med 2016;31(5):478-485.

16.

Weinick RM, Burns RM, Mehrotra A. Many emergency department visits could be managed at urgent care centers and retail clinics. Health Aff 2010;29(9):1630-1636.

17.

Hsia RY, Friedman AB, Niedzwiecki M. Urgent care needs among nonurgent visits to the emergency department. JAMA Intern Med 2016;176(6):852-854.

18.

Dart RC, Surratt HL, Cicero TJ, et al. Trends in opioid analgesic abuse and mortality in the United States. N Engl J Med 2015;372(3):241-248.

19.

Warner M, Trinidad JP, Bastian BA, Minino AM, Hedegaard H. Drugs Most Frequently Involved in Drug Overdose Deaths: United States, 2010-2014. Natl Vital Stat Rep 2016;65(10):1-15.

20.

Heitz C, Morgenstern J, Bond C, Milne WK. Hot Off the Press: A Systematic Review And Meta-analysis of Ketamine as an Alternative to Opioids for Acute Pain in the Emergency Department. Acad Emerg Med Off J Soc Acad Emerg Med 2019;26(8):946-948.

21.

Najjar M, Hall T, Estupinan B. Metoclopramide for Acute Migraine Treatment in the Emergency Department: An Effective Alternative to Opioids. Cureus 2017;9(4):e1181-e1181.

22.

Todd KH. A Review of Current and Emerging Approaches to Pain Management in the Emergency Department. Pain Ther 2017;6(2):193-202.
Ethics declarations
Conflict of Interest
The authors declare that they do not have a conflict of interest.
Additional information
Publisher's Note
Springer Nature remains neutral with regard to jurisdictional claims in published maps and institutional affiliations.
Electronic Supplementary Material
About this article
Cite this article
Calcaterra, S.L., Lou, Y., Everhart, R.M. et al. Association Between In-Clinic Opioid Administration and Discharge Opioid Prescription in Urgent Care: a Retrospective Cohort Study. J GEN INTERN MED 36, 43–50 (2021). https://doi.org/10.1007/s11606-020-06059-8
Received:

Accepted:

Published:

Issue Date:
KEY WORDS
urgent care

opioids

acute pain