This is a preview of subscription content, log in to check access.
Access options
Buy single article
Instant access to the full article PDF.
US$ 39.95
Price includes VAT for USA
Subscribe to journal
Immediate online access to all issues from 2019. Subscription will auto renew annually.
US$ 99
This is the net price. Taxes to be calculated in checkout.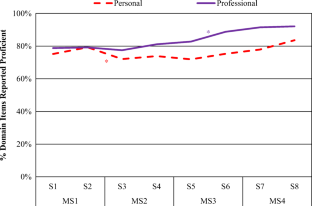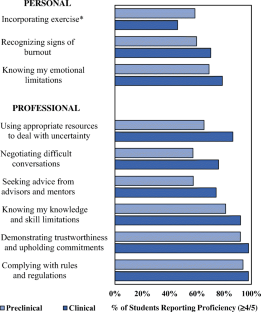 References
1.

Englander R, Cameron T, Ballard AJ, Dodge J, Bull J, Aschenbrener CA. Toward a common taxonomy of competency domains for the health professions and competencies for physicians. Acad Med 2013;88(8):1088-1094.

2.

Drolet BC, Rodgers S. A comprehensive medical student wellness program--design and implementation at Vanderbilt School of Medicine. Acad Med 2010;85(1):103-110.

3.

Dyrbye LN, Sciolla AF, Dekhtyar M, et al. Medical School Strategies to Address Student Well-Being: A National Survey. Acad Med 2019;94(6):861-868.

4.

Frank J, Snell L, Sherbino J, eds. CanMEDS 2015 Physician Competency Framework. 2015. www.royalcollege.ca/rcsite/documents/canmeds/canmeds-full-framework-e.pdf. Accessed 1 May 2020.

5.

Simpson JG, Furnace J, Crosby J, et al. The Scottish doctor–learning outcomes for the medical undergraduate in Scotland: a foundation for competent and reflective practitioners. Med Teach 2002;24(2):136-143.

6.

Rotenstein LS, Ramos MA, Torre M, et al. Prevalence of Depression, Depressive Symptoms, and Suicidal Ideation Among Medical Students: A Systematic Review and Meta-Analysis. JAMA 2016;316(21):2214-2236.
Acknowledgments
The authors wish to thank Michael McGinty.
Ethics declarations
Ethical Approval
The study was approved by the Institutional Review Board at the University of Chicago (IRB 160482).
Additional information
Publisher's Note
Springer Nature remains neutral with regard to jurisdictional claims in published maps and institutional affiliations.
Previous Presentations
This research has been presented as a poster at the Society of General Internal Medicine 2019 Annual Meeting in Washington, DC on May 11, 2019, AMA ChangeMedEd 2019 in Chicago, IL, on September 19, 2019, and AAMC Learn Serve Lead in Phoenix, AZ, on November 11, 2019.
About this article
Cite this article
Caldwell, H.D., Ham, S.A., Mattson, C.D. et al. Longitudinal Assessment of Personal and Professional Development Competencies in Medical Students. J GEN INTERN MED (2020). https://doi.org/10.1007/s11606-020-05969-x
Received:

Accepted:

Published: