This is a preview of subscription content, log in to check access.
Access options
Buy single article
Instant access to the full article PDF.
US$ 39.95
Price includes VAT for USA
Subscribe to journal
Immediate online access to all issues from 2019. Subscription will auto renew annually.
US$ 99
This is the net price. Taxes to be calculated in checkout.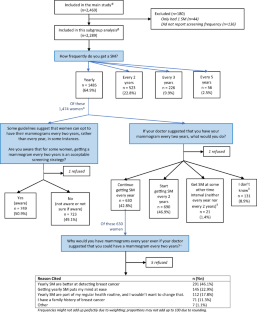 References
1.

Shekelle PG. Clinical practice guidelines: What's next? JAMA. 2018.

2.

Keating NL, Pace LE. Breast cancer screening in 2018: time for shared decision making. JAMA. 2018;319(17):1814-1815.

3.

Gigerenzer G. Full disclosure about cancer screening. BMJ. 2016;352:h6967.

4.

Kiviniemi MT, Hay JL. Awareness of the 2009 US Preventive Services Task Force recommended changes in mammography screening guidelines, accuracy of awareness, sources of knowledge about recommendations, and attitudes about updated screening guidelines in women ages 40–49 and 50+. BMC Public Health. 2012;12:899-899.

5.

Kyanko KA, Hoag J, Busch SH, et al. Dense breast notification laws, education, and women's awareness and knowledge of breast density: a nationally representative survey. J Gen Int Med. 2020:1-6.

6.

Wegwarth O, Gigerenzer G. The barrier to informed choice in cancer screening: statistical illiteracy in physicians and patients. In: Goerling U, Mehnert A, eds. Psycho-Oncology. Cham: Springer International Publishing; 2018:207-221.
Funding
Financial support for this research was awarded to Dr. Gross (senior author) by the American Cancer Society (grant RSGI-15-151-01). Additional support was provided to Dr. Mia Djulbegovic (first author) by CTSA Grant Number TL1 TR001864 from the National Center for Advancing Translational Science (NCATS), a component of the National Institutes of Health (NIH). These funds were provided to Dr. Djulbegovic by the National Clinician Scholars Program at Yale University School of Medicine. The content of this research is solely the responsibility of Dr. Djulbegovic and the author team and do not necessarily represent the official view of NIH. Dr. Djulbegovic is also sponsored by the Veterans Affairs Connecticut Healthcare System. We have no other disclosures to report.
Ethics declarations
Conflict of Interest
Dr. Gross has received research funding through Yale from Johnson & Johnson and Pfizer. In addition, Dr. Gross has received compensation from Flatiron Health for travel and speaking.
Additional information
Publisher's Note
Springer Nature remains neutral with regard to jurisdictional claims in published maps and institutional affiliations.
About this article
Cite this article
Djulbegovic, M., Aminawung, J., Hoag, J.R. et al. Current Attitudes and Practices Around Screening Mammography Among Women in the United States: Results of a National Survey. J GEN INTERN MED (2020). https://doi.org/10.1007/s11606-020-05892-1
Received:

Accepted:

Published: