Abstract
Background
Group-based lifestyle change programs based on the Diabetes Prevention Program (DPP) are associated with clinically significant weight loss and decreases in cardiometabolic risk factors. However, these benefits depend on successful real-world implementation. Studies have examined implementation in community settings, but less is known about integration in healthcare systems, and particularly in large, multi-site systems with the potential for extended reach.
Objective
To examine the barriers and facilitators to successful DPP implementation in a large multi-site healthcare system.
Design
Semi-structured interviews, based on the RE-AIM framework, were conducted in person for 30–90 min each.
Participants
Past and present DPP lifestyle coaches in the healthcare system identified using purposive sampling.
Approach
Thematic analysis of qualitative data to identify key factors influencing the success of DPP implementation. An iterative consensus process was used to model the relationships among factors.
Key Results
We conducted 33 interviews across 20 clinic sites serving 12 counties. Participants described six key factors as potential barriers or facilitators to implementation, including (1) Broader Context, including the surrounding physical and sociodemographic context; (2) Institutional Context, including finances, infrastructure, and personnel; (3) Program Provision, including curriculum, administration, cost, goals, and visibility; (4) Recruitment Process, including screening and referrals; (5) Lifestyle Coaches, including their characteristics, behaviors, and morale; and (6) Cohort, including group attrition/retention and interpersonal dynamics. These factors were both highly interconnected in their impact on implementation and widely variable across sites within the healthcare system, as illustrated in our multi-level conceptual framework.
Conclusions
This study identified key factors that could serve as barriers or facilitators in the implementation of DPP in large healthcare systems, from the perspective of lifestyle coaches. With further examination, the conceptual model presented here may be used for planning and managing the implementation of group-based behavioral interventions in these settings.
This is a preview of subscription content, log in to check access.
Access options
Buy single article
Instant access to the full article PDF.
US$ 39.95
Price includes VAT for USA
Subscribe to journal
Immediate online access to all issues from 2019. Subscription will auto renew annually.
US$ 99
This is the net price. Taxes to be calculated in checkout.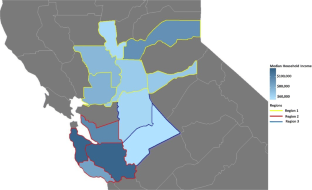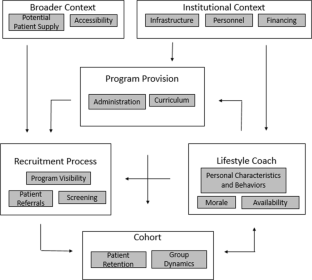 Data Availability
The dataset, which includes participants' transcripts, is not publicly available due to confidentiality policies.
References
1.

Diabetes Prevention Program Research Group. The diabetes prevention program (DPP): description of lifestyle intervention. Diabetes Care. 2002;25:2165–2171.

2.

Brink S. The Diabetes Prevention Program: how the participants did it. Health Aff (Millwood). 2009;28(1):57–62.

3.

The Diabetes Prevention Program Research Group. Impact of intensive lifestyle and metformin therapy on cardiovascular disease risk factors in the Diabetes Prevention Program. Diabetes Care. 2005;28(4):888–94.

4.

Orchard TJ, Temprosa M, Goldberg R, et al. The effect of metformin and intensive lifestyle intervention on the metabolic syndrome: the Diabetes Prevention Program randomized trial. Ann Intern Med. 2005;142(8):611–619.

5.

Knowler WC, Barrett-Connor E, Fowler SE, et al. Reduction in the incidence of type 2 diabetes with lifestyle intervention or metformin. New Engl J Med. 2002; 346(6):393–403.

6.

Knowler WC, Fowler SE, Diabetes Prevention Program Group, et al. 10-year follow-up of diabetes incidence and weight loss in the Diabetes Prevention Program Outcomes Study. Lancet (London, England). 2009;374(9702):1677–1686.

7.

Ackermann RT, Finch EA, Brizendine E, Zhou H, Marrero DG. Translating the Diabetes Prevention Program into the community. The DEPLOY Pilot Study. Am J Prev Med. 2008;35(4):357–363. doi:https://doi.org/10.1016/j.amepre.2008.06.035

8.

Parikh P, Simon EP, Fei K, Looker H, Goytia C, Horowitz CR. Results of a pilot diabetes prevention intervention in East Harlem, New York City: Project HEED. Am J Public Health. 2010; 100(suppl 1):S232–S239.

9.

Katula JA, Vitolins MZ, Rosenberger EL, et al. One-year results of a community-based translation of the Diabetes Prevention Program: Healthy-Living Partnerships to Prevent Diabetes (HELP PD) Project [published correction appears in Diabetes Care. 2012 Feb;35(2):455]. Diabetes Care. 2011;34(7):1451–1457. doi:https://doi.org/10.2337/dc10-2115

10.

Kanaya AM, Santoyo-Olsson J, Gregorich S, Grossman M, Moore T, Stewart AL. The Live Well, Be Well study: a community-based, translational lifestyle program to lower diabetes risk factors in ethnic minority and lower-socioeconomic status adults. Am J Public Health. 2012;102(8):1551–1558. doi:https://doi.org/10.2105/AJPH.2011.300456

11.

Ockene IS, Tellez TL, Rosal MC, et al. Outcomes of a Latino community-based intervention for the prevention of diabetes: the Lawrence Latino Diabetes Prevention Project. Am J Public Health. 2012;102(2):336–342. doi:https://doi.org/10.2105/AJPH.2011.300357

12.

Ma J, Yank V, Xiao L, et al. Translating the Diabetes Prevention Program lifestyle intervention for weight loss into primary care: a randomized trial. JAMA Intern Med. 2013;173(2):113–121.

13.

Aziz Z, Absetz P, Oldroyd J, Pronk NP, Oldenburg B. A systematic review of real-world diabetes prevention programs: learnings from the last 15 years. Implement Sci. 2015;10:172.

14.

Driver S, Reynolds M, Kramer, K. Modifying an evidence-based lifestyle programme for individuals with traumatic brain injury. Brain Injury. 2017;31(12):1612–1616. doi: https://doi.org/10.1080/02699052.2017.1346286

15.

Glasgow RE, Vogt TM, Boles SM. Evaluating the public health impact of health promotion interventions: the RE-AIM framework. Am J Public Health. 1999;89(9):1322–1327.

16.

Ali MK, Echouffo-Tcheugui J, Williamson DF. How effective were lifestyle interventions in real-world settings that were modeled on the Diabetes Prevention Program? Health Aff (Millwood). 2012;31(1):67–75.

17.

Eaglehouse YL, Rockette-Wagner B, Kramer MK, et al. Physical Activity Levels in a Community Lifestyle Intervention: A Randomized Trial. Transl J Am Coll Sports Med. 2016;1(5):45–51.

18.

Whittemore R. A systematic review of the translational research on the Diabetes Prevention Program. Transl Behav Med. 2011;1(3):480–491.

19.

Wardian JL, True MW, Sauerwein TJ, Watson NA, Hoover AM. Evaluation of the Group Lifestyle Balance Program in a Military Setting: An Investment Worth Expanding. Mil Med. 2018;183(1–2):e138-e143.

20.

Almeida FA, Shetterly S, Smith-Ray RL, Estabrooks PA. Reach and effectiveness of a weight loss intervention in patients with prediabetes in Colorado. Preventing chronic disease. 2010;7(5):A103.

21.

Amundson HA, Butcher MK, Gohdes D, et al. Translating the diabetes prevention program into practice in the general community: findings from the Montana Cardiovascular Disease and Diabetes Prevention Program. Diabetes Educ. 2009;35(2):209–210, 213–204, 216–220 passim.

22.

Jiang L, Manson SM, Beals J, et al. Translating the Diabetes Prevention Program into American Indian and Alaska Native communities: results from the Special Diabetes Program for Indians Diabetes Prevention demonstration project. Diabetes Care. 2013;36(7):2027–2034.

23.

McTigue KM, Conroy MB, Bigi L, Murphy C, McNeil M. Weight loss through living well: translating an effective lifestyle intervention into clinical practice. Diabetes Educ. 2009;35(2):199–204. doi: https://doi.org/10.1177/0145721709332815

24.

Sutter Health. Sutter Health: Doctors and Hospitals Northern California [Internet]. c2019 [cited 6 Jun 2019]. Available from: https://www.sutterhealth.org/. Accessed 6 June 2019.

25.

Race/Ethnicity of Individual, 2016 American Community Survey 1-year estimates. 2016, US Census Bureau.

26.

Income/Earnings (Households), 2016 American Community Survey 1-year estimates. 2016, US Census Bureau.

27.

Kramer MK, McWilliams JR, Chen HY, Siminerio LM. A community-based diabetes prevention program: evaluation of the group lifestyle balance program delivered by diabetes educators. Diabetes Educ. 2011;37(5):659–68.

28.

Kramer MK, Kriska AM, Venditti EM, et al. Translating the Diabetes Prevention Program: a comprehensive model for prevention training and program delivery. Am J Prev Med. 2009;37(6).

29.

Betts AC, Froehlich-Grobe K. Accessible weight loss: Adapting a lifestyle intervention for adults with impaired mobility. Disabil Health J. 2017;10(1):139–44.

30.

Romanelli RJ, Huang HC, Chopra V, Ma J, Venditti EM, Sudat S, Greenwood DA, Pressman AR, Azar KMJ. Longitudinal Weight Outcomes from a Behavioral Lifestyle Intervention in Clinical Practice. Diabetes Educ. 2019;45(5):529–543. DOI https://doi.org/10.1177/0145721719872553.

31.

Romanelli RJ, Sudat S, Huang Q, Pressman AR, Azar KMJ. Early weight loss and treatment response: Data from a lifestyle change program in clinical practice. Am J Prev Med 2019, In Press

32.

Chaudoir SR, Dugan AG, Barr CH. Measuring factors affecting implementation of health innovations: a systematic review of structural, organizational, provider, patient, and innovation level measures. Implement Sci. 2013;8:22.

33.

Miles M, Huberman A, Saldana J. Qualitative Data Analysis: A Methods Sourcebook. 3rd ed. Thousand Oaks, CA: SAGE Publications, Inc; 2014.

34.

Dedoose Version 8.0.35, web application for managing, analyzing, and presenting qualitative and mixed method research data [Internet]. Los Angeles (CA): SocioCultural Research Consultants, LLC; c2018 [cited 2019 Jun 6]. Available from: www.dedoose.com.

35.

Damschroder LJ, Aron DC, Keith RE, Kirsh SR, Alexander JA, Lowery JC. Fostering implementation of health services research findings into practice: a consolidated framework for advancing implementation science. Implement Sci. 2009;4:50.

36.

Proctor EK, Landsverk J, Aarons G, Chambers D, Glisson C, Mittman B. Implementation Research in Mental Health Services: an Emerging Science with Conceptual, Methodological, and Training challenges. Adm Policy Ment Health. 2009;36(1):24–34.

37.

Shortell SM. Increasing value: a research agenda for addressing the managerial and organizational challenges facing health care delivery in the United States. Med Care Res Rev. 2004;61(3 Suppl):12s–30s.

38.

Rogers EM. Diffusion of innovations 5th ed. New York: Free Press; 2003.

39.

Durlak JA, DuPre EP. Implementation matters: a review of research on the influence of implementation on program outcomes and the factors affecting implementation. Am J Commun Psychol. 2008;41(3–4):327–350.
Funding
Research reported in this publication was supported by the National Institute of Diabetes and Digestive and Kidney Diseases (NIDDK) of the National Institutes of Health under Award Number R18DK110739. The content is solely the responsibility of the authors and does not necessarily represent the official views of the National Institutes of Health.
Ethics declarations
Conflict of Interest
The authors declare that they do not have a conflict of interest.
Consent for Publication
All participants provided written consent before participating in the study, which included consent to publish anonymous quotes from individual participants.
Disclaimer
This was an investigator-initiated study by Sutter Health Research. No sponsor or funding source had a role in the design or conduct of the study; collection, management, analysis, or interpretation of the data; or preparation, review, or approval of the manuscript.
About this article
Cite this article
Halley, M.C., Petersen, J., Nasrallah, C. et al. Barriers and Facilitators to Real-world Implementation of the Diabetes Prevention Program in Large Healthcare Systems: Lifestyle Coach Perspectives. J GEN INTERN MED 35, 1684–1692 (2020). https://doi.org/10.1007/s11606-020-05744-y
Received:

Accepted:

Published:

Issue Date:
KEY WORDS
real-world

Diabetes Prevention Program

implementation

semi-structured interviews