Abstract
Background
Several policymakers have suggested that the Affordable Care Act (ACA) has fueled the opioid epidemic by subsidizing opioid pain medications. These claims have supported numerous efforts to repeal the ACA.
Objective
To determine the effect of the ACA's young adult dependent coverage insurance expansion on emergency department (ED) encounters and out-of-hospital deaths from opioid overdose.
Design
Difference-in-differences analyses comparing ED encounters and out-of-hospital deaths before (2009) and after (2011–2013) the ACA young adult dependent coverage expansion. We further stratified by prescription opioid, non-prescription opioid, and methadone overdoses.
Participants
Adults aged 23–25 years old and 27–29 years old who presented to the ED or died prior to reaching the hospital from opioid overdose.
Main Measures
Rate of ED encounters and deaths for opioid overdose per 100,000 U.S. adults.
Key Results
There were 108,253 ED encounters from opioid overdose in total. The expansion was not associated with a significant change in the ED encounter rates for opioid overdoses of all types (2.04 per 100,000 adults [95% CI − 0.75 to 4.82]), prescription opioids (0.60 per 100,000 adults [95% CI − 1.98 to 0.77]), or methadone (0.29 per 100,000 adults [95% CI − 0.78 to 0.21]). There was a slight increase in the rate of non-prescription opioid overdoses (1.91 per 100,000 adults [95% CI 0.13–3.71]). The expansion was not associated with a significant change in the out-of-hospital mortality rates for opioid overdoses of all types (0.49 per 100,000 adults [95% CI − 0.80 to 1.78]).
Conclusions
Our findings do not support claims that the ACA has fueled the prescription opioid epidemic. However, the expansion was associated with an increase in the rate of ED encounters for non-prescription opioid overdoses such as heroin, although almost all were non-fatal. Future research is warranted to understand the role of private insurance in providing access to treatment in this population.
This is a preview of subscription content, log in to check access.
Access options
Buy single article
Instant access to the full article PDF.
US$ 39.95
Price includes VAT for USA
Subscribe to journal
Immediate online access to all issues from 2019. Subscription will auto renew annually.
US$ 99
This is the net price. Taxes to be calculated in checkout.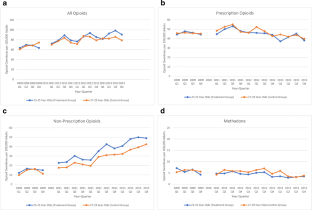 References
1.

Johnson, S.R., Drugs for Dollars: How Medicaid Helps Fuel the Opioid Epidemic, C.o.H.S.a.G. Affairs, Editor. 2018.

2.

Advisors, C.o.E, Innovative Policies to Improve All Americans' Health. 2018.

3.

Sommers, B.D. and R. Kronick, The affordable care act and insurance coverage for young adults. JAMA, 2012. 307(9): p. 913–914.

4.

Sommers, B.D., et al., The Affordable Care Act has led to significant gains in health insurance and access to care for young adults. Health Aff, 2013. 32(1): p. 165–174.

5.

Cantor Joel, C., et al., Early impact of the Affordable Care Act on health insurance coverage of young adults. Health Serv Res, 2012. 47(5): p. 1773–1790.

6.

Watkins, K.E., et al., The Affordable Care Act: an opportunity for improving care for substance use disorders? Psychiatr Serv, 2014. 66(3): p. 310–312.

7.

Ali, M.M., et al., The ACA's dependent coverage expansion and out-of-pocket spending by young adults with behavioral health conditions. Psychiatr Serv, 2016. 67(9): p. 977–982.

8.

McClellan, C.B., The Affordable Care Act's dependent care coverage expansion and behavioral health care. J Ment Health Policy Econ, 2017. 20(3): p. 111–130.

9.

Saloner, B., et al., Access to health insurance and utilization of substance use disorder treatment: evidence from the Affordable Care Act dependent coverage provision. Health Economics, 2017: p. n/a-n/a.

10.

Meinhofer, A. and A.E. Witman, The role of health insurance on treatment for opioid use disorders: evidence from the Affordable Care Act Medicaid expansion. J Health Econ, 2018. 60: p. 177–197.

11.

Andrews, C.M., et al., Medicaid benefits for addiction treatment expanded after implementation of the Affordable Care Act. Health Aff, 2018. 37(8): p. 1216–1222.

12.

Venkataramani, A.S. and P. Chatterjee, Early Medicaid expansions and drug overdose mortality in the USA: a quasi-experimental analysis. J Gen Intern Med, 2018.

13.

Sharp, A., et al., Impact of Medicaid expansion on access to opioid analgesic medications and medication-assisted treatment. Am J Public Health, 2018. 108(5): p. 642–648.

14.

Swartz, J.A. and S.J. Beltran, Prescription opioid availability and opioid overdose-related mortality rates in Medicaid expansion and non-expansion states. Addiction, 2019. 0(0).

15.

Dimick, J.B. and A.M. Ryan, Methods for evaluating changes in health care policy: the difference-in-differences approach. JAMA, 2014. 312(22): p. 2401–2402.

16.

Heathcare Cost and Utilization Project (HCUP) Nationwide Emergency Department Sample (NEDS), A.f.H.R.a. Quality, Editor. 2009 and 2011–2013.

17.

Prevention, C.f.D.C. Multiple Cause of Death 1999-2016. December 2017 December 2017 [cited 2018 May 18]; Available from: http://wonder.cdc.gov/mcd-icd10.html.

18.

Yokell, M.A., et al., Presentation of prescription and nonprescription opioid overdoses to us emergency departments. JAMA Intern Med, 2014. 174(12): p. 2034–2037.

19.

Barbaresco, S., C.J. Courtemanche, and Y. Qi, Impacts of the Affordable Care Act dependent coverage provision on health-related outcomes of young adults. J Health Econ, 2015. 40: p. 54–68.

20.

Burns, M.E. and B.L. Wolfe, The effects of the Affordable Care Act adult dependent coverage expansion on mental health. J Mental Health Policy Econ, 2016. 19(1): p. 3–20.

21.

Akosa Antwi, Y., et al., Changes in emergency department use among young adults after the patient protection and Affordable Care Act's dependent coverage provision. Ann Emerg Med, 2015. 65(6): p. 664–672.e2.

22.

Walley, A.Y., et al., Opioid overdose rates and implementation of overdose education and nasal naloxone distribution in Massachusetts: interrupted time series analysis. BMJ, 2013. 346.

23.

Bureau, U.S.C U.S. Population by Age and Sex. [cited 2018; Available from: https://www.census.gov/en.html.

24.

Alpert, A., D. Powell, and R.L. Pacula, Supply-side drug policy in the presence of substitutes: evidence from the introduction of abuse-deterrent opioids. Am Econ J Econ Pol, 2018. 10(4): p. 1–35.

25.

Hwang, C.S., H.-Y. Chang, and G.C. Alexander, Impact of abuse-deterrent OxyContin on prescription opioid utilization. Pharmacoepidemiol Drug Saf, 2014. 24(2): p. 197–204.

26.

Severtson, S.G., et al., Sustained reduction of diversion and abuse after introduction of an abuse deterrent formulation of extended release oxycodone. Drug Alcohol Depend, 2016. 168: p. 219–229.

27.

Cicero, T.J. and M.S. Ellis, Abuse-deterrent formulations and the prescription opioid abuse epidemic in the united states: lessons learned from oxycontin. JAMA Psychiatry, 2015. 72(5): p. 424–430.

28.

Coplan, P.M., et al., Changes in oxycodone and heroin exposures in the National Poison Data System after introduction of extended-release oxycodone with abuse-deterrent characteristics. Pharmacoepidemiol Drug Saf, 2013. 22(12): p. 1274–1282.

29.

Cheng, H.G. and P.M. Coplan, Incidence of nonmedical use of OxyContin and other prescription opioid pain relievers before and after the introduction of OxyContin with abuse deterrent properties. Postgrad Med, 2018. 130(6): p. 568–574.

30.

Horgan, C.M., et al., Behavioral health services in the changing landscape of private health plans. (1557–9700 (Electronic)).

31.

Friedmann, P.D., C.M. Andrews, and K. Humphreys, How ACA repeal would worsen the opioid epidemic. N Engl J Med, 2017. 376(10): p. e16.

32.

Reif, S., et al., Commercial health plan coverage of selected treatments for opioid use disorders from 2003 to 2014. J Psychoactive Drugs, 2017. 49(2): p. 102–110.

33.

Hodgkin, D., et al., Federal parity and access to behavioral health care in private health plans. Psychiatr Serv, 2018. 69(4): p. 396–402.

34.

Han, B., Prescription opioid use, misuse, and use disorders in U.S. adults: 2015 national survey on drug use and health. Ann Intern Med 167(5).

35.

Finkelstein, A., et al., The Oregon health insurance experiment: evidence from the first year*. Q J Econ, 2012. 127(3): p. 1057–1106.

36.

Taubman, S.L., et al., Medicaid increases emergency-department use: evidence from Oregon's health insurance experiment. Science, 2014. 343(6168): p. 263.
Acknowledgments
Contributors
There are no contributors to the manuscript that did not meet authorship criteria.
Funding
Research reported in this manuscript was supported by the National Heart, Lung, and Blood Institute under award number T32HL098054 (EC), the National Institute on Drug Abuse K12DA033312 (EC), and the National Institute of Child Health and Human Development K23HD090272001 (MKD).
Ethics declarations
Conflict of Interest
The authors declare that they do not have a conflict of interest.
Disclaimer
The content is solely the responsibility of the authors and does not necessarily represent the official views of the National Institute of Health.
Additional information
Publisher's Note
Springer Nature remains neutral with regard to jurisdictional claims in published maps and institutional affiliations.
About this article
Cite this article
Coupet, E., Werner, R.M., Polsky, D. et al. Impact of the Young Adult Dependent Coverage Expansion on Opioid Overdoses and Deaths: a Quasi-Experimental Study. J GEN INTERN MED 35, 1783–1788 (2020). https://doi.org/10.1007/s11606-019-05605-3
Received:

Revised:

Accepted:

Published:

Issue Date:
KEY WORDS
opioids

health policy

substance use