ABSTRACT
BACKGROUND
Primary care clinicians can play an important role in identifying individuals at increased risk of cancer, but often do not obtain detailed information on family history or lifestyle factors from their patients.
OBJECTIVE
We evaluated the feasibility and effectiveness of using a web-based risk appraisal tool in the primary care setting.
DESIGN
Five primary care practices within an academic care network were assigned to the intervention or control group.
PARTICIPANTS
We included 15,495 patients who had a new patient visit or annual exam during an 8-month period in 2010–2011.
INTERVENTION
Intervention patients were asked to complete a web-based risk appraisal tool on a laptop computer immediately before their visit. Information on family history of cancer was sent to their electronic health record (EHR) for clinicians to view; if accepted, it populated coded fields and could trigger clinician reminders about colon and breast cancer screening.
MAIN MEASURES
The main outcome measure was new documentation of a positive family history of cancer in coded EHR fields. Secondary outcomes included clinician reminders about screening and discussion of family history, lifestyle factors, and screening.
KEY RESULTS
Among eligible intervention patients, 2.0 % had new information on family history of cancer entered in the EHR within 30 days after the visit, compared to 0.6 % of eligible control patients (adjusted odds ratio = 4.3, p = 0.03). There were no significant differences in the percent of patients who received moderate or high risk reminders for colon or breast cancer screening.
CONCLUSIONS
Use of this tool was associated with increased documentation of family history of cancer in the EHR, although the percentage of patients with new family history information was low in both groups. Further research is needed to determine how risk appraisal tools can be integrated with workflow and how they affect screening and health behaviors.
Access options
Buy single article
Instant access to the full article PDF.
USD 39.95
Price includes VAT (USA)
Tax calculation will be finalised during checkout.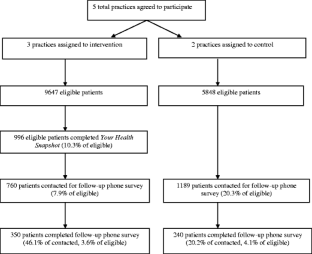 REFERENCES
1.

Colditz GA, Samplin-Salgado M, Ryan CT, et al. Harvard report on cancer prevention, volume 5: fulfilling the potential for cancer prevention: policy approaches. Cancer Causes Control. 2002;13:199–212.

2.

Valdez R, Yoon PW, Qureshi N, Green RF, Khoury MJ. Family history in public health practice: a genomic tool for disease prevention and health promotion. Annu Rev Public Health. 2010;31:69–87. 1 p following.

3.

Yach D, Hawkes C, Gould CL, Hofman KJ. The global burden of chronic diseases: overcoming impediments to prevention and control. Jama. 2004;291:2616–22.

4.

Yoon PW, Scheuner MT, Peterson-Oehlke KL, Gwinn M, Faucett A, Khoury MJ. Can family history be used as a tool for public health and preventive medicine? Genet Med. 2002;4:304–10.

5.

Claassen L, Henneman L, Janssens AC, et al. Using family history information to promote healthy lifestyles and prevent diseases; a discussion of the evidence. BMC Public Health. 2010;10:248.

6.

Sabatino SA, Habarta N, Baron RC, et al. Interventions to increase recommendation and delivery of screening for breast, cervical, and colorectal cancers by healthcare providers systematic reviews of provider assessment and feedback and provider incentives. Am J Prev Med. 2008;35:S67–74.

7.

McDonald CJ. The barriers to electronic medical record systems and how to overcome them. Journal of the American Medical Informatics Association: JAMIA. 1997;4:213–21.

8.

Yarnall KS, Pollak KI, Ostbye T, Krause KM, Michener JL. Primary care: is there enough time for prevention? Am J Public Health. 2003;93:635–41.

9.

Acheson LS, Wiesner GL, Zyzanski SJ, Goodwin MA, Stange KC. Family history-taking in community family practice: implications for genetic screening. Genet Med. 2000;2:180–5.

10.

Murff HJ, Byrne D, Syngal S. Cancer risk assessment: quality and impact of the family history interview. Am J Prev Med. 2004;27:239–45.

11.

Murff HJ, Greevy RA, Syngal S. The comprehensiveness of family cancer history assessments in primary care. Community Genet. 2007;10:174–80.

12.

Wilson BJ, Qureshi N, Santaguida P, et al. Systematic review: family history in risk assessment for common diseases. Ann Intern Med. 2009;151:878–85.

13.

Yoon PW, Scheuner MT, Jorgensen C, Khoury MJ. Developing Family Healthware, a family history screening tool to prevent common chronic diseases. Prev Chronic Dis. 2009;6:A33.

14.

Baghelai C, Nelkin VS, Miller TR. Health Risk Appraisals in Primary Care: Current Knowledge and Potential Applications to Improve Preventive Services and Chronic Care. Rockville, Maryland: Agency for Healthcare Research & Quality; 2009.

15.

Poon EG, Wald J, Bates DW, Middleton B, Kuperman GJ, Gandhi TK. Supporting patient care beyond the clinical encounter: three informatics innovations from Partners health care. AMIA Annu Symp Proc 2003:1072.

16.

Colditz GA, Atwood KA, Emmons K, et al. Harvard report on cancer prevention volume 4: Harvard Cancer Risk Index. Risk Index Working Group, Harvard Center for Cancer Prevention. Cancer Causes Control. 2000;11:477–88.

17.

Emmons KM, Wong M, Puleo E, Weinstein N, Fletcher R, Colditz G. Tailored computer-based cancer risk communication: correcting colorectal cancer risk perception. J Health Commun. 2004;9:127–41.

18.

Kim DJ, Rockhill B, Colditz GA. Validation of the Harvard Cancer Risk Index: a prediction tool for individual cancer risk. Journal of clinical epidemiology. 2004;57:332–40.

19.

Rifas-Shiman SL, Willett WC, Lobb R, Kotch J, Dart C, Gillman MW. PrimeScreen, a brief dietary screening tool: reproducibility and comparability with both a longer food frequency questionnaire and biomarkers. Public Health Nutr. 2001;4:249–54.

20.

Qureshi N, Wilson B, Santaguida P, et al. Collection and use of cancer family history in primary care. Evid Rep Technol Assess (Full Rep) 2007:1-84.

21.

Denney-Wilson E, Fanaian M, Wan Q, Vagholkar S, Schutze H, Mark M. Lifestyle risk factors in general practice - routine assessment and management. Aust Fam Physician. 2010;39:950–3.

22.

Stange KC, Flocke SA, Goodwin MA, Kelly RB, Zyzanski SJ. Direct observation of rates of preventive service delivery in community family practice. Prev Med. 2000;31:167–76.

23.

O'Neill SM, Rubinstein WS, Wang C, et al. Familial risk for common diseases in primary care: the Family Healthware Impact Trial. Am J Prev Med. 2009;36:506–14.

24.

Ruffin MT, Nease DE Jr, Sen A, et al. Effect of preventive messages tailored to family history on health behaviors: the Family Healthware Impact Trial. Ann Fam Med. 2011;9:3–11.

25.

Emery J. The GRAIDS Trial: the development and evaluation of computer decision support for cancer genetic risk assessment in primary care. Ann Hum Biol. 2005;32:218–27.

26.

Emery J, Morris H, Goodchild R, et al. The GRAIDS Trial: a cluster randomised controlled trial of computer decision support for the management of familial cancer risk in primary care. Br J Cancer. 2007;97:486–93.

27.

Acheson LS, Zyzanski SJ, Stange KC, Deptowicz A, Wiesner GL. Validation of a self-administered, computerized tool for collecting and displaying the family history of cancer. J Clin Oncol. 2006;24:5395–402.

28.

Jones JL, Hughes KS, Kopans DB, et al. Evaluation of hereditary risk in a mammography population. Clin Breast Cancer. 2005;6:38–44.

29.

Skinner CS, Rawl SM, Moser BK, et al. Impact of the Cancer Risk Intake System on patient-clinician discussions of tamoxifen, genetic counseling, and colonoscopy. J Gen Intern Med. 2005;20:360–5.

30.

Sweet KM, Bradley TL, Westman JA. Identification and referral of families at high risk for cancer susceptibility. J Clin Oncol. 2002;20:528–37.

31.

My Family Health Portrait. A tool from the Surgeon General. (Accessed January 4, 2013, at https://familyhistory.hhs.gov/fhh-web/.)
Acknowledgements
Contributors
We thank all of the clinicians, staff, and patients at the primary care practices who participated in the study.
Funders
This study was supported by grants from the CRICO/Risk Management Foundation of the Harvard Medical Institutions and from the National Human Genome Research Institute (1RC1HG005331). Dr. Baer also was supported by a Mentored Research Scientist Career Development Award from the Agency for Healthcare Research and Quality (K01HS019789).
Prior Presentations
Some of this manuscript was presented as a poster at the annual meeting of the Society of General Internal Medicine in Orlando, Florida, in May 2012.
Conflict of Interest
The creators and owners of Your Health Snapshot (Dr. Graham Colditz and Mr. Hank Dart, at Washington University School of Medicine) collaborated on some aspects of the study design and are included as co-authors on the paper. However, the authors had no financial relationship with them and they did not have access to the data or participate in the statistical analyses.
About this article
Cite this article
Baer, H.J., Schneider, L.I., Colditz, G.A. et al. Use of a Web-based Risk Appraisal Tool for Assessing Family History and Lifestyle Factors in Primary Care. J GEN INTERN MED 28, 817–824 (2013). https://doi.org/10.1007/s11606-013-2338-z
Received:

Revised:

Accepted:

Published:

Issue Date:
KEY WORDS
risk appraisal

family history

cancer

primary care