Abstract
Background
Up to 50 % of patients do not take medications as prescribed. Interventions to improve adherence are needed, with an understanding of which patients benefit most.
Objective
To test the effect of two low-literacy interventions on medication adherence.
Design
Randomized controlled trial, 2 × 2 factorial design.
Participants
Adults with coronary heart disease in an inner-city primary care clinic.
Interventions
For 1 year, patients received usual care, refill reminder postcards, illustrated daily medication schedules, or both interventions.
Main Measures
The primary outcome was cardiovascular medication refill adherence, assessed by the cumulative medication gap (CMG). Patients with CMG < 0.20 were considered adherent. We assessed the effect of the interventions overall and, post-hoc, in subgroups of interest.
Key Results
Most of the 435 participants were elderly (mean age = 63.7 years), African-American (91 %), and read below the 9th-grade level (78 %). Among the 420 subjects (97 %) for whom CMG could be calculated, 138 (32.9 %) had CMG < 0.20 during follow-up and were considered adherent. Overall, adherence did not differ significantly across treatments: 31.2 % in usual care, 28.3 % with mailed refill reminders, 34.2 % with illustrated medication schedules, and 36.9 % with both interventions. In post-hoc analyses, illustrated medication schedules led to significantly greater odds of adherence among patients who at baseline had more than eight medications (OR = 2.2; 95 % CI, 1.21 to 4.04) or low self-efficacy for managing medications (OR = 2.15; 95 % CI, 1.11 to 4.16); a trend was present among patients who reported non-adherence at baseline (OR = 1.89; 95 % CI, 0.99 to 3.60).
Conclusions
The interventions did not improve adherence overall. Illustrated medication schedules may improve adherence among patients with low self-efficacy, polypharmacy, or baseline non-adherence, though this requires confirmation.
Access options
Buy single article
Instant access to the full article PDF.
US$ 39.95
Tax calculation will be finalised during checkout.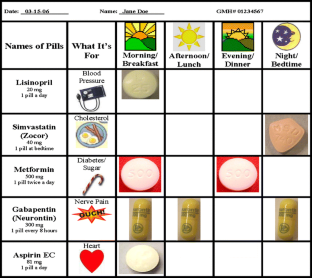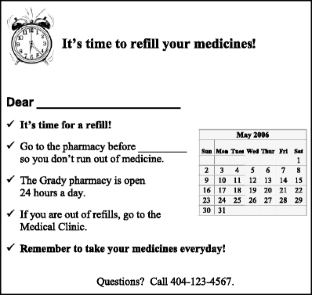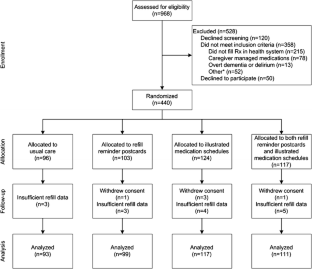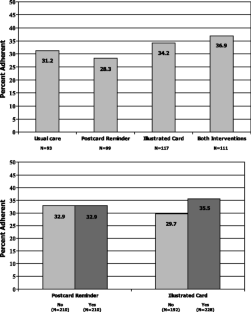 REFERENCES
1.

Smith SC Jr, Allen J, Blair SN, et al. AHA/ACC guidelines for secondary prevention for patients with coronary and other atherosclerotic vascular disease: 2006 update: endorsed by the National Heart, Lung, and Blood Institute. Circulation. 2006;113(19):2363–2372.

2.

Gazmararian J, Kripalani S, Miller MJ, Echt KV, Ren J, Rask KJ. Factors associated with medication refill adherence in cardiovascular-related diseases: a focus on health literacy. J Gen Intern Med. 2006;21:1215–1221.

3.

Ho PM, Magid DJ, Shetterly SM, et al. Medication nonadherence is associated with a broad range of adverse outcomes in patients with coronary artery disease. Am Heart J. 2008;155(4):772–779.

4.

DiMatteo MR. Variations in patients' adherence to medical recommendations: a quantitative review of 50 years of research. Med Care. 2004;42(3):200–209.

5.

Ho PM, Bryson CL, Rumsfeld JS. Medication adherence: its importance in cardiovascular outcomes. Circulation. 2009;119(23):3028–3035.

6.

Simpson SH, Eurich DT, Majumdar SR, et al. A meta-analysis of the association between adherence to drug therapy and mortality. BMJ. 2006;333(7557):15.

7.

Sokol MC, McGuigan KA, Verbrugge RR, Epstein RS. Impact of medication adherence on hospitalization risk and healthcare cost. Med Care. 2005;43(6):521–530.

8.

World Health Organization. Adherence to Long-Term Therapies: Evidence for Action (2003). Available at: http://www.who.int/chp/knowledge/publications/adherence_report/en/index.html. Accessed June 1, 2012.

9.

Osterberg L, Blaschke T. Adherence to medication. N Engl J Med. 2005;353(5):487–497.

10.

Murray MD, Tu W, Wu J, Morrow D, Smith F, Brater DC. Factors associated with exacerbation of heart failure include treatment adherence and health literacy skills. Clin Pharm Ther. 2009;85(6):651–658.

11.

Davis TC, Wolf MS, Bass PF III, et al. Literacy and misunderstanding prescription drug labels. Ann Intern Med. 2006;145(12):887–894.

12.

Wolf MS, Davis TC, Shrank W, et al. To err is human: patient misinterpretations of prescription drug label instructions. Patient Educ Couns. 2007;67(3):293–300.

13.

Kripalani S, Henderson LE, Chiu EY, Robertson R, Kolm P, Jacobson TA. Predictors of medication self-management skill in a low-literacy population. J Gen Intern Med. 2006;21(8):852–856.

14.

Bandura A. Self-efficacy: The exercise of control. New York: Freeman; 1997.

15.

Claxton AJ, Cramer J, Pierce C. A systematic review of the associations between dose regimens and medication compliance. Clin Ther. 2001;23(8):1296–1310.

16.

Kripalani S, Yao X, Haynes RB. Interventions to enhance medication adherence in chronic medical conditions: a systematic review. Arch Intern Med. 2007;167(6):540–550.

17.

National Council on Patient Information and Education. Enhancing Prescription Medicine Adherence: A National Action Plan (2007). Available at: http://www.talkaboutrx.org/. Accessed June 1, 2012.

18.

Institute of Medicine. Health literacy. A prescription to end confusion. Washington, DC: National Academies Press; 2004.

19.

Joint Commission. "What Did the Doctor Say?:" Improving Health Literacy to Protect Patient Safety (2007). Available at www.jointcommission.org. Accessed June 1, 2012.

20.

Kutner M, Greenberg E, Jin Y, Paulsen C. The health literacy of America's adults: Results from the 2003 National Assessment of Adult Literacy (NCES 2006-483). Washington, DC: U.S. Department of Education, National Center for Education Statistics; 2006.

21.

Houts PS, Doak CC, Doak LG, Loscalzo MJ. The role of pictures in improving health communication: a review of research on attention, comprehension, recall, and adherence. Patient Educ Couns. 2006;61(2):173–190.

22.

Katz MG, Kripalani S, Weiss BD. Use of pictorial aids in medication instructions: a review of the literature. Am J Health-Syst Pharm. 2006;63:2391–2397.

23.

Kripalani S, Bengtzen R, Henderson LE, Jacobson TA. Clinical research in low-literacy populations: using teach-back to assess comprehension of informed consent and privacy information. IRB: Ethics & Human Research. 2008;30(2):13–19.

24.

Kripalani S, Robertson R, Love-Ghaffari MH, et al. Development of an illustrated medication schedule as a low-literacy patient education tool. Patient Educ Couns. 2007;66(3):368–377.

25.

Institute of Medicine. Standardizing medication labels: Confusing patients less, workshop summary. Washington, DC: The National Academies Press; 2008.

26.

Schlenk EA, Burke LE, Rand C. Behavioral strategies to improve medication-taking compliance. In: Burke LE, Ockene IS, eds. Compliance in healthcare and research. Armonk: Futura Publishing Company, Inc; 2001:57–70.

27.

Risser J, Jacobson TA, Kripalani S. Development and psychometric evaluation of the Self-Efficacy for Appropriate Medication Use Scale (SEAMS) in low-literacy patients with chronic disease. J Nurs Meas. 2007;15(3):203–219.

28.

Morisky DE, Green LW, Levine DM. Concurrent and predictive validity of a self-reported measure of medication adherence. Med Care. 1986;24:67–74.

29.

Davis TC, Crouch MA, Long SW, et al. Rapid assessment of literacy levels of adult primary care patients. Fam Med. 1991;23(6):433–435.

30.

Folstein MF, Folstein SE, McHugh PR. "Mini-Mental State" A practical method for grading the cognitive state of patients for the clinician. J Psychiatr Res. 1975;12:189–198.

31.

Steiner JF, Prochaska AV. The assessment of refill compliance using pharmacy records: methods, validity, and applications. J Clin Epidemiol. 1997;50:105–116.

32.

Raynor DK, Booth TG, Blenkinsopp A. Effects of computer generated reminder charts on patients' compliance with drug regimens. BMJ. 1993;306(6886):1158–1161.

33.

Newell SA, Bowman JA, Cockburn JD. A critical review of interventions to increase compliance with medication-taking, obtaining medication refills, and appointment-keeping in the treatment of cardiovascular disease. Prev Med. 1999;29:535–548.

34.

Murray MD, Young J, Hoke S, et al. Pharmacist intervention to improve medication adherence in heart failure: a randomized trial. Ann Intern Med. 2007;146(10):714–725.

35.

Yin HS, Dreyer BP, van Schaick L, Foltin GL, Dinglas C, Mendelsohn AL. Randomized controlled trial of a pictogram-based intervention to reduce liquid medication dosing errors and improve adherence among caregivers of young children. Arch Pediatr Adoles Med. 2008;162(9):814–822.

36.

Machtinger EL, Wang F, Chen L-L, Rodriguez M, Wu S, Schillinger D. A visual medication schedule to improve anticoagulation control: a randomized, controlled trial. Jt Comm J Qual Patient Saf. 2007;33(10):625–635.

37.

Cordasco KM, Asch SM, Bell DS, et al. A low-literacy medication education tool for safety-net hospital patients. Am J Prev Med. 2009;37(6 Suppl 1):S209–216.

38.

Jack BW, Chetty VK, Anthony D, et al. A reengineered hospital discharge program to decrease rehospitalization: a randomized trial. Ann Intern Med. 2009;150(3):178–187.

39.

Berkman ND, Sheridan SL, Donahue KE, Halpern DJ, Crotty K. Low health literacy and health outcomes: an updated systematic review. Ann Intern Med. 2011;155(2):97–107.

40.

Gazmararian J, Jacobson KL, Pan Y, Schmotzer B, Kripalani S. Effect of a pharmacy-based health literacy intervention and patient characteristics on medication refill adherence in an urban health system. Ann Pharmacother. 2010;44(1):80–87.

41.

Kalichman S, Ramachandran B, Catz S. Adherence to combination antiretroviral therapies in HIV patients of low health literacy. J Gen Intern Med. 1999;14:267–273.

42.

Chew LD, Bradley KA, Flum DR, Cornia PB, Koepsell TD. The impact of low health literacy on surgical practice. Am J Surgery. 2004;188(3):250–253.

43.

Golin CE, Liu H, Hays RD, et al. A prospective study of predictors of adherence to combination antiretroviral medication. J Gen Intern Med. 2002;17(10):756–765.

44.

Choo PW, Rand CS, Inui TS, et al. Validation of patient reports, automated pharmacy records, and pill counts with electronic monitoring of adherence to antihypertensive therapy. Med Care. 1999;37(9):846–857.

45.

Hansen RA, Kim MM, Song L, Tu W, Wu J, Murray MD. Comparison of methods to assess medication adherence and classify nonadherence. Ann Pharmacother. 2009;43(3):413–422.

46.

Vermeire E, Hearnshaw H, Van Royen P, Denekens J. Patient adherence to treatment: three decades of research. A comprehensive review. J Clin Pharm Ther. 2003;26:331–342.

47.

Miller NH, Hill M, Kottke T, Ockene IS. for the Expert Panel on Compliance. The multilevel compliance challenge: recommendations for a call to action. A statement for healthcare professionals. Circulation. 1997;95:1085–1090.
Acknowledgements
We wish to thank Jessica Praska, PharmD, and Akilah Strawder, PharmD, for their assistance in intervention delivery. We thank Junling Ren for her assistance in outcome assessment, as well as Courtney Cawthon, MPH, and Abby Myers for their help with manuscript preparation.
This research was supported by a grant from the American Heart Association.
Prior Presentation
1.

Kripalani S, Robertson RS, Schmotzer B, Jacobson TA. Improving Medication Adherence through Graphically Enhanced interventions in Coronary Heart Disease: The IMAGE-CHD Study. J Gen Intern Med 2007; 21(S1):151. Poster at American Heart Association grantee symposium 2006. Oral abstract at SGIM 2007.

2.

Kripalani S Jacobson TA. Illustrated medication schedules improve medication adherence in at-risk patients with coronary heart disease. J Gen Intern Med 2010; 25(S3):S301. Oral abstract at SGIM 2010.
Conflict of Interest
Dr. Kripalani serves as a consultant to and holds equity in PictureRx, LLC, which makes patient education tools to improve medication management. PictureRx did not provide materials or funding for this study. The terms of this arrangement were reviewed and approved by Emory University and Vanderbilt University in accordance with their conflict of interest policies. Dr. Kripalani also has served as a consultant to Pfizer, Inc. Dr. Jacobson and Mr. Schmotzer have no relevant conflicts of interest to report. The statistical analysis was performed independently by Mr. Schmotzer, who was not affiliated with or compensated by PictureRx.
Additional information
Figure 1 was published previously in Kripalani et al. Development of an illustrated medication schedule as a low-literacy patient education tool. Pt Educ Counsel 2007; 66:386-77. Emory University retained the copyright to this figure.
About this article
Cite this article
Kripalani, S., Schmotzer, B. & Jacobson, T.A. Improving Medication Adherence through Graphically Enhanced Interventions in Coronary Heart Disease (IMAGE-CHD): A Randomized Controlled Trial. J GEN INTERN MED 27, 1609–1617 (2012). https://doi.org/10.1007/s11606-012-2136-z
Received:

Revised:

Accepted:

Published:

Issue Date:
KEY WORDS
coronary heart disease

medical adherence

medication management