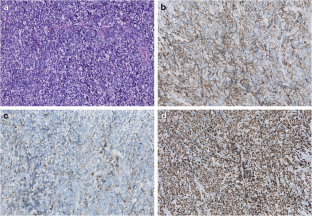 References
1.

Assarzadegan N, Montgomery E. What is New in 2019 World Health Organization (WHO) Classification of Tumors of the Digestive System: Review of Selected Updates on Neuroendocrine Neoplasms, Appendiceal Tumors, and Molecular Testing. Arch Pathol Lab Med 2020. https://doi.org/10.5858/arpa.2019-0665-RA.

2.

Carrera C, Kunk P, Rahma O. Small Cell Carcinoma of the Gallbladder: Case Report and Comprehensive Analysis of Published Cases. J Oncol 2015;2015:304909. doi:https://doi.org/10.1155/2015/304909.

3.

Ting YY, John A, Maddern G, Kuan LL. Small cell neuroendocrine carcinoma of the gallbladder. ANZ J Surg 2020. https://doi.org/10.1111/ans.16366.
Funding
This work was supported by grants from the Sichuan Science and Technology Program (2018JY0019) and the Fundamental Research Funds for the Central Universities (2019SCUH).
Ethics declarations
Ethics Approval
Ethics approval was not required for this research.
Patient Consent Statement
Written informed consent was obtained from the patient for publication of this case report and all accompanying images.
Conflict of Interest
The authors declare no competing interests.
Additional information
Publisher's Note
Springer Nature remains neutral with regard to jurisdictional claims in published maps and institutional affiliations.
About this article
Cite this article
Zou, RQ., Hu, HJ. & Li, FY. Primary Small Cell Neuroendocrine Carcinoma of the Gallbladder with Lymph Node Metastasis. J Gastrointest Surg (2021). https://doi.org/10.1007/s11605-021-04941-2
Received:

Accepted:

Published: