Access options
Buy single article
Instant access to the full article PDF.
US$ 39.95
Tax calculation will be finalised during checkout.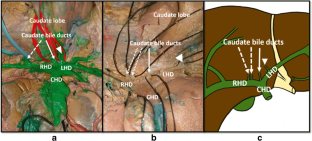 References
1.

Ito T, Ebata T, Yokoyama Y, Igami T, Sugawara G, Mizuno T, et al. The pathologic correlation between liver and portal vein invasion in perihilar cholangiocarcinoma: evaluating the oncologic rationale for the American Joint Committee on Cancer definitions of T2 and T3 tumors. World J Surg. 2014;38:3215-21.

2.

Nimura Y, Hayakawa N, Kamiya J, Kondo S, Shionoya S. Hepatic segmentectomy with caudate lobe resection for bile duct carcinoma of the hepatic hilus. World J Surg. 1990;14:535-43; discussion 44.

3.

Cazzaniga GM, Ciferri E, Bagarolo C, Filauro M, Bondanza G, Fazio S, et al. Primitive hepatic hilum neoplasm. J Surg Oncol. 1993;53:140-6.

4.

Healey JE, Jr., Schroy PC. Anatomy of the biliary ducts within the human liver; analysis of the prevailing pattern of branchings and the major variations of the biliary ducts. AMA Arch Surg. 1953;66:599-616.

5.

Kumon M. Anatomical Study of the Caudate Lobe with Special Reference to Portal Venous and Biliary Branches Using Corrosion Liver Casts and Clinical Application. Liver Cancer. 2017;6:161-70.
Additional information
Publisher's Note
Springer Nature remains neutral with regard to jurisdictional claims in published maps and institutional affiliations.
About this article
Cite this article
Jain, V., Krishnamurthy, G., Kumar, H. et al. Anatomical Basis of Routine Caudate Lobe Resections in Hilar Cholangiocarcinoma. J Gastrointest Surg (2021). https://doi.org/10.1007/s11605-021-04910-9
Received:

Accepted:

Published:
Keywords
Cadaver

Dissection

Resection

Hilar cholangiocarcinoma

Anatomy