Abstract
Background
In 2010, the World Health Organization proposed that rectal neuroendocrine neoplasms (NENs) be considered malignant. We hypothesized that patients with small, low-grade, locally excised tumors have a low risk of recurrence and death.
Methods
Retrospective review of institutional database 2006–2017 including consecutive adults with newly diagnosed rectum NENs. Outcome measures included risk of recurrence and 5-year overall survival.
Results
A total of 122 patients were diagnosed with rectal NENs. Most patients were asymptomatic and diagnosed during screening colonoscopy (80, 66.1%), had small tumors (median 0.6 cm, IQR 0.5–1) with intact muscularis propria on EUS (62/65, 95.4%), and were low grade (2017 WHO grades 1–2, n = 116, 95.1%). Lymph node and distant metastasis were found in 4 (3.3%) and 4 (3.3%) of patients, respectively. Patients were treated with local excision in 93.4% of cases with polypectomy (52, 42.6%), endoscopic mucosal resection (48, 39.3%), and transanal excision (14, 11.5%). Three patients (2.5%) required abdominoperineal resection or low anterior resection, and five patients (4.1%) received adjuvant chemotherapy. Of 87 patients surveilled, 4 (4.6%) recurred at a median time of 1 year (IQR 0.6–8). Death from neuroendocrine neoplasms occurred in 5 (4.1%) patients, all with lymph node (1/4) or metastatic disease (4/5) on presentation. Median time to death from NEN was 0.8 years (0.7–2.4). Overall 5-year survival for patients with localized disease was 98.2% (95% CI 93–99.5, Fig. 1).
Conclusion
Patients with small, low grade rectal NENs treated with local excision have excellent oncologic outcomes.
Access options
Buy single article
Instant access to the full article PDF.
US$ 39.95
Tax calculation will be finalised during checkout.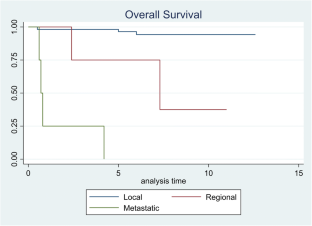 References
1.

Scherübl H. Rectal carcinoids are on the rise: early detection by screening endoscopy. Endoscopy. 2009 Feb;41(2):162–5.

2.

Onozato Y, Kakizaki S, Iizuka H, Sohara N, Mori M, Itoh H. Endoscopic treatment of rectal carcinoid tumors. Dis Colon Rectum. 2010 Feb;53(2):169–76.

3.

Zhao B, Hollandsworth HM, Lopez NE, Parry LA, Abbadessa B, Cosman BC, Ramamoorthy SL, Eisenstein S. Outcomes for a Large Cohort of Patients with Rectal Neuroendocrine Tumors: an Analysis of the National Cancer Database. J Gastrointest Surg Off J Soc Surg Aliment Tract. 2020 Feb;

4.

National Comprehensive Cancer Network. Neuroendocrine tumors. Available at: https://www.nccn.org/professionals/physician_gls/pdf/neuroendocrine.pdf. Accessed August 26, 2019.

5.

Zheng J-C, Zheng K, Zhao S, Wang Z-N, Xu H-M, Jiang C-G. Efficacy and safety of modified endoscopic mucosal resection for rectal neuroendocrine tumors: a meta-analysis. Z Gastroenterol. 2020 Feb;58(2):137–45.

6.

Hrabe J. Neuroendocrine Tumors of the Appendix, Colon, and Rectum. Surg Oncol Clin N Am. 2020 Apr;29(2):267–79.
Ethics declarations
Conflict of Interest
The authors declare that they have no conflicts of interest.
Additional information
Publisher's Note
Springer Nature remains neutral with regard to jurisdictional claims in published maps and institutional affiliations.
Presentations
This study was presented in 2020 ASCRS as a Podium Original Contribution (June 2020).
About this article
Cite this article
Storino, A., Wong, D., Ore, A.S. et al. Recurrence and Survival of Neuroendocrine Neoplasms of the Rectum: Single-Center Experience. J Gastrointest Surg (2020). https://doi.org/10.1007/s11605-020-04854-6
Received:

Accepted:

Published:
Keywords
Rectal neoplasms

Neuroendocrine carcinoma

Neuroendocrine tumors

Endoscopic mucosal resection

Transanal endoscopic surgery