Abstract
Background
Biliary fistula after pancreatoduodenectomy (PD) is associated with significant morbidity and mortality. The aim of this study was to determine the risk of early postoperative biliary fistula for developing biliary anastomotic stricture after PD.
Methods
Retrospective review of all PD performed for various indications at a single institution between 2013 and 2018. Postoperative biliary fistulae were graded according to the International Study Group of Liver Surgery (ISGLS) as grade A–C. Multivariable analysis was performed for all comparative patient subgroups.
Results
A total of 843 patients underwent PD for malignant (68%) and benign (32%) indications. Postoperative biliary fistula developed in 66 (8%) patients; ISGLS grade A in 29 (3%), grade B in 32 (4%), and grade C in 5 (0.6%). Ninety-day mortality was 3% (25 patients). The remaining 818 patients were evaluated with a median follow-up of 16 months (IQR, 5–32 months). Biliary anastomotic stricture developed in 41 (5%) patients at a median of 10 months (IQR, 6–18 months) postoperatively. Strictures were managed with percutaneous (27 patients, 66%) or endoscopic (14 patients, 34%) stenting. No biliary stricture required operative anastomotic revision. Postoperative biliary fistula (HR, 4.4; 95% CI, 2.0–9.9; P = 0.0002) was associated with biliary anastomotic stricture; an increased risk for biliary anastomotic stricture was seen in patients with grade A (HR, 6.4; 95% CI, 2.4–16.9; P = 0.0002) and grade B (HR, 3.6; 95% CI, 1.2–10.9; P = 0.02) postoperative biliary fistula.
Conclusion
Postoperative biliary fistula after pancreatoduodenectomy, including clinically insignificant, transient biliary fistula, is associated with an increased risk of a late biliary anastomotic stricture requiring stenting.
Access options
Buy single article
Instant access to the full article PDF.
US$ 39.95
Tax calculation will be finalised during checkout.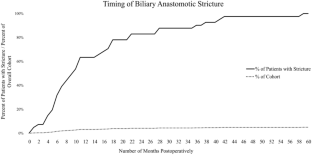 References
1.

Yeo C, Cameron JL, Sohn T, Lillemoe KD, Pitt HA, Talamini M, Hruban R, Ord S, Sauter PK, Coleman J, Zahurak M, Grochow L, Abrams R. Six hundred fifty consecutive pancreaticoduodenectomies in the 1990s. Ann Surg. 1997;226(3):248-60; discussion 57-60.

2.

Schmidt C, Powell E, Yiannoutsos C, Howard T, Wiebke E, Wiesenauer C, Baumgardner J, Cummings O, Jacobson L, Broadie T, Canal D, Goulet RJ, Curie E, Cardenes H, Watkins J, Loehrer P, Lillemoe K, Madura J. Pancreaticoduodenectomy: a 20-year experience in 516 patients. Arch Surg. 2004;139(7):718-25; discussion 25-7.

3.

Schmidt CM, Turrini O, Parikh P, House MG, Zyromski N, Nakeeb A, Howard TJ, Pitt HA, Lillemoe KD. Effect of hospital volume, surgeon experience, and surgeon volume on patient outcomes after pancreaticoduodenectomy: a single-institution experience. Arch Surg. 2010;145(7):634-40.

4.

Simpson RE, Fennerty ML, Colgate CL, Kilbane EM, Ceppa EP, House MG, Zyromski NJ, Nakeeb A, Schmidt CM. Post-pancreatoduodenectomy outcomes and epidural analgesia: a 5-year single institution experience. J Am Coll Surg. 2019;228(4):453-62.

5.

Maatman TK, Weber DJ, Timsina LR, Qureshi B, Ceppa EP, Nakeeb A, Schmidt CM, Zyromski NJ, Koniaris LG, House MG. Antibiotic irrigation during pancreatoduodenectomy to prevent infection and pancreatic fistula: a randomized controlled clinical trial. Surgery. 2019;166(4):469-75.

6.

Suzuki Y, Fujino Y, Tanioka Y, Ajiki T, Hiraoka K, Takada M, Takeyama Y, Tominaga M, Ku Y, Kuroda Y. Factors influencing hepaticojejunostomy leak following pancreaticoduodenal resection; importance of anastomotic leak test. Hepatogastroenterology. 2003;50(49):254-7.

7.

Antolovic D, Koch M, Galindo L, Wolff S, Music E, Kienle P, Schemmer P, Friess H, Schmidt J, Buchler MW, Weitz J. Hepaticojejunostomy--analysis of risk factors for postoperative bile leaks and surgical complications. J Gastrointest Surg. 2007;11(5):555-61.

8.

Jester AL, Chung CW, Becerra DC, Molly Kilbane E, House MG, Zyromski NJ, Max Schmidt C, Nakeeb A, Ceppa EP. The impact of hepaticojejunostomy leaks after pancreatoduodenectomy: a devastating source of morbidity and mortality. J Gastrointest Surg. 2017;21(6):1017-24.

9.

Duconseil P, Turrini O, Ewald J, Berdah SV, Moutardier V, Delpero JR. Biliary complications after pancreaticoduodenectomy: skinny bile ducts are surgeons' enemies. World J Surg. 2014;38(11):1946-51.

10.

El Nakeeb A, El Sorogy M, Hamed H, Said R, Elrefai M, Ezzat H, Askar W, Elsabbagh AM. Biliary leakage following pancreaticoduodenectomy: prevalence, risk factors and management. Hepatobiliary Pancreat Dis Int. 2019;18(1):67-72.

11.

Burkhart RA, Relles D, Pineda DM, Gabale S, Sauter PK, Rosato EL, Koniaris LG, Lavu H, Kennedy EP, Yeo CJ, Winter JM. Defining treatment and outcomes of hepaticojejunostomy failure following pancreaticoduodenectomy. J Gastrointest Surg. 2013;17(3):451-60.

12.

Balcom JH, 4th, Rattner D, Warshaw A, Chang Y, Fernandez-del Castillo C. Ten-year experience with 733 pancreatic resections: changing indications, older patients, and decreasing length of hospitalization. Arch Surg. 2001;136(4):391-8.

13.

Cameron JL, He J. Two thousand consecutive pancreaticoduodenectomies. J Am Coll Surg. 2015;220(4):530-6.

14.

Birkmeyer J, Warshaw A, Finlayson S, Grove M, Tosteson A. Relationship between hospital volume and late survival after pancreaticoduodenectomy. Surgery. 1999;126(2):178-83.

15.

Ziegler KM, Nakeeb A, Pitt HA, Schmidt CM, Bishop SN, Moreno J, Matos JM, Zyromski NJ, House MG, Madura JA, Howard TJ, Lillemoe KD. Pancreatic surgery: evolution at a high-volume center. Surgery. 2010;148(4):702-9; discussion 9-10.

16.

Kazanjian K, Hines J, Duffy J, Yoon D, Cortina G, Reber H. Improved survival following pancreaticoduodenectomy to treat adenocarcinoma of the pancreas: the influence of operative blood loss. Arch Surg. 2008;143(12):1166-71.

17.

van Roessel S, Mackay T, Tol J, van Delden O, Van Lienden KP, Nio C, Phoa S, Fockens P, Van Hooft J, Verheij J, Wilmink J, van Gulik T, Gouma DJ, Busch O, Besselink MG. Impact of expanding indications on surgical and oncological outcome in 1434 consecutive pancreatoduodenectomies. HPB (Oxford). 2019;21(7):865-75.

18.

Dhir M, Zenati M, Hamad A, Singhi A, Bahary N, Hogg ME, Zeh HJ, 3rd, Zureikat AH. FOLFIRINOX versus gemcitabine/Nab-paclitaxel for neoadjuvant treatment of resectable and borderline resectable pancreatic head adenocarcinoma. Ann Surg Oncol. 2018;25(7):1896-903.

19.

House MG, Cameron JL, Schulick RD, Campbell KA, Sauter PK, Coleman J, Lillemoe KD, Yeo CJ. Incidence and outcome of biliary strictures after pancreaticoduodenectomy. Ann Surg. 2006;243(5):571-6; discussion 6-8.

20.

Asano T, Natsume S, Senda Y, Sano T, Matsuo K, Kodera Y, Hara K, Ito S, Yamao K, Shimizu Y. Incidence and risk factors for anastomotic stenosis of continuous hepaticojejunostomy after pancreaticoduodenectomy. J Hepatobiliary Pancreat Sci. 2016;23(10):628-35.

21.

Ito T, Sugiura T, Okamura Y, Yamamoto Y, Ashida R, Aramaki T, Endo M, Matsubayashi H, Ishiwatari H, Uesaka K. Late benign biliary complications after pancreatoduodenectomy. Surgery. 2018;163(6):1295-300.

22.

Koch M, Garden OJ, Padbury R, Rahbari NN, Adam R, Capussotti L, Fan ST, Yokoyama Y, Crawford M, Makuuchi M, Christophi C, Banting S, Brooke-Smith M, Usatoff V, Nagino M, Maddern G, Hugh TJ, Vauthey JN, Greig P, Rees M, Nimura Y, Figueras J, DeMatteo RP, Buchler MW, Weitz J. Bile leakage after hepatobiliary and pancreatic surgery: a definition and grading of severity by the International Study Group of Liver Surgery. Surgery. 2011;149(5):680-8.

23.

Bassi C, Marchegiani G, Dervenis C, Sarr M, Abu Hilal M, Adham M, Allen P, Andersson R, Asbun HJ, Besselink MG, Conlon K, Del Chiaro M, Falconi M, Fernandez-Cruz L, Fernandez-Del Castillo C, Fingerhut A, Friess H, Gouma DJ, Hackert T, Izbicki J, Lillemoe KD, Neoptolemos JP, Olah A, Schulick R, Shrikhande SV, Takada T, Takaori K, Traverso W, Vollmer CR, Wolfgang CL, Yeo CJ, Salvia R, Buchler M, International Study Group on Pancreatic S. The 2016 update of the International Study Group (ISGPS) definition and grading of postoperative pancreatic fistula: 11 years after. Surgery. 2017;161(3):584-91.

24.

Wente MN, Bassi C, Dervenis C, Fingerhut A, Gouma DJ, Izbicki JR, Neoptolemos JP, Padbury RT, Sarr MG, Traverso LW, Yeo CJ, Buchler MW. Delayed gastric emptying (DGE) after pancreatic surgery: a suggested definition by the International Study Group of Pancreatic Surgery (ISGPS). Surgery. 2007;142(5):761-8.

25.

CDC/NHSN Surveillance Definitions for Specific Types of Infections. Atlanta, GA: Centers for Disease Control and Prevention; 2019. p. 1–29.

26.

DeOliveira ML, Winter JM, Schafer M, Cunningham SC, Cameron JL, Yeo CJ, Clavien PA. Assessment of complications after pancreatic surgery: a novel grading system applied to 633 patients undergoing pancreaticoduodenectomy. Ann Surg. 2006;244(6):931-7; discussion 7-9.

27.

Cote GA, Slivka A, Tarnasky P, Mullady DK, Elmunzer BJ, Elta G, Fogel E, Lehman G, McHenry L, Romagnuolo J, Menon S, Siddiqui UD, Watkins J, Lynch S, Denski C, Xu H, Sherman S. Effect of covered metallic stents compared with plastic stents on benign biliary stricture resolution: a randomized clinical trial. JAMA. 2016;315(12):1250-7.
Ethics declarations
Conflict of Interest
The authors declare that they have no conflict of interest.
Additional information
Publisher's Note
Springer Nature remains neutral with regard to jurisdictional claims in published maps and institutional affiliations.
About this article
Cite this article
Maatman, T.K., Loncharich, A.J., Flick, K.F. et al. Transient Biliary Fistula After Pancreatoduodenectomy Increases Risk of Biliary Anastomotic Stricture. J Gastrointest Surg 25, 169–177 (2021). https://doi.org/10.1007/s11605-020-04727-y
Received:

Accepted:

Published:

Issue Date:
Keywords
Anastomosis, surgical

Anastomotic leak

Biliary tract surgical procedures

Pancreaticoduodenectomy

Choledochostomy