This is a preview of subscription content, log in to check access.
Access options
Buy single article
Instant access to the full article PDF.
US$ 39.95
Price includes VAT for USA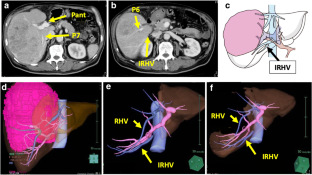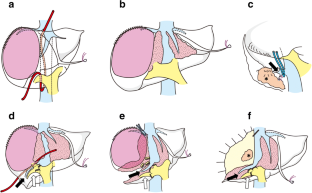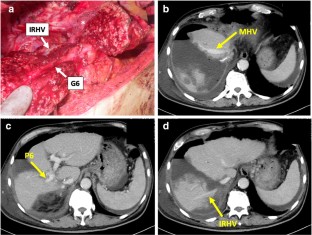 Abbreviations
RH:

Right hemi-hepatectomy

HCC:

Hepatocellular carcinoma

IRHV:

Inferior right hepatic vein

RHV:

Right hepatic vein

IVC:

Inferior vena cava

LHM:

Liver hanging maneuver

triseg-5,7,8:

Trisegmentectomy 5, 7, and 8

S6:

Segment 6

G7:

Glissonean pedicle of S7
References
1.

Takahashi M, Hasegawa K, Aoki T, Seyama Y, Makuuchi M, Kokudo N. Reappraisal of the inferior right hepatic vein preserving liver resection. Dig Surg 2014;31:377–83.

2.

Makuuchi M, Hasegawa H, Yamazaki S, Takayasu K. Four new hepatectomy procedures for resection of the right hepatic vein and preservation of the inferior right hepatic vein. Surg Gynecol Obstet 1987;164:68–72.

3.

Nakayama H, Takayama T, Higaki T, Okubo T, Moriguchi M, Yoshida N et al. Verification of inferior right hepatic vein-conserving segments 7 to 8 resection of the liver. Int Surg 2015;100:683–8.

4.

Belghiti J, Guevara OA, Noun R, Saldinger PF, Kianmanesh R. Liver hanging maneuver: a safe approach to right hepatectomy without liver mobilization. J Am Coll Surg 2001;193:109–11.

5.

Utsunomiya T, Shimada M. Modified hanging method for liver resection. J Hepatobiliary Pancreat Sci 2012;19:19–24.
Acknowledgments
We thank Mr. Shinya Fukamachi for medical illustrations.
Ethics declarations
Conflict of Interest
The authors declare that they have no conflict of interest.
Additional information
Publisher's Note
Springer Nature remains neutral with regard to jurisdictional claims in published maps and institutional affiliations.
Electronic Supplementary Material
About this article
Cite this article
Sugimachi, K., Iguchi, T., Nakanoko, T. et al. Inferior Right Hepatic Vein-Preserving Hepatectomy for Large Liver Tumors: Anterior Approach Using the Two-Stage Modified Hanging Maneuver (with Video). J Gastrointest Surg 24, 1444–1447 (2020). https://doi.org/10.1007/s11605-020-04602-w
Received:

Accepted:

Published:

Issue Date: