Abstract
Background
We sought to define the incidence and characterize the timing of hospice utilization among racial/ethnic minority patients following pancreatectomy for pancreatic cancer.
Methods
The Medicare Standard Analytic Files from 2013 to 2017 were used to identify patients with pancreatic cancer who underwent a pancreatectomy. Logistic regression was utilized to identify the association between race and patterns of hospice utilization among deceased individuals.
Results
Among the 14,495 individuals (median age 73; 52.3% female; 6.8% racial/ethnic minority) who underwent a pancreatectomy for pancreatic cancer, 47% (n = 6859) died by the end of the follow-period. Among deceased individuals, three-fourths of patients (n = 4978, 72.6%) used hospice leading up to the time of death. Racial/ethnic minority patients were less likely, however, to have used hospice services compared with white patients (racial/ethnic minorities n = 301, 67% vs. whites: n = 4677, 73%; p = 0.024). On multivariable analysis, after controlling for clinical factors, racial/ethnic minority patients remained 22% less likely than whites to initiate hospice services prior to death (OR 0.78, 95% CI 0.63–0.96). Despite overall lower use of hospice, racial/ethnic minority patients had comparable odds of late hospice utilization (i.e., within 3 days of death) versus white patients (OR 1.5, 95% CI 0.73–1.50).
Discussion
While most patients undergoing pancreatectomy for pancreatic cancer utilized hospice services prior to death, racial/ethnic minorities were less likely to use hospice services than whites.
Access options
Buy single article
Instant access to the full article PDF.
US$ 39.95
Tax calculation will be finalised during checkout.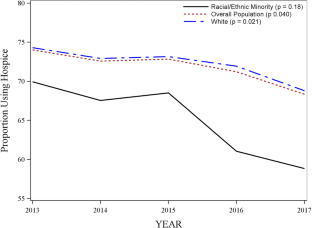 References
1.

Tavakkoli A, Singal AG, Waljee AK, et al. Racial Disparities and Trends in Pancreatic Cancer Incidence and Mortality in the United States. Clin Gastroenterol Hepatol. 2019.

2.

Wright MJ, Overton HN, Teinor JA, et al. Disparities in the Use of Chemotherapy in Patients with Resected Pancreatic Ductal Adenocarcinoma. J Gastrointest Surg. 2019.

3.

Nipp R, Tramontano AC, Kong CY, et al. Disparities in cancer outcomes across age, sex, and race/ethnicity among patients with pancreatic cancer. Cancer Med. 2018;7(2):525–535.

4.

Cheraghlou S, Gahbauer EA, Leo-Summers L, Stabenau HF, Chaudhry SI, Gill TM. Restricting Symptoms Before and After Admission to Hospice. Am J Med. 2016;129(7):754 e757–754 e715.

5.

Organization NHaPC. NHPCO Facts and Figures. 2018. https://www.nhpco.org/wp-content/uploads/2019/07/2018_NHPCO_Facts_Figures.pdf.

6.

Paredes AZ, Hyer JM, Tsilimigras DI, et al. Hospice utilization among Medicare beneficiaries dying from pancreatic cancer. J Surg Oncol. 2019;120(4):624–631.

7.

Taylor JS, Rajan SS, Zhang N, et al. End-of-Life Racial and Ethnic Disparities Among Patients With Ovarian Cancer. J Clin Oncol. 2017;35(16):1829–1835.

8.

Rush B, Hertz P, Bond A, McDermid RC, Celi LA. Use of Palliative Care in Patients With End-Stage COPD and Receiving Home Oxygen: National Trends and Barriers to Care in the United States. Chest. 2017;151(1):41–46.

9.

Ferris FD, Bruera E, Cherny N, et al. Palliative cancer care a decade later: accomplishments, the need, next steps -- from the American Society of Clinical Oncology. J Clin Oncol. 2009;27(18):3052–3058.

10.

Quan H, Li B, Couris CM, et al. Updating and validating the Charlson comorbidity index and score for risk adjustment in hospital discharge abstracts using data from 6 countries. Am J Epidemiol. 2011;173(6):676–682.

11.

Iezzoni LI, Daley J, Heeren T, et al. Using administrative data to screen hospitals for high complication rates. Inquiry. 1994;31(1):40–55.

12.

Iezzoni LI, Daley J, Heeren T, et al. Identifying complications of care using administrative data. Med Care. 1994;32(7):700–715.

13.

Osborne NH, Nicholas LH, Ryan AM, Thumma JR, Dimick JB. Association of hospital participation in a quality reporting program with surgical outcomes and expenditures for Medicare beneficiaries. JAMA. 2015;313(5):496–504.

14.

Fairfield KM, Murray KM, Wierman HR, et al. Disparities in hospice care among older women dying with ovarian cancer. Gynecol Oncol. 2012;125(1):14–18.

15.

Enomoto LM, Schaefer EW, Goldenberg D, Mackley H, Koch WM, Hollenbeak CS. The Cost of Hospice Services in Terminally Ill Patients With Head and Neck Cancer. JAMA Otolaryngol Head Neck Surg. 2015;141(12):1066–1074.

16.

Wachterman MW, Hailpern SM, Keating NL, Kurella Tamura M, O'Hare AM. Association Between Hospice Length of Stay, Health Care Utilization, and Medicare Costs at the End of Life Among Patients Who Received Maintenance Hemodialysis. JAMA Intern Med. 2018;178(6):792–799.

17.

Zou WY, El-Serag HB, Sada YH, et al. Determinants and Outcomes of Hospice Utilization Among Patients with Advance-Staged Hepatocellular Carcinoma in a Veteran Affairs Population. Dig Dis Sci. 2018;63(5):1173–1181.

18.

Kim A, Ashman P, Ward-Peterson M, Lozano JM, Barengo NC. Racial disparities in cancer-related survival in patients with squamous cell carcinoma of the esophagus in the US between 1973 and 2013. PLoS One. 2017;12(8):e0183782.

19.

Bregar AJ, Alejandro Rauh-Hain J, Spencer R, et al. Disparities in receipt of care for high-grade endometrial cancer: A National Cancer Data Base analysis. Gynecol Oncol. 2017;145(1):114–121.

20.

Ellis L, Canchola AJ, Spiegel D, Ladabaum U, Haile R, Gomez SL. Racial and Ethnic Disparities in Cancer Survival: The Contribution of Tumor, Sociodemographic, Institutional, and Neighborhood Characteristics. J Clin Oncol. 2018;36(1):25–33.

21.

Laquente B, Calsina-Berna A, Carmona-Bayonas A, Jimenez-Fonseca P, Peiro I, Carrato A. Supportive care in pancreatic ductal adenocarcinoma. Clin Transl Oncol. 2017;19(11):1293–1302.

22.

Sheffield KM, Crowell KT, Lin YL, Djukom C, Goodwin JS, Riall TS. Surveillance of pancreatic cancer patients after surgical resection. Ann Surg Oncol. 2012;19(5):1670–1677.

23.

Erikson C, Salsberg E, Forte G, Bruinooge S, Goldstein M. Future supply and demand for oncologists : challenges to assuring access to oncology services. J Oncol Pract. 2007;3(2):79–86.

24.

Johnson KS, Kuchibhatla M, Tulsky JA. Racial differences in self-reported exposure to information about hospice care. J Palliat Med. 2009;12(10):921–927.

25.

Kreling B, Selsky C, Perret-Gentil M, Huerta EE, Mandelblatt JS, Latin American Cancer Research C. 'The worst thing about hospice is that they talk about death': contrasting hospice decisions and experience among immigrant Central and South American Latinos with US-born White, non-Latino cancer caregivers. Palliat Med. 2010;24(4):427–434.

26.

Smith AK, Sudore RL, Perez-Stable EJ. Palliative care for Latino patients and their families: whenever we prayed, she wept. JAMA. 2009;301(10):1047–1057, E1041.

27.

Cicolello K, Anandarajah G. Multiple Stakeholders' Perspectives Regarding Barriers to Hospice Enrollment in Diverse Patient Populations: A Qualitative Study. J Pain Symptom Manage. 2019;57(5):869–879.

28.

Rickerson E, Harrold J, Kapo J, Carroll JT, Casarett D. Timing of hospice referral and families' perceptions of services: are earlier hospice referrals better? J Am Geriatr Soc. 2005;53(5):819–823.

29.

Dover LL, Dulaney CR, Williams CP, et al. Hospice care, cancer-directed therapy, and Medicare expenditures among older patients dying with malignant brain tumors. Neuro Oncol. 2018;20(7):986–993.

30.

Zuckerman RB, Stearns SC, Sheingold SH. Hospice Use, Hospitalization, and Medicare Spending at the End of Life. J Gerontol B Psychol Sci Soc Sci. 2016;71(3):569–580.

31.

Adams CE, Bader J, Horn KV. Timing of Hospice Referral: Assessing Satisfaction While the Patient Receives Hospice Services. Home Health Care Manag Pract. 2009;21(2):109–116.

32.

Ramchandran K, Tribett E, Dietrich B, Von Roenn J. Integrating Palliative Care Into Oncology: A Way Forward. Cancer Control. 2015;22(4):386–395.

33.

Elsayem A, Swint K, Fisch MJ, et al. Palliative care inpatient service in a comprehensive cancer center: clinical and financial outcomes. J Clin Oncol. 2004;22(10):2008–2014.
Ethics declarations
Disclosure Information
No competing financial interests exist.
Additional information
Publisher's Note
Springer Nature remains neutral with regard to jurisdictional claims in published maps and institutional affiliations.
About this article
Cite this article
Paredes, A.Z., Hyer, J.M., Palmer, E. et al. Racial/Ethnic Disparities in Hospice Utilization Among Medicare Beneficiaries Dying from Pancreatic Cancer. J Gastrointest Surg 25, 155–161 (2021). https://doi.org/10.1007/s11605-020-04568-9
Received:

Accepted:

Published:

Issue Date:
Keywords
Hospice

Racial/ethnic disparities

Pancreatic cancer